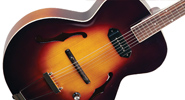 Loar LH-309 VS Archtop
Price: $569.99 (street)
Contact: theloar.com
As the retro craze delves deeper into six-string history, a spate of non-cutaway archtops have hit the market, celebrating an era when giants like Eddie Lang, Lonnie Johnson, Charlie Christian, George Barnes, Eddie Durham, Carl Kress, and Oscar Moore laid down cool chords, sultry bends, and horn-like single note lines on Gibsons and Epiphones.
Loar recently began offing the LH-309 VS archtop, a straightforward instrument that fully exudes a vintage vibe, thanks to a vintage sunburst. The guitar has a solid, hand-carved spruce top, maple two-piece back and sides, a mahogany neck and bound rosewood fingerboard with 19 frets. The lower bout has a 16″ span, while the upper bout is 111/2″; the body's depth is 33/4″, which is well balanced in the lap. The neck scale is 243/4″ and there's a two-way truss rod. Loar's Vintage V neck profile is unusual, but fits very comfortably in the hand. There's a compensated ebony bridge and simple trapeze tail. The Grover tuners have "butterbean" keys and open gears. A fleur-de-lis inlay adorns the headstock. Again, the finish is very attractive on the front, sides, and back; a dark 'burst that ranges from black to deep amber. We'd note that there are a few minor flaws in the finish, but in this price range they're of little concern.
Electronics on the LH-309 are nice and simple – just a single Loar P90 pickup with a master Volume and Tone, each with a vintage-style knob. Obviously, the name of the game is jazz and blues, but the guitar covers a nice range of styles, from swing to country to vintage rock and roll – it all depends on how you set it up and what you play.
The LH-309 ships with medium-gauge roundwound strings that sound a bit brash and clanky when the guitar isn't amplified. Speaking of, the guitar has good projection unplugged, which is the acid text for any archtop.
Plugged into a small amp, the LH-309 turns into an elegant World War II jazz box, perfect for those fat swing and early bebop lines that put Charlie Christian and his generation on the map. Roll back the tone knob to find the shading of your choice, but the Loar P90 does a good job conjuring classic, single-coil-snappy jazz tones. Sure, humbuckers are quieter, but the single-coil jazz tone is iconic, and can't be duplicated without the proper pickup. The LH-309 gets it right with this simple (but accurate) electronic setup.
In terms of playability, the Loar's neck is very likeable, with a fast and comfy V profile. With the quick action on the fretboard and access to the 16th fret, there's not much to dislike. To those who dismiss non-cutaway guitars like the LH-309, we'd note that they are a singular experience, both in terms of playing and sound. Sonically, a non-cutaway provides a fuller acoustic sound, which is simple physics – there's a bigger volume inside the body to generate tone. And as for those who say that the non-cuts deprive them of frets for upper-note playing – you shouldn't be playing jazz that high, anyway! The thick, buttery tones of jazz and blues guitar are generated below the 12th fret; so why even go to high-and-thin territory?
After you play the LH-309 for a bit, you get it. It simply sounds better for certain genres and performances. If you want to bend strings at the 20th fret, get a Strat.
Ultimately, the LH-309 is eminently likeable in terms of feel and sound – and in sheer historical vibe. Again, we'd recommended switching to flatwound strings, but for swingin' mid-century jazz and blues, the LH-309 is one cool cat.
---
This article originally appeared in VG August 2012 issue. All copyrights are by the author and Vintage Guitar magazine. Unauthorized replication or use is strictly prohibited.
---