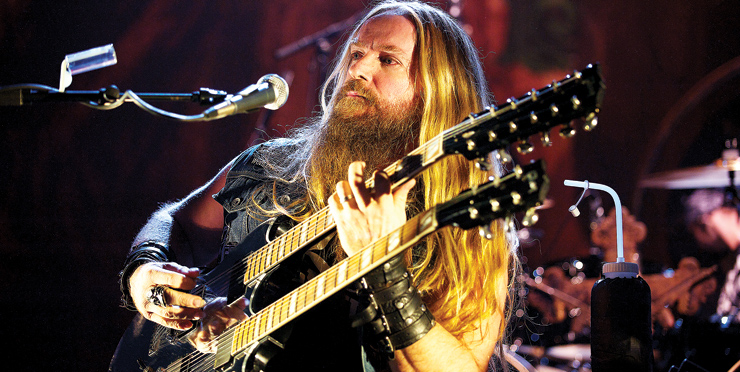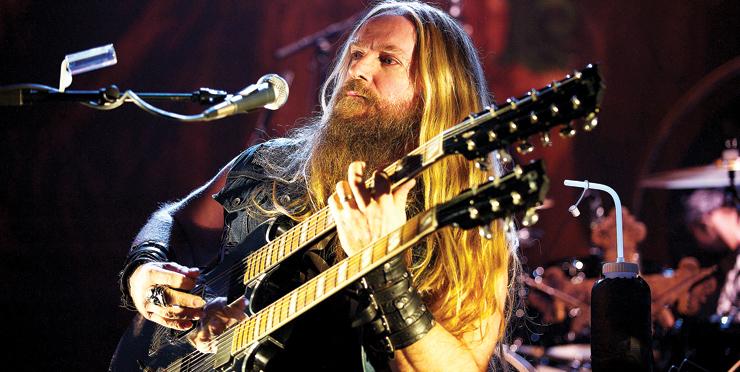 When Zakk Wylde was asked to record a new DVD/CD package, he decided to give his Black Label Society fans something different – Unblackened, a live acoustic/electric performance featuring Wylde on guitar and piano, with BLS bandmates bassist John Deservio, guitarist Nick Catanese, drummer Chad Szeliga, keyboardist Derek Sherinian, and vocalist Greg Locascio. The package also includes some cool extras.
How did Unblackened come together?
I didn't want to put out another heavy one with the same stuff we've already done. The Black Label Berzerker Nation was always asking if we were ever going to do any of the mellow tunes on the records that never see the light of day. It was the natural progression of the band to do something like this. And personally, as much as I love listening to heavy stuff, I love all the mellow stuff, like the Eagles, Neil Young, and Elton John. So it was great to do this.
The show was recorded in March at Club Nokia in L.A. We rehearsed for 10 days and we were originally going to play with a string section, but once we started working with them, it didn't go as planned. We figured we'd bring them in and we'll rehearse with them for two days. These are union musicians, so it's not like you're hiring a bunch of guys who will be there for two days and rehearse for 10 hours a day. They rehearse for two hours, then they have to go. But they also need a break in-between to sit down and have coffee. I guess they're used to playing weddings. When they started playing with us, it was such a train wreck of Hindenburg/Titanic-esque proportions! It was hysterical! They offered to stay an extra hour because they really wanted to do it. We could have rehearsed for the next two and a half months, and it was still going to sound like s**t! We called it a day. That's when we looked over at Father Sherinian to cover all the string bits.
We included six additional songs on the CD because we had recorded "Ain't No Sunshine," "Song For You," and a bunch of others that turned out the way they're supposed to be done with strings, so we put them on.
Now, between our normal tours and doing the regular shows, we're going to do an Unblackened run. We've toured three years straight doing the regular show and the Unblackened thing is completely different, so it's gonna be awesome!
Tell us about the assortment of gear you used for the show.
I used my Gibson stuff – the EDS-1275, the Flying V, which has a Floyd Rose and a Steinberger kickstand so I can sit and play it like I'm playing a Les Paul, and I used my Pelham Blue Les Paul, the maple Vertigo Les Paul, and I broke out the Rebel. I haven't retired her. I still record with her, but I don't bring her on the road anymore. I also used the pinstripe ZV. For the acoustic stuff, I used a Chet Atkins steel and a Chet Atkins nylon-string.
I'm playing through my signature Marshall JCM800s, which are [model] 2203 100-watt tops with 6550s. For the clean sounds, I'm using a Roland Jazz Chorus and just turning the Volume down on my guitar when I play through the JCM800s. That way, you just turn the guitar's Volume up and you have distortion.
For effects, I use all my signature Dunlop pedals. I run my guitar into the wah pedal, then into the Rotovibe, phase, distortion, then run the stereo chorus outputs to both amps.
What inspires you as a player and as a songwriter?
I still listen to the stuff I've loved since I was 14 and started playing. When I hear Randy Rhoads, I have great memories from when I first started learning that are attached to those records. Then, obviously, there's Eddie Van Halen. But I really get inspired when I listen to Frank Marino. I'm just awestruck. Then John McLaughlin, Al DiMeola, Paco De Lucia, Allan Holdswoth, Joe Pass, and a lot of the country pickers, as well. I just listened to a mess of Albert Lee. It's just mind-blowing stuff! Of course, Jimmy Page – not just for the guitar playing, but the writing and producing. Then Tony Iommi for his songwriting and guitar tone.
What do you consider the standout tracks of your recorded work?
For the Black Label stuff, I'd have to go with "Stillborn," and from the last album, I really dig "Crazy Horse." That one's really cool. I thought "Darkest Days" came out really well as far as the production. With Ozzy, "Mama, I'm Comin' Home" and "No More Tears."
---
This article originally appeared in VG December 2013 issue. All copyrights are by the author and Vintage Guitar magazine. Unauthorized replication or use is strictly prohibited.
---