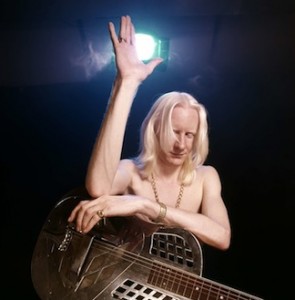 Johnny Winter, among the elite guitarists in the blues and blues-rock idioms, died July 16 in Zurich, Switzerland, two days after he performed at a festival in Austria. He was 70, and at press time, no cause of death had been given.
Winter grew up in Beaumont, Texas. His parents, John II and Edwina, encouraged him and his younger brother, Edgar, to pursue music. Both born with albinism, they found it challenging to fit in, socially, so they took to instruments – Johnny to the ukulele, Edgar to piano and saxophone. They began performing at an early age and, when Johnny was 10, appeared together on a children's TV show in Houston, playing and singing Everly Brothers songs.
Struck by the music of Muddy Waters, B.B. King, and Bobby Bland, Winter soon gravitated to blues guitar. When he was 15, his band, Johnny and the Jammers, released its first recording, called "School Day Blues," on a local Houston label. While playing in Chicago in 1963, he jammed with Michael Bloomfield. In '67, he recorded a single, "Tramp," with the Traits, followed in '68 by his first solo album, The Progressive Blues Experiment, with bassist Tommy Shannon and drummer Uncle John Turner. The album marked Winter's emergence and was released at a time when blues-based acts – mostly white kids from England and suburban America – reigned in terms of mass popularity.
In '68, Bloomfield invited Winter to sit in with him and Al Kooper at Fillmore East in New York City. There, staff from Columbia Records watched as Winter brought down the house with a rendition of B.B. King's "It's My Own Fault." The appearance famously earned him a $600,000 advance on a record deal. His self-titled first album for Columbia featured the same band that helped him record The Progressive Blues Experiment, along with brother Edgar and blues legends Willie Dixon (on bass) and Walter Horton (or harmonica).
In the years that followed, his career reached its apex, propelled by his fiery playing – especially with his '64 Gibson Firebird V, which he used to record much of his early material and more recently dedicated to slide work. He released Second Winter with Edgar as a full-time member of the band, then in 1970 formed Johnny Winter And… with former members of the McCoys – Rick Derringer (also on guitar), bassist Randy Jo Hobbs, and drummer Randy Z. As the '70s elapsed, he briefly battled drug addiction, then recovered to produce three Grammy Award-winning albums for Muddy Waters and record several Grammy-nominated blues albums of his own. In 1988, he was inducted to the Blues Foundation Hall of Fame.
Throughout his career, Winter was a top-notch live draw in North America and Europe. He appeared at the original Woodstock festival, and at various times played the New Orleans Jazz & Heritage Festival, Chicago Blues Festival, the Sweden Rock Festival, the Warren Haynes Christmas Jam, Rockpalast, and Eric Clapton's Crossroads Guitar Festival.
Fellow Texan/guitar legend Billy F Gibbons released a statement saying, "When I first saw Johnny perform, I was 12 or 13 and he was known as 'Johnny Cool Daddy Winter' and we've always thought of him as exactly that – One Cool Daddy.
"Johnny became a dear and passionate friend as well as the accomplished bluesman we have come to admire. It's now a moment for celebration of his brilliance frozen for all time. We've lost another of the gifted guitar greats and a truly soulful spirit."
A new album, Step Back, is slated for release September 2. A collection of blues and rock cover songs, it includes collaborations with Gibbons, Eric Clapton, Joe Perry, Leslie West, Brian Setzer, Joe Bonamassa, and others. – Ward Meeker
(For more on Winter, see Dan Forte's feature interview in the July '14 issue and his further recollections in "Check This Action" column next month.)