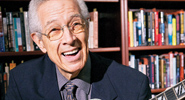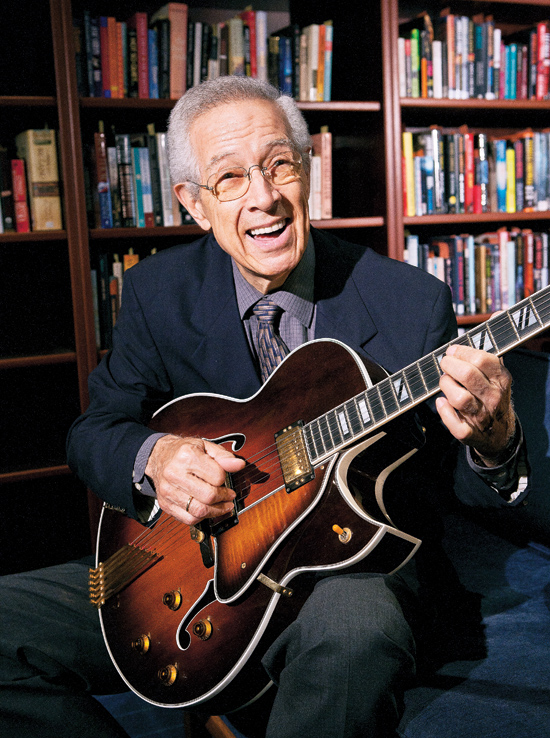 Few can claim the title of living legend. Kenny Burrell is just such a person. In fact he's more – he's living history, past, present and future. His credentials are voluminous and accomplishments staggering, and he hasn't stopped.
He has recorded at least 108 albums as a band leader and is today, at age 82, still on top of his game. His latest offering is Special Requests, a live set from 2012, ; which reached #1 on the jazz charts in September and was the most-reported jazz album on 51 radio stations.
Burrell has one of the most recognizable voices in jazz guitar and has been a leader and role model since he first appeared on the scene with Dizzy Gillespie's band in 1951. The paragon of taste, feeling, and sophistication, Burrell is also the quintessential sideman, lending his touch to hundreds of important recordings over the last six decades. Today, he is active recording and performing, a respected educator, and an elder statesman of the music. His legacy is pervasive. His soulful sound and approach have influenced virtually everyone claiming a jazz pedigree but extends to many outside the genre, a la Jimi Hendrix, Stevie Wonder, Steve Howe, Andy Summers, and Freddie King. B.B. King calls Burrell his favorite guitarist and fellow bluesmen Stevie Ray Vaughan and Otis Rush recorded reverential covers of Burrell's "Chitlins Con Carne."
Burrell's resume reads like a Who's Who in American Music. Talking with him is like taking a guided tour through the soundtrack of jazz, with casual asides to Louis Armstrong, John Coltrane, Duke Ellington, Billie Holiday, Dizzy Gillespie, Wes Montgomery, Sonny Rollins, Stan Getz, Quincy Jones, Herbie Hancock, Eubie Blake, and Jimmy Smith along the way – a travelog accompanied by a healthy dose of deep musical philosophy that bespeaks his years of paying dues and life lessons learned and assimilated.
Innovation and history-making have followed Burrell through the decades and are part and parcel of his jazz journey, marked by advances in the organ trio, guitar trio, solo chord-melody playing, orchestral experiments, and much more. But beyond his accomplishments, awards, and accolades, at the end of the day Burrell is the embodiment and epitome of his musical credo: "Play what you feel, and mean it."
Over the years, you've emphasized the blues aspect of your playing in many album titles, like Blues: The Common Ground, Midnight Blue, Blue Moods, Pieces of Blue, and Blue Muse. The blues has drawn many listeners and fans of different genres to you.
The blues is part of my heritage, part of my surroundings growing up in Detroit – on the radio, on records, in clubs, on the street. Like most guitarists, the blues was what I first learned to play. In my earliest jam sessions, we always played the blues. It felt natural. I will never deny that part of who I am. Some jazz musicians and some jazz fans feel the blues is so simple they don't want to bother with it; that it's too primitive. I never felt that way. Time has proven me right. Throughout the history of jazz, people play the blues in many forms – fast, medium, slow, funky, sophisticated, in different meters and avant-garde. It's still blues.
The argument that blues is beneath you is not right. It's a matter of what the artist does with it. In fact, blues is so beautiful it's hard to do anything wrong with it. It's so harmonically simple it gives you a lot of freedom. It also opens a door where other musicians and listeners can really [see] who you are and what you can do with this open door, this "freedom palette," and what your story is, what have you got to say. Blues is a unique part of American music and I'm glad to be part of it.
Who were your guitar influences?
My two main influences were Charlie Christian and Oscar Moore, along with blues players like T-Bone Walker, Muddy Waters, and Johnny Moore. And I was indirectly affected by acoustic blues players, on record, radio, and around the neighborhood.
B.B. King has cited you as his favorite guitarist. Have you played much with him in your career?
I made a record with B.B. in the '70s, Newport in New York. It was the Newport Jazz Festival recorded at Yankee Stadium. We played a song together in a jam session; it was very nice. And, he was onstage with us at my 80th-birthday concert.
The Gibson Super 400
The Gibson Super 400, with its 18″ body, gold-colored hardware, fine woods, and luxurious appointments, was awe-inspiring from its inception in 1934. With the name "Super" and price tag of $400, it projected power, oozed opulence, and set a standard that prompted competitors Epiphone and Gretsch, as well as luthiers John D'Angelico and Elmer Stromberg, to produce similar 18″ beauties. But there was nothing like the timbre, volume, grandeur, and dazzling appearance of the Super 400.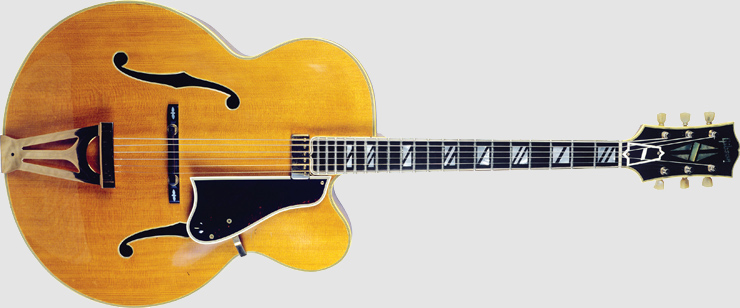 Representing the pinnacle of archtop evolution, the Super 400 reigned supreme in swing bands and pop orchestras, but was also played by country artists Roy Rogers, Hank Snow, Don Gibson with Joe Maphis, and Hank Thompson. It was also seen in the hands of Norman Brown (in the Mills Brothers) and blues man Pee Wee Crayton, who played one with a bar pickup.
The Super 400 underwent five model changes from 1934 to 1950, including the advent of cutaway body styles the Super 400 Premier, in '37 and Super 400C (cutaway) in '48.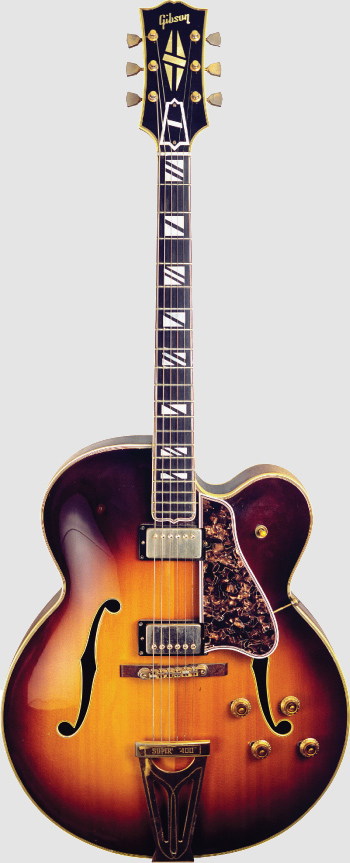 The Super 400CES (cutaway electric Spanish) was introduced in 1951 and ushered in an era of amplified excellence akin to what the Super 400 had done for acoustic archtops. The sixth version of the Super 400CES was nearly identical to the acoustic Super 400C – same appointments, dimensions, ornamentation, Y-shaped adjustable tailpiece, and finish options. It had a carved spruce top and back of bookmatched curly maple. However, its top was fitted with two built-in pickups and carved slightly thicker to reduce vibration and feedback. The top was braced with two long parallel braces (or "tone bars") spaced farther apart to accommodate routing for pickups, and several smaller spruce or mahogany cross braces to make it more rigid. Small strut braces were used at the tips of the tone bars for greater rigidity. Ted McCarty stated that the resulting timbre differed from any amplified Super 400 made previously and provided the right response to professional guitarists' demands.
The Super 400CES had two black P-90 single-coil pickups on the debut model, serial number A7227, made in March of '51. It was upgraded to Alnico pickups in '54 and humbucking pickups in '57. According to Gibson factory records, the first Super 400CES with PAFs was serial number A26590 (November '57). The intermediate Alnico-pickup version was given a Tune-O-Matic bridge in '55, though the rosewood bridge was not discontinued, so is sometimes seen post-'55 (the '64 Gibson catalog shows an ES-175 with a wood bridge alongside a Tune-O-Matic equipped L-5CES).
The biggest single change in the Super 400CES occurred with the seventh model, made from 1960-'69. Gibson's desire to offer "something new" was manifested in a Florentine cutaway that replaced the rounded Venetian cutaway. Its sharp point and larger space necessitated a rim fashioned of two pieces instead of a single bent piece. The first was attached alongside the neck block, bent into the cutaway, and brought up to its outer point. The second piece began there as the outside rim and continued around the outer edge of the body to the heel block. The two ends meeting at the Florentine point were covered with thick white binding. The new body style was accompanied by a longer neck block and shorter pickguard screwed into the top.
The Florentine Super 400CES saw other changes. The three-way pickup selector switch was mounted in a rubber grommet to silence switching noises. The tailpiece had smaller and simpler engraving. By '64, a shell-like celluloid pickguard replaced the mottled "marble" pickguard. In '63, Gibson began experimenting with the backs of high-end archtop electrics. By '64, a laminated panel replaced the two-piece back, appearing to be a large piece of figured maple without a center seam. This is detected by comparing grain patterns inside the body, through the f-shaped sound holes, with grains on the back – revealing differences in direction and figuration. The laminated back had more-pronounced arching, typical of mid-'60s models. Gibson reinstated the two-piece back in '68/'69 before returning to the Venetian cutaway shape in 1970. Sunburst finishes varied in the '60s, from brown-to-golden early in the decade to reddish brown-to-gold midway through, and cherry sunburst later.
In the early '60s, Gibson fitted guitars with PAF pickups, transitioned to "patent number" pickups in '63, and "T-tops" after '65. Because gold-colored PAFs were reserved for high-end instruments, supplies lasted until mid-decade; it's not uncommon to find a 1965 Super 400CES with PAFs.
The Super 400CES headstock changed slightly in the '60s with more exaggerated peaks on the edges and the word "Custom" etched into a parallelogram on the truss-rod cover. Gibson continued to use gold-plated Kluson Sealfast tuners in the decade.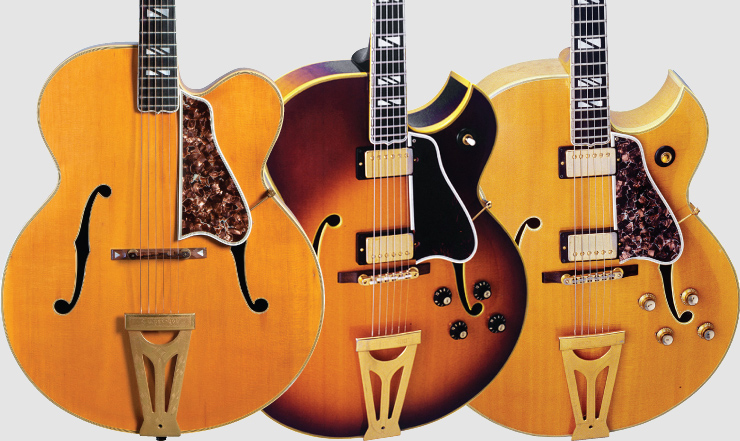 The neck went through changes in the '60s. In '62, the contour was rounder and thicker in circumference than the '61 Super 400CES and earlier models, and remained so through the decade. The earliest Florentine models had a two-piece maple neck with a single mahogany strip. In '62, the two-piece neck was superseded by a three-piece maple neck with two mahogany strips. The neck width at the nut was thinner after the mid-1960s, narrowed from a 111/16″ width to 19/16″.
In due course, the Super 400CES would prove formidable in a variety of music. Maybe there's something in the inherent beauty and power of an amplified Super 400 that spurs innovation in its players. Witness the varied tangents of Merle Travis, father of country picking, Scotty Moore, rock pioneer with Elvis, funk-jazz-studio wiz Eric Gale, Larry Coryell, father of fusion, blues-rock innovator Robben Ford, modern jazz-pop virtuoso George Benson, and venerable jazz legend Kenny Burrell. –Wolf Marshall
Special thanks to Tom Van Hoose.
Did specific blues influences like Muddy Waters, T-Bone Walker, and B.B. King shape your aesthetics?
Yes, but beyond the styles of different people is a certain feeling. In blues and in jazz, the most important aspect of communicating your music is honesty. As humans, we get hung up on trying to be honest. Music is a place where you can do that freely. It's simple – just play what you feel. That doesn't cancel your intellect. You'll always know what the chords are, but that doesn't overwhelm what you're feeling.
One of the reasons for my success, and others' through the years, is that I honestly try to play what I feel. It may not give you instant success, but, I believe if you do it consistently, it will give you long-term success. It's spirit-to-spirit communication.
You got your professional start in jazz with Dizzy Gillespie.
Yes, I was 19. We met at the Club Juana, in Detroit, and I played with him for one month. He needed a quick replacement and I got the call – probably a recommendation from Milt Jackson. It was the first time Dizzy used a guitar instead of piano to play back-up chords, solos, and ensemble lines. He continued to use that format in some of his ensembles for the rest of his career. I didn't realize at the time that I was helping to create a standard for Dizzy's idea.
You've played with many of the iconic figures in jazz – John Coltrane comes to mind. You are the only guitarist to have recorded with him, playing on at least four albums.
The first was in 1951 ("Tin Tin Deo") with Dizzy Gillespie's band. Then again on "Soul Eyes" (Interplay for 2 Trumpets and 2 Tenors). Trane was one of the most dedicated and focused musicians I've ever met.
What was it like at the famous session you co-led in 1958 while recording the Kenny Burrell and John Coltrane album?
That was what we called a "blowing session" put together by Prestige. I was happy to be in the circle of people called for that. We were each expected to bring in one or two songs. In the process, there's no time for rehearsals. You run something down once or twice and record it. I had to be on my toes, but was with great people. There were no problems. These were guys I knew – Trane, Tommy Flanagan, Paul Chambers, and Jimmy Cobb. We had a few originals and couple of standards, nothing complicated.
For some reason, they made Trane and me co-leaders on the date. We didn't think in terms of who was the leader; we were just trying to make good music. The other record in that period was The Cats. I don't know who the leader was on that album. I enjoyed playing with Trane because there was always magic happening.
You recorded a hit pop song with Louis Armstrong. That was a slight departure; you played acoustic guitar.
Yes, I played on "What a Wonderful World." That was part of what I did – studio work. I got a call from one of my regular contractors and I was just happy to be playing with Louis Armstrong. I had no idea the record would be that big.
That was a nylon-string played fingerstyle. Did it reflect your classical training?
Yes. I still use the technique I learned as a classical player. My advice to players is to learn all you can.
How active were you as a studio player? Did you have a variety of instruments?
Yes, I had to have them. I certainly had a jazz guitar – a couple of them – and a couple acoustic guitars, steel-string and a nylon. I also had a couple of what I call blues or rock guitars; I set up an ES-175 for that and used the bridge pickup and lighter-gauge strings, for bending.
When I was in New York from 1958 to '63, I did an average of six sessions a week. That's a conservative estimate – I sometimes did two or three a day – at least 1,560. Those are just the sessions; my name was on maybe 10 percent of them. Usually, at a session we made four records. I'm not counting jazz records or my own albums. I was like a doctor, constantly on call. After '63 it tapered off; I did less studio work and more of my own recordings. Still, I enjoyed the studio work; it made me feel I was good at my craft. But it did hurt in some ways because I didn't have enough time to practice and concentrate on my music. That's why I took the jobs in Bye, Bye Birdie and other shows. It was steady work and after a couple of weeks you hardly need to look at the music. It allowed time to practice, think conceptually, and write music for albums like Midnight Blue and Guitar Forms.
Do you consider either of those albums career-defining?
I don't know. I'm like a gardener in the dirt; I can't see the whole garden, from my perspective. I see imperfection in all my records so for me none are definitive. But for convenience you could start with Guitar Forms; that gives a broad view of what I do.
Guitar Forms is important to me because of the diversity and working with (arranger/conductor) Gil Evans. It wasn't an easy record to make for several reasons. Gil took his time, which was fine with me but not the A&R people. I transcribed the Gershwin piano piece "Prelude #2" for solo guitar, which was difficult to work out. I did a variety of music – blues, flamenco, classical, bossa nova, Latin, folk, and modern jazz, pieces with a large ensemble and small combo with electric and acoustic guitars.
What were your experiences with Billie Holiday?
I met her in 1952 or '53, when she traveled to Detroit to perform. I put together a band for her at the Rouge Lounge, a club in River Rouge, near Detroit. My group was popular in town, so we backed her a few times. I think we had (pianist) Tommy Flanagan in the band. Billie liked the way I played and that I was sensitive to the lyrics. I tried to complement her and not get in the way of her music.
We became friends and had mutual respect. When I moved to New York City in '56, I backed her several times, including at Carnegie Hall. Billie would come to hear me play at clubs, like Minton's, in Harlem. I also played on a number of her records, including the last one, Lady in Satin. I wasn't listed because I was a last-minute substitute for Barry Galbraith and it wasn't on the contract. I didn't play any solos, just rhythm and maybe a little passage here or there.
Billie was a beautiful artist and, as we say in the business, she never sang a note she didn't mean. She influenced a lot of people. Not only jazz singers but pop singers, including Frank Sinatra and Tony Bennett.
A Living Legend's Primary "Weapons"
The Gibson Super 400 has been your trademark guitar for many years. When did you first begin playing one, and what attracted you?
It was probably in the late 1960s. I'd been using a D'Angelico New Yorker, which was the same size as a Super 400 (18″ body). I like that body size – and where my elbow rests. What I like about the Super 400 (CES) is the humbucking pickup. I originally used the Charlie Christian bar pickup; that's what I had in my L-5 and L-7 guitars [in the late '50s/early '60s]. But the humbuckers had no noise and worked better, especially when I had to turn up the volume with people like Jimmy Smith. They are more "utilitarian," if you will. I prefer the Super 400 model with two humbuckers and a Florentine cutaway. With that cutaway, I can get my whole hand up there.
Earlier, you had a Gibson ES-175 and then a custom L-5 CES with a Florentine cutaway. That was years before the Florentine cutaway on the L-5 and Super 400. How did it come about?
Gibson made me an L-5 with a deep cutaway in the late '50s. They did it reluctantly. I played that guitar for a while, but it was too heavy. It had a much bigger block; they thought the body wouldn't hold the neck with the deep cutaway otherwise. The 175 was too small and always felt clumsy; I couldn't grab it comfortably with my arm. The Super 400 feels perfect for me.
You've gone through a number of Super 400s over the years. Do you still have them all?
I have two – both have two humbuckers and the Florentine cutaway. I got my main one in San Diego many years ago. I wandered into a shop – maybe for some strings – and saw it. It was from the '60s and felt very good. I did have another at the time, but that one became my primary instrument. Before that, I had a Venetian-cutaway Super 400 with a DeArmond pickup, like my D'Angelico.
Do you do anything special to your Super 400 to personalize it?
I adjust the action at the bridge so the strings are lower on the bass side. And I have done things to cut down on feedback. I placed some foam rubber inside the body at the top f-hole and also put a surface plug on the f-hole. It deadens the guitar just enough to reduce feedback. I also screwed a little piece of plastic into the top to hold the bridge in place. Sometimes, I play hard and the bridge moves a little. I cover the plastic with a piece of tape. I also installed tuning keys with peg-winder handles.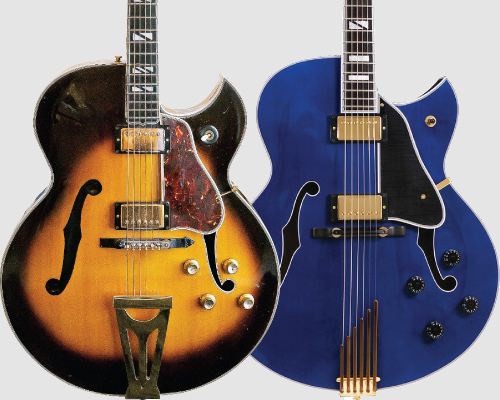 Is your signature Heritage Super KB based on your Super 400?
Yes. Heritage did a nice job of capturing the qualities I like. The Super KB is a little different. It has a slightly thinner body and shorter body (3″ deep x 207/8″ long instead of 33/8″ x 213/4″); the 18″ width is the same. The body has a little more curve-around; they did it by making it thinner up near the neck. It has a finger tailpiece, like on my custom L-5. I love the way it looks and that I can adjust string tension for each string separately. I set it medium and occasionally loosen a string a little bit here and there.
What are using for amps these days?
I prefer a Fender Twin for the most part. I was one of the first to use a Twin; I got one in Detroit and liked the extra bite. I like a fat, warm sound, so I set the Treble lower, the Bass medium, and pump up the Middle. I sometimes use a Roland JC-120 Jazz Chorus as a substitute. When I don't have to play loud, I might use an old Polytone or Heritage Kenny Burrell amp. I am also checking out the new Fender George Benson 1×12 for smaller gigs. – Wolf Marshall
You had quite a partnership with Jimmy Smith; a lot of organ-trio concepts are based on what you developed together.
Yes. We met at a jam session at the Bohemian Caverns. He was this dynamic new voice on the organ – nobody had heard anything like that before. I went to see him and he asked me to sit in. Alfred Lion, of Blue Note Records, was in the audience. He wanted to record me with Jimmy. I'd already recorded my first album (Introducing Kenny Burrell) for Blue Note. He thought it would make Jimmy's record more powerful.
Jimmy and I made many records together. We had a natural affinity for each other's music; we just clicked. We both knew a lot of songs; we hardly ever had rehearsals and there was very little preparation. We just talked over a song or he might mention a tune he wanted to play. We did most of it on the spot. It was the easiest partnership I've ever had. He always wanted me to play with him if possible, which was rough on the guitar players in his working bands.
On your second album Kenny Burrell, Volume 2, you had Horace Silver as pianist.
That was also on Blue Note – we all knew each other there. He was a tremendous composer. I was so happy to have Horace on that record, as well as Hank Mobley. And don't forget Art Blakey; he was on Blue Lights.
You also worked with Oscar Peterson.
Yes, in 1955. I'd just graduated from Wayne State University and was about to move to New York. Herb Ellis was playing with Oscar's trio, but had to take time off for his health. Oscar and (bassist) Ray Brown were in Detroit and came to see me at Kline's Show Bar, one of the two big jazz clubs in town. They offered me the job that night. I went on the road with them for about six months.
It was an enlightening and growth-inducing experience, playing with those two giants. I learned about making music with a trio and working with guitar and piano. The main thing is to listen and complement each other – do whatever will make the music work. I was glad I could handle it. I also learned a lot about life on the road, how to cope. I sometimes roomed with Ray. He got up early and started practicing; that was his routine. And mine, too, as a result. And, I took up golf.
You are credited with developing the guitar/bass/drums trio that led to the working band on A Night at the Vanguard. How did it come about?
It started with an experiment in the early '50s at a small club in Detroit with a tiny space that only allowed for that size trio. I wanted to try the format again in New York in '59. Max Gordon, who ran the Village Vanguard, didn't like the idea of working without a piano at first. He always had a great piano there. But we were friends and I'd played there many times so I asked him to give it a chance. He gave me one night – a Monday night or something. I wanted it to be as good as possible, so I got two of the best guys, Roy Haynes and Richard Davis. Max liked it and gave us two weeks – a pretty long time by today's standards. The second week we recorded live for Cadet.
That was a dream fulfilled because it had been in my mind for a long time and felt I could do it well. In a guitar trio, the focus is to think about the possibilities, not what's missing. If you do, things will flow. I'm not doing a lot of it now – no particular reason, I'm just trying different things. But I do love that format. In retrospect, it not only affected jazz players but also rock players.
You had a close association with Wes Montgomery.
I was very close to Wes and his brothers. I met Wes when I was a teenager in Detroit. He and his friends used to drive from Indianapolis to hear me play. I had no idea of who he was or his ability. We just met and talked, a couple of guitar players who liked each other. I was working hard to get better, practicing six hours a day on my way up the ladder.
A little later I saw Wes in Detroit at the Paradise Theater with Lionel Hampton's band and we became friends. We got together often in New York when he started traveling and had many nights jamming in the hotel room. My guitar-playing friend Warren Stevens worked closely with Wes. He knew his schedule and put us together when Wes was in town. Warren loved to hear us play together. I was happy to play on Wes' album with strings, Fusion! (1963)
Didn't he use your equipment on his first recording session?
Yes. I was in New York, and when Riverside Records signed Wes, they brought him to town to record. I got a call from Orrin Keepnews, the head of Riverside, asking if Wes could use my guitar and amp. Wes didn't like to fly and didn't take his guitar on the plane. That didn't make sense to me, but I said, "Okay," because we were friends and I admired his playing.
I was working at the time, at the Village Vanguard I think, so I was using my L-5, but always had a couple other electrics, and so I let him have my L-7 for his first record (The Wes Montgomery Trio). I think he used my Fender Deluxe.
Did you influence each other?
When his music got more popular, Wes talked to me about his concerns. The predominant sound on his hit records was octaves, more so than chords or single notes. People responded to that sound. Wes used to say, "As soon as I stop playing the octaves, people start talking and don't listen." I felt bad about that. It was a mixed blessing. He wanted people to love his music and knew musicians could see through all the pop stuff. But the people who paid a lot of money to see him wanted to hear the record they knew.
You recorded with Herbie Hancock in the '60s. These days, your relationship with him has come full-circle and he's involved with the jazz program at UCLA.
Yes. He was on Blues: The Common Ground. He is very diverse and great to work with. I particularly admire his fresh approach to harmony. I am so happy he brought the Thelonius Monk Institute here to UCLA.
The UCLA Jazz Studies program is one of the most revered in the world and is really your creation. How did it come about?
I began teaching at UCLA in 1978, in the winter quarter. I was asked to teach by the director of African-American Studies, Claudia Mitchell-Kernan. They wanted to do something with jazz as a natural outgrowth of the program. I couldn't do it full-time with my performing, recording, and traveling schedule, but I did agree to teach part-time, one class a year in winter.
My inclination was to do a class on Duke Ellington. To me, he was the most successful jazz musician – jazz and beyond. It worked, and now they're teaching Ellington classes all over the world. I had the first one and called it Ellingtonia, an umbrella phrase for all his music. But it's not just about music; it's about a style, a persona, African-Americanism, his philosophy and influence. I still teach that class now, 35 years later.
The course was increasingly popular and people here understood I was a capable teacher as well as a jazz musician of note. When UCLA decided to create a jazz program in 1996, they came to me. I agreed because it was one of my lifelong dreams. When I was in college, jazz wasn't even discussed as a legitimate high-art form. So I took a full-time faculty position as founder and director of the Jazz Studies program. I had a wonderful faculty – still do. Some the early teachers were Billy Higgins, Gerald Wilson, George Bohanon, Ruth Price, Billy Childs, Oscar Brashear, and Harold Land. Every year, it has gotten better and the reputation has grown; we have well over 100 applicants a year, and accept about 15. Herb Alpert has donated a tremendous amount of money and resources. The Monk Institute of Jazz is here, and we have great relationship with them. It's a beautiful example of how things can work when people are sincerely interested in promoting this music, this highly developed art form. I am still very excited about it.
Duke Ellington has named you his favorite guitarist. Did you ever play with him?
I played guitar with Duke only once as part of the band, on the TV show "We Love You Madly," which was produced by Quincy Jones and Buddy Yorkin. I was happy to learn I was his favorite guitarist. I had an invitation to play on his record, My People, but it was in Chicago and I was unable to make it. I played on several recordings by his key side men, notably (saxophonists) Johnny Hodges and Paul Gonzalves and (trumpeter) Clark Terry, where he was present and submitted music. Joe Benjamin (Ellington's bassist) played on my Guitar Forms and Weaver of Dreams albums.
You are known to have a tremendous connection with Ellington's music, having made two Ellington is Forever tribute albums and teaching the Ellingtonia class at UCLA.
He was ahead of his time and a leader in American music at its best. Ellington's output was so varied and excellent, no one else compares with him. I learned many lessons from Ellington, but probably the most important one is to be yourself. Like Mae West said, be who you are because all the other bodies are taken.
How do stay yourself when inundated with external influences?
It's a balance of head and heart, left brain versus right brain, intellect and feeling. One side says do what you feel while the other says wait a minute, I'm not sure. One stands guard, the other just acts. If you relax and allow yourself to be, it'll work. Don't be afraid or worry about what others think. Express your deep self. Then the influences will surface in a unique way that only you can determine.
Another thing I learned from Ellington is be free with yourself. Don't let the information interfere with what you feel. We have a greater intelligence than we realize. That intelligence has to do with our spirit and soul; it's beyond knowledge. As Einstein said, imagination is more important than knowledge or information. And more powerful.
My first teacher, my brother Billy, gave me some advice when I was leaving for New York: play what you feel and mean it. If I had a question about what to do in a musical situation, I followed that advice and it never failed. That's that other intelligence working, if we allow it to happen. Same is true of a musical phrase, no matter what you may think or how weird it may seem. A friend of mine was transcribing some Ellington music and was amazed by some of the combinations he found. He said he'd never seen so many wrong-looking notes and right-sounding notes in his life! One of Ellington's favorite sayings, and I've adopted it in my life, is, "If it sounds right, it is right." Now, wait a minute… If it sounds right to who? You, that's who!
---
This article originally appeared in VG March 2014 issue. All copyrights are by the author and Vintage Guitar magazine. Unauthorized replication or use is strictly prohibited.
---