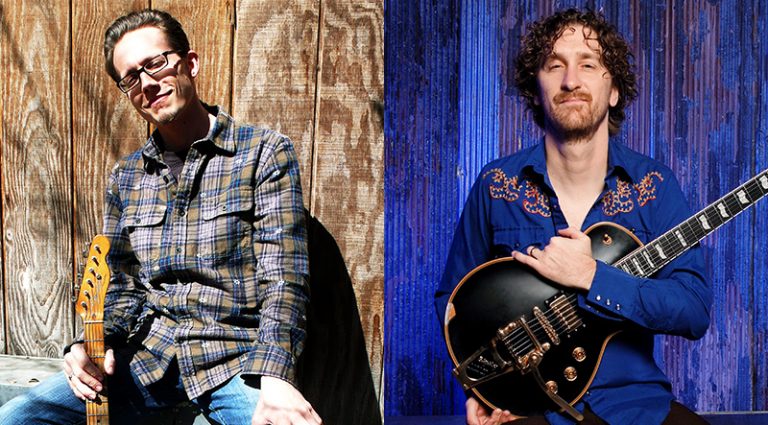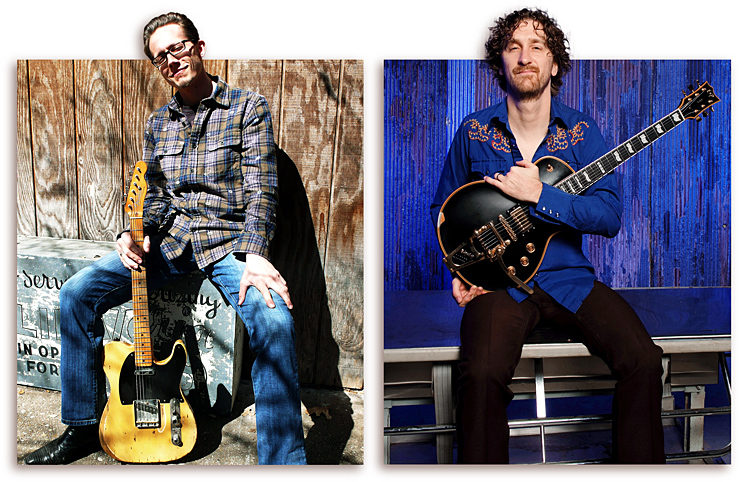 Every fan of blues music is familiar with the Fabulous Thunderbirds. Founded in 1974 by two guys who would go on to become Texas musical legends, guitarist Jimmie Vaughan and vocalist/harpist/front man Kim Wilson, the band spent its first decade building momentum around the south before tasting international stardom in 1986, when their first album for Epic Records, Tuff Enuff, scored two huge hit singles – "Tuff Enuff" and "Wrap It Up."
When Vaughan departed in 1990 to play in a duo with his brother, Stevie Ray, the band sallied forth. Though the following decade saw it experience a series of lineup changes, the group remained vital thanks to relentless road work. Current guitarists Johnny Moeller and Mike Keller have served since 2007 and '08 respectively – the longest tenures since the band's days with Kid Ramos, which spanned from 1993 to '02.
Moeller fondly recalls the first time he got a call to play in the band. "It's funny," he chuckled. "I had been talking to Kim for years and watching the T-Birds a lot when Kid Ramos was in the band. One night, I ran into Kim at Antone's and he said, 'Hey, I might need you to fill in for some dates. I'll be in touch.' And that was it. I thought, 'That was weird,' and didn't think anything of it. Then one day, months later, their manager called out of the blue and said, 'We have some gigs tonight in New York City and tomorrow in Buffalo, then three days after that in Santa Cruz, California. Can you do them?' I said, 'My god, tonight (laughs)? In New York City?" He said, 'Yeah, Kid's wife went into labor and he left, so we're trying to get it covered. Kim said he talked to you.' I was like, 'Yeah, he talked to me – four months ago…' (laughs)!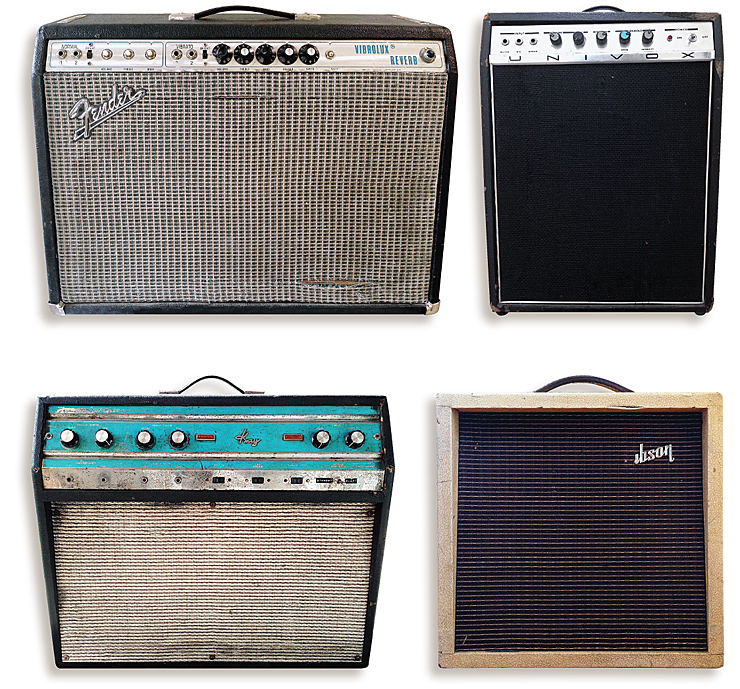 "Anyway, I didn't make the New York City gig that night, but I flew out the next day and played Buffalo, then the gig in California. And then Kid's wife had the baby and he came back to work."
Fast-forward six or seven years: one day, Moeller was hanging out with his brother, Jay, when the phone rang again."They asked, 'Hey is your brother around?' He looked at me, and I thought, 'Here we go again.' But this time I went to Nevada to fill in for Nick Curran, who had some other gigs come up, and then ended up leaving the band. My 'audition' was those gigs."
The T-birds new album, On The Verge, is not only its first studio effort in almost a decade, it adds a noteworthy twist to the band's repertoire. Stepping away from the driving blues that have fueled it for four decades, its 10 original songs mix a heavy soul influence with doses of R&B, gospel, and rock that blend to give it a timeless flavor. Throughout, Moeller and Keller lend tasty, nuanced licks and fills. We caught up with both to discuss how On The Verge came together, and the gear they used in the process.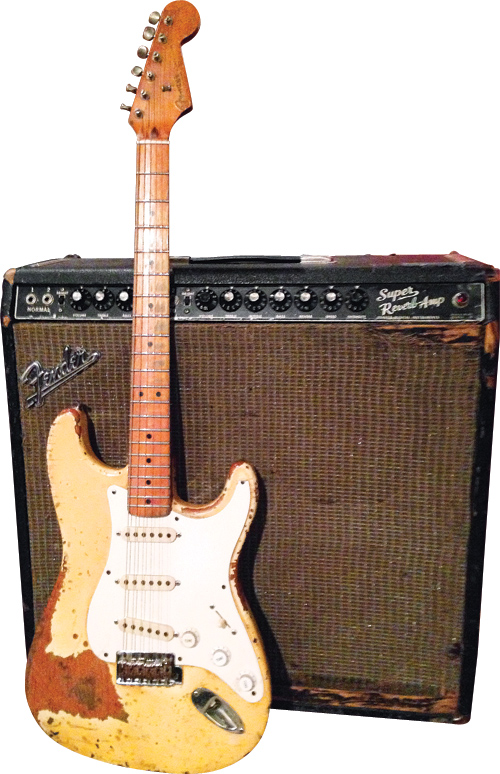 What were you each doing prior to joining the T-Birds?
Johnny Moeller: For the past 15 years, I've worked as a studio musician for Severn Records, which is the label the T-Birds are now on. I've done about 15 releases for them, including my own, and played with a lot of people including Lou Ann Barton, James Cotton, and most recently, Mike Barfield, with whom we have a killer funk band! Otherwise, I've played gigs around Austin. Also, my brother Jay and I do The Moeller Brothers when the T-Birds take time off. We are finishing our first record together and hope to have it out this year!
Mike Keller: When I moved to Austin in '95, I started going to Antone's. There, my brother, Corey, and I met Johnny and his brother, Jay. They introduced us to Clifford Antone and let us open for them on Monday nights before Derek O'Brien and the Blue Monday Band. The Keller Brothers Band lasted about four years before we moved to Minneapolis, because of management, and toured, opening shows for Jonny Lang, Buddy Guy, and Jimmie Vaughan. The band eventually broke up, I got an offer to play with Double Trouble, and we moved back to Texas in 2002. I did the Double Trouble gig for about two and half years, and during that time I got a call to play with Doyle Bramhall, Sr. I was in Doyle's band for about four years, and got the opportunity to record on his Is It News? record. After the Doyle gig, I joined my brother, who had been playing with Marcia Ball. I played with Marcia for a year and a half, then got a call from Johnny about the T-Bird gig. When I got the call, I was jumping up and down. It was pretty amazing because when I moved to Austin, people would play a T-Birds album and tell me, "This is what you gotta learn." And that's why I moved to Austin – to figure out where that style came from… that Louisiana/Excello Records kind of stuff. It's been great.
Johnny, were you the connection between Kim Wilson and Severn Records?
JM: Yeah, Kim played on my album two years ago, and in the studio one day he and David Earl, who founded Severn, hit it off. Next thing I know, David was coming to our gigs and Kim said, "We might put a record out with this guy." I was like, "Wow, who would've thought?"
What were your first impressions of the songs Kim chose for the album?
JM: Well, I kind of knew what to expect, going in, because that's where Severn Records is coming from.
MK: It was a little different, but we knew that because of Johnny's work with Severn.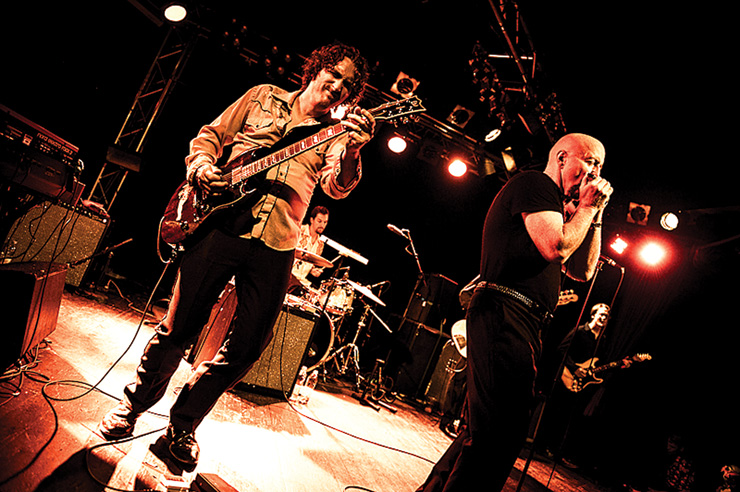 When you're describing the album to friends or the T-Birds faithful, what do you say?
JM: I tell them it's different (laughs)! The soul side has always been there with the band, but this went a little further. I tell people, "It's not what you're expecting," and there are a lot of guitar parts.
MK: I say it's soul music, I guess – more soul, R&B.
What are the highlight tracks for each of you?
JM: I especially like the first one, "I Want to Believe." I dig the tremolo on my guitar – it has a kind of swampy, Staples Singers thing. Mike plays a really nasty low-rhythm part; our guitars intertwined really well on that track. Another of my favorites is "The Way We Roll"…
MK:"The Way We Roll," is my favorite, too. We went in and came up with our parts on the fly. Kim did one take for his vocals and harp. It was like one of those things that come together fast and we were like, "Whoa, that's it right there…" (laughs)! It was really quick. I was thinking, "Man, we should do three more like that!" (laughs) I also like "Too Much Water" a lot. It's cool, and the group played it really well.
How did you work up your respective parts?
MK: Kim went into the studio before we did and met with Kevin Anker, the keyboard player and producer, to come up with song structures. For the guitar parts, it was pretty different for each; on one tune, Johnny would go in first, and another, I would. Some of the stuff, the bass player, Randy Bermudes, would listen with us, then come up with parts. So there wasn't a set way.
JM: We sort of grew up playing in a lot of the same situations, and we're both into soul music – Teenie Hodges, the Steve Cropper school of players – so we know each other well and it was easy to play off each other. He would grab a part and I'd say, "Okay, I'll grab the other one."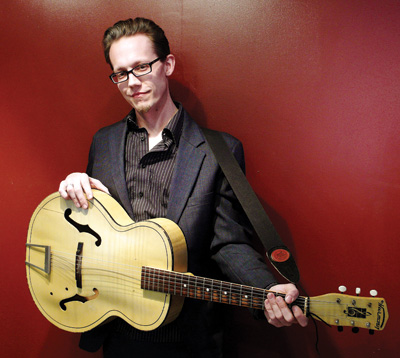 Did you use the same amp for every track?
MK: Most of the time I wound up using an old tweed Deluxe, and I'm thinking Kim played through it on "The Way We Roll."
Kim has an insane harp tone on the song…
JM: Isn't that awesome? And he sang through the harp mic, so it's really raunchy. It's really, really killer vocal and harp.
MK: Yeah, it sounded so good, and natural.
What do you like about the guitar parts on that song?
JM: They're just kind of hypnotic. I sort of respond to Kim with the wah-guitar part.
Another interesting thing about the album is that these songs have been coming together for several years, right?
JM: Yeah, we recorded half of these songs for a CD we sold off the bandstand – it was never distributed by a label. They were different arrangments – a bit more rockin' because we did them first here in Austin. We took the more soul-based songs from that and gave them a facelift, changed stuff around a little.
Johnny, you stage a Nashguitar S model and a Tele copy, and that's about it, right?
JM: Yeah, I got the Nash with kind of a Mary Kaye finish. It's great all-around for any gig. I've had it about five years.
Before that, though, you played a Strat for a long time, right?
JM: I did. I bought one when I was 16 – an '80s reissue – and I used it forever. It's so beat up. I bought it new, and now it's almost too ugly (laughs)! It needs some work, so when I joined the T-Birds, I got the Nash, which I like better. I was telling Mike that, and he thought it was sacrilege! He said, "Oh no, don't say that! That's your original Strat!" But I really like the Nash – I like the neck better – it's really thick. The one on my Strat is thinner, and I never liked big, thick necks until I got my Telecaster and the Nash, and both have them.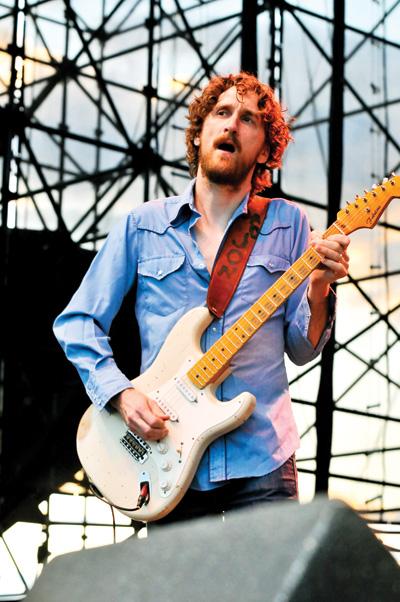 What is the Nash's body made of?
JM: I don't even know, but it has Lollar pickups. I really like those.
What is the other one?
JM: It's a parts guitar a buddy named Ben Peters threw together with a Warmoth neck and a Fender body. I think it has Fender pickups. I've had it for probably 15 years.
Ben lives in Australia and he's a really great guitar player and singer. He came over when I was playing with Lou Ann Barton, and I met him at Antone's one night. He was staying at a hostel, and I said, "Man, come crash at my house." He was in town for a month and was a great guest. That sort of situation can become like, "Why is this guy staying with me? How can I get rid of him?" But he was great. When he got back home, he told me, "Man, I'm sending you a guitar."
So that was like his rent payment (laughs)?
JM: Yeah, exactly – a great "relic'd" guitar.
Do you switch up gear for various gigs?
JM: To me, a Tele is the best all-around guitar, so I use one a lot with the T-Birds; for the other band, I use either a Strat or a Tele. For On The Verge, I tried an ESP Eclipse. It's sort of like a Les Paul, and it worked great, I think, because there was a lot of emphasis on rhythm parts. Live, though, a Tele or Strat are tough to beat because they're just so versatile. A live T-Birds gig covers a lot of ground – rock and roll, lots of blues, and the new soul, along with all the hit songs. I've recently been using a Mad Professor Deep Blue Delay on gigs; it's a nifty little pedal.
Do you ever mess around with older-style guitars with humbuckers?
JM: I used to have a Epiphone Riviera with mini-humbuckers, and I liked it a lot. It's fun, playing with different pickups; the ESP sounded great on the T-Birds record, but on live gigs, we have a harp player for part of the night, and when we're doing the soul tunes, Fender-style things work better. The ESP works great for different things, and when you play a lot of different gigs, humbuckers are better for this gig or single-coils for other things. I just got an ESP XTone, which is kind of like a 335, but with a different body shape, and used it at a organ gig.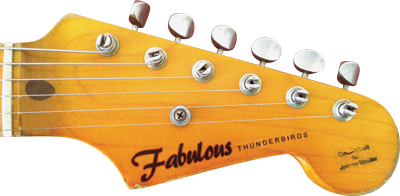 What about the Eclipse worked so well on the record?
JM: It gets a lot of different tones – it can really get clean, and it has a Bigsby. At low volume, it gets a really full tone and for a lot of rhythm parts, it blended well. I mostly played it through a vintage blackface Fender Deluxe the studio had, and I really dug that sound.
Before the T-Birds, I'd never really used humbuckers; I always thought they'd break up and get dirty. But the ESP can get really clean, and if you punch up the amp a little, it breaks up perfectly at lower volume – doesn't get too gnarly. I use it on an organ-trio gig here in Austin. With a Strat or a Tele at a quieter gig, I have to crank them up to get a nice breakup.
Mike, did you have to adapt anything, gear-wise, or was what you were playing a good fit?
MK: I mainly play a Telecaster pretty straight, not a lot of effects; some reverb and tremolo. So yeah, I was ready.
Had you been playing a Tele for a while by then, or were you still playing the Strat you played when you moved to Austin?
MK: I still have my old Strat, but for a long time I've been playing a guitar built by a friend, Tim Jorgensen, [as his class project in the Minnesota State College-Southeast Tech's Guitar Repair and Building program]. It looks like a '50s Tele, with a U neck – pretty large. When I picked it up, it was like, "Oh, man this thing's great!"
Does Tim build guitars for a living?
MK: He still does some luthier work; he played bass in The Keller Brothers Band, in Minneapolis.
Do you stick to just the two guitars?
MK: That's pretty much it. Most of the time when we're out, I just take one, and Johnny and I have a backup we'll share.
What amps do you play?
MK: We usually [rent] backline stuff, and I usually get a Bassman because they're consistent and break down less than anything else.
How hard do you run it?
MK: About halfway up, Bass a little less, a little more Treble, and the Presence depends on the amp.
And with the Tele, do you mostly use the bridge pickup?
MK: It depends on the song. I just try to balance the sound with whatever the other guys do.
But for tonal changes, you're mostly tweaking the guitar, not so much the amp?
MK: Exactly.
Johnny, do you keep any other amps around?
JM: Oh, yeah, I have a great Vibrolux I use around Austin, a reissue Super, an old Super, and a funky old Kay Galaxy with two 12s that's really good for raw, raunchy blues. I've also got a really cool Gibson G-5 Skylark.
Mike, when was the last time you played a cool old vintage guitar?
MK: Well, I've got a '50s Harmony that I keep around my house. It's a hollowbody acoustic set up for a pickup, but it doesn't have one. I like messing around on it.
Is there a T-Birds tour planned to support this record?
MK: Yeah, we're putting the calendar together. It looks good. We're staying busy, so…
Are you going overseas?
MK: We usually do. There's one date there now, at the Bospop Festival, and they were talking about three weeks over there. We usually go over one or two
times each year.
Are European audiences pretty receptive?
MK:Yeah, they're great – truly nice and accommodating.
---
This article originally appeared in VG June 2013 issue. All copyrights are by the author and Vintage Guitar magazine. Unauthorized replication or use is strictly prohibited.
---