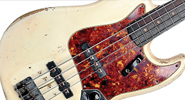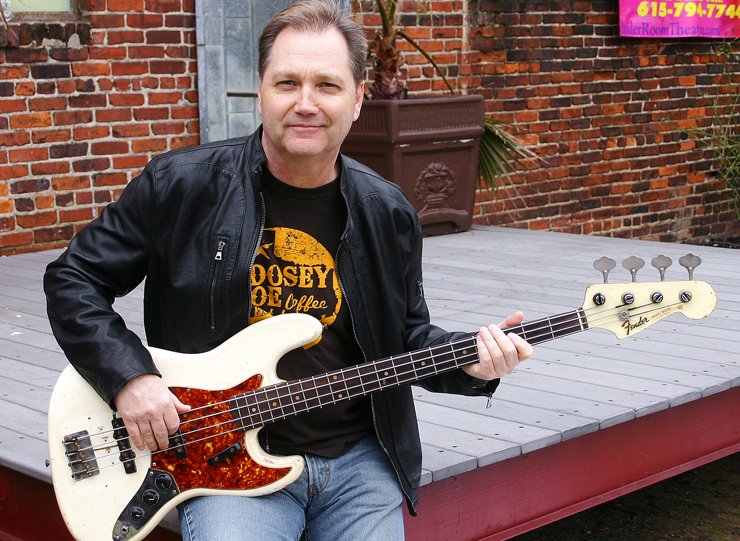 An eye-popping collectible in its own right, this Olympic White '62 Fender Jazz Bass scores a few points higher on the scale not only because it has been in the same family for decades, but mostly because it's owned by star country picker/singer Steve Wariner.
Wariner grew up in Fishers, Indiana, then a semi-rural small town near Indianapolis, and this instrument helped pave his way into the music business. It all started with family.

"My uncle, Jimmy Wariner, was the coolest guy!" he said. "He lived in south central Kentucky, but visited us often. He played lead guitar in a four-piece country band called Jay Hammond and the DJs. They wore matching show clothes, and I thought it was awesome that they had 45s on jukeboxes!"
On one visit, Warner recalls Jimmy bringing a new Olympic White Fender Jaguar, this matching bass, and "…a new Fender Showman amp; I was amazed when he pulled back those metal legs on that Showman and let it tilt slightly back. I had never seen anything like it!"
Inspired by the uncle he so admired, Wariner began playing guitar and, by his later teens, had the good fortune to join the DJs as co-guitarist for a summer. "That time, playing and traveling with uncle Jimmy – in the baddest '66 Chevelle SS ever – is something I will never forget," he said. "We played on a live TV show out of Bowling Green that aired every Saturday night. Years later, I realized other young teens who performed on it were Ricky Skaggs and Keith Whitley."
Fast-forward to 1973. Wariner, by then a senior in high school, got his "big break."
"I met Dottie West at the Nashville Country Club, in Indianapolis, which was a country-music club where I occasionally played. She heard me play; her bass guy was leaving, and she offered me a road job that night! I was a guitar player, but Dottie had a killer guitarist in Jimmy Johnson. She wanted a bass player who could sing, and I jumped at the chance – and Uncle Jimmy gave me the Jazz for the gig."
Wariner worked with West for three years, after which he took a gig with singer Bob Luman.
"He grabbed me backstage at the Opry one night and asked me to go to Texas for the weekend, since his bass player had just left. I wound up staying with him two years."
The young guitarist-turned-bassist used the Jazz on recordings with West and Luman, and recalled its first traumatic experience.
"After playing a funky little club in North Carolina, I forgot that I had left the bass at the edge of the stage. When I finally remembered, I sat bolt-upright in my bunk on the bus. We were halfway to Nashville!
"I called the club every day for two weeks and finally got the manager. Days later, he found it and put it on a Greyhound to Nashville. I met the bus coming in, and, as the driver opened the luggage bay, I asked if he had an instrument. He dug it out and asked, 'Is this it?'"
Wariner also used the bass when he played in Chet Atkins' band and feels fortunate the instrument wasn't damaged in those travels, especially.
"We flew all over… Europe several times. The bass was tossed into cargo holds over and over, in its original case. Now, I look back and say, 'What was I thinking?'"
Wariner can be heard playing the instrument on Chet's Live album from Paris and Nashville, and Neck and Neck, on which Atkins swapped licks with Mark Knopfler.
The instrument is missing its handrest, mutes, and the dust covers for its bridge and pickup, but otherwise has just one interesting modification.
"While I worked for Dottie, I talked to Steve Shafer, who was a top session bass guy of the day, about a slight hum it was making," Wariner remembered. "He put a drop of epoxy on the pickup poles. It worked! Looking back, though, I wonder if the hum wasn't simply from the studio."
The epoxy remains in place, and though he has been ensconced for decades as a top-flight singer and guitarist, Wariner still uses the instrument to record, even with its 20-year-old flatwound strings.
"I love it," he enthused. "When I pick it up, it brings back great memories."
---
You can receive more great articles like this in our twice-monthly e-mail newsletter, Vintage Guitar Overdrive, FREE from your friends at Vintage Guitar magazine. VG Overdrive also keeps you up-to-date on VG's exclusive product giveaways! CLICK HERE to receive the FREE Vintage Guitar Overdrive.
---
This article originally appeared in VG October 2013 issue. All copyrights are by the author and Vintage Guitar magazine. Unauthorized replication or use is strictly prohibited.
---