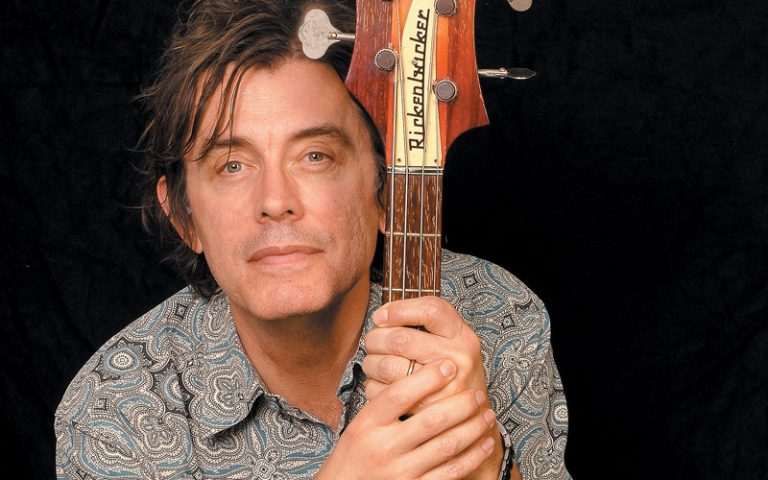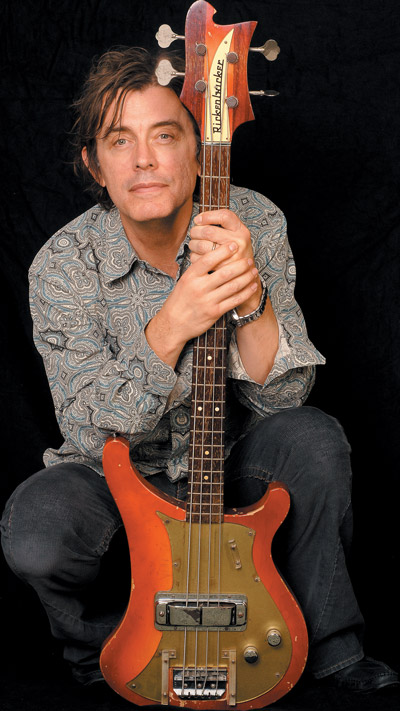 It's been a long time comin'… Like his longtime bandmate, Rick Nielsen, Cheap Trick bassist/songwriter Tom Petersson collects classic stringed instruments. Now a resident of Nashville, Petersson still plays the 12-string electric bass he is credited for envisioning and developing in the late 1970s in conjunction with the original Hamer company.
Originally from Rockford, Illinois, Petersson is, like many bassists, a converted guitarist. His first guitar was a Gibson ES-125. "The thick-bodied version with one P-90. It wasn't particularly one that everyone wanted, and of course, now I wish I still had it," he said. "But I really wanted a Rickenbacker 12-string back then, because of George Harrison. Before the Beatles, I'd been a huge fan of Johnny Cash, Duane Eddy, and Bo Diddley. My first concert, in 1962, was Johnny Cash at the Coronado Theatre in Rockford."
Petersson's conversion to bass took place circa 1967.
"My first bass was a Fender Jazz," he said. "But I never liked it, and much prefer Fender Precision Basses. In 1969, I bought a blue Rickenbacker 4001 to replace the Jazz Bass. I liked the horseshoe pickup, but hate that it blocks your right hand from muting the strings at the bridge. I've since converted a '72 Mapleglo 4001 to a single-pickup, neck-position-only version."
Petersson's first band of note was called the Bol Weevils, which specialized in harmony vocals and Beatle covers (thus the pun behind the name); he played a Cherry-finish Gibson ES-330. Another band on the same circuit was a grittier-sounding aggregation called the Phaetons, which included keyboardist/guitarist and fellow Rockford resident Rick Nielsen. That band evolved into the Grim Reapers, which ultimately included Petersson on bass.
Ultimately, the Grim Reapers begat a quintet called Fuse, which released a solitary album on Epic in 1969. Petersson's bass has a noticeable and prominent sound on songs like "Across the Skies" and "To Your Health," not unlike the tone of original Deep Purple bassist Nick Simper (the Purps' first album, Shades of Deep Purple, dates from '68). However, the Fuse record left Petersson dissatisfied ("Everything that could go wrong did"), and he and other former band members would go on to play in a version of the Nazz, sans Todd Rundgren, in the early '70s.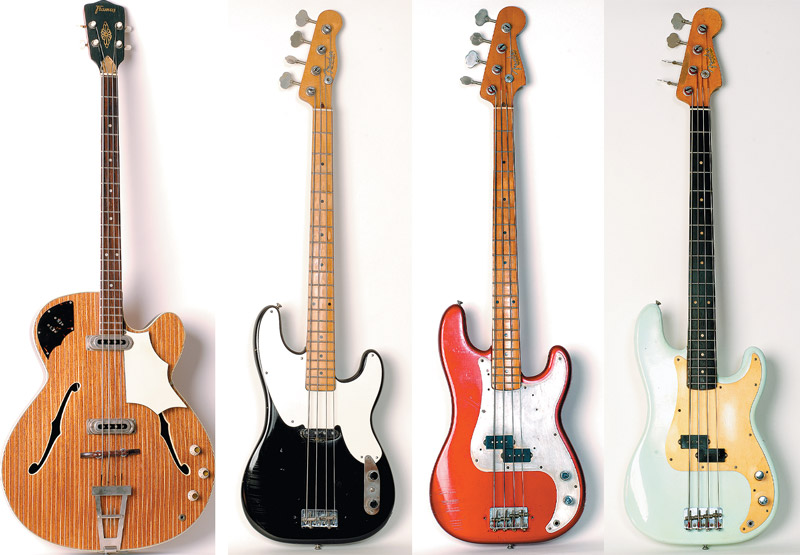 Cheap Trick formed in the mid '70s, and after a couple of personnel changes, the foursome of Petersson, Nielsen, drummer Bun E. Carlos, and vocalist/guitarist Robin Zander became the legendary lineup. The band's approach to songwriting and performing was "against the grain" for the times, and we asked Petersson why he thought the band broke out in the late '70s; i.e., during the "dark days of disco."
"Besides the usual stroke of luck, the main thing was that we did original songs and obscure covers," he said. "And nobody else – at least where we started playing – was doing that. They'd be playing the current disco songs, but we stuck with what we were doing. For the times, it was unique."
The look of the band was also unique, for that matter. Whereas Petersson and Zander had the long-haired rockstar aesthetic down pat, Carlos looked like a harried junior high school principal and Nielsen affected a goofball persona that recalled Huntz Hall (of the Bowery Boys and the Dead End Kids).
"Back then, people used to tell us 'Wow, we like your band. But when are your drummer and guitarist going to get with it?' We used to love that!"
Oddball looks aside, the band and its music clicked, particularly in Japan at first, where their first three albums sold better than in the United States. Interestingly, the album that firmly established Cheap Trick as a long-term and memorable force in rock music was 1979's Live at Budokan, recorded at the Tokyo venue.
It was also the late '70s that begat the bassist's first effort developing a 12-string bass. Like Nielsen, Petersson collaborated with the original Hamer company to bring his sonic vision to a playable reality. Curiously, Petersson had no interest in playing an eight-string bass, opting to instead "invent" a 12-string variant.
"I wondered what it would sound like to have an instrument that could kind of be a bass and a 12-string guitar at the same time," Petersson explained. "And I wanted to have that orchestral kind of sound for performance, since we didn't have a keyboard player, and there were and are times when Robin just sings and doesn't play guitar. I actually only use a 12-string bass for recording when I think it's needed, which turns out to be a quarter of the time. Originally, I'd tried using an octave divider with my Fender electric 12-string guitar, but that didn't work, so I started working with Paul Hamer and Jol Dantzig on a bass that would do the same thing."
The first Hamer effort was actually a 10-string bass, with E and A strings that had a single unison string tuned an octave higher, and D and G strings that had two unison strings tuned an octave higher ("At Hamer, they were certain the 12-string bass wouldn't work," said Petersson). Moreover, the earliest 12-string efforts (with a second unison string in the E and A string positions) had a short scale, but it was ultimately decided that the bass needed to have a standard scale length. "It took me 10 years to convince Hamer to make me a long-scale 12-string," Petersson noted. "Everybody knows that any long-scale bass is going to resonate better, and that's true for 12-string basses, as well."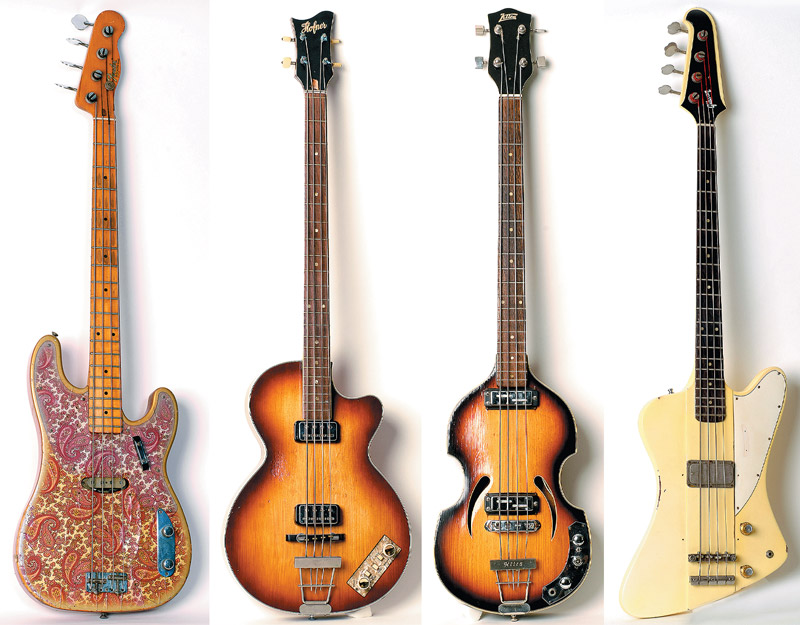 Petersson left Cheap Trick in 1980, but continued to refine his ideas for the 12-string. The first full-scale prototype from 1985 is the only early Hamer 12-string still in his collection. It was originally blond, but has been refinished blue with a planetary motif.
He returned to Cheap Trick in 1987 for the Lap of Luxury album, and the killer riff in the band's cover of Elvis Presley's "Don't Be Cruel" is the Hamer. "It's a good example of the perfect song for a 12-string bass, because of all the space," he said.
Since that time, Petersson has also collaborated with Chandler on a three-pickup 12-string called the Royale, and in '04 he signed with Waterstone to create a signature model.
The cool-looking Waterstone Tom Petersson 12-String Bass has a mahogany, semihollow body that measures 15″ wide, 191/4″ long, and 2″ thick, with a maple neck and rosewood fingerboard. Its scale length is 34″ and the neck has 21 frets, with a nut that is 48 millimeters wide. Electronics include two humbucking pickups, with separate volume and tone controls, plus a three-way toggle. Standard colors include black, translucent green, translucent red, cherry sunburst, and a blue with a "Mod Target" decoration.
For all the perceived complexity of a 12-string performance bass, most of Petersson's gigging Waterstones have only one pickup instead of two, as he prefers the simplicity of single-pickup instruments. Accordingly, he utilizes the neck pickup only on his own Waterstones, so there's often an empty cavity visible on his performance basses.
"It's my tribute to Malcolm Young," he explained.
Petersson goes in the same direction in the studio, relying primarily on single-pickup instruments for recording. His favorite is the original "reverse" version of the Gibson Thunderbird II. Gibson made the one-pickup neck-through model in 1963 and '64, along with the two-pickup Thunderbird IV. The series was Gibson's first crack at a full-scale bass.
"I own six of 'em," the bassist detailed. "It's the only bass I owned for our first two albums. There's something about the resonance of a one-pickup model that seems better than the two-pickup. Those '63-'64 models were the greatest, and are the ones to have. I do own a '67 non-reverse Thunderbird IV, and I have a '76 reverse Thunderbird IV as a backup. But the later Thunderbirds weren't nearly as good as the '63-'64 models."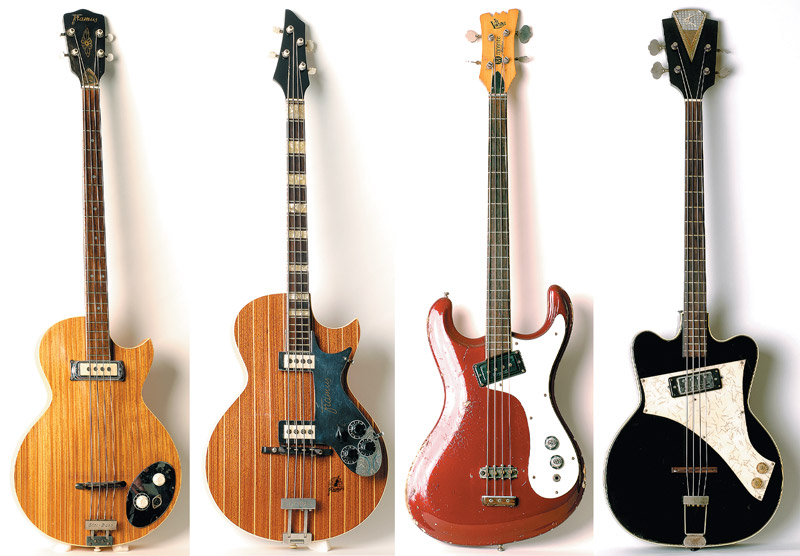 The veteran musician collects primarily for sound, and he has some very rare and cool pieces in his impressive collection. And although he isn't much for the Fender Jazz, he loves vintage Precision Basses, and his collection includes a 1956 contour-body model in a factory black finish, a factory-refinished Candy Apple Red '58, a '64 in Sonic Blue with an anodized pickguard, a '63 in Sherwood Green, and an all-original '63 in natural finish with an added Jazz Bass pickup.
"George Gruhn, Phil Jones (former Gibson Custom Shop employee and Gruhn repairman), and I examined the '56 closely to see if it really was an original factory black finish, and they thought it was."
The '58 was factory-refinished in Candy Apple Red in 1961. Petersson also owns more than one CBS-era Telecaster Bass, including a '68 pink paisley example, a '68 in blond with a repro black Bakelite pickguard, and a '68 refinished in Sea Foam Green. His affection for what was basically a reissue of the original early-'50s P-Bass was inspired in part by an often-overlooked bassist who played Telecaster Basses when they were new.
"A lot of people have forgotten that Ron Wood played bass in the original Jeff Beck Group," he said. "He played Telecaster Basses, and I loved the sound he got. Truth and Beck-Ola were incredible albums, and that band even backed up (English folk singer) Donovan on 'Barabajagal'."
Because he was one of the millions of teenagers caught up in the music of the British Invasion in the mid '60s, Petersson also has acquired several German-made models that some of his long-haired heroes plunked four decades ago. He's particularly enamored with his two '65 Höfner 500/2 Club basses in sunburst finishes, praising their "huge, deep" sound. He also owns three '59 500/5 single-cutaway Presidents (the "Stu Sutcliffe model"), and a '64 500/1 Beatle Bass.
Petersson also has three versions of the Framus Star bass, a 1961 3/4-size, a '62 small-body variant, and a '64 large-body, all with the rare "Humbug" finish, as played by Bill Wyman of the Rolling Stones. And he considers his violin-shaped '67 Klira to be a good, inexpensive backup for the Höfners.
Petersson has a number of unique examples of other American-made basses, and one of the more notable is a '64 Epiphone Embassy in TV yellow finish.
"It was basically Epiphone's version of a Thunderbird bass, with all the same parts," he said.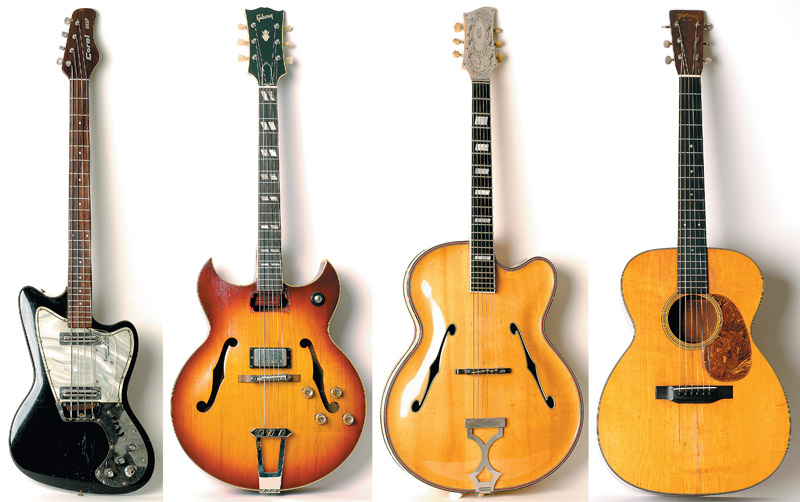 Petersson's admiration of the Ventures meant he had to own a Candy Apple Red Mosrite Ventures Model bass.
He also uses an original '61 Rickenbacker 4000 in Fireglo – the single-pickup variant of the more popular 4001 (the 4000 has what was usually called the "horseshoe" pickup in the middle of body, and is lacking a neck pickup). His appreciation of this brand and model is another nod to Petersson's single-pickup bass inclinations.
Another segment of the Petersson collection is comprised of inexpensive-but-cool vintage U.S. basses. There's a black Coral Wasp from '67, with lipstick-tube pickups (Coral was an offshoot of Danelectro), and several Harmony and Kay basses. His 1950s Kay bass with a "Kelvinator" headstock is cool, but Petersson more readily sings the praises of another Kay from that era.
"I've got one of those that's referred to as 'the Howlin' Wolf model'," he enthused. "And it's got an incredible sound for a short-scale bass, probably because of that huge pickup. It sounds almost like an upright (bass)!"
Petersson's assemblage even includes an oddball one-string Japanese electric bass made in 1987.
"I saw that on one of our tours in Japan," he recalled with a chuckle. "It's a total joke and I knew I had to have it."
And yes, Petersson also collects standard six-string guitars, which he uses to write and record. Classic American guitars in his set include a 1934 Martin 000-18, a 1960 double-cutaway Gibson Les Paul Junior in TV yellow, a black '63 Fender Telecaster, an orange '67 Gretsch 6120, a Gibson Barney Kessel Standard from '62, a prototype Gibson Super 400 from '91, a '59 Rickenbacker 360 Capri, a '67 Rickenbacker 360/12, and an original black '57 Gibson J-160E (as played by John Lennon and George Harrison) that he prefers for recording, "Because of the lack of low-end, it fits in the tracks better." Another favorite acoustic is a 1950s Artur Lang hand-made in Germany.
When the subject is vintage guitars, Tom Petersson is obviously enthusiastic, and very knowledgeable. And when the subject is unique bass tones, pushing the frontiers of the instrument, or creating great rock and roll music, his contributions are respected by fans and players alike.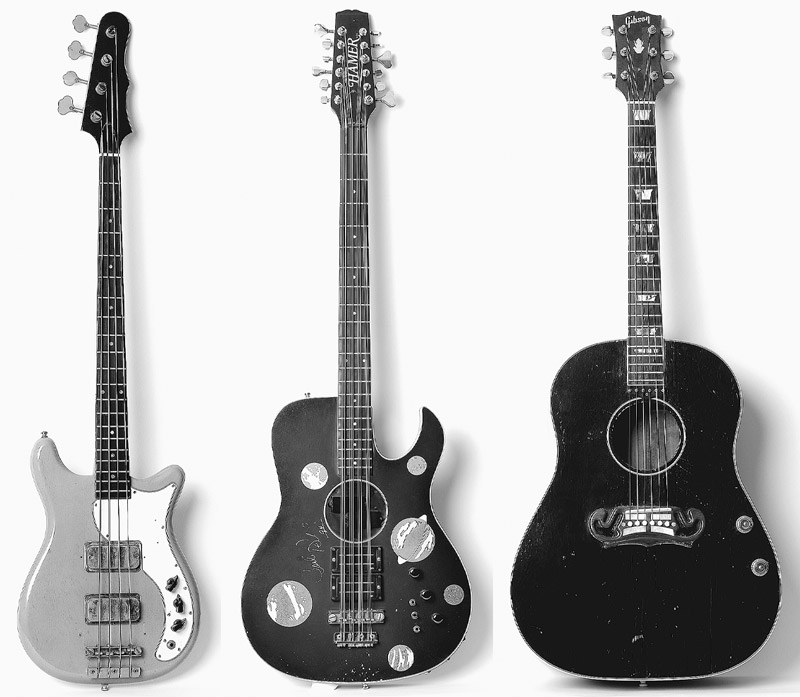 ---
This article originally appeared in VG's April 2007 issue. All copyrights are by the author and Vintage Guitar magazine. Unauthorized replication or use is strictly prohibited.