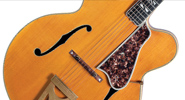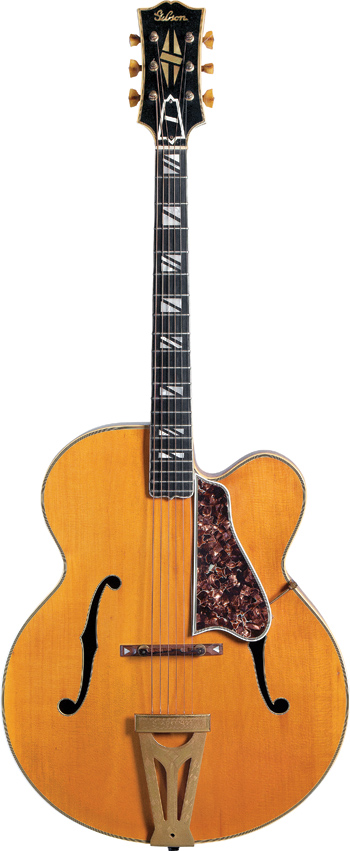 The Gibson Super 400 Premiere cutaway acoustic first appeared in Gibson literature in the 1940 catalog, on a page showing it and the L-5 Premiere in clear "natural" finish. The photo shows the Super 400 PN held by George Smith (described as "Paramount staff guitarist") and the L-5PN held by Eddie Skrivanek ("radio and studio star").
The Super 400 Premiere model was listed at $425 including case and zipper cover, which made it the most expensive guitar in the Gibson catalog at the time. Natural finish (N designation) and sunburst were available for the same price. By contrast, a Martin D-28 cost $100 in 1940, while a Martin D-45 or Gibson SJ-200 cost $200.
Expensive in their day, these instruments required a high degree of hand work. The economy had not yet recovered from the Great Depression and few musicians were in a position to buy them. The late Julius Belson, who worked at Gibson in the 1930s and '40s, compiled production records showing Super 400P sunburst-finish guitars production as six in 1939, 10 in 1940, and 13 in '41, while production of the Super 400 PN natural-finish version, according to Belson, was 13 in 1940 and five in '41. By contrast, Martin made a total of 91 D-45 guitars from 1933 through '42, making the Super 400 Premiere not only more expensive when new, but considerably more scarce.
The earliest Super 400P shipping ledger found by noted Gibson researcher/VG contributor Lynn Wheelwright is for a Super 400P taken as a sample by Doc Caldwell on January 25, 1940. It's reasonable to assume production of this instrument started in 1939. While some Super 400 Premiere models were shipped as late as '42, it appears Gibson was shipping from stock of already manufactured guitars rather than actually producing them that year. Production resumed after World War II, but the model name was changed to Super 400C (indicating cutaway) in '48. The non-cutaway Super 400 was introduced in '35. Annual production of the non-cutaway Super 400 was greater than the Premiere model cutaway until after World War II. The non-cutaway Super 400 was discontinued in '55 while production of acoustic cutaway Super 400C models continued until '82.
The Super 400P and L-5P were the first cutaway models offered by Gibson; European makers such as Luigi Mozzani (mentor to Mario Maccafferi) were producing cutaway guitars in the '20s, and Maccaferri and Selmer were producing cutaway guitars in the '30s that today remain highly prized by players interested in emulating the style of Django Reinhardt and other gypsy-jazz musicians.
The earliest Super 400P and L-5P models made in '39 have a fingerboard extension over the body which is glued flush on the top rather than elevated, as the non-cutaway L-5 and Super 400 models were given. The flush fingerboard had the effect of slightly dampening volume and was not conducive to installation of a floating pickup. In 1940, the Premiere models were altered to feature an elevated fingerboard. Any pre-war Premiere Super 400 or L-5 is a greatly sought after collector's item, but most musicians prefer the 1940 model (with the elevated fingerboard).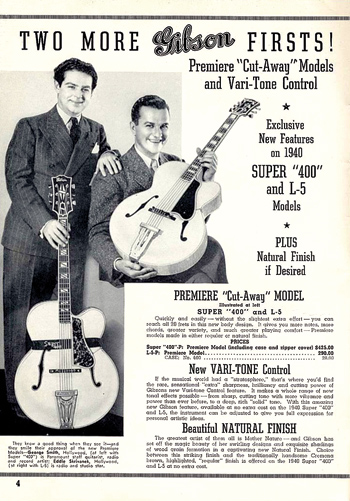 Research by Joe Spann, author of Spann's Guide to Gibson 1902-1941, indicates Super 400PN (with serial number 96654/ factory work order number 1484F-2) was shipped from the factory three times and mentioned in the shipping ledgers a total of four times. The model designation on the label of this guitar is simply "Super 400." However, the shipping ledgers show it shipped the first time on April 10, 1941, as a Super 400 PN to Salak Brother Piano Company of Racine, Wisconsin, in a #400 case and was later returned to the factory, probably on a dealer exchange, and shipped a second time June 30, 1941, simply as a model Super 400 along with a large batch of other instruments to a Gibson display at Niagara Falls, New York. After being returned from the special exhibit the guitar remained at the factory in inventory for almost a year and was then taken out by Gibson salesman Jack Blanchette as a sample on April 14, 1942, without a case. At the time, it was noted in the shipping ledgers as a model Super 400PN, and Blanchette placed the guitar with Hiltbrunner Music of Cedar Rapids, Iowa, on April 24, 1942. At that time the shipping ledgers record the guitar as a Super 400PN. Spann's research indicates that the first Super 400PN was shipped March 10, 1941, and the final unit left the factory November 17, 1942. 
The label in this guitar also features the handwritten fraction 11/8″ which indicates the recommended setting for the height of the bridge measured from the top of the guitar to the top of the bridge saddle. This was commonly handwritten on pre-war Super 400 labels.
During the Great Depression, Gibson had a very generous exchange program designed to make dealers more comfortable ordering expensive instruments which might prove difficult to sell in hard times. If a dealer was dissatisfied with an instrument or if it remained unsold for too long, they could exchange it for other new Gibson merchandise of equal value. As a result, shipping totals and the actual number of instruments manufactured are not the same. If instruments were returned in less-than-pristine condition, many were refurbished, often using parts typical of the time rather than per original specs, therefore it is not uncommon to find instruments with some features out of sync with what would be expected from the work order and serial number. It should also be noted that the factory work order numbers were applied prior to completion of the instrument, whereas labels with serial numbers were typically not applied until the company received an order to ship it to a dealer, at which time final set up work would be done and a label would be applied. As a result, some serial numbers are out of sync with the factory work order numbers by well over a year.
The Super 400 Premiere is among the rarest and most-sought historically significant collectible archtop guitars, ranking with some of the finest instruments produced by luthiers such as John D'Angelico and Elmer Stromberg.
---
You can receive more great articles like this in our twice-monthly e-mail newsletter, Vintage Guitar Overdrive, FREE from your friends at Vintage Guitar magazine. VG Overdrive also keeps you up-to-date on VG's exclusive product giveaways! CLICK HERE to receive the FREE Vintage Guitar Overdrive.
---
This article originally appeared in VG October 2013 issue. All copyrights are by the author and Vintage Guitar magazine. Unauthorized replication or use is strictly prohibited.
---