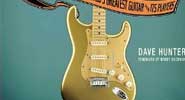 The title of this new book is not hyperbole. The book truly covers not only the origin and history of the iconic guitar, but also includes short features on guitar players who make their living with, or are associated with, the Fender Stratocaster. In between there's plenty of text to let you know what made and makes the Strat a truly unique and groundbreaking guitar. As Randy Bachman writes in the foreword here, "The Strat was and still is the most recognizable image, sound, and pioneering guitar to make music."
If you're into the history, there's plenty here to keep you busy. Some of it you may know, some you may not, but VG writer Dave Hunter's text is a fascinating read. The book walks you through Leo Fender's ideas and how we ended up with the guitar we all know and love. We meet all the main players in the company's lore. We learn what contributions they made and get quotes from them to back up the story. The book is well researched and the sources used are impeccable.
If you're a gear geek, you'll be engrossed by explanations of how Fender developed all the aspects that would give the guitar its unique sound. Small facts make their way into the text that grab you by surprise, such as finding out the placement of the volume knob was intentional to be used for volume swells and not just a fortunate accident. Schematics and copyright papers show the construction of the guitar.
Features on various players explain their contribution to the history of Strats. The story starts way back with Eldon Shamblin, Pee Wee Crayton, and Mary Kaye, and covers a lot of ground through the bios. They stretch from Buddy Holly to Eric Clapton to Rory Gallagher, but don't ignore other styles of music, like Iron Maiden's Dave Murray and shredder Yngwie Malmsteen. A picture of Malmsteen's guitar collection spread across his lawn is one of the many amazing photos in the book.
Photos help this book stand out. Great pics of old guitars mix with various signature guitars and some oddities like the Playboy Strat. They are all gorgeous images, and you'll spend a lot of time poring over them. At least one photo supplies some humor: Jimi Hendrix plays his Strat while a scantily clad blonde talks to him. The caption hints that she is questioning him about the guitar. Probably not.
You've probably heard a lot of the stories here, but to have them in one source with a treasure trove of pictures to boot makes this a must-have for anyone with an interest in guitars or rock and roll. This new book will quickly make it onto the coffeetables of guitar players everywhere.
This article originally appeared in VG's March '14 issue. All copyrights are by the author and Vintage Guitar magazine. Unauthorized replication or use is strictly prohibited.