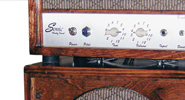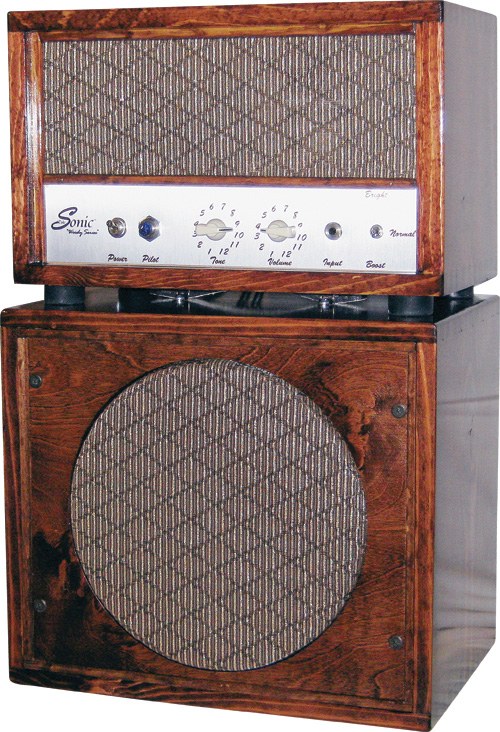 Shaw Audio Bass 130
Price: $1,350
Contact: www.tremcaster.com, phone: (330) 608-2043
In a day where gear companies often focus on utilitarian products, it's nice when high-end craftsmanship rears its head. Ken Doles and the crew at DoleSonic Amplifiers are a good example with their latest offering, the Half Back Stack.
A Class-A/10-watt offering, the amp sports an interesting tube combination – a single KT66, 12AX7, and a 5Y3 NOS rectifier. The KT66 gives the Half Back a unique voice, yet it's not too broad a departure for traditionalists who may be more accustomed to the softer output of tubes like a 6V6; the Half Back can also be ordered with a 6V6, 6L6 or EL34.
The Half Back's controls are elegant and simple – single Volume and Tone with three-way Voicing switch that allows the user to toggle between Bright, Normal, and Boost settings. An impedance switch on the back panel allows for 4- to 8-ohm loads. Equally appealing is the amp's speaker cabinet. Made of pine with a 3/4″ birch plywood baffle that gives it a high level of structural integrity while optimizing sound dispersion. The piggyback format exudes cool, especially with custom touches like a vintage-style custom grillecloth and leather strap handles. Head and cab are hand-stained in a finish that accentuates the design and wood grain.
Plugging in a solidbody with dual humbuckers, the first word that comes to mind is "warmth." Notes all over the neck translate clearly, with a pronounced roundness – not overbearing. The Class A circuitry provides nice top-end presence without being overly chimey. Single-coil solidbodies render plenty of snap and bite – again, with that warmth. The DoleSonic excels as a jazz amp; hollowbodies blossom through the stack, and it loves flatwound strings.
Don't for a second think the Half Back is simply a clean-sounding low-watt amp. On the contrary, DoleSonic's design provides really nice overdrive; virtually all distortion settings proved usable and musical. When pushed, the roundness of the amp's tone helps retain the same warmth. From subtle breakup to full steam ahead, the amp begs to be pushed, and you quickly forget you're working with just 10 watts.
In all, the DoleSonic Half Back Stack is an impressive package. In the studio or on stage, its looks are timeless, its tone much the same.
---
This article originally appeared in VG December 2012 issue. All copyrights are by the author and Vintage Guitar magazine. Unauthorized replication or use is strictly prohibited.
---