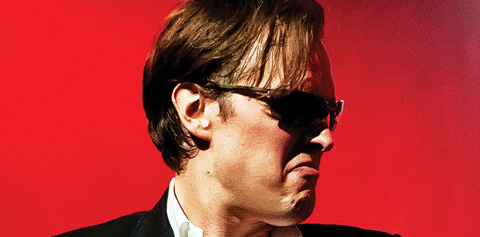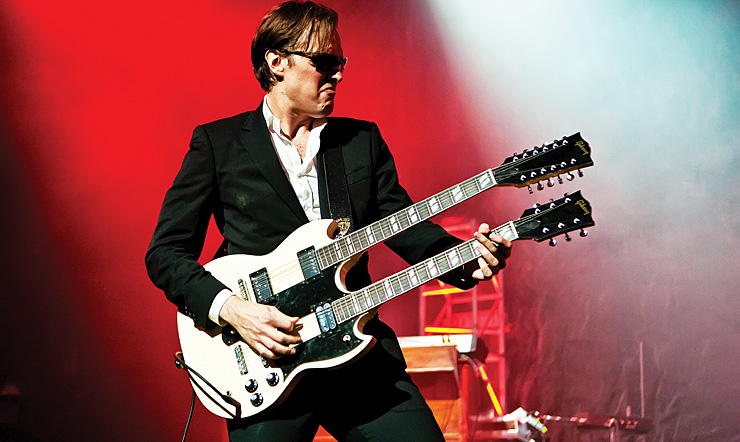 Joe Bonamassa's latest record, Driving Towards The Daylight, is a return to the blues. After two successful studio albums with the heavy-rock band Black Country Communion, Bonamassa's latest solo effort explores some of his early influences. While covering Robert Johnson, Howlin' Wolf, and Willie Dixon, he got help from heavyweight guitarists including Brad Whitford, Pat Thrall, and Blondie Chaplan. But Bonamassa couldn't have recorded this album without the help of producer and label partner Kevin Shirley. Their unique relationship has produced a great body of work as well as some awesome guitar tones.
Driving Towards The Daylight sounds like you getting back to your thing.
It's a little bit of a return to the blues, which is always fun. It was about time to stop messing around with the bouzoukis and world stuff, and do a blues record again.
Was that an actual conversation you had with Kevin Shirley?
That was the word. Every record has a word. Ballad of John Henry was "swampy." Black Rock was the "world blues" thing. Dust Bowl was "Americana." This one was "blues," so we tried to make a blues record. It's fun to play and the material is translating very well live.
When you and Kevin discuss concepts, does it flow naturally, or do you have goals in mind?
We always find ourselves on the same page. That's why the way we work is so special. He'll say, "I think we should make a blues record." And I'll say, "I was just thinking the same thing." That's the beauty of it. When you run your own record company, it's like, "I'll do whatever I want!" There's no committee thinking. There's no hits. We don't play the radio game. In spite of it all without a radio hit, we'll walk into venues with 2,000 to 5,000 each night, going, "This is better than having some kind of radio hit that you have to play every night." There are a few songs they would be disappointed if I didn't play, so I get to them, but there's certainly no career-defining song.
What keeps you on course in terms of the records you choose to make?
I try to make records I know my fans would like. I think I know my fans pretty well at this point; they tolerate a lot of adventurism on my part, with trips to Greece and bouzoukis laid over I-IV-V changes. I think they know me as a person and they know whatever I want to do is something that's uniquely authentic to myself. They have a good barometer when they smell "the machine" getting behind it, and so do I. When I see that coming down the lane, I pick up my guitar and run the other direction.
Was joining Black Country Communion an attempt at a crossover?
Essentially, what we tried to do was make modern classic rock. It sounds like it was recorded in 1972 with that kind of live-in-the-room feel, with everybody playing great on new songs. We saw there was definitely a niche for that – "new classic rock." New songs, but they would sound relevant to 1972, as well.
For years, blues purists were saying, "Please stop trying to hi-jack the blues and go join a rock band, because your show is more rock than blues." Some of the points they made are valid because it really isn't "blues" by definition, yet it's categorized as blues. So I gave them their wish, and honestly, it's a lot of fun! They're good cats to play with, and good people, and it's exhilarating.
Staying away from rock, how did you choose the material on Driving Towards The Daylight?
One of the initial songs was Howlin' Wolf's "Who's Been Talking?," and we basically let Howlin' Wolf dictate the tempo. At the beginning of the song is a sample from the '60s, when he went to London and did those sessions; it's him talking to Aynsley Dunbar. On Robert Johnson's "Stones In My Passway," we just wanted to do it like if Lead Belly was alive today, doing Robert Johnson on a 12-string. We're messing with the traditional structure, but that's the way I like it.

What's the difference between the gear you use for Black Country Communion and the gear you use on solo tours?
I bring more stuff for the solo gigs. I have 13 albums to get to. For Black Country Communion, I bought seven guitars. Mostly, I played a couple of my signature-model Les Pauls and my first '59 Les Paul Standard sunburst. Since then, I've purchased two more. On tour, we have two '59 Les Pauls, a '60 with a Bigsby, two dot-necks – a '60 and a '61 – a '53 black-guard Tele, a '54 Firebird, and a '57 goldtop with P-90s. Amp wise, I'm using two Marshall Jubilees, a Trainwreck Liverpool from 1990, and a prototype from Jim Kelley, built by John Suhr. It sounds freakin' wicked.
My whole thing is that I just want to be different from everybody else. I don't want to be lumped in. What I do is different than Derek Trucks. Derek Trucks is different than me. Kenny Wayne Shepherd is different than both of us, and Jonny Lang is different from all three of us.
The people who do the lumping don't have an ear for nuance…
"Oh you're a blues guitar player, so you must like Stevie Ray Vaughan." Well, I admire the man's music, but let's not go to the lowest common denominator here and take the Wikipedia definition. There are deeper things. I'm from America, but British blues is my thing.
---
This article originally appeared in VG August 2012 issue. All copyrights are by the author and Vintage Guitar magazine. Unauthorized replication or use is strictly prohibited.
---