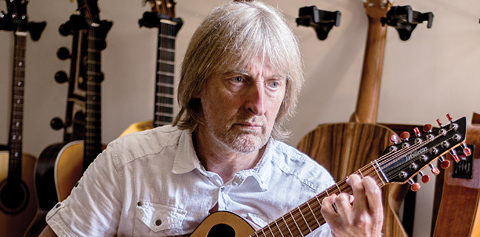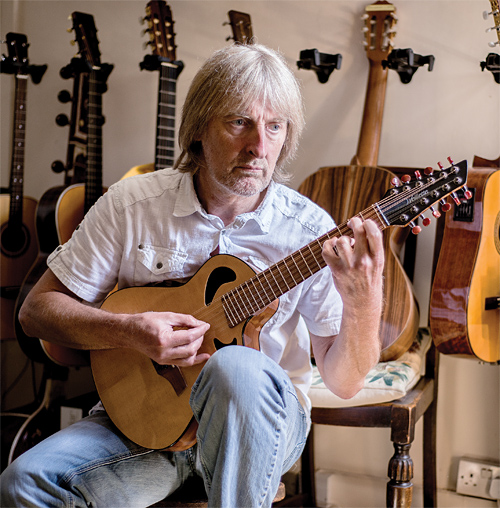 Ant Phillips was a founding member of Genesis and, along with guitarist/bassist Mike Rutherford, created the signature 12-string acoustic sound that marked the band's classic albums. Phillips left the group after 1970's Trespass album to study music, but his '77 solo debut, The Geese and the Ghost, is regarded as a prog classic. It also launched his recording career on solo albums and sound track music for television and film. Now, his career has been summed up in Harvest of the Heart, a five-disc boxed-set look at every facet of his career, including a few rarities that will thrill fans of vintage Genesis music.
It has been 44 years since you were a member of Genesis, yet you are regularly asked about them. Does that get tiring, or is it a source of pride?
It's tiring when people are only interested in that era and not my lengthy career thereafter. My role in the Genesis saga was brief, but very much during its formative period. Some of my personal sound and style went into the band's musical genome, and I am proud of that.
One of the interesting aspects of Harvest of the Heart is that it reflects a long studio career that succeeded without live performances.
While I was among the keenest members of Genesis to start performing live in the early days, I was later seized by a burst of stage fright and that put me off playing live. Instead, I love the constant creativity of studio work; I feel I'm a better composer than a player, anyway.
You discovered the 12-string acoustic as a teen. Were you aware of landmark 12-string tracks like the Rooftop Singers' "Walk Right In" or Simon & Garfunkel's "A Hazy Shade of Winter?"
I vaguely remember "Walk Right In,'' but can honestly say my 12-string style was formed largely in tandem with Mike Rutherford when we were at school together [from 1967 through '69]. It was our own thing, though in a small way, John Whitney, of Family, influenced my rhythmic approach a bit with "The Weaver's Answer" [1970 U.K. single]. Brilliant acoustic guitarists such as Simon Nicol and Richard Thompson did likewise with six-strings on the gorgeous Fotheringay album, but I really feel Mike and I plowed our own furrow on the 12-string, and boy, was it exciting!
When you played acoustic onstage with Genesis, how did you amplify it?
Mike and I had DeArmond pickups that fed back all the time. When that would happen, both of us would turn down, not knowing which was the offender. At times, this left Peter [Gabriel] as good as unaccompanied on vocals!
One of the box-set tracks, "F Sharp," is clearly the basis for Genesis' "The Musical Box." Was it frustrating you never got a songwriting credit?
My contribution was small in the grand scheme of things, and if they hadn't toured with it later on, I wouldn't have made any money at all. So it's fine with me.
What are your primary guitar tools these days?
I'm the proud owner of many guitars and stringed instruments. I have an Italian Vinaccia mandolin from 1784 and a German wald cittern from 1733! I usually play less electric, but am plugging in again for a new project, swapping between my '57 Les Paul goldtop and a '60s Strat. I also use a John Dickinson amp, with its signal split through an Avalon preamp to the mixer via a volume pedal. For effects, I use a Roland Dimension D; Strymon BlueSky reverb and Timeline delay; and T-Rex and Coopersonic overdrives, plus old faithfuls like the MXR Dyna Comp and Phase 100. I even have my old green Roland Chorus/Space Echo for occasional use.
In your mind, what qualities make a good 12-string acoustic?
Good action and accurate tuning, of course, but ideally an equal mix of a high, shimmery top voicing with deep, round, warm bass. And believe me, that's hard to find! The closest to this I have is my Larrivee 12 – it's a majestic instrument.
Tell us about your 12-string Veillette Gryphon.
I bought it from Ivor Mairant's music shop in London. Mac, the guy who runs the store, often infuriatingly finds these things to tempt me with. It's quite small, but packs a punch – fuller than you would expect in a small-body acoustic. Yet it has a crystalline top-end that really sings.
Do you ever spin Trespass for old time's sake?
I haven't recently, though perhaps I ought to. As is probably evident, my latter days with Genesis were somewhat traumatic, so that record is tarnished, in my mind. But I'm thrilled that so many people hold it in high esteem – the record took a lot of blood, sweat, and tears to get it there!
---
This article originally appeared in VG January 2015 issue. All copyrights are by the author and Vintage Guitar magazine. Unauthorized replication or use is strictly prohibited.
---