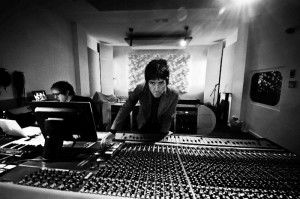 Johnny Marr (VG, June '12) will release his first solo album, The Messenger, February 26. The 12-song set will feature his signature guitar and vocals front and center with a sound that mixes elements of angular art rock and rock and roll.
First known for his work alongside Morrissey as the creative force behind The Smiths, Marr has spent the last two decades collaborating with an array of acclaimed bands, including Talking Heads, Pet Shop Boys, The The, Electronic and more. Marr was a member of the Modest Mouse lineup for 2007's We Were Dead Before The Ship Even Sank. Marr joined The Cribs on their '09 release, Ignore The Ignorant.
Marr returned to the U.K. in early 2012 to commence work on The Messenger; it was recorded in Manchester and Berlin, then mastered at Abbey Road by Frank Artwright, who recently collaborated with Marr on the remastering work for The Smiths' box set, Complete.