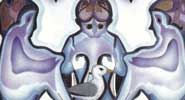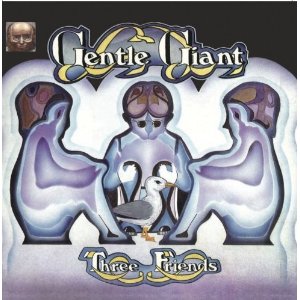 Gentle Giant was one of the great, eccentric British bands of the '70s. They blended FM rock with Elizabethan madrigals and baroque chamber music, plus generous dollops of Celtic folk and jazz-fusion. Apart from that, the caliber of musicianship was also nothing short of insane. In addition to three- and four-part vocal harmonies, its members covered everything from standard rock instrumentation to trumpet, sax, vibraphone, recorder, violin, and cello. You'd be further hard-pressed to find many 4/4 time signatures – to Gentle Giant, the more complex the rhythms, the better. If you want to hear what this all sounds like, cue up these excellent reissues from 1972, both of which have bonus live material and other unreleased goodies.
Three Friends shows the band developing their signature eclectic sound. "Prologue" reveals their penchant for complexity, with squirrely melodies and chunky riffs everywhere. Throughout the album, axeman Gary Green handles the snarling electric parts, notably on the aptly named "Peel The Paint." The tune kicks off with intricate, quiet passages before a high-voltage rock section where Green cranks his '60 Les Paul flametop and 100-watt HH Amplification combo to hard-rock nirvana. His fat lead lines here sound more like Humble Pie than this oft-genteel band, but nevertheless, it's a peak moment on the LP. Also keep in mind that Green's Echoplex-aided guitar solo was recorded two years before Brian May's famous solo in "Brighton Rock" – more evidence that nothing in rock and roll is ever completely original. (You'll further hear a few passages that Kansas may have liberally borrowed a few years down the road.)
Recorded a few months later, Octopus helped put Gentle Giant on the map, sporting the artwork by Roger Dean. The album kicks off with "The Advent Of Panurge," a track featuring their trademark multi-part vocals before launching into a heavy, guitar-laden section. The rocking continues on "A Cry For Everyone," with front man Derek Shulman's compelling vocals and more Gary Green riffery, further highlighted by bassist Ray Shulman's superb, yet lamentably underrated bass work. Those in the know, however, count Ray right up there next to Chris Squire, Mike Rutherford, and Greg Lake as one of bass monsters of the era.
So if you're an old-time fan or just adore British rock of the '70s, both of these CDs are satisfying voyages back to that bolder, braver era of rock exploration. Really, they just don't make bands like Gentle Giant anymore.
---
This article originally appeared in VG's Jan. '12 issue. All copyrights are by the author and Vintage Guitar magazine. Unauthorized replication or use is strictly prohibited.
---