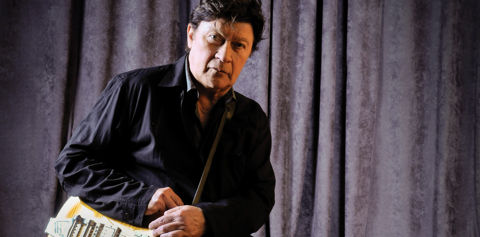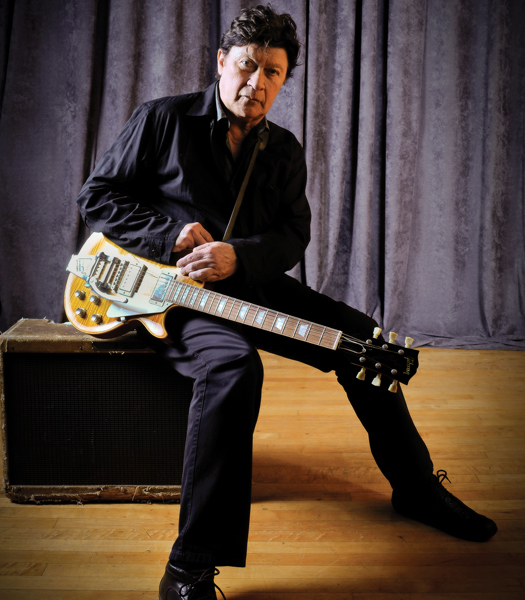 It's difficult to say which is more ironic: the fact that Robbie Robertson, one of rock guitar's true stylists, is more famous for his songwriting, or that beneath the minimal, compositional style that marked his work with The Band hid one of the most animalistic maniacs in rock guitar history. • The son of a Jewish father and Mohawk mother, Jaime Robbie Robertson was born July 5, 1943, in Toronto, Ontario. Growing up, he split his time between the city and the rural Seven Nations Indian Reserve, where he first took up guitar.
After dropping out of high school, Robertson landed a gig with Ronnie Hawkins, an Arkansas rockabilly holdover who toured Canada enough to become a star there. After apprenticing behind guitarists Fred Carter, Jr. and later Roy Buchanan, Robertson graduated to the lead-guitar chair. The group, dubbed the Hawks, also included drummer Levon Helm and eventually bassist Rick Danko, pianist Richard Manuel, and organist Garth Hudson.
In 1963, the combo left Hawkins en masse, renaming themselves Levon & The Hawks, but not before Robertson would put his stinging stamp on several Hawkins recordings, including his covers of "Bo Diddley" and especially Diddley's "Who Do You Love." (Some of the Hawks' own recordings, including the nasty instrumental "Robbie's Blues," later surfaced on the boxed set A Musical History.)
Along with Mike Bloomfield (on piano) and blues harpist Charlie Musselwhite, Robertson, Helm, and Hudson went to New York City to back John Hammond on his 1965 LP, So Many Roads. Through Hammond, they were introduced to Bob Dylan, who hired Robertson and Helm that year to play his infamous Forest Hills, New York, concert, at which Dylan was summarily booed, following his controversial electric set at the Newport Folk Festival.
Helm bowed out, but the rest of the Hawks, soon renamed The Band, came onboard for Dylan's 1965-'66 world tour. In '66, Robertson was the lone Band member (surrounded by Nashville's best) to play on Dylan's classic Blonde On Blonde.
In '67, Helm rejoined the group in Woodstock, where they cut the landmark Music From Big Pink. At the height of psychedelia and hard rock, it sounded like nothing before – both communal and epic, its mix of folk, blues, classical, gospel, and old rock and roll embodied everything that would later be termed Americana (ironically, since four-fifths of the group were Canadians). Eric Clapton has been quoted as saying the album prompted him to leave Cream, and its influence is readily apparent on the guitar hero's subsequent solo work.
Meanwhile, The Band's self-titled sophomore effort was every bit as good, and the group were press darlings and concert headliners.
The Band dissolved (or Robertson dissolved The Band, depending on who's recounting the events) in '76, throwing a star-studded concert at San Francisco's Fillmore Auditorium on Thanksgiving Day. It was dubbed "The Last Waltz," as was Martin Scorsese's subsequent documentary of the event and the group.
Robertson's relationship with the director resulted in him scoring such films as The King Of Comedy, The Color Of Money, and the classic Raging Bull. But Robertson wouldn't release his self-titled solo debut until 1987, which included Danko and Hudson, as well as U2, Peter Gabriel, jazz arranger Gil Evans, and producer Daniel Lanois.
Over the years, Robertson has produced or played on albums by Clapton, Muddy Waters, Neil Diamond, Steve Miller, Jesse Winchester, Charles Lloyd, Ringo Starr, Joni Mitchell, Carly Simon, Tom Petty, Roy Orbison, Emmylou Harris, B.B. King, Van Morrison, and Jerry Lee Lewis, and his songs earned him induction into the Songwriters Hall Of Fame. But only four solo efforts would follow in the ensuing 24 years, with Music For The Native Americans, composed for a TV documentary and featuring backing from the Red Road Ensemble, being a highlight.
Alongside Clapton, at his friend's 2007 Crossroads Guitar Festival, the somewhat reclusive Robertson made a brief but stellar appearance, reprising the Bo Diddley classic he'd recorded with Hawkins, "Who Do You Love."
Earlier this year, 429 Records released How To Become Clairvoyant, which finds Robertson surrounded by Clapton, Steve Winwood, Robert Randolph, Tom Morello, Pino Paladino, Trent Reznor, and others. A "deluxe" edition of the CD includes a second disc, consisting of five songwriting demos and one outtake. The "collector's" edition includes a mix-your-own-tracks DVD and a 70-page book with artwork by Richard Prince, ephemerae from magician Ricky Jay's vast collection, and pictures of some of Robertson's and Clapton's guitars.
Here, the master talks about his roots, the evolution of his guitar style, his longtime association with Eric Clapton, and his impressive guitar collection.
What was the first music that really grabbed you?
There's different periods of that. My parents told me that the earliest music that they saw me reacting to, above and beyond any other, was boogie-woogie – music by people like Louis Jordan. Almost pre-rock-and-roll rock and roll. I don't think I'm alone in that; I think a lot of people were drawn to that, and there's a lot of boogie-woogie in early rock and roll – piano players like Jerry Lee Lewis.
But where it connected for me was on the Six Nations Indian Reserve. That's where all my cousins and uncles and aunts were, and it seemed to me like everybody played music. I felt like I needed to get in on this. Finally, some cousins and uncles started showing me some chords on guitar. I was just really drawn to it. There was a time that I can remember thinking to myself, "Wow, it's so great, you guys turning me on to this and showing me this, but I actually can play better than you can now." I can remember thinking that at a pretty young age, around 12 or 13.
Were they playing and showing you Indian music or pop music?
It was a combination of country music – because they lived in the country, and they liked Hank Williams and Lefty Frizzell and, later, Hank Snow. They played that and also like native songs. But they did them on mandolin and fiddle and guitar and drums.
I've read that I stayed there during the summers, but I was there a lot more than that. Just about every vacation time, every holiday, that's where we would go, because that's where my mom's family was.
When you weren't at the reserve, were you exposed to something completely different?
Well, one thing was in the country and one thing was in the city. In the city, there was the urban music of that time – like the Hit Parade.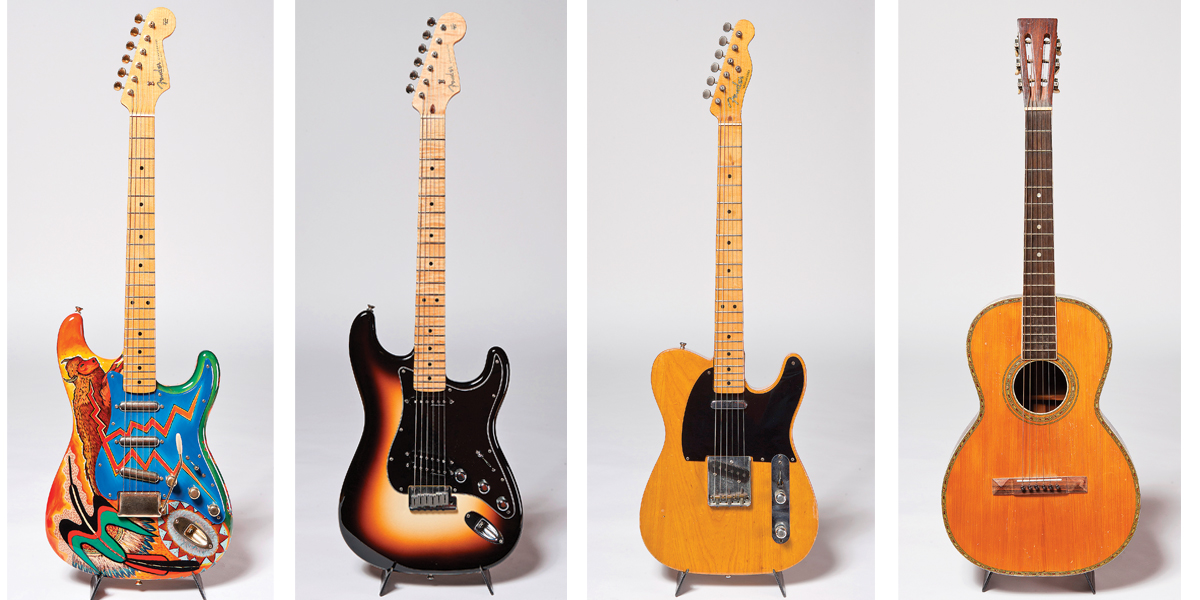 When you graduated to being able to play in rock and roll bands, what kind of scene was there in Toronto?
I didn't get into any bands until rock and roll had presented itself. It was all so timely for me, because it was like puberty; I'd already started learning to play guitar; and rock and roll came along. It was almost like a setup, you know (laughs)? Immediately, I was looking for people to make music with. I had a band, Robbie Robertson & The Rhythm Chords, probably when I was 13 years old.
What was your repertoire like?
It was covers of Little Richard, Carl Perkins, Elvis – just kind of the first wave of rock and roll.
Was everybody about your age?
No, they were all older than me.
When you're learning sort of generic rock and roll, it's typically too early to cite someone as an influence, but who eventually influenced you into forming a style?
You know, I just stole anything I could from anybody I could at that time. I would see other guitar players, grown-ups, and I would just see what they did or ask them to show me something. These guys played more of an older style, like '40s vamp. Lots of chords. But they knew some tricks, and I would pick up on those and learn some things about electric guitar – because I went to electric guitar very early on. I was not a folk musician at all. I really appreciated beautiful acoustic guitar playing, but I moved on, just because of rock and roll and people like Carl Perkins. I thought, "Man, Carl Perkins writes the songs, he plays the guitar solos, he sings!" That's even better than just somebody who strums the guitar to accompany themselves. And Chuck Berry. Look at that! I was more fascinated by those guys.
Then as I started learning more about those kinds of things, I was very much impressed by the sound of guitars. I thought Les Paul & Mary Ford's early recordings were a breakthrough in music. They really jumped out and tapped me on the shoulder. And you know who else? That guy Joe Maphis – and the Collins Kids [featuring Larry Collins]. What did they play, Mosrites?
In the Rhythm Chords days, what kind of electric guitar did you have?
I had a copper-colored Harmony [H44 Stratotone]. That was my first electric, and in that band, the guy playing lead guitar was Pete Traynor, who makes Traynor amplifiers. He taught me a lot, and his brother, Steve, also played in the band. It was a little bit before people had basses, so he would play a low boogie part, to be kind of equivalent to what a bass was. In the beginning, it was hard to find electric-bass players.
After the Harmony, I found probably a '57 Strat in a store, and I got a pretty good deal on it. But I had to pawn it about a year later to pay for my ticket to join up with Ronnie Hawkins & The Hawks in Arkansas. He said, "You don't need a guitar; just figure out how to get down here, and we'll get you a guitar." So when I got down there, we got a Telecaster. I played Telecasters for years.
Even though you're most associated with the Stratocaster, your tone and attitude seem more like a Tele player – like a James Burton.
That's from being influenced by these people like Fred Carter, Jr. and Roy Buchanan. This style, according to them, comes from "The Lousiana Hayride." That's where guys were first mixing country music and blues together.
At what point did you realize that you had developed your own stamp and identity on guitar?
When I was playing with Ronnie Hawkins, in the beginning. At that time, there weren't a lot of people playing that style of guitar – like James Burton and Roy Buchanan. They were very unusual and unique in the beginning. And I learned a lot of their tricks from Fred Carter, Jr., and then from Roy Buchanan. Most people played a different style, and when I first was playing with Ronnie Hawkins, I took what they were doing and made it more raging. On those first recordings I played on with Ronnie, and just from us playing wherever we played, guitar players were coming from all over to hear me do that.
First of all, they didn't even know about moving the strings down and using a banjo string for the first string. They thought I was doing that with regular guitar strings, because there were no "light-gauge" strings back then, right? So the fact that I could bend this thing, and in the particular way that I did it, it was like, "Oh, my God, the world's coming to an end." Then playing a lot of harmonics, and from Ronnie Hawkins' influence, a lot of the music became quite explosive and violent. So the feedback from people told me that I was doing something unique.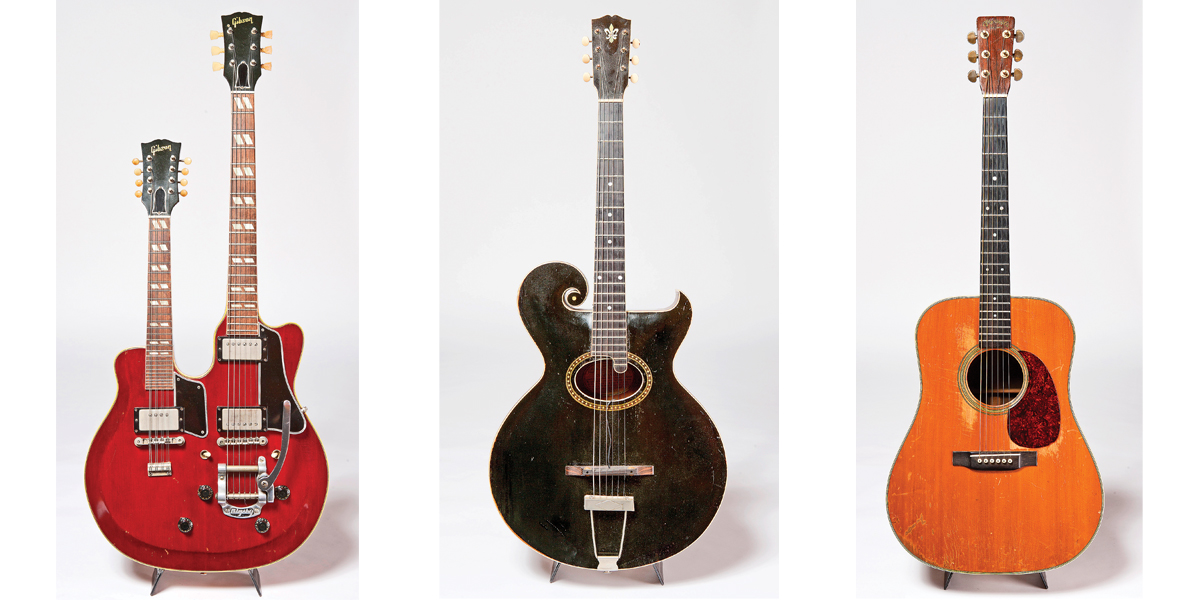 Were you doing a lot of the earmarks that people associate with you – like the false harmonics and that pinched, stinging attack like on "The Shape I'm In" or the live "All Along The Watchtower" from Before The Flood – as far back as Ronnie Hawkins?
Yeah, I was. A lot of that was just youth. In the beginning, I was trying to make it do more, more all the time. Louder, higher, brighter, harder – just because you're young and you play the guitar the same way as you drive a car.
Then years later, when a lot of people were starting to play like that, that's when I kind of went completely against the grain and tried to really appreciate subtleties. Completely following the song. My motto was, "If I can play one note, and it can mean more than somebody else playing 20, I'm getting somewhere."
There's an evolution somewhere between what you did with Ronnie Hawkins and later with The Band.
But still wailing guitar with the Hawks, and with Bob Dylan, it was wailing.
Was the John Hammond album before you hooked up with Dylan?
Yes, both of them. I did So Many Roads and I Can Tell. (Ed. Note: Some tracks from the So Many Roads Vanguard sessions later came out on Hammond's Mirrors album.) That was kind of the wailing period, as well. After I got off the "wailing wall," I started appreciating more Curtis Mayfield and Steve Cropper. And that's when Eric Clapton was first attracted to what I was doing on the guitar, because it was the opposite of what most people were doing – Music From Big Pink.
That album is responsible for Cream breaking up.
Well, that's what Eric said. He was just ready to do something different musically. He thought he had driven that one into the wall. That's when he went on this whole thing with Delaney & Bonnie, and he was trying to go in a different direction.
Did How To Become Clairvoyant start out as a duo project with Eric?
It really started out as us just saying, "God, we should do something together sometime." So we were hanging out, and we didn't have real specifics, to be honest. We were like, "Let's get together and see what happens." So we messed around with some musical ideas and told a lot of stories back and forth. And some of the threads of those ideas ended up seeping into the songs later on. It was just a natural, very organic kind of feeling. A lot of times, in making records there's a lot more frenzy involved. But there was something about Eric's nature, and there was no pressure in any direction. Then when he invited me to come to London, where we recorded all the tracks for this record, it was that, too – "Let's see what happens." We didn't know whether we were making an Eric record or a duet record or a Robbie record. I wanted to kind of go after that and do more writing, because I really wanted to do my best to help this go somewhere – whatever it might be.
I had a little more looseness of time than Eric did, because he had just played some gigs, and when he got back he was hanging out with his family. It just kind of handed me the reins a little bit. That's why it ended up becoming my record. I just had the opportunity to do more. And after we did this thing in London, he said, "Well, you've done most of the writing, and most of this direction is going…" He was tremendously supportive of that. After we did that recording, he came back and did some vocals and more playing. He couldn't have been more supportive in this process.
The gut-string plays a prominent role on this record.
I played more guitar than on any album I've ever done. And I didn't realize that until I was finished. That particular gut-string turned out to be a star on this record. I've had it since 1973 or '74, but it's not a guitar that I used very much. Eric said, "You mind if I try out this guitar?" He did, and he said, "Oh, my God, this is an amazing instrument." He was really enjoying playing it. I think he played it on three songs on the CD, and I played it on a couple.
It's a 1927 12-fret Martin OOO-45. It has a beautiful feel, beautiful tonality, and a beautiful balance to it. When you pick it up, it just feels right. Some guitars feel a little heavy this way or that way – you know? It's just one of those things; you pick it up, and you don't even have to play it. You think, "This is a piece of work." It's like a rifle; when it's really well-balanced, it's a piece of work.
The model hasn't been made in a long time, but Martin started making it again because of this record. I don't know what they're calling it – like an "Eric/Robbie" guitar.
Isn't there already is a Robbie Robertson signature Martin, based on the guitar that inspired the line "Pulled into Nazareth" in "The Weight" because of the address inside the soundhole?
Yeah. That's a 1951 D-28 that I still have.
Do you still have your Gibson Style O?
Yes, I do. It's a 1920. I have older guitars, too. I have a 1901 Martin OO-42, a 1919 Martin OO-45K that's the only one in existence – it's the guitar Emmylou Harris played in The Last Waltz, a beautiful koa Martin, and I have the only one in the world. So they started making that guitar – all in koa or with a spruce top.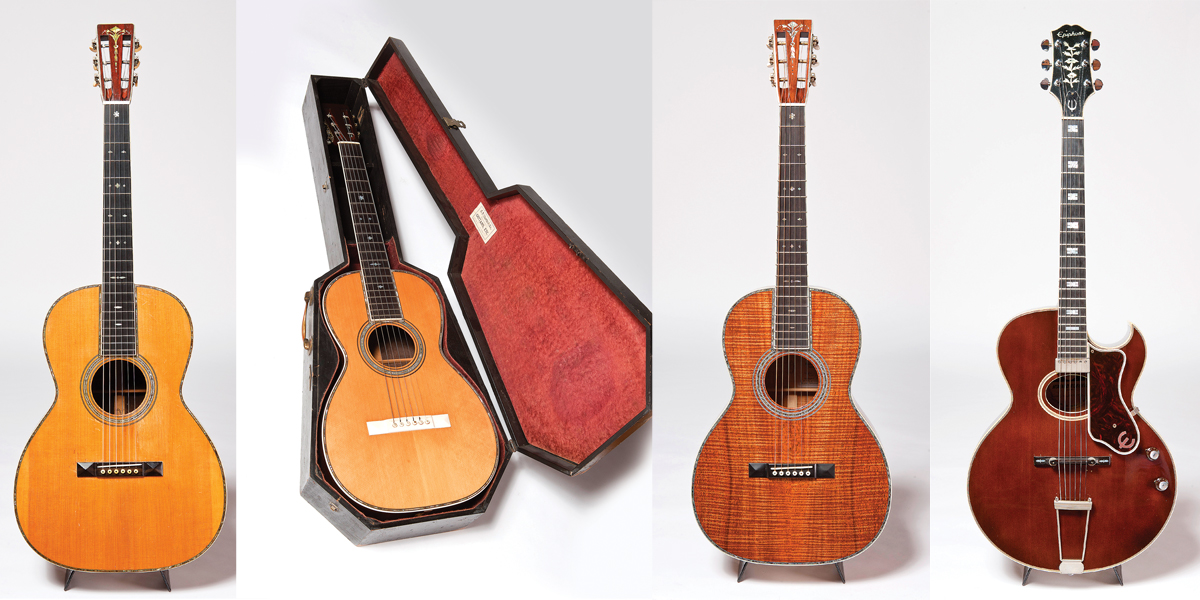 Which one is the Robbie Robertson Signature Model?
There is a signature one that's koa, and I also have a 2007 Martin Custom OM-42 that was used on the CD a lot, too. It's called Showdog Workhorse.
As much as The Band was associated with Dylan, you're on Blonde On Blonde, but the rest of the group is only on The Basement Tapes, 1973's Planet Waves, and then the live Before The Flood.
Right. We did some other tracks, like "Can I Please Crawl Out Your Window" [released only as a single], and Jimi Hendrix covered that. But they were like one-off things.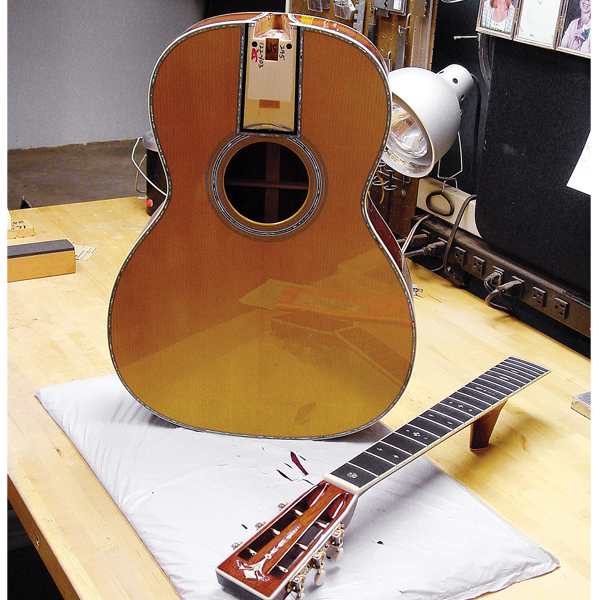 On Clairvoyant, you mention Hendrix in "Axeman," but by his earlier stage name, Jimmy James. When and how did you meet him?
I met him first when he was playing with John Hammond. John called and said, "I've got this new guitar player. He's really good. You should come and check him out." So I did, and then Jimi and I were just hanging out in Greenwich Village after that for a while. He was really interested in and wanting to become capable of writing songs. Because I was playing with Bob Dylan at the time, and I had been writing songs since I was very young, he was asking all kinds of basic questions.
But we talked a lot about guitars, and he showed me how he put the strings on his guitar and the way that he massaged the strings. Because I never understood how his guitar didn't go terribly out of tune, with his abuse of the tremolo bar. The only person that uses that in a more extreme fashion is me – and it goes out of tune like mad. And he didn't tune between songs or anything. He showed me how he massaged the strings when he changed them, so they were ridiculously stretched out.
So they wouldn't slack any further.
Right. The way he did it was a real ritual.
Do you play with a combination of flatpick and fingers?
I play with either all my bare fingers or a pick. I used to play with a flatpick and two National fingerpicks [on the middle and ring fingers]. Sometimes, certain ways that I play, my fingers get stuck on that middle pickup. So I got used to moving the middle pickup out of my way, back to the bridge pickup, making it into more like a humbucker. I like the way that it made the rear pickup not so thin sounding. That was a complaint with Stratocasters – they were just a little thin sometimes in comparison with Gibsons.
I've been doing that for a long time. I have these signature Strats that are hotrodded, and the middle pickup is moved back so it doesn't get in my way.
When you say your guitar style became more melodic and chordal, a la Cropper or Curtis Mayfield, but it wasn't that way with Dylan, was there a transition in there?
There was. It was becoming that way [with Dylan]. I was heading there on The Basement Tapes. But that was just a ragged process – The Basement Tapes. There wasn't much thought put into anything; it was just kind of rattling it off and having a good time.
As opposed to blues and rock and roll with Ronnie Hawkins, did having to play to a Dylan song make you listen more?
Well, he just gave me too many guitar solos (laughs)! He'd sing a verse, then look over again. I'd say, "Okay." It was like a new experience for Bob, having that kind of facility of music, for people to play different things. He wanted to wail, and there was something about it when we played together, it was hard to be discreet. Things really ended up catching on fire very quickly, and tempos got fast. It was leaning toward a certain kind of excitement that was available; all you had to do was push on the accelerator.
When you started writing the type of things that came out with The Band, which were compositional in a whole different sense, did that dictate that you didn't want to step on the accelerator all the way every time.
You know, it was really reaching for emotional things, and it wasn't about just depending on excitement. It was depending on just things that would hopefully send chills down your spine and touch an emotional nerve.
With all the different hats you've worn, do you still think of yourself as a guitar player?
It's evolved over the years, but I probably think of myself as a songwriter first. The guitar playing and the songwriting and the singing – all those things kind of blend together.
Do you write on guitar?
I write on guitar and piano.
When it gets to orchestrating stuff for movies, how do you get to that from playing guitar in rock and roll bands?
A lot of it has to do with just sonic expression, and the music is just making the sound. The sound and the music and the melodies, or the anti-melodies, become an emotional expression. I don't read or write music, so I have to express it in poetic terms. A lot of it, I do on the keyboard.
I play keyboard on this CD on almost every track. A lot of the very spine of these things come from my keyboard parts. And that comes directly from working on movies.
In The Band, you had these three amazing voices – Levon, Rick, and Richard. When you wrote a song, would you know, "Okay, this is going to be a Levon song" or "Richard will sing this"?
I'd say 90 percent of the time, I wrote those songs specifically for them to sing.
What an instrument to have at your disposal.
Oh, yeah. It was like a workshop.
---
This article originally appeared in VG September 2011 issue. All copyrights are by the author and Vintage Guitar magazine. Unauthorized replication or use is strictly prohibited.
---