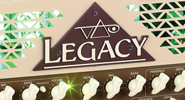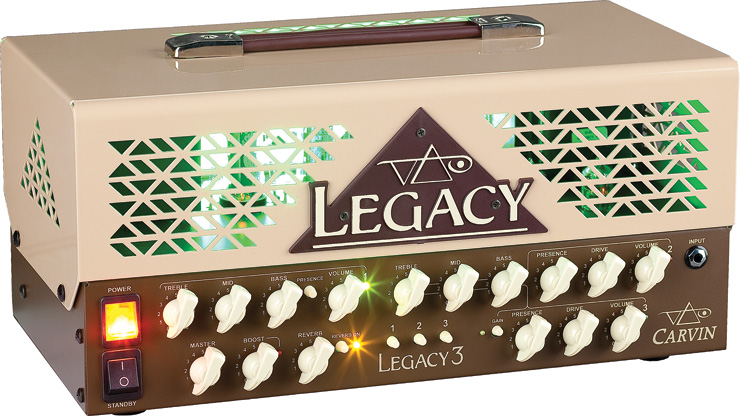 Carvin Steve Vai Legacy 3 VL300
Price: $899
Info: www.carvin.com.
For more than 13 years, Steve Vai has been collaborating with Carvin on a signature amp line, and their third-generation Legacy 3 VL300 sports a new look, added features, and tons of Vai vibe.
At first glance, the Legacy 3 looks a bit like a "lunchbox" amp, but don't let its compact size and relatively light weight of 29 pounds. fool you – it's a feature-packed 100-watt head that's gig-ready for pros or weekend warriors.
The amp's all-metal chassis is adorned with the guitarist's "triangle" motif and a two-tone brown/tan finish or Vai Green. Its perforated steel housing allows you to not only see the tubes, but also backlit multi-color LEDs that change color according to which of its three channels is selected.
The Legacy 3's front panel is fairly laden with control knobs. Its clean channel has Treble, Mid and Bass Tone controls, a Presence button, and Volume control. The two Lead channels share a three-band EQ, individual presence, Drive and Volume controls, as well as a Master Volume for all three channels, a foot-switchable Boost, channel-select buttons, power/standby switches, and a Reverb control with on/off button. The VL300 digital "Smart" reverb circuit allows "channel tracking," which assigns reverb to any combination of channels. The reverb has long-tail traits, which allow the effect to ring even after it's switched off, or to a channel with no reverb assigned to it.
The rear panel also has dual speaker outputs with a 4-/8-/16-ohm impedance selector, a 15-/50-/100-watt power selector, 6L6/EL34 bias selector, voiced line out, footswitch jacks, MIDI In/Through jacks, series pre-master Effects Loop jacks, Master Out/Power Amp In jacks and a power jack. Under the hood you'll find a quartet of EL34s (switchable to 6L6s) producing a 100 watts, and four 12AX7 preamp tubes.
We ran the VL300 head plugged into a Marshall 1960A 4×12 cabinet loaded with Celestion Vintage 30s and strapped on a Ibanez Steve Vai Jem7V solidbody. The Clean channel offers up a crisp, full, clean, punchy sound with lots of headroom and its trio of well-voiced tone controls quickly gets you where you're going, from a Fenderish scooped-out tone to a classic clean sound. Aside from its excellent Clean channel, Lead channel 2 offers a variety of overdrive tones from crunchy to high-gain, all with that U.S.-style, slightly pulled-back midrange and thicker bottom-end tone.
The Legacy's Lead channel 3 truly has Vai's fingerprints all over it, with an obscene amount of buttery smooth gain and nearly infinite single-note sustain. Cooler still, the notes in this channel often morph into controllable, singing feedback. The infinite sustain produced by the combination of the Jem and the Legacy 3 is similar to guitar/amp combination with a "sustainer" pickup, but with more-natural characteristics. Even with the Drive control dimed, the amp retains a nice percussive attack to each note with surprisingly little howl or squeal as long as you maintain a bit of distance from the speaker cab.

A note on the Presence control; unlike typical such controls that alter only the highest frequencies and are fairly subtle, this one cuts a surprisingly wide swath over the tone of each channel. While it may seem a bit heavy-handed, it works well and allows the player to dial in a great variety of sounds, from super-dark smooth and rich to bright and crunchy. And while the Legacy's Smart reverb is digital, it has a natural, uncolored tone with a mix of characteristics. Better still, it doesn't wash out, even with the overdrive piled on (as a traditional spring reverb tank might). Finally, the amp's built-in power "soak" allows you ratchet down from 100 watts to 50 or 15. This takes it from stadium-worthy output levels to rehearsal/studio volumes with little effect on overall tone.
The Carvin Vai Legacy 3 is a compact, feature-packed tone beast. Its excellent clean channel, blisteringly lead channels, and a pro patch bay make it ready to rock any stage.
---
This article originally appeared in VG September 2012 issue. All copyrights are by the author and Vintage Guitar magazine. Unauthorized replication or use is strictly prohibited.
---