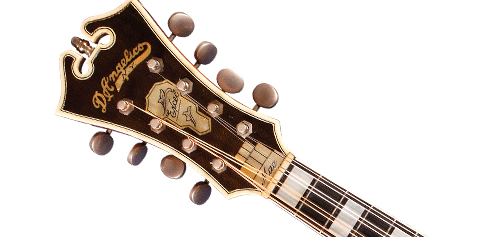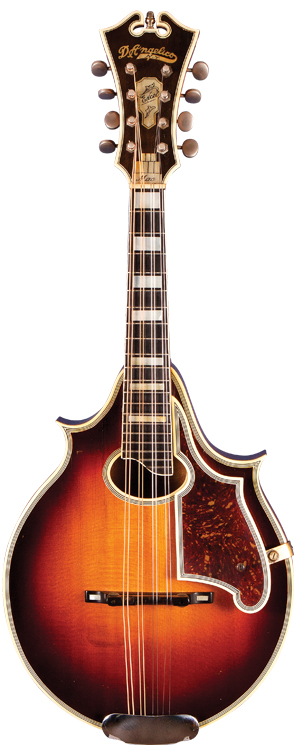 The 1,164 archtop guitars made by John D'Angelico have brought him great renown as the finest individual archtop guitar builder in the history of the instrument. His mandolins, however, are seldom talked about, even though – if this particular example from the early 1940s is any indication – they are worthy of the same attention.
Mandolins played a part in D'Angelico's career as an instrument maker from the very beginning – before he ever made an archtop guitar. Born in New York in 1905, he was only nine years old when he began an apprenticeship with great-uncle Ciani, who made violins, mandolins, and flat-top guitars. He took over the shop when his great uncle died, and then opened his own shop in 1932.
By the time D'Angelico hung out his shingle, he had become known for his archtop guitars, modeled on the f-hole L-5 Gibson introduced in 1922. And as his designs evolved and his fame grew, he continued to be known primarily as a guitar maker for the rest of his life.
One can only speculate about D'Angelico's involvement with mandolin making in his early years, but circumstances were such that he could hardly have avoided the mandolin. His family came from Naples – birthplace of the modern mandolin. He grew up in New York, where the mandolin movement in America had begun in the late 1800s, thanks in a large part to Italian-American musicians. And the mandolin was at the height of its popularity at the time he began his apprenticeship as an instrument maker. It is known that he took violin lessons – to play and to make violins – and it is likely that interest would carry over to the mandolin, which is tuned the same as the violin, more readily than to the guitar.
D'Angelico's ledger books offer only a few clues to his mandolin activity. While he made the first entry for a guitar in 1932, he didn't enter his first mandolin in the books until 1940 – it was number 125. Earlier three-digit numbers have turned up, so he may have started numbering mandolins with 101 (he started guitars with 1002), and it's unknown how many unnumbered ones he might have made. This month's featured instrument is one without a serial number.
To make matters more difficult, D'Angelico did not record any mandolin model names. Sixteen are called "Scroll" (including one "Scroll O"). Twenty-two are called "Plain" (including one "Plain (good)"). Two are parenthetically called "(good)." One is "G.D." And three are entered with a date but with no notation as to style.
We're not aware of any D'Angelicos with the scrolled upper body bout of a Gibson F-style mandolin (except for a few with the "lump" scroll with the scroll simulated by curlicue binding), but some of them do have a violin-style scrolled peghead, like that of a Lyon & Healy Style A, so D'Angelico's "Scroll" model almost surely refers to the scrolled peghead. (D'Angelico's "Plain" model, by default, is a standard oval-hole A-style mandolin.) The scrolled-peghead D'Angelicos have an asymmetrical body with two points, similar to the body of the Lyon & Healy A, although the body of the D'Angelico is significantly deeper. The low position of the point on the treble side effectively provides some degree of a cutaway, and with only 10 frets clear of the body, the cutaway feature is a practical necessity on this instrument.
This mandolin obviously does not have the Lyon & Healy-style scrolled headstock. Instead, it has the distinctive cutout framing an ornamental button that D'Angelico began using on guitars by 1937. To the average musician that design would have no connection to the scroll of a violin peghead or a mandolin body; however, the architectural term for a pediment (the ornament at the top of a column) with that cutout shape is "broken scroll," so in a technical sense, the term "scroll" could still be applied to this peghead shape.
This mandolin's model name is not in doubt. The pearl inlay on the peghead is boldly engraved "Excel," and the ornamentation is, in fact, up to the level of D'Angelico's Excel guitars, with seven-ply binding around the top, back, soundhole, and pickguard (the pickguard is a replica of the original), and three-ply binding on the peghead. The bound ebony fingerboard is inlaid with mother-of-pearl blocks. A small pearl inlay on the peghead identifies the owner of the instrument as "Mac."
D'Angelico succeeded in designing a mandolin that is visually unique and easily identifiable as one of his creations, and that unique quality also applies to the sound. This carved-top instrument has more volume than the similar Lyon & Healy models, and it has a stronger low-end response than the traditional Italian-style bowlbacks D'Angelico grew up with. In the process of creating this more robust tone, some of the delicacy of a bowlback's tone, particularly on the high end, had to be sacrificed.
To today's ears, the sound of this mandolin suggests D'Angelico was aiming for a middle ground between classical and bluegrass. However, bluegrass mandolin as we know it today didn't yet exist when this instrument was made. If D'Angelico had even heard a Bill Monroe recording, he would not have heard the "chop" and the "woof" Monroe worked into his style in the late '40s, after he acquired his Gibson F-5. Instead, D'Angelico would have heard an earlier Monroe style, with clear, fast-paced lead lines and a busier, unchoked rhythm style. This mandolin would have been well-suited for that style.
Interest in classical mandolin had been steadily declining since World War I (though the instrument may have remained more popular in the Italian community in New York than in the rest of the country), and bluegrass had not yet emerged.
So, what sort of player was this mandolin made for? The most visible mandolinist of the era was Russian-born Dave Apollon, a virtuoso and master showman who often fronted a full band (with an F-5). If Apollon was the standard setter, then this D'Angelico – with its combination of power and clarity of tone – was perfectly designed for the music of the day.
---
This article originally appeared in VG September 2011 issue. All copyrights are by the author and Vintage Guitar magazine. Unauthorized replication or use is strictly prohibited.
---