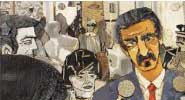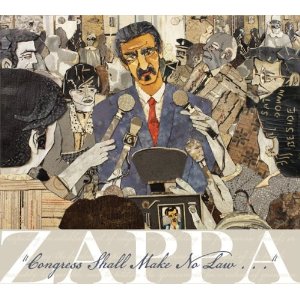 When I had occasion to visit Lancaster, California, in 1996, I was shocked to discover that there wasn't a single thing in the town to acknowledge the fact that Frank Zappa had spent a good chunk of his formative years there. There are people in every corner of the globe who know of that city and Antelope Valley High School specifically because of their connection to Zappa, yet there was no statue, no plaque, no street named for him.
As far as I know, there still isn't – at least not in Lancaster. Last September, a bust of Zappa was unveiled in Baltimore, Maryland. It's actually a replica of one that already graced a public square in Vilnius, Lithuania; Zappa fans there donated it to the city where he was born.
December 21, 2010, would have been the 70th birthday of Zappa, who died in 1993, just shy of turning 53. Three new releases from the Zappa Family Trust's vaults celebrate the bandleader/guitarist/ singer/composer/activist – the live, triple-disc Hammersmith Odeon (on Vaulter Native Records); an expanded reissue of his 1968 Cruisin' With Ruben & The Jets ode to doo-wop, re-titled Greasy Love Songs; and Congress Shall Make No Law…, containing Zappa's 1985 anti-censorship testimony on Capitol Hill (the latter two on Zappa Records).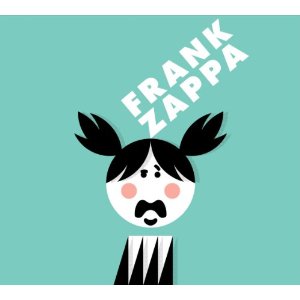 Hammersmith, recorded at the London hall in early '78, provided the basic tracks for Sheik Yerbouti. The 1979 double-LP was Zappa Records' debut release. He founded the label after "playing out his contract," so to speak, with DiscReet, a division of Warner Bros. "I delivered four completed albums to them almost two years ago, to fulfill my contract," he told me in '79. "I owed them four albums, so I walked in one day and said, 'Here's the tapes.'" (Said tapes were released as Zappa In New York, Studio Tan, Sleep Dirt, and Orchestral Favorites.)
That interview (for Musician magazine – the first of several I was fortunate enough to conduct with Zappa) took place as Sheik was just hitting record shelves. In his Hammersmith liner notes, Peter Wolf recalls Frank telling him during rehearsal "boot camp" that the lineup would "most likely turn into the best band I ever had." Indeed, with keyboardists Wolf and Tommy Mars, bassist Patrick O'Hearn, drummer Terry Bozzio, percussionist Ed Mann, and Adrian Belew sharing guitar chores with Zappa, then-new material like "City Of Tiny Lites," "Tryin' To Grow A Chin," and "Dancin' Fool" sound as tight as they would postoverdubs on Sheik. Catalog staples like "Peaches En Regalia," "King Kong," and "Dinah-Moe Humm" also shine.
The guitar vehicles "Black Napkins" and "Watermelon In East Hay" illustrate Zappa's blues-guitar inf luences. "To me, it seems incomprehensible that a person could listen to 'Three Hours Past Midnight' by Johnny Guitar Watson and not be moved to get violent," he told me. "I mean, that's really saying something. Same with the guitar solo on 'Story Of My Life' by Guitar Slim. I mean, that stuff used to make me violent. I'd just want to get an icepick and go out and work over the neighborhood! I loved that. To me, that was the real world. I couldn't play any of Guitar Slim's guitar solos or Johnny Guitar Watson's guitar solos or Clarence Gatemouth Brown's – but I liked them all. And I think I was inf luenced by them because of comprehending their melodic approach to what to do with those notes in that situation."
Back to Antelope Valley High, he said, "You had the R&B guys, then you had the ones who went for Howard Rumsey's Lighthouse All Stars. The R&B guys used to find the ones who liked jazz and beat them up in the parking lot – I mean, it was that vivid a lifestyle difference between the jazz guys and the ones who liked the real music."
Our discussion of blues records and icepicks was an extension of Frank's explanation of Cruising With Ruben & The Jets. Recorded during his Mothers Of Invention days, the album was perceived by most as a parody of the '50s and doo-wop, but it was actually a labor of love for Zappa. "There's a very scientific reason for the existence of Ruben & The Jets," he said. "The closest relationship between that album as an artistic event and another event from a different field that you can compare it to would be the point in Stravinsky's career in which he decided he was going to write neo-classical music. He started doing stuff like 'Pulcinella' – writing music in his day and age, but using forms that were thoroughly out of style and frowned upon by the academic establishment. You have to remember that the American people don't have much going for them in the way of taste. I mean, taste is something that's inflicted on the American public by other outside forces. So if somebody tells you that something is cool, well, you'll think it's cool and you'll go out and buy it. To make an album like Cruising With Ruben & The Jets at that time in history, in '68, was very unfashionable. And everybody went, 'Oh, I can't own that; it's not cool. It's not acid rock; it's not fuzztone; it's not psychedelic. Who needs this?' I didn't do it just to be arbitrary; I like that kind of music, and I wanted to have some examples of that style in my total catalog output. I think Ruben & The Jets is a really good album, but at the time that it came out everybody thought, 'You can't. It's corny.'"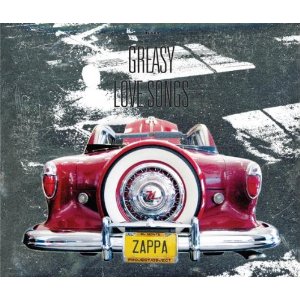 Cruisin' (or Greasy Love Songs) was re-mastered from the original vinyl stereo mix. Maintaining stylistic accuracy (sometimes uncannily so), guitar isn't heavily featured, although Zappa's six-string comes to the fore on "I'm Not Satisfied," and he delivers a purposely anachronistic wah solo on "Stuff Up The Cracks." This expanded edition features alternate mixes, an unreleased cover of "Valerie," interview snippets, and liner notes by Cheech Marin.
Congress Shall Make No Law… is a fascinating document of the Reaganera climate regarding freedom of expression and Zappa's extremely articulate testimony against Tipper Gore's Parents Music Resource Center (PMRC) applying a rating system to or putting warning labels on music. As he tells the Senate committee, "The PMRC's demands are the equivalent of treating dandruff by decapitation." (Isn't it ironic that today a song called "F*** You" is nominated for the Record Of The Year Grammy?)
In his liner notes, Zappa lawyer Larry Stein writes, "In my long career representing talent in the entertainment industry, no artist has been more challenging, rewarding, and pleasurable to represent than Frank Zappa." I'd say the same regarding musicians I've interviewed over the past 35 years.
© 2011 Dan Forte; all rights reserved. Interview quotes from August '79 issue of Musician magazine.
This article originally appeared in VG's May. '11 issue. All copyrights are by the author and Vintage Guitar magazine. Unauthorized replication or use is strictly prohibited.