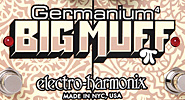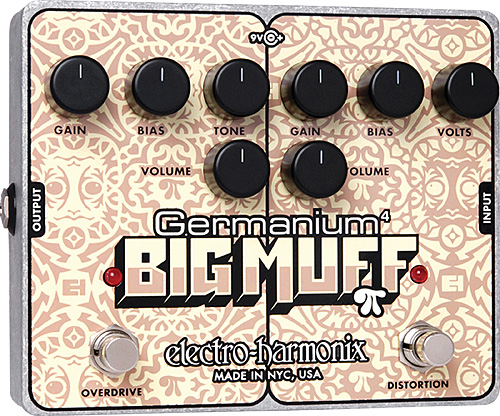 Electro-Harmonix Germanium 4 Big Muff Pi
Price: $133 (list)/$99.75 (street).
Contact: ehx.com.
The Big Muff Pi overdrive is the effect stompbox that put Electro-Harmonix on the map, and in the decades since its introduction, it has undergone changes both subtle and substantial. Today, the company's lineup includes no fewer than 10 versions including the newest, the Germanium 4 Big Muff Pi.
Each of the latest box's two channels – labeled Overdrive and Distortion – has an on/off true-bypass stompswitch with LED indicator. The Overdrive channel has controls for Gain, Bias, Tone, and Volume, while the Distortion channel has controls for Gain, Bias, Volts, and Volume.
To test its sounds, we plugged it in between a '50s reissue Fender Telecaster and a mid-'60s Fender Bandmaster head running through a vintage Fender 2×12″ cabinet. The Germanium 4 Big Muff's Overdrive side offered a light overdrive/boost with that familiar '60s Big Muff fuzz tone dressing up its high-end response. While the Gain, Tone, and Volume controls reacted as one would expect on an OD, the Bias control gave it real character. Altering the signal before it's distorted, the Bias acts a lot like a tone control, but with more attitude – mellow, with less gain when turned fully counter-clockwise, transparent when straight up, and when fully clockwise, bright and snappy, with more gain.
The Distortion side offered substantially more gain, its Bias control dialing in sounds ranging from smooth and lush to bright and aggressive, and the lack of a Tone control doesn't hinder the variety of distorted tones one can extract from it. The most interesting feature on the G4 Big Muff is its Volt control, which affects the amount of voltage supplied to the transistors, which simulates a low or dying battery. With the control turned completely clockwise (sending full voltage) the tone is full and uncompressed, and as it's dialed back, the tone becomes more compressed, with a low-fi grit, until it sounds almost gated, with a sputtering effect – cool, and very creative. Since each side has its own footswitch and the Distortion side cascades to Overdrive, you can use the Overdrive side to boost output volume and use for the Distortion side for soloing or to add gain for a super-saturated sound.
The G4 Big Muff Pi is the most versatile version in the pedal's lineage, and does its predecessors proud.
---
This article originally appeared in VG February 2011 issue. All copyrights are by the author and Vintage Guitar magazine. Unauthorized replication or use is strictly prohibited.
---