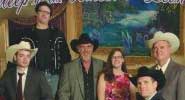 As the Wheel celebrates its 40th anniversary, it's taking care of business – releasing Willie And The Wheel (with Willie Nelson) in 2009 and now teaming with one of the great voices of Western swing, former Texas Playboy Leon Rausch. Both albums, it seems, should have happened years (if not decades) ago. Still, both are welcome, better-late-than-never entries into the catalogs of all concerned.
The liner notes dub this "jazz with a cowboy hat," which is accurate enough; Bob Wills often sprinkled his Playboys with jazz-leaning instrumentalists, like guitar great Jimmy Wyble, and Rausch's laid-back phrasing is perfectly at home in that genre. But he can handle pretty much anything, as he shows on "Snap Your Fingers," a 1962 Top 10 hit for soul singer Joe Henderson, and Peggy Lee's sprightly title tune. The 82-year-old even plays electric bass on Wills' "Osage Stomp," the CD's only instrumental, and Count Basie's "Alright, Okay, You Win" is as comfortable a fit for him as it is for the Wheel (featuring Elizabeth McQueen dueting with Leon).
The Wheel started as a multi-vocalpronged beast, and in addition to Mc- Queen, Jason Roberts, and, of course, leader/guitarist/producer Ray Benson trade choruses with Rausch throughout much of the album – and, not surprisingly, Willie joins the party for a lazy "Truck Driver's Blues."
But the Wheel has also always featured top-notch players, as evidenced by lap steeler Eddie Rivers on a laid-back "Truck Driver's Blues" – with Willie dueting – not to mention Benson's bouncy break on the title track, with Roberts doubling on fiddle and electric mandolin. Augmenting the group on much of the album (shining on "I Didn't Realize") is George Strait's guitarist Rick McRae.
Throw in yet another rendition of "Route 66" (since pairing it with the Wheel's boogie beat was originally Rausch's idea), and you've got one swinging party.
This article originally appeared in VG's Feb. '11 issue. All copyrights are by the author and Vintage Guitar magazine. Unauthorized replication or use is strictly prohibited.