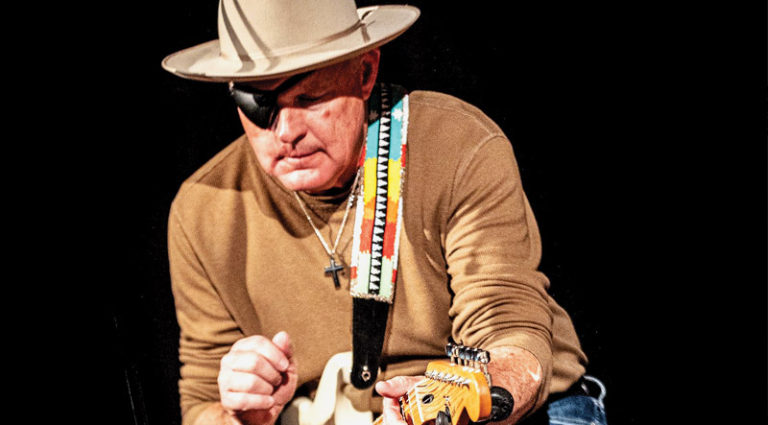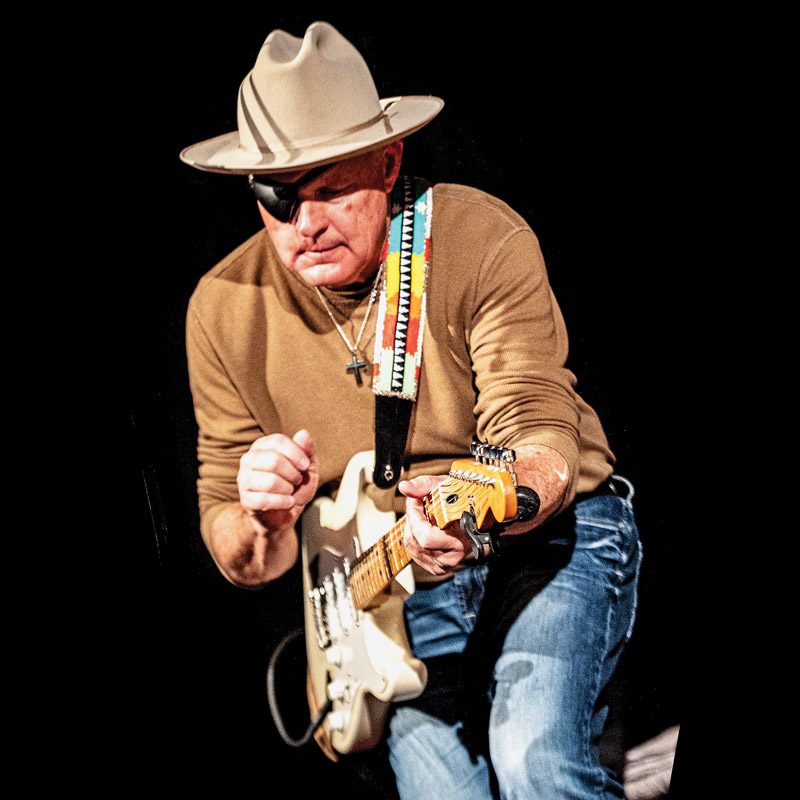 On Mike Morgan and the Crawl's tenth album and first new release in 15 years, 63-year-old Morgan shows maturity, command, and vision.
The singer/guitarist grew up in Hillsboro, Texas, between Dallas and Waco. "A small town doing small town stuff," he says, "I never got serious until the late '80s."
Initially viewed as an understudy to fellow Texans Anson Funderburgh and Jimmie Vaughan, Morgan has more than earned his stripes as a bluesman.
Culling influences from Texas and Chicago blues stars, Morgan can lay down a shuffle or fly over the frets with the best of them, but on The Light Went Out In Dallas, he penned 10 of the 13 cuts, sometimes painting outside the lines; "Maybe" brings to mind Tom Waits, while "Please Accept My Love" mines a classic soul vein, and "The Fracas By The Pecos" is a spaghetti western set south of the border.
Blues and Americana fans will surely welcome Morgan and band back to active duty.
When did you take up guitar?
I first got one at about 10. Unfortunately, I didn't get serious about guitar until I was in my late 20s.
Talk about your relationship with Anson Funderburgh, who co-produced the new album with you.
I'd got see him every Monday night at Poor David's, sitting in front of him. I learned several songs by watching him play; "Oh, that's how you do it." He helped me get my first record the deal, turning (producer) Hammond Scott of Black Top Records on to us. Anson and I became friends in the early '90s. I still have a reverence for him as a guitar player, but in the past few years we really got to be buddies.
And now you're peers.
It's kind of weird to think that, but I guess in a way. Even still, when we're onstage together, I'm a little star-struck.
Who do you consider your biggest guitar influences?
Older guys would be all of the Kings, Albert Collins, Robert Nighthawk, Muddy Waters, Dave and Louis Myers, Hubert Sumlin, Jimmy Reed, Jimmy Rogers, Robert Lockwood, Jr., and T-Bone Walker. The most essential ones are B.B., Magic Sam, Freddie King, Luther Tucker, and Eddie Taylor.
The so-called newer guys are Jimmie Vaughan, Anson, Ronnie Earl, Junior Watson, and Hollywood Fats.
Those are all blues guitarists, yet the new CD has some originals that are far-flung from the blues.
"The Fracas By The Pecos," I watch Westerns all the time. I had that little rhythm guitar line that, to me, almost sounded like some heavy-metal ballad (laughs). It popped into my head. "This is cool, but I'll never be able to use it." Then I wrote that song.
There was a review in Living Blues that said I got outside the box a little, like "Please Accept My Love," and it just doesn't work. It's funny, because that's my favorite tune. I call it my '70s hit song.
I've got a real love for Al Green, Marvin Gaye, and all that soul stuff. When I'm sitting in my backyard, having a cigar and a bourbon, I've got a Pandora channel that's kind of new-soul. I've learned about people I didn't even know about, like a band called Rox, and James Morrison. He's got amazing pipes.
Which guitars did you use on the CD?
I played my old ES-5 on "Ding Dong Daddy," and for solos, Anson played my main Strat, an '82 reissue of a '57. On most of the rest, I played that Strat, but I used my old Epiphone Riviera on "Maybe." For my rhythm parts on "Ding Dong Daddy" and "The Lights Went Out In Dallas," as well as the solo on "Our Last Goodbye," I played a new purple Road Worn Tele.
What about amps?
I used the Victoria Silver Sonic, but on "Goin' Down To Eli's" and the head part of "Funkafacation" I had a '50s tweed Champ.
Funny thing about "Ding Dong Daddy," Anson played my Strat through the Silver Sonic. Somehow, the Volume and Reverb got cranked up, I think when we moved it. And on his Super, he plays on about 3 or 4. So it was a totally different tone than he'd normally have. But it was so wicked, when we listened back, he said, "That's pretty cool."
You spread the guitar playing around on the album, with Shawn Pittman and Reo Casey.
Shawn and Anson and I have done Texas Blues Guitar Summit shows. On "Lazy Lester," he plays the fills and first solo, and I play the solo going out. Reo Casey plays the solo on "A Woman" and the first solo on "Out In The Jungle." He also plays drums and piano on the album, and I took a lot of his input to heart. He's about 30, and he's badass.
---
This article originally appeared in VG's December 2022 issue. All copyrights are by the author and Vintage Guitar magazine. Unauthorized replication or use is strictly prohibited.