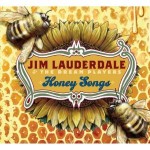 When Gram Parsons, Mike Nesmith, and Gene Clark were making their best music, major country radio stations ignored them. It wasn't much of a jump from Hank Williams Jr. and Charlie Daniels to the Allman Brothers, Lynyrd Skynyrd, the Flying Burrito Brothers, Poco, and other country-compatible bands. But they got the big brush off, too. Now, the influence of such artists on modern country music long confirmed, frustrated radio listeners sit, itching, through "American Idol" winners and country-lite bands for the slightest echo of anyone who hasn't squeezed everything but a hint of real country from their game.
Veteran songwriter Jim Lauderdale and the music of Honey Songs could never be described that way. Of course, his band – guitarist James Burton, Al Perkins on pedal and lap steel, Garry Tallent on bass, Ron Tutt (drums), Steve Sheehan (acoustic guitar) and Glen D. Hardin on piano, collectively nicknamed The Dream Players – didn't hurt on that count. With them, Lauderdale has delivered an irresistibly pleasing album of unique but genuinely country songs that would perk the ears of a deaf mule.
Lauderdale has written a long train of hits for others. But after 16 albums of true-blue country and bluegrass, it may be that like Rodney Crowell, Steve Earle, or Roseanne Cash, he'll likely still have to depend on college and public radio, the internet, and live shows to get his own work heard. Fine. Long after Rascal Flatt's CDs have gone to landfill, those who picked up this disc that sounds like the dream collaboration between Arthur Alexander and George Jones will be clicking back to hear "Borrow Some Summertime" and "Holly's Got A Chain" and the rest of Honey Songs many times over.
---
This article originally appeared in VG's Jul. '08 issue.  All copyrights are by the author and Vintage Guitar magazine.  Unauthorized replication or use is strictly prohibited. 
---