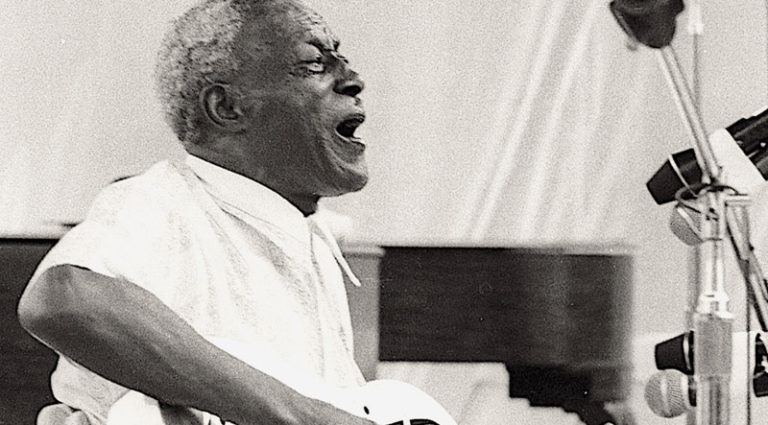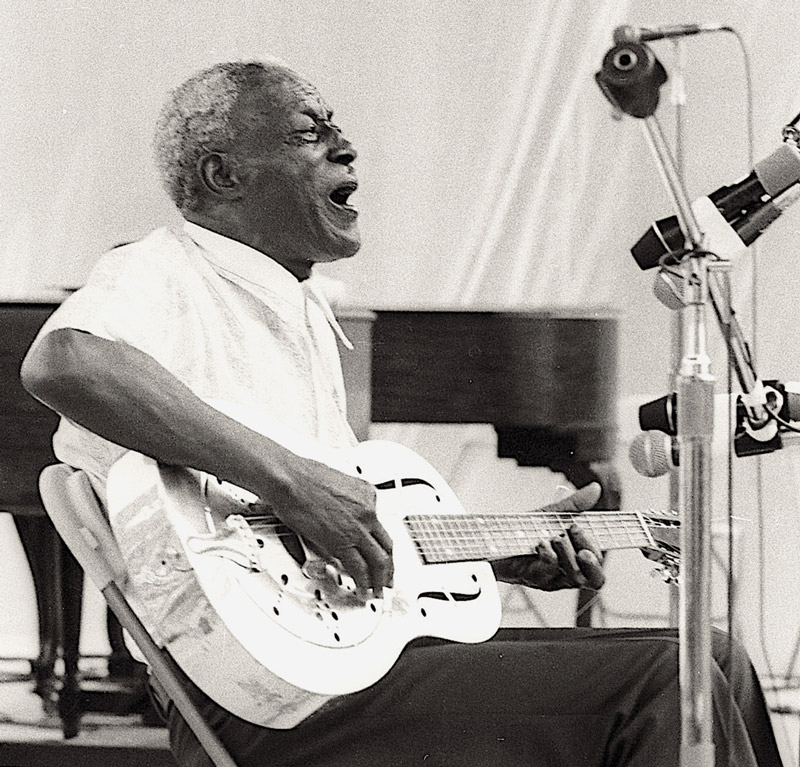 In 1964, blues enthusiasts Nick Perls and Phil Spiro, along with freelance photographer/writer Dick Waterman, made a pilgrimage to track down Eddie "Son" House. Decades earlier, the blues singer and bottleneck guitarist had recorded a handful of songs for the Paramount label and Library of Congress. After some dead ends, the trio drove to Rochester, New York, where House was a retired railroad porter.
They not only persuaded the bluesman to perform again, but Waterman became his manager. In addition to Son playing colleges, folk festivals, and touring Europe, Waterman secured a record deal with Columbia, resulting in the stirring Father Of Folk Blues.
"We'd been traveling with a wooden guitar, and Son began to sing in that booming voice," Waterman recounts. "He hadn't played in decades, but it all came back."
Waterman soon bought a steel-bodied National Duolian for House, and recalls, "Son went somewhere else when he played. He just took himself away for the length of the song – eight or nine minutes. When the song was over, he was exhausted. Then he'd catch his breath and start the next song."
In '63, House played a show at Wabash College, and a tape of the performance was given to Waterman; 58 years later, he struck a deal with Easy Eye Sound, headed by Dan Auerbach of the Black Keys. The concert is now available as Forever On My Mind.
"After Son had been performing a while, he would tell some stories and jokes," Waterman says. "But these recordings, made prior to that, are the plain, naked, unadorned Son House. It's very emotional and moving. It's Son House at his best."
I don't know if I'd go that far, because the Columbia album is a very high bar. But, Son had been in poor health for years before his death in 1988, at 86, and other performances are unlikely to surface. I never saw Son House in person, but Waterman's description is accurate. House pounded his sheet-metal guitar so hard it's a wonder his right hand didn't bleed.
In 1938, Columbia executive John Hammond staged the now-famous "From Spirituals to Swing" concert at Carnegie Hall. "He wanted to put Robert Johnson on that concert, but word came back that Robert was dead," Waterman says. "When I found Son, it was a natural match. Hammond had this longing for Robert, but being the older man, Son was Robert's mentor."
Indeed, Johnson looked up to Son and fellow bluesman Willie Brown, referenced by Johnson in "Crossroads Blues."
"Before Robert got good, he used to hang around Son and Willie, and when they were on break, he'd take one of their guitars and play a couple of songs," Waterman says. "But he used to break strings, which Son hated. When Robert went away for a couple of years, he came back to where Son and Willie were playing and asked to play again. Son said, 'Man, he sure had gotten really good.' He'd become a great musician."
So good that the phantasmic tale of selling his soul to the devil in exchange for superior guitar skills is almost as well-known as Robert Johnson's actual music. Not surprisingly, Waterman finds it not only preposterous, but distasteful. "I think that's a myth that white people have fantasized because they couldn't imagine this young black guy getting so good. I never met any older black musicians from the Delta who ever heard anything about Robert selling his soul to the devil, or the crossroads."
Along the same lines as Adelphi Records' Gene Rosenthal ("Check This Action," January '22), young record collectors were pivotal in giving Son's music a new lease on life.
"Prior to Canned Heat, when Al Wilson lived in Cambridge, he was a good friend of mine. When we found Son, he barely knew some of his old stuff, but Al did. So he taught Son House how to play Son House. When they played together in '64, they would sit knee-to-knee and Al would say, 'This is how you played "My Black Mama."' Son would play along with him, gradually coming up to speed. So there really wouldn't have been any second Son House career without Al Wilson. He was fundamentally vital in Son House becoming able to play."
At 86, Waterman has a most impressive legacy of his own.
"I managed Son from the time I found him until July '74, when he retired. I had Avalon Productions and also managed Mississippi John Hurt, Skip James, Fred McDowell, Mance Lipscomb, Arthur 'Big Boy' Crudup, Robert Pete Williams, Junior Wells and Buddy Guy together, J.B. Hutto, Luther Allison, and the first 20 years of Bonnie Raitt's career. We never made any money, but we had a lot of fun. Even now, people tell me that they saw Son perform, and they thank me. I'm always grateful for that."
---
© 2022 Dan Forte; all rights reserved by the author.
---
This article originally appeared in VG's June 2022 issue. All copyrights are by the author and Vintage Guitar magazine. Unauthorized replication or use is strictly prohibited.