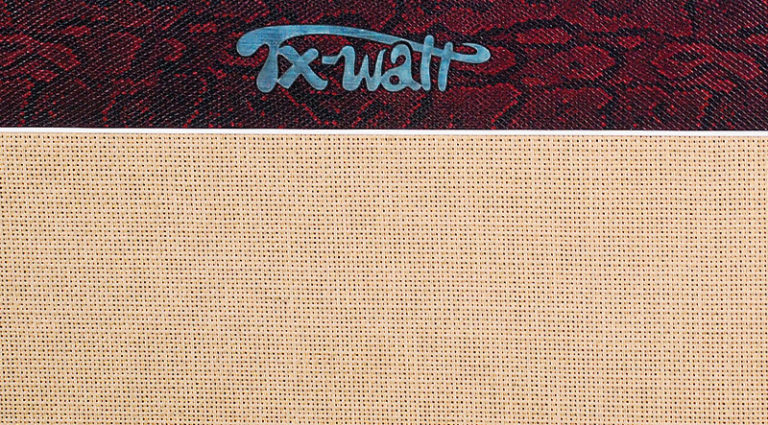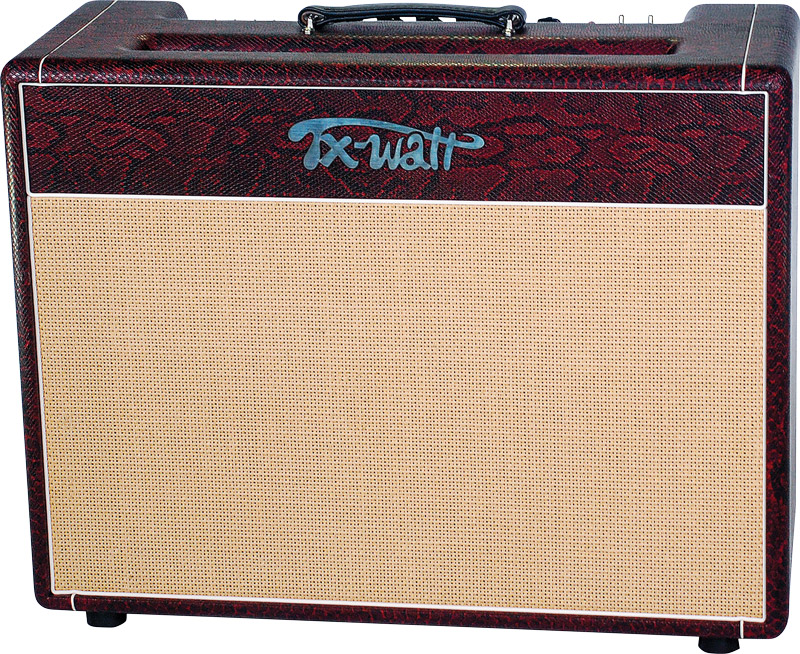 For more than three decades on the Texas roadhouse circuit, guitarist Jack Kay's love of vintage Fender and Marshall tones often had him using both amplifier brands at the same gig. Envisioning one capable of producing American and British sounds, the founder of Tx-Watt embarked on a quest to build the ultimate amp. After 10 years of development, he introduced the Flagship.
Employing the same front end as the company's Tube Hybrid micro head (VG, January '22), the Flagship differs in that it's a fully realized combo with a tube power section that can be built with any tubes the customer selects (our tester had 6L6s). In addition, it's equipped with switchable tube and solid-state rectifiers. Components are top of the line, including custom Mercury Magnetics transformers and solid-pine cabinet slightly larger than an AC30; our tester was dressed in a cool burgundy snakeskin covering, one of many options.
With a Les Paul and a vintage Strat, the Flagship offered a range of very usable tones through its pair of Austin Speakerworks 12s. Rated at 50 watts output, it responded more like a 100-watt amp. This was particularly apparent with the tone switches in "British" mode, which recalled a cleaner, HiWatt-type sound. The solid-state rectifier contributed to its huge headroom, while the tube option supplied just a bit more compression. The Presence control also helped shape tone by emphasizing/de-emphasizing mids and treble.
Though TX-Watt builds the Flagship with as many as six gain stages, ours had a three-position rotary pot with options ranging from clean to a full-blown overdrive. All three sounded bold and clear, with chords staying articulate and picking dynamics not diminished as more gain was introduced. Toggling through a combination of the four American and British input gain options, a multitude of usable sounds accentuated certain qualities of each guitar. While our tester did not have a footswitch to change gain stages, Tx-Watt includes the circuitry if requested – a welcome addition for anyone wanting to skip a separate distortion box.
---
This article originally appeared in VG's June 2022 issue. All copyrights are by the author and Vintage Guitar magazine. Unauthorized replication or use is strictly prohibited.