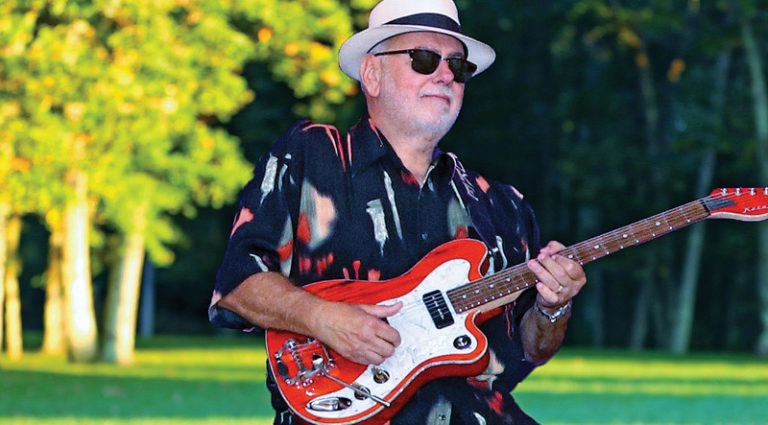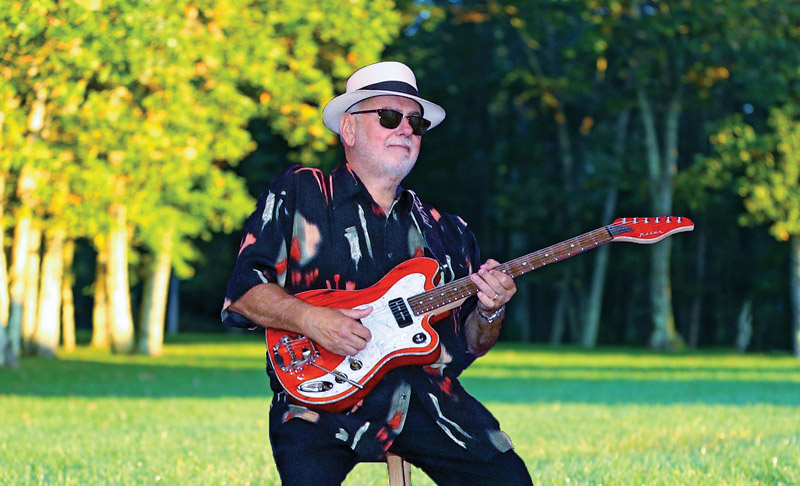 Robillard needs no introduction here, as he's been one of the leading old-school players of the past 40 years – his allegiance to authentic tones and honest blues licks is legendary. His latest, They Called it Rhythm & Blues, features numerous guest singers, such as Tele stylist Sue Foley, iconic guitarist John Hammond, Kim Wilson, and Sugar Ray Norcia, plus his own band's terrific vocalist, Chris Cote. The result is a swingin' set of vintage R&B, straight out of the post-war era and dripping with soul and joy.
You have incredible singers on the album. Do you take guitar cues from the singer?
In a recording, the vocal is the most important thing, on par with the overall groove and vibe. Whatever I play needs to support the song first. Fortunately, knowing all these folks quite well, it was easy to complement them.
You share guitar licks with Sue Foley on "No Good Lover," and her Tele tone is a great foil for your playing.
Even though we recorded our guitars and vocals at different ends of the country, it was fun to do the tracks with Sue – I knew it would be good. We both pretty much just did what we usually do on the solos and there is a nice contrast. And we both played Teles!
John Hammond, who turns 80 this year, delivers the Howlin' Wolf goods on "No Place To Go."
Working with John is always such a pleasure; I love John and his playing/singing. He picked the tunes, so we just plugged in and let it all happen. I'm not even sure we did a second take! We have a mutual appreciation for this music, so it was just nothing but fun. My only regret is that John and I didn't have more songs to record.
Some of the songs you play probably only ever existed on 78-rpm records.
That's funny you mention 78s. I prefer to listen to music on 78s and have a large collection of jazz, blues, country, and just about every category of American music. If you have a well-recorded 78 in mint condition, nothing sounds better! I even have pre-electric recordings from 1917 that sound amazing.
What was your studio guitar and rig?
I used a Fender Deluxe Reverb modded by Peter Mahon at Homestead Amps, and a '62 Gibson Falcon GA-19. The guitars were a parts Telecaster I put together with Lindy Fralin overwound pickups, a great Finnish-made guitar called a Katar Popmaster, an Epiphone reissue of a '56 Les Paul with P-90s, a reissue of a Kay Barney Kessel, and a custom-built 18″ JW Murphy archtop. The Les Paul and Kay are both wired with out-of-phase switches – I use those tones quite a lot on the album.
How about studio gear?
This album was recorded digitally, but the engineer, Graham Mellor, was into using a lot of ribbon mics and vintage mics like RCA 44s and such. Plus, we had a two-story wooden staircase to use as a reverb chamber, and those things played heavily into the overall sound.
How do you get that gnarly overdrive, like on "The Things I Forgot To Do"?
I used my P-90 Les Paul through a Digitech Bad Monkey. It's about the only pedal I use and I can get a true, small-amp-cranked distortion with it. I picked with my fingers on that tune, to simulate the Guitar Slim feel.
Conversely, on "Here I'm Is" it sounds like you're playing heavily with a pick and using a compressor.
There, I used Dunlop extra-heavy gel picks and, as I get older, I do often pick harder – it's not as easy as it once was! The compression is natural tube compression, unless a little was added in mixing.
You've dug so deeply into electric blues for decades. How do you keep discovering new colors and vibes within the genre?
I often find new-old tunes from just listening to records, but I've always loved all aspects of blues-related music. I started fooling around with the guitar around 1954 and I knew then that music would be my life. Over the decades, I've let a little bit of modern music into my influence, but I'm now pretty traditional in what I play.
You're 73 now. How are you a different guitarist from, say, 40-year-old Duke Robillard?
Well, 33 years ago I had much better chops! I was confident and aggressive in my playing, and it's only natural to mellow with age. My tastes are a bit more refined. When I was 18, my playing was laid-back because I listened to older blues and jazz guys and didn't let the popular-rock sound into my head until my 30s, when I got more ambitious and competitive. Most of my life, I've been inspired by the real blues and swing grooves. Back then, I think I was sort of an old guy within a young guy!
---
This article originally appeared in VG's June 2022 issue. All copyrights are by the author and Vintage Guitar magazine. Unauthorized replication or use is strictly prohibited.