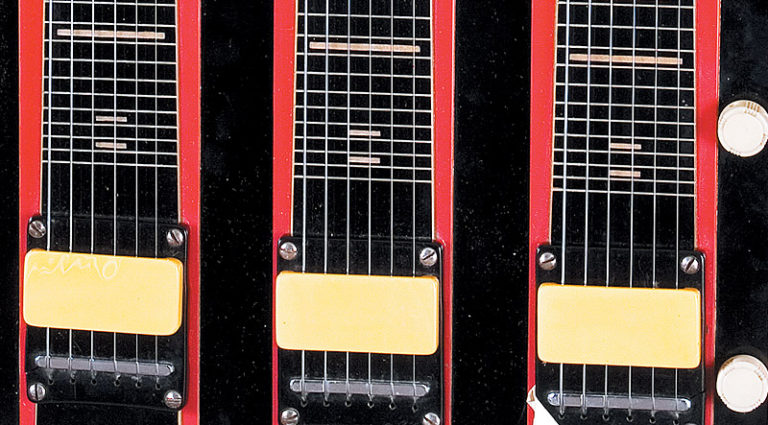 ---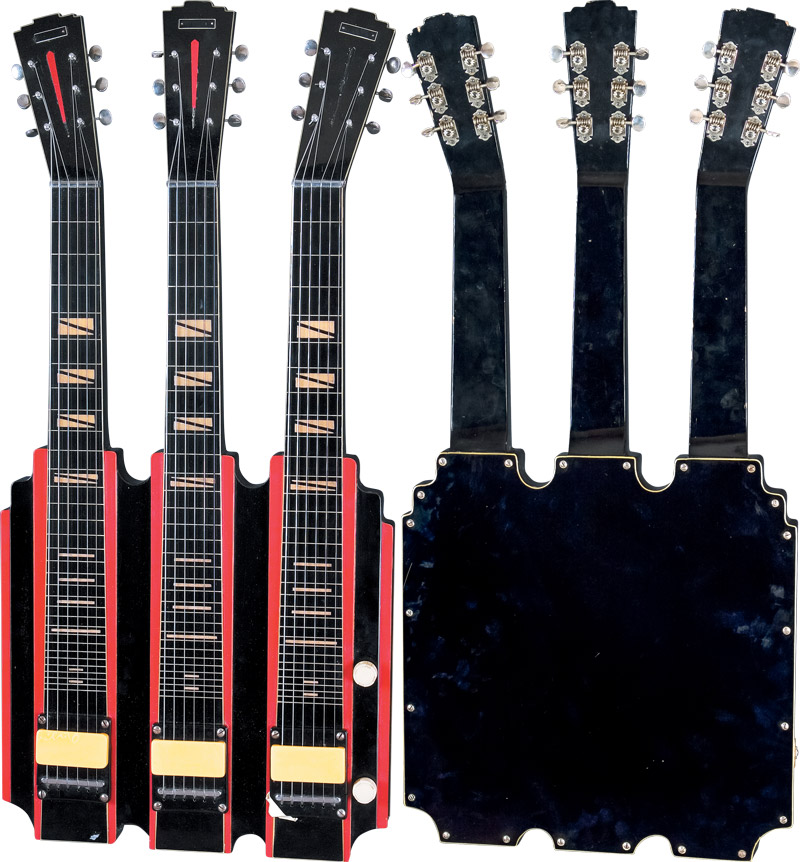 The obscure Coppock brand of electric guitars first surfaced in 1994, with the publication of Electric Guitars & Basses: A Photographic History, by guitar historians George Gruhn and Walter Carter. And though it was loaded with lovingly detailed information about many rare guitars, one photograph the authors highlighted – on the book's table of contents – was of an electric lap-steel with an enigmatic logo on the headstock and an aesthetic profile that lent hint it was no Fender or Gibson. Perhaps, though, what most justified its prominent inclusion was its green-and-yellow plastic-sheathed body with art-deco motif.
The accompanying caption revealed that the otherwise well-informed Gruhn and Carter apparently knew next to nothing about the instrument. Indeed, their brief text offered no specific information whatsoever about the guitar (or its origins), instead, merely noting the obvious – that the Coppock was an obscurity whose appearance hinted at inspiration via instruments produced in earlier decades by two pioneering Los-Angeles-area builders – the National String Company and Electro String (i.e. Rickenbacker).
A decade later, speculation erupted online about that Coppock guitar, with nearly every contributor confessing ignorance about the instrument and its origins. One Canadian blogger guessed that perhaps Coppock was that old "English importer of musical instruments" known as "J.T. Coppock (Leeds) Ltd." Another, from Massachusetts, took Gruhn and Carter's thought one step further, guessing, "…it looks like a National product branded for Coppock." Then a U.K. player chimed in with, "… it's entirely possible that it's a knock off of a [National] New Yorker [lap steel]." Another, from San Francisco, said, "This instrument may well be a European copy of a National." Others suggested the color of its knobs hinted at its country of origin, or that it was made by Guyatone or some other Japanese maker of the '50s.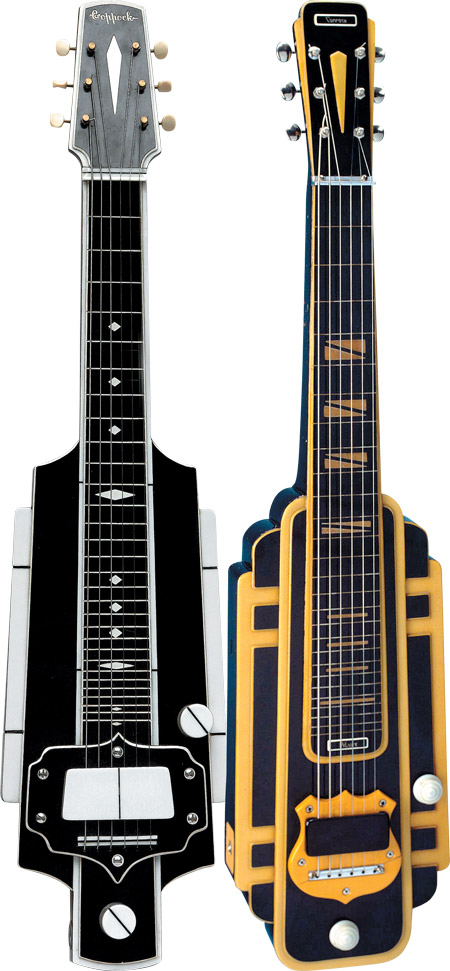 So things stood until March of 2009, when another Coppock instrument surfaced for sale in Seattle. Only this time, it came with a solid story supporting its provenance. The seller, Terry Davis, happened to be the instrument's original owner, and subsequent research unearthed the back-story about the instruments and their maker.
John Lee Coppock was born in Minnesota in 1899, and in 1911, his family moved west to the hamlet of Peshastin, Washington. Located in the Cascade Mountains (east of Seattle), Peshastin was apple-growing country and the Coppocks acquired a sizable orchard along the Wenatchee River. In time, John picked up the guitar and his brother, Paul, took up singing, and they performed around the area as a duo. In 1916, John heard a Hawaiian record playing in a music shop and was enchanted by its exotic sounds. Borrowing his aunt's Spanish guitar and using a bicycle wrench as a tone bar, he began teaching himself lap-steel techniques.
In 1917, a Hawaiian group performed in Peshastin, and Coppock was further inspired. After much practice (and acquiring a new Gibson guitar), he and some pals formed the Coppock Quintet, and started playing locally. But in 1923, Coppock moved to California, where he eventually performed with Roscoe Karns' Bird of Paradise (an island-themed stage production), with Dick McIntire, and with Irene West's show. By '25, Paul had joined him in Hollywood, and they formed Coppock's Hawaiians (with native ukulele ace Dave Mahuka), and became peers with some of the most famous Hawaiian steel guitarists of the era, including the early master, Sol Ho'opi'i.
Ho'opi'i and Coppock's groups both made a bit of history that year, when they cut recordings for the Hollywood & Sunset Records family of labels, which were one of the very first half-dozen active labels in Los Angeles. Recorded at Sunset's headquarters (66151/2 Santa Monica Blvd), Coppock's 78-r.p.m. disc (Sunset Records #1162) – "Tie Me To Your Apron Strings Again" and "The Prisoner's Song"– was originally sold exclusively through the Kress department-store chain, and that limited distribution mode surely helped them to be acknowledged today as among the rarest 78s from the West Coast.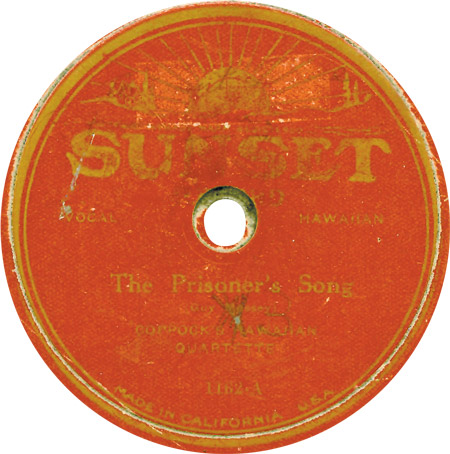 Out of print for eight decades, those recordings by Coppock's Hawaiians (which mistakenly credited Mahuka as vocalist rather than Paul) finally resurfaced in 2007 on a compilation CD produced in the United Kingdom by Grass Skirt Records (GSK 1002). And, interestingly, though the folks who produced it and penned the liner notes are experts, even they had to admit that, "Almost nothing is known about Coppock's Hawaiian Quartet… the band is a total mystery."
Well, that mystery has been solved. During his Hollywood years, "Johnny" Coppock befriended many top musicians (including other Hawaiian stars like Andy Iona and cowboy stars the Sons of the Pioneers), played many prominent gigs, and even auditioned for the movies and a position with the Paul Whiteman Orchestra. In 1929, he married Verna Mae Palmer, and before long, Coppock opened an instructional studio in a rental house on Long Beach Boulevard in the Southgate neighborhood of L.A. Not long after, Coppock acquired one of National's metal-bodied resonator guitars, and by '31 he (and everyone else in his newly-reconstituted band) was playing them. Around this time, the Coppock String Group began performing on area radio stations (including KFVD in San Pedro) and his theme song was always "Imi Au Ia Oe."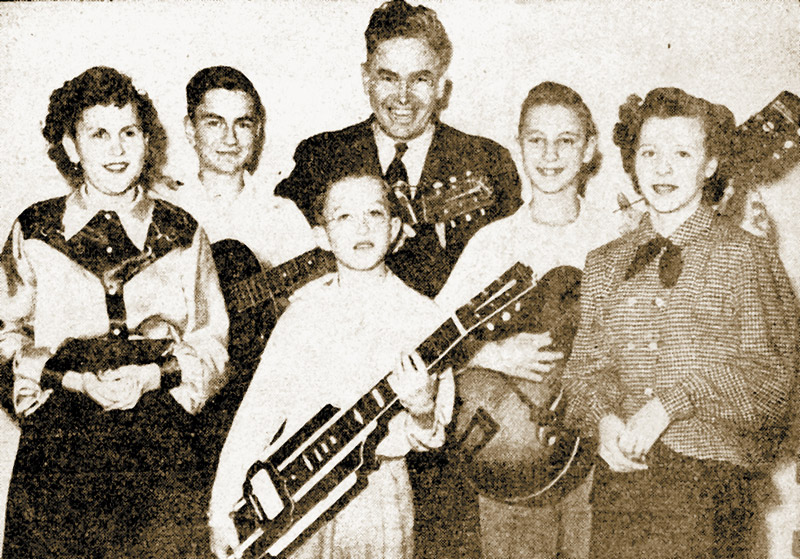 Meanwhile, Coppock took an interest in the new electrified instruments being produced in L.A. by Adolph Rickenbacker, and one photo shows his group with (among other instruments), two Rickenbacker amplifiers, a "Frying Pan" lap steel, and two Rickenbacker Spanish Electrics – including one of only two archtop/f-hole Electro Artist models reportedly ever made.
In addition to taking on music students and performing live, on radio, and in recording sessions, the ever-ambitious Coppock began experimenting with the manufacture of electric Hawaiian guitars. Coppock's son, Donovan (b. 1933), recalled his father always proudly stating that he had completed the making of a desk-sized triple-neck console lap steel, just prior to Don's first birthday. By that point, Coppock had moved his studio to a house at 7029 Santa Fe Avenue (and then to 2819 Gage Avenue) in Huntington Park, and began making guitars he sold to his students. Don recalls that at some point, his dad's group took a road trip east that included tour stops in Durango, Colorado – and Cleveland, Ohio, a hotbed of the Hawaiian craze and home base of the Oahu Publishing Co.'s Honolulu Conservatory of Music.
Coppock was, according to his son, a very forward-thinking man who took an interest in using new materials to build his instruments. He even went so far as to study at the nearby Plastics Institute, which helps explain the extravagant usage of various plastics as coatings on his guitars. At some point, he made a few two- and three-neck guitars that bore a resemblance to National's '38 Grand Console. But of even greater significance is the fact that in the '30s, Coppock apparently built one of the first solidbody electric Spanish guitars in history, constructed of a radical substance – a thick slab of clear Lucite or plexiglass.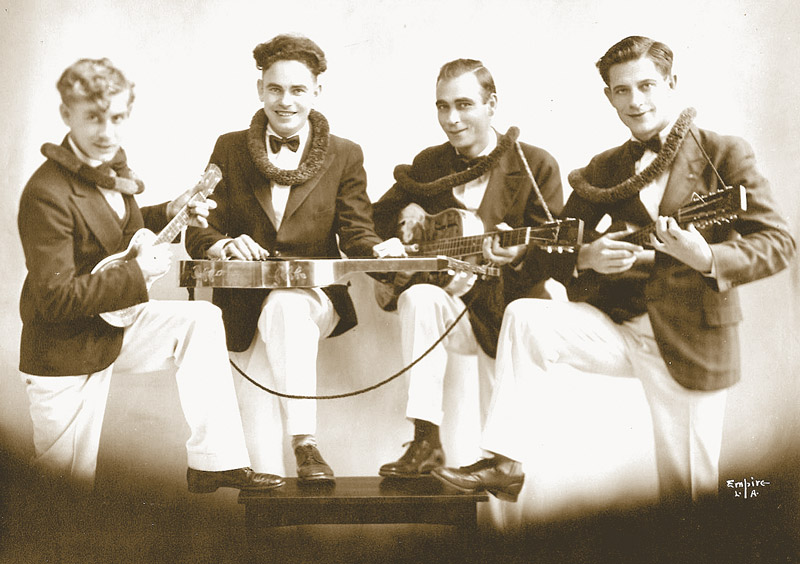 Then, when the U.S. entered World War II in 1941, and Coppock could no longer get mahogany from the Philippines, he had to substitute inferior Honduran mahogany for his guitars' bodies. Frustrated by that turn of events, he stopped making guitars for several years. Long story short; after working for a couple years at the shipyards, in 1944, Coppock and his young family moved in with his aging parents back in Peshastin, and they all carried on working the apple orchard. Even though Coppock also eventually got a job with E.L. Sawyer's Peshastin Box & Lumber Company (where he apparently acquired superior pine boards for some guitar projects), he never gave up on music, performing locally, and also repairing other local musicians' instruments in his wood shop. He also took on his first local student, Austin Riley, who initially learned on an old acoustic. At that time, Coppock was playing an electric lap steel he'd built for himself, which fascinated Riley.
A few months later, Coppock offered to build Riley an electric lap steel, and he selected a design from a few Coppock had sketched out. Before long, Riley had his own instrument (plus an amplifier built by another Peshastin neighbor) – and a wild thing it was! Constructed with a thin (1.25″) body whose (probably alder) core was sheathed with vertically aligned black-and-white plastic panels, the guitar also had a 25″-scale neck and clear plastic knobs.
The instrument had sleek lines that were undeniably reminiscent of the black-and-white, vertically aligned, '35 National New Yorker lap steel. What the new Coppock guitar also shared was a design element around the bridge and pickup that is clearly reminiscent of National's distinctively shield-shaped logo.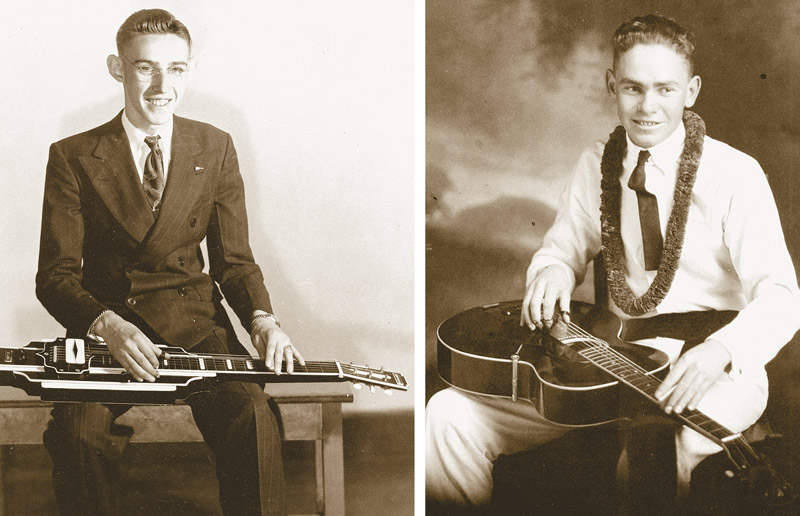 Meanwhile, circa 1950, Coppock tried to teach his son to play bass so they could perform together. And even though his father made him a one-off tubular electric stand-up bass, Don never really had the knack for it. At least the instrument didn't go to waste though; a photo from a year or two later shows another local kid playing it with a group of Coppock's other students.
One of Coppock's last students was Terry Davis, a local kid who began taking lessons in 1954 or '55 in his teacher's crowded shop. "It was just a mess," Davis recalled in a recent interview. "There were parts of electric guitars all over the place! We'd sometimes have to move things just to play." In time, Davis' parents rewarded him by having Coppock build him a lap steel – an instrument that was essentially identical to Riley's, but with a standard 221/2″ neck, like all other lap steels Coppock was making (including a new one for himself).
The Coppock guitars also boasted custom-made electromagnetic pickups that feature thick wire wound around bobbins comprised of a metal spindle set between brass top and bottom plates placed adjacent (but unsecured) to a 2.5″ x .5″ Alnico V bar magnet. Don recalls that his father had converted an old hand-crank blade-sharpening tool into a device that wound the wire around the bobbins in a primitive, but effective, way. But even then the task was daunting. Davis' mother, Loria, remembers when Coppock explained to her the challenge of winding those pickups by hand. "He said, 'I have to count every turn of the wire in there. It has to be exactly right.' He didn't say how many, but hundreds of times, I think. And I thought 'How does he do that with just his own hands?'."
John Coppock passed away February 6, 1959, after a brief illness. And exactly a half-century later, in 2009, Davis sold his guitar. Researching its history included checking in with Gruhn, who'd recently acquired the first Coppock guitar he'd ever had during his storied four-decade career dealing in rare vintage instruments.
So, for those who love weird old guitars – and maybe love even more when stubborn guitar mysteries are solved, the case of Coppock is a true treat!
---
Peter Blecha has explored other rare Northwest guitars for Vintage Guitar, and his latest book, Sonic Boom: The History of Northwest Rock, has just been published by Backbeat Books.
---
This article originally appeared in VG November 2009 issue. All copyrights are by the author and Vintage Guitar magazine. Unauthorized replication or use is strictly prohibited.