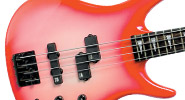 Americans by the millions "know" Randy Jackson. But not many realize that his gig as one of three judges on TV's "American Idol" is just the tip of the iceberg in his long musical career.
The veteran bassist has played alongside, recorded with, and/or produced musicians ranging from Jean Luc-Ponty to Bob Dylan to Jerry Garcia to Mariah Carey to Bruce Springsteen to Charlie Daniels (at the Grand Ole Opry, no less). He also played on Journey's 1986 album Raised on Radio, and toured with the band. In fact, most Americans' first Randy Jackson sighting was in a performance video for Journey's hit single from that album, "Girl Can't Help It," where he played a green Jackson bass decorated with gambling-table graphics.
A few years later, Jackson (the man) collaborated with Peavey to design and build the RJ-IV, one of several artist endorsement models marketed by Peavey in the late 1980s and early '90s. It debuted in 1990, a year after the TL-5 (designed with the input of Tim Landers), and the Rudy Sarzo Signature Bass and a year before the Palaedium (inspired by Jeff Berlin's "parts" bass).
The RJ-IV has its share of interesting elements. For instance, Peavey spec sheets of the day referred to the model as the "RJ4," while the headstock and owner's manual actually say "RJ-IV." And while company literature noted its neck-through configuration, touted its "select maple body" and "eastern maple bilaminated neck construction with graphite reinforcement," its finish made it impossible to see and/or appreciate these qualities!
The headstock profile was similar to other up-market Peaveys of the time, with a carved portion below the trendy black tuners.
The RJ-IV was equipped with a Hipshot D-tuner on its E string and its 1.6″-wide nut is made of Peavey's trademark Graphlon material. The scale is standard 34″ and the neck profile was described in literature as having a "…thin oval back profile."
Its fingerboard is macassar ebony, and has a 10″ radius and 21 frets. Its funky "icicle" mother-of-pearl fretboard inlays are unique among Peavey instruments. Company literature also hyped the "…reduced body size with four-way radial contour." The body is 18″ long and 13″ wide.
As for its electronics and controls, the RJ-IV came off as practical and simple-to-operate… on the surface. Its pickups are active, powered by a 9-volt battery that installs on the back of the body, in a small compartment separate from the rear control cavity. The control knobs are labeled "V" (volume), "B" (bass), "M" (midrange) and "T" (treble), and each of the three tone knobs has a center detent. Pickup selection is accomplished by a three-position mini-toggle. So far, so good…
The Bass control is centered at 50 Hz and has a +8 dB boost and a -8 dB cut. The Treble control is centered at 2 kHz and has a +/-12 dB boost/cut. The Midrange knob is on the upper row, behind the Volume knob. The midrange tonal sweep of the RJ-IV can be pre-set for several frequency ranges with variable-notch centers. And for real fine-tuning of the tone, the rear cavity houses an eight-position dual in-line package (DIP) switch that the owner's manual says adjusts thusly: "1 on – 6 dB pad on preamp input; 2 on – shift high from 2 kHz to 1 kHz; 3 and 6 on – shift mid from 1 kHz to 500 Hz; 3,4,6, and 7 on – shift mid to 250 Hz; 3, 4, 5, 6, 7, and 8 on – shift mid to 125 Hz." Given its relative complexity, one wonders how many RJ-IV owners actually went to the trouble of changing the DIP switches.
The Red Pearl Burst finish on the RJ-IV shown here might evoke comparison to Rickenbacker's Fire-Glo finish, which is also pink-to-red, and its fret markers have a Ric vibe, as well, resembling the wedge shapes found on up-market Rics. The RJ-IV, however was available in three other Pearl Burst finishes (Black, Blue, and Purple) as well as solid Pearl Black, Pearl White, Pearl Blue, and Sunfire Red. There may even have been one in natural-finish koa. In 1992, Jackson filmed an instructional video called Mastering the Groove, where he appeared on the cover brandishing an RJ-IV in Red Pearl Burst.
The RJ-IV lasted four years in Peavey's lineup. While it's debatable to what extent Jackson's high profile today might bolster collector interest in this model, it, like most Peavey basses, is well-built and remains a practical value in the market.
---
This article originally appeared in VG's October 2008 issue. All copyrights are by the author and Vintage Guitar magazine. Unauthorized replication or use is strictly prohibited.