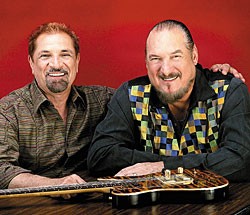 Before they were called Booker T. & The MGs, the first song the house band for Memphis' Stax label cut on their own was the instrumental "Green Onions" – which went to number one on the R&B chart and number three on Pop in 1963. Since then, Tele man Steve Cropper has become perhaps the definitive soul guitarist and composer of such classics as "Midnight Hour," "Knock On Wood," and Otis Redding's posthumous classic, "Dock Of The Bay."
Felix Cavaliere was the voice of one of the great rock/soul bands of the '60s, the Rascals – singing and playing keyboards on hits like "Groovin'" and "People Got To Be Free" (both of which he co-wrote).
A collaboration between the two would seem inevitable, but it took producer John Tiven (Little Milton, Howard Tate, Frank Black) to put the two together. Nudge It Up A Notch (Stax/Concord) finds a soulful, give-and-take common ground that will hopefully not be the last project pairing these two R&B icons.
"Felix will keep doing his thing with the Rascals, and I'll keep doing my thing with Booker T. and the Blues Brothers," says Cropper, who has toured with the latter for 20 years. "Somewhere in there he and I will get together on some shows. Which will be great, because we won't do just this album; he'll do Rascals stuff, and I'll do Stax stuff. It'll be fun!"
Did your Southern groove meld with Felix's East Coast feel right off?
It just evolved that way. The original idea was not to release an album, but just get together and write. We did most of the writing at John Tiven's house. I'd just start some changes and a groove, and Felix would fall in. Then maybe Tiven and I would put some lyrics to it, and Felix would work on the melody. After we had four or five of these things, we thought, "Have we thought about maybe putting a record out on our own, instead of pawning these songs off on other artists?"
It's pretty laid-back, and it was that way intentionally. The direction of the songs started with music and tracks, and then we sat down and wrote lyrics to all of them. Then we decided, since it was really a team effort, we took the lyrics off and turned three of them into instrumentals.
When we knew we had something, we decided to bring in Chester Thompson on drums, and then he turned us on to Shake Anderson, who's a phenomenal bassist – kind of James Jamerson and Duck Dunn all in one.
These days, it's rare for a record to be cut as a unit, with everyone in the studio together.
Yeah, I do a lot by internet, in my studio. People send me stuff, and I download it and overdub on it – give them two or three choices – and e-mail it back. The album comes out, and I never see the artist or producer.
But working out parts and grooves, you've got to be there and spin off each other. That's hard to do over the internet – although if you want to spend the time, you can set up a camera, and it's like you're right in the same room.
Of course, at Stax we were always in the same spot, playing my same equipment every day. Some of the earlier stuff, if you go back to "Green Onions," I used a little Fender Harvard amp. Later I moved up to a Super Reverb, and I think the mic was a Neumann U-67. That's on all kinds of stuff, like "Soul Man." But on "Dock Of The Bay," I brought my old Harvard back to play the licks – which, of course, Otis never heard. I just played acoustic guitar on the session with him. We cut it as kind of a demo, but with the horns. Then I overdubbed the piano, electric guitar, and the waves and seagulls.
Your main guitar for years was the white Tele with the rosewood fingerboard.
My first guitar, on "Green Onions," was an Esquire – had to be early-'50s. I sanded it down and painted it purple in my parents' garage at home. I don't know what year that white Tele was – probably a '62 or '63. I bought it new. I had it and a good used one, because when I wrote with Otis, he always tuned to a chord.
Otis was a one-fingered guitar player. So the chord changes in almost all of the songs Otis wrote, there are no minors – because he didn't know how to make that form. So I didn't want to be retuning on sessions all the time, so I kept my second Telecaster tuned like Otis. For things like "Try A Little Tenderness" I played in standard tuning; for things like "Ole Man Trouble," the intro was all done with a chord, on the second Tele.
What kind of guitar do you use now?
I use a custom-made, one only, Peavey. They made both of the Tele copies I play. I've got the prototype, and that was the forerunner to the Cropper Classic – both made by Jim DeCola, who now works for Fender. The Peavey is just a little more streamlined. When people ask why I don't play an old vintage Tele, I say, "It's kind of like once I drove a Ferrari. I never went back to a Chevrolet."
I'm an old diehard; I don't like a lot of footswitches. But I can get all I want out of these new Peaveys, usually with their active pickups, and I play through red-knob Fender The Twin amps.
You've always cited Lowman Pauling of the 5 Royales as a major guitar influence.
Nobody knew about him. I got to see him live, and he blew me away. He was the bandleader, and he wrote most of the songs. One of his guitars was a Les Paul Junior. He had a long strap, and it hung down by his knees, but when he got ready to play a solo he would pick it up and cradle it. I couldn't wait to get home; I put two belts together so I could have this long strap.
Listen to the 5 Royales' song "Think," and see if the guitar licks sound familiar (laughs)! If I owe anybody, it's Lowman Pauling.
---
This article originally appeared in VG October 2008 issue. All copyrights are by the author and Vintage Guitar magazine. Unauthorized replication or use is strictly prohibited.
---