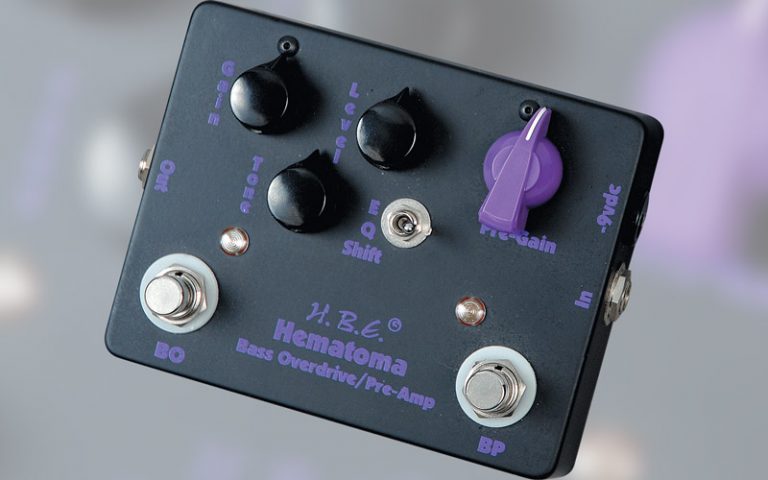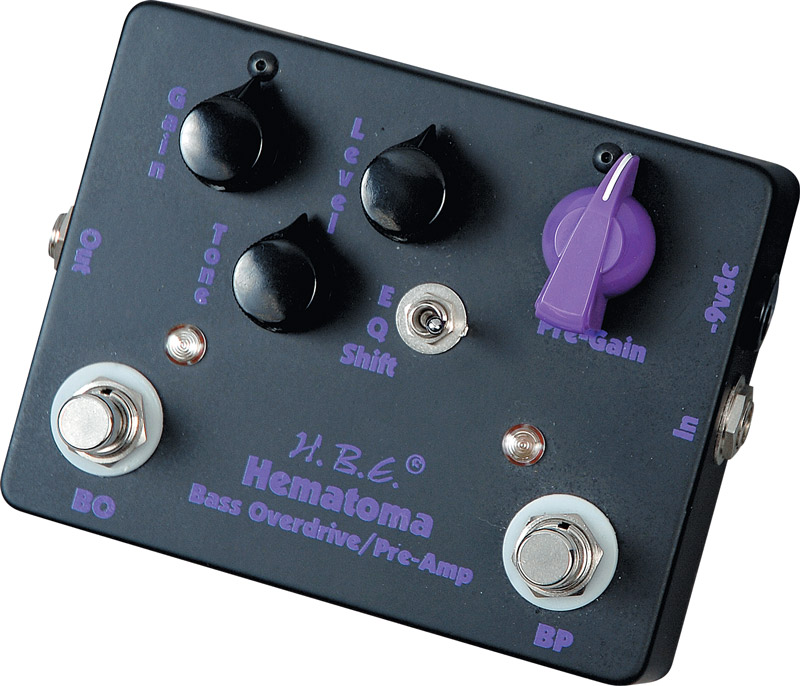 Like a lot of gear-making companies whose stuff is warmly received, Joel and Andrea Weaver at HomeBrew Electronics have never rested on their laurels. Instead, the effects-pedal builders have launched piece after piece of super-usable, good-sounding, roadworthy pedals with cool names like the Psilocybe phase shifter, THC chorus, Medicine Bawl wah, Full Metal Jacket distortion, and the Mimic delay.
Until recently, though, they didn't offer any "preampage" just for bass players. Consider that dilemma fixed as you shake hands with the Hematoma Bass Overdrive.
Housed in HBE's trademark heavy duty 45/8″ x 35/8″ x 13/8″ die-cast metal chassis, the Hematoma's heritage carries through to its chassis-mounted Italian-made 1/4″ jacks and metal-shaft potentiometers, true-bypass footswitches, and high-quality metal film resistors and capacitors. Our test pedal was finished in a cool matte black with purple silkscreen print. For a slight upcharge ($10 to $20), a customer can choose a finish from HBE's rainbow of metallic-paint finishes, and patterns from polka-dot to checkerboard. There's even a vintage tweed covering, and your choice of knobs.
Other small-but-important features incorporated into HomeBrew pedals include a heavy-duty battery clamp, status LEDs that can easily be seen on a lighted stage, and chassis-mounted 9-volt external power supply jack.
The Hematoma's control layout includes a separate Pre-Gain boost/cut section with its own bypass footswitch and control, as well as a separate overdrive section with controls for Gain, Level and Tone, plus an EQ Shift switch and true-bypass footswitch.
We tested the Hematoma using a Carvin five-string bass through a Carvin amp head and 2×10″ cabinet, as well as a G&L L2000 through an Ampeg SVT3 Pro head and Ampeg 4×10″.
The Pre-Gain section produces a nice boost/cut that adds no noise or coloration, but does give the player control over the amount of gain. When we punched in the overdrive section, the Hematoma offered up a sweet, fat distortion with no buzz, very smooth midrange, and consistent low-end; the tone stayed full and free of coloration.
The Pre-Gain section works well to compensate for variations in output levels between two basses, which makes the Hematoma a great accessory if you switch between a couple of basses in a live situation.
By manipulating the Pre-Gain and Gain controls in the overdrive section, we were able to dial up anything from a slightly dirty/grungy tone like you might get from a tube amp, to full-blown distortion with tons of sustain. The Tone knob and EQ Shift mini-toggle produce well-voiced sounds, and are very handy for compensating between tone differences from the humbuckers (as on our G&L) and from the single-coils in the Carvin.The only thing missing is a balanced XLR line-out.
With its true-bypass footswitch, transparent tone, and separate Pre-Gain section, the Hematoma is a sure thing for gigging bassists. – Phil Feser/Doug Klein
---
This article originally appeared in VG's March 2007 issue. All copyrights are by the author and Vintage Guitar magazine. Unauthorized replication or use is strictly prohibited.
---
HomeBrew Hematoma Bass Overdrive