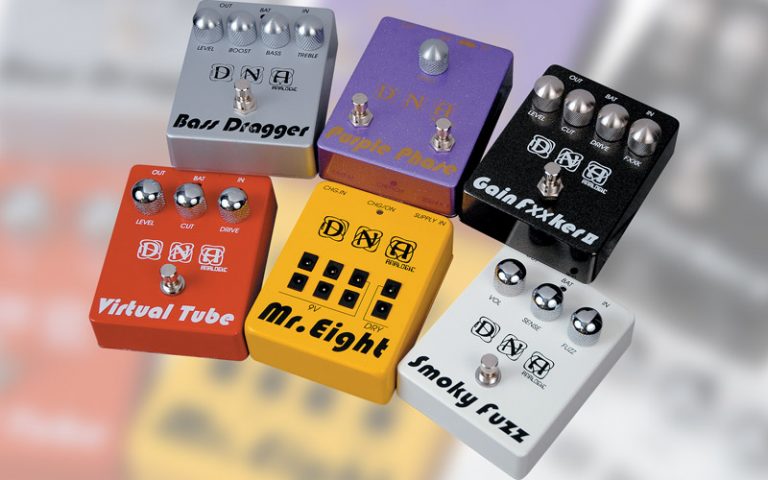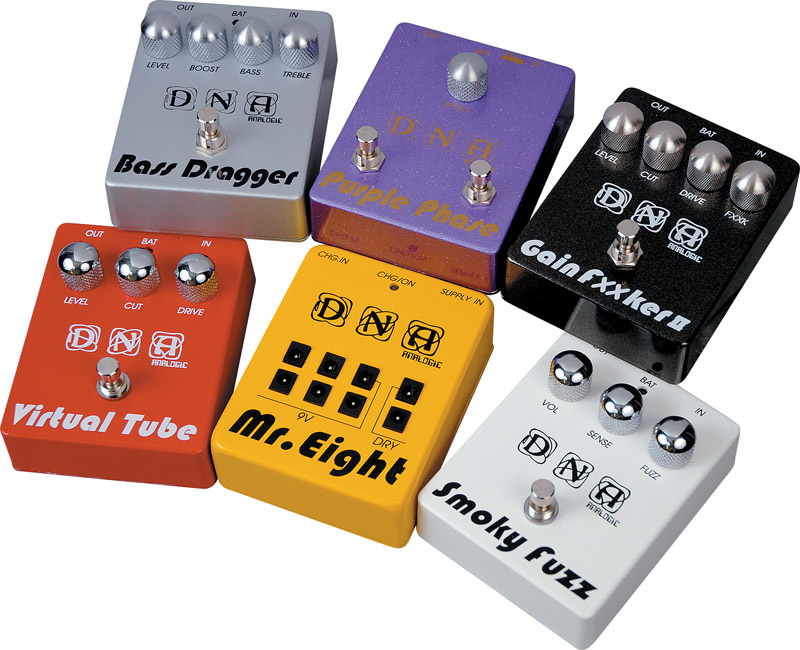 If you're a "first impressions mean a lot" kind of gearhead, DNA Analogic's line of effects pedals may just win your heart the instant you crack open the box(es).
Housed in cast-aluminum casings and employing heavy-duty metal control knobs that convey a certifiable "built to last" aesthetic, these mid-sized boxes certainly look unique, and bear funky names any guitar geek will love – Virtual Tube, Purple Phase, Smoky Fuzz, and Gain Fxxker. They also bear the earmarks shared by other high-quality boutique pedals, including true-bypass switching, but also boast a couple of less-common twists like top-mounted connection jacks, which not only reduce the chances of them being accidentally unplugged, and help save space on a pedalboard. A unique twist in the DNA line is Mr. Eight, a rechargeable power source that will power up to eight nine-volt effects through the course of a gig without the "aid" of a power cord.
To give a listen to this strand of DNA pedals, we grabbed our Tom Anderson Drop Top, plugged it into a Fender Hot Rod Deluxe, and went to work experimenting.
First up was the Virtual Tube. Kicking it in with its Level, Cut, and Drive controls set halfway, the pedal offered big-time gain and drive that was smooth and controllable. Tweaking the Cut control in both directions revealed a quick taper from about two-thirds to full up. Adjusting levels, the Virtual Tube produced nice tones ranging from clean to dirty to full-on distortion. The Hot Rod Deluxe has its own tube-driven distortion channel, and in an A/B comparison we found a striking similarity between them.
The Purple Phase has two switches; one is a standard bypass, the other selects sounds ranging from a standard phase shift to a more oscillating sound reminiscent of Keef on the Stones' "Shattered" (Sha-doo-be, indeed). The box's LED indicator changes from green to red to let you know which function is engaged, and there's a 1/4″ output that lets a player connect the unit to a volume pedal. A quick turn with our trusty ol' Ernie Ball volume pedal revealed a high degree of usability; controlling the speed of the effect with one's foot is fun, and quite "handy." If you're looking for MXR Phase 90-type modulation, this pedal probably isn't for you, but its variety of sound options is a definite plus.
The Smoky Fuzz has controls for Volume, Sense, and Fuzz. This box produces a crunch similar to the Virtual Tube, but it's less subtle. Its Sense control helps the user adjust the tone from warm to thin.
If asked to pick a favorite, we'd step first on the last pedal we tried – the Gain Fxxker II. With its four distinct and very usable controls, it has a wider range of tonal options than the Smoky Fuzz or Virtual Tube, and offers endless sustain, excellent harmonic overtones, and of course, the Fxxk knob (you gotta love that name!), which adds a nice dose of warm, deep low-end.
For the metalhead bass player in your circle, there's the DNA Bass Dragger. This box can also be used as a preamp into a PA or a digital work station, which is how we tested it.
Using an Ibanez bass with a naturally midrange-heavy tone running into a Roland VS2000 digital hard disc recorder, we adjusted the Dragger's Level to full, Boost to zero, Bass and Treble straight up, and found the instrument's tone was markedly more balanced, with full, round low-end response and a slight increase in gain, but no additional signal noise.
The Dragger's Boost control added distortion ranging from moderate to intense (hey, bass players should get to play around some, too, right?). The Bass Dragger isn't much for subtlety – with the Boost control just a quarter of the way up, it gets to growlin' pretty hard!
Overall, DNA Analogic's mid-sized effects offer much in the way of good looks, cool sounds, and an old-school sound vibe. – Richard Torrance
---
This article originally appeared in VG's March 2007 issue. All copyrights are by the author and Vintage Guitar magazine. Unauthorized replication or use is strictly prohibited.
---
Bass Dragger
Purple Phase
Gain Fxxker II
Virtual Tube
Smoky Fuzz