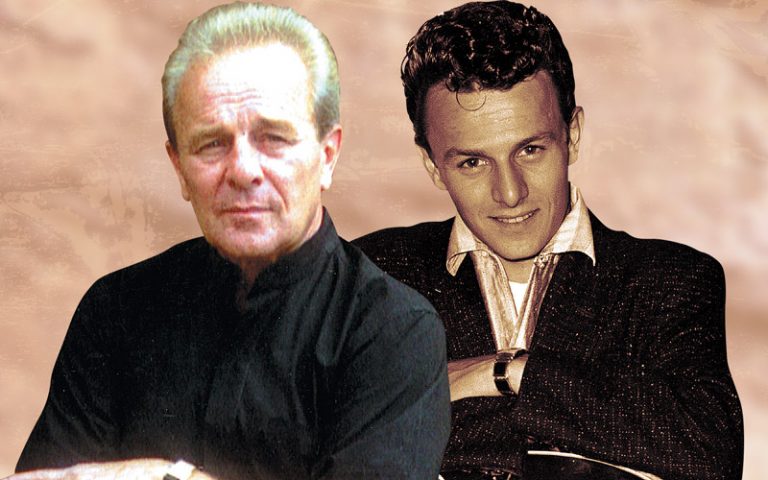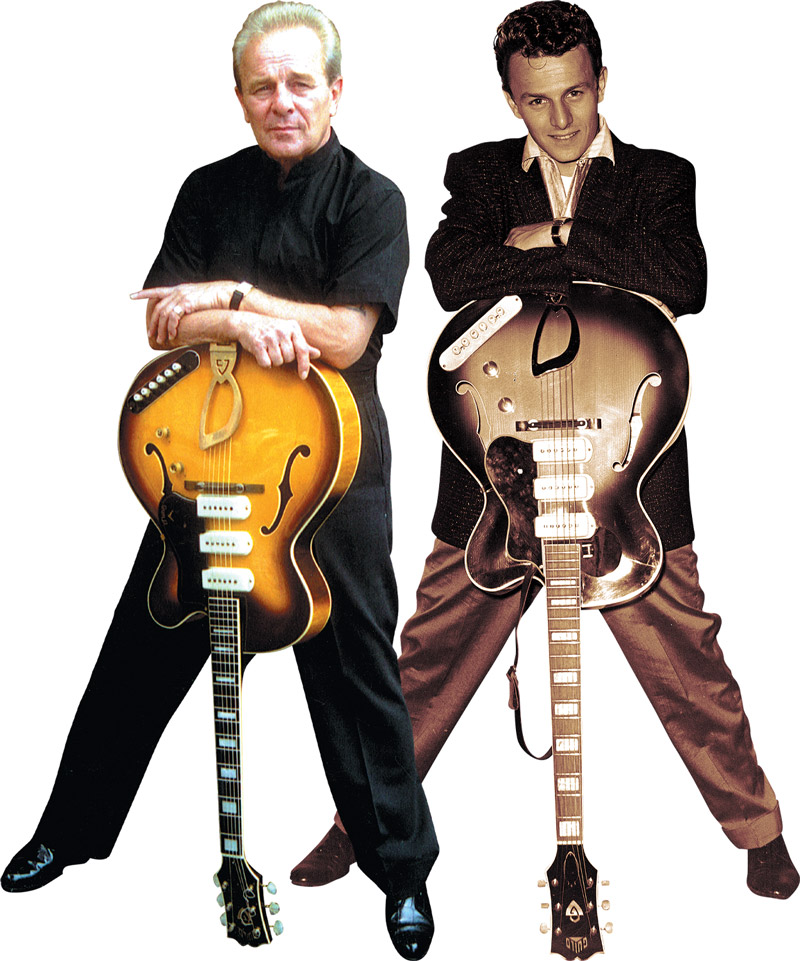 "…as I went from London to Liverpool to Manchester to Birmingham to Scotland, in the audience were all these young kids coming up – the Stones, the Beatles, Joe Cocker, Graham Nash. Who the hell knew? They were only kids, starting out."
For decades, Charlie Gracie was viewed as more of a footnote than a chapter in rock history, even by historians of the genre. One example is the online All Music Guide, which rather dismissively sums up his career in a mere four sentences. But with the release of the retrospective Best Of Charlie Gracie: Cameo Parkway, 1956-1958 (ABKCO) and an excellent documentary bio titled "Fabulous" airing on PBS in '06, Gracie's music and story will hopefully be exposed to the uninitiated. And digging a little deeper could prompt rock historians to finally give him his just due as one of the founding fathers of rock and roll.
Gracie was the first artist signed to Philadelphia's Cameo Parkway label, and his #1 hit from 1957, "Butterfly," bankrolled the company whose roster subsequently boasted Chubby Checker, Dee Dee Sharp, Bobby Rydell, the Dovells, the Orlons and others – with a distinctive Philly house-band sound. (Andy Williams' cover of the song on the bigger Cadence label actually beat Charlie's version to the top of the charts by a few weeks.)
That same year, Charlie appeared alongside Fats Domino, Jerry Lee Lewis, Frankie Avalon, and Carl Perkins in the movie Jamboree – one of the many bandwagon rock and roll revues slapped together to capitalize on the new fad. He and his trademark full-body/pushbutton Guild X-350 also appeared on "American Bandstand" and the Ed Sullivan and Alan Freed TV shows.
Most important, though, Gracie was the second American rock and roll act (after Bill Haley & His Comets) to tour England, in 1957. The audience for his concerts and TV appearances included future stars such as Graham Nash, Joe Cocker, and George Harrison. As Albert Lee recalls, "I didn't get to see Charlie live, but in the '50s we had a TV show in the U.K. called '6.5 Special' – mostly U.K. acts, skifflers, swing, ballads, and the rare American guest. Charlie was on one show and played his huge Guild three-pickup. I remember him saying, 'Here's a tune we used to kick around.' and he launched into 'Guitar Boogie.' I'd only been playing a matter of months and didn't have my own guitar, so I thought it was really cool."
Gracie, in fact, scored more hits in Britain than in the States. Paul McCartney later covered his Elvis-tinged "Fabulous," and from those appearances he picked up another fan, Van Morrison, who personally invited him to open several of the Irish rocker's tour dates a few years ago.
But it's the 70-year-old's earlier recordings that didn't dent the charts that should compel rock historians (often revisionist, at best) to re-examine Gracie's role in rock's infancy. Once upon a time, it was generally accepted that Bill Haley & His Comets were the first "rock and roll" act. Their "Rock Around The Clock" was the first rock and roll record to reach #1, in 1955 (after they'd already registered a hit with their cover of Joe Turner's "Shake, Rattle And Roll"), although they'd been mixing revved-up rhythm and blues into their cowboy repertoire for years. At some point, critics decided that rock needed a hipper cornerstone, and declared "Rocket 88" by Ike Turner sideman Jackie Brenston as "the first rock and roll song," cut in 1951. Actually, Fats Domino's "The Fat Man," cut two years prior, is just as strong a candidate, and arguments could be made for Roy Brown and even earlier recordings by Louis Jordan. But Haley was doing something different, even on the 1951 cover of "Rocket 88" by his pre-Comets Saddlemen. The formula for rock and roll has always been defined as equal parts country and western and rhythm and blues, and Ike, Fats, et. al. were missing the country element supplied by Haley, and later Elvis Presley.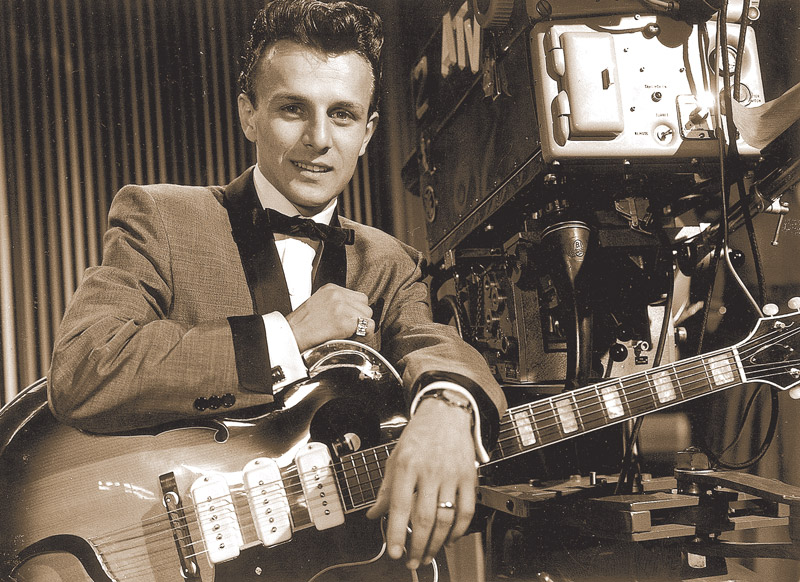 But also in 1951 – the same year that Haley (based in Pennsylvania at the time) recorded material like "Rocket 88," "Rock The Joint," and "Rockin' Chair On The Moon" – a 15-year-old Italian-American named Charlie Gracie cut his first single for the Cadillac label. An original appropriately titled "Boogie-Woogie Blues," the song rocks like a hurricane. The answer to the obvious question "How many white artists were recording music like this at the time?" is "Not many."
In 1958, Charlie had a falling out with Cameo Parkway over money. It wasn't until a year later, during the Congressional investigation into payola, that Dick Clark divested himself of interests in several record companies, including Cameo Parkway. Gracie signed with Decca, then Roulette, but, even with his hits still resounding, found it difficult to get the airplay and TV appearances he'd previously enjoyed.
Outside the spotlight, he worked continuously on the nightclub circuit until 1979, when he was asked to tour England again. His British tours have since become an annual tradition, and this year he headlined the yearly festival in Chippenham named for Eddie Cochran, and unveiled a statue in his old friend's honor.
Another tradition is Charlie's summer-long stints on the Jersey Shore. "I've been doing it since 1957," he says. "I worked one joint 25 years – Moore's Inlet. It closed last year, and now I'm working right across the street at Westy's Irish Pub. In fact, where that building stands was the first club I ever worked in, the Avalon Club. So this year will be 50 years I've been playing down there. We play the same stuff as in the '50s, and are getting younger and younger people out – right along with 70-year-olds."
You might want to check charliegracie.com before planning your next summer vacation.
Vintage Guitar: What differentiates South Philly?
Charlie Gracie: South Philly was not all, but primarily, an Italian-American neighborhood. We had Irish and Jewish and Polish and black kids, but I'd say 65 percent Italian-American. And most of the guys who came out of there and became famous were Italian-American. My parents were first-generation Americans; my grandparents came over from Sicily.
The guitar seems especially prominent in Italian families.
Most Italian-American homes always had somebody either playing accordion or guitar to get a party going. A lot of guys weren't professionals; they worked for a living, and would pick it up and sit on the step in the summertime – it was so hot in the row houses – and sing songs in English, some in Italian.
People ask, "How come so many people became famous in that area?" I say, "To get the hell out of there." It was a ghetto. But I grew up with a nice mixture of people. There was a lot of camaraderie and harmony in those days. Black kids used to have lunch at my house, and nobody even noticed they were a different color. We just played and had fun. We all went to the same high school – Jimmy Darren and I went to school together. The only one who didn't attend Southern High, I think, was Bobby Rydell, because he went to Catholic school. In those days, the boys and girls went to separate schools. They didn't go co-ed until the late '50s, after I graduated.
What music did you hear around the house?
My mom loved country music. She was from Pittston, Pennsylvania, up in the coal mine – Scranton area. My father was born in Tampa, Florida, and came to South Philadelphia as a young boy.
We had a little record player, and mom would buy records by Hank Snow, Hank Williams, Ernest Tubb, Eddy Arnold. She liked pop music, too. My father was more into "hep" stuff, we called it in those days – Tommy Dorsey, Frank Sinatra, Louis Prima. So us kids, growing up, had the influence from the country, influence from pop and swing and boogie-woogie, and then we used to listen to black stations. Rhythm and blues was something to sneak in to listen to. They called them "race records" in those days. I grew up listening to all three facets of music, and my head was bursting, as a young musician. I more or less developed a style of my own between the three – a little bit of country, a little bit of pop/swing/boogie, and the black blues – and I guess that's where rock and roll really came from. Like when Elvis first came out, I would consider him an absolute rockabilly singer in the beginning.
The ingredient a lot of historians always leave out of the equation is the big-band music. They define it as "country plus rhythm and blues equals rock and roll."
To me, that's the mistake that they make, because I think it played a real big part of it. When I do my live performances and take some leads on the guitar, I'm playing figures from the '40s, from big-band music. I'm hearing Tommy Dorsey in my head, or Harry James, Glenn Miller.
And some of that stuff was rockin' – like Gene Krupa.
Oh yeah, he was an icon. He put the drums on the map. I never worked with him, but I worked with guys like Louis Bellson, who played the double bass drums. I worked with Barrett Deems, who drummed with Louis Armstrong. I worked with the great New Orleans trombonist Jack Teagarden – my God, I was thrilled to death! I was prepared for whatever came to me, because I played all forms of music, and if I sat down with someone, I'd just change my style to play whatever they played.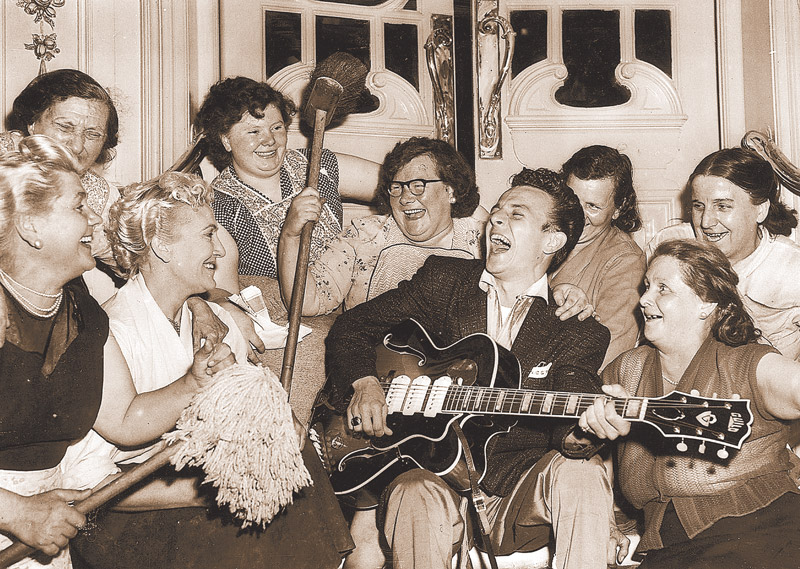 I never claimed to be the world's greatest guitarist, but I held my own. Especially when it comes to rhythm; I put my right hand against anyone in the world – I don't care who it is.
The most distinguishing element of your style is definitely that strong right hand.
I think that developed because I played alone for years without a band – just myself and the guitar. I had more or less a slap pattern, to give me some beat. If you just strum it, like a cowboy, it's dead. I had to add that little oomph to it, and that developed the power in my right hand. I play some songs that are so quick rhythmically, some guys can't keep up. I'm not saying that to brag; I'm just saying that's my forté.
As far as lead, I can hold my own, but there are guys who can play lead so great I want to run over my guitar with my car [laughs]. You know where you belong in a category, from 1 to 10. So if I'm a 5, I'm tickled to death. That's not too bad.
Did you take lessons?
Yes, from age 10, from a marvelous teacher, Anthony Panto, who was related to the great violinist Joe Venuti. He taught me the basics of music. I was a sight-reader as a kid; in fact, I played better then than I do now, as far as finesse. Once you get into rock and heavy blues, you lose a lot of the speed and finesse you would have playing jazz or pop.
But one of the things that shows through is your chord vocabulary – which is much broader than a typical rock player.
I'm glad you noticed that, because I'm playing jazz chords in rock and roll. I get bored playing just the four-chord pattern. When I work a joint and there are musicians there who are true musicians, they light up. They say, "Charlie, we hear you playing the 9th and 13th and augmented and diminished. Most people don't even know what you're doing. You're keeping the good stuff alive."
You try to be innovative. Anybody can just pick up and play G, C, D7; you can learn that in two or three months. But if you want to play a major 9th or augmented or 13th and flatted 5th and so forth, you have to have a little musical knowledge.
You cite Arthur Smith and "Guitar Boogie," who seems to get overlooked a lot.
Oh, he was actually the first guitar music I was introduced to. Of course, I don't play "Guitar Boogie" like he did. I speed it up, so it's more exciting. But he was an excellent guitarist. But one guy who was like a mentor, although I never met the man, was Danny Cedrone. Great guitar player! South Philly, Italian-American boy. He became part of a group called the Esquire Boys, who had a couple of minor hits. But he did all the guitar work for the early Bill Haley stuff, including perhaps the greatest lick in rock and roll – "Rock Around The Clock."
Danny's grandson, Danny Vanore, has a little group of his own, The Business. They're very good, and occasionally they ask me to come along, and they back me.
How old were you when you first recorded for Cadillac?
I was 15. It's a funny thing. Sometimes I sit and listen to that stuff and say, "You know, for a kid that age, I didn't play too bad."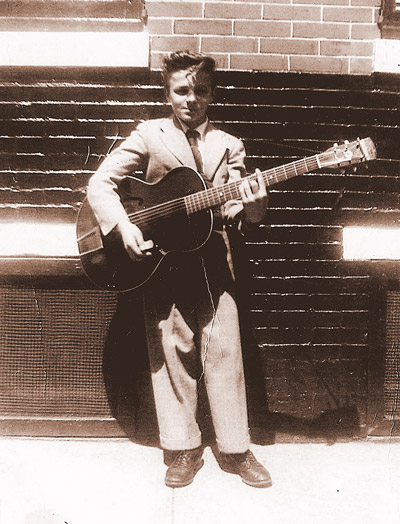 Not only that – you were playing something that not many people on the planet were playing. Not many white kids, at least.
It's difficult to talk about yourself, because we all have an ego, and it comes out, although I try to control it. But at the time, when you're doing all this stuff, you're just a kid. Some guy calls up and says he wants to record you; my God – in those days, to get a recording contract was unheard of for a 15-year-old. So that was the first step. If you listen to the first record I cut on Cadillac, I did "Boogie-Woogie Blues," which is a song I wrote as a kid – it's nothing spectacular in any way – and the old Fats Waller tune, "I'm Gonna Sit Right Down And Write Myself A Letter." We didn't even have a drum on that record.
That's also true of Bill Haley's Essex stuff, including "Rock The Joint," which has the exact same guitar solo that Danny Cedrone played on "Rock Around The Clock."
It was a country band, and you didn't have drums in country music. They were called the Saddlemen. I went to see them as a kid. My mother took me to this place called Sleepy Hollow Ranch, about 50 miles out of Philadelphia, which was a long way to go back then. It was a picnic ground, and we took our lunch. All of a sudden these guys come out in cowboy suits and cowboy hats – Bill Haley & The Saddlemen. Wow, this is wonderful. And that inspired me. When I saw that, I said, "This is what I really want to do." You get paid to do this? I would've done it for nothing for 50 years.
I'd already been playing the guitar, but it was great. The steel guitar player, Billy Williamson, took most of the leads, and (pianist) Johnny Grande was playing accordion. It had that country-rock sound – although there was nothing called "rock" at the time. They used a lot of rimshots on his records, if you notice, so the backbeat really cut. And with the slap bass, it really got that thing moving.
I only met Bill Haley once. It's a shame that he was a little older than the rest of us. He was in his 30s; we were just entering our 20s. He didn't have the peer look. They don't even talk about him anymore. Good or bad, he was the first. A lot of the press think he was square – "Effete snobs," to quote Spiro Agnew. But he made the first three or four great rock and roll records; you can't take it away from him.
The (Saddlemen) added a drummer the time I saw them, but on the early records, the slap bass took up the slack of [no] drums. It's like my first record; the backbeat was the guitar. There was soprano saxophone – which nobody played – Bobby Haggart on bass, who had a big hit with "Big Noise From Winnetka," a black guy named Luther Henderson on piano, and me. I think we only did two or three takes on that thing.
It might be a simple little song, but for a white Italian kid, in 1951, before any industry had sprung up around rock and roll, to be doing something called "Boogie-Woogie Blues" – that's really a revelation.
I'm stupefied by it. Graham Prince, who had the label, heard me do it on the radio and said, "That's what I want you to do." He had great foresight. It's a shame that when I had success later, he wasn't part of it. But he gave me my first break.
At the time, you don't think of yourself as being a trendsetter or anything. You're just a performer. It's only in the past 10 or 15 years that these superstars making $200,000 a night have been mentioning my name and wanting me to perform with them. I was getting ready to go down to the Shore and play a couple of weeks ago, and Van Morrison called. Hadn't talked to him in five years. He said, "Where you going, Charlie?" "I'm getting ready to go to work, at the Shore, near Atlantic City." He said, "I'd like you to come and do a couple of numbers with me at the Spectrum." I said, "I can't; I'm working. I can't afford to lose a night just to come and sing with you" [laughs].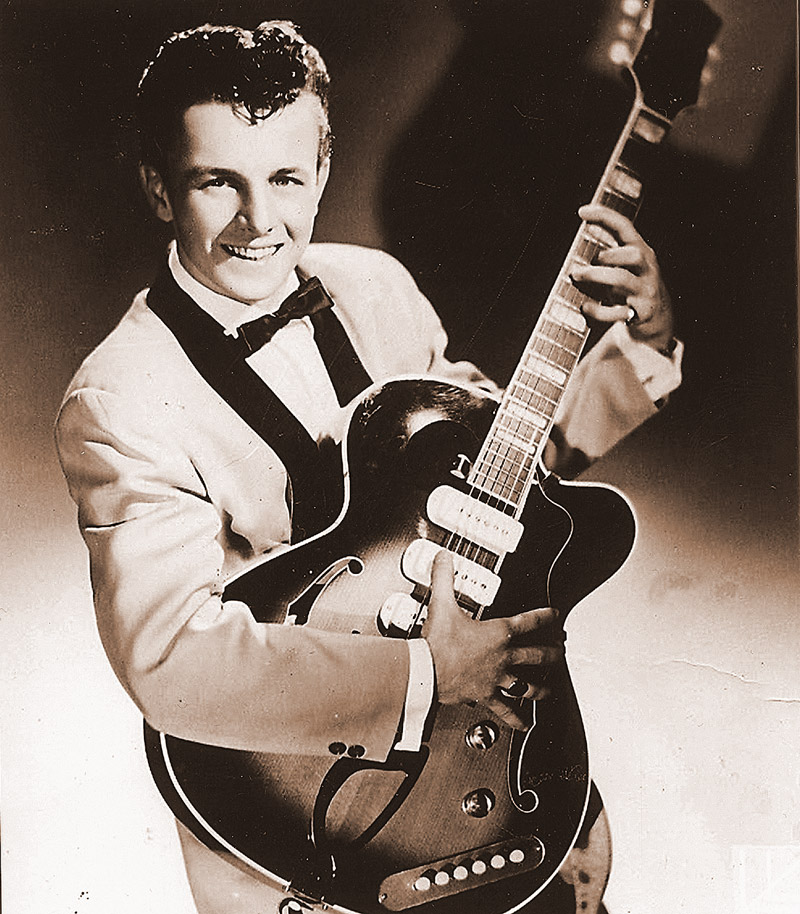 But you did some shows with Van a few years ago.
We did the House Of Blues and Mandalay Bay, in Las Vegas and Reno, and then the Wiltern Theater in Los Angeles. We'd met a few times, and he'd pick my brains about '50s stuff. In 2000, I took a month off to cut a new album, and one day the phone rang and it was him. He says, "I'm going to play some dates on the West Coast; I was wondering if you'd like to come and open for me." He flew us out and put me up in the same hotel he was at – first-class 24 hours a day. Lonnie Donegan was on the show with us, too. And Van called me out to do a few numbers with him. It was a dream come true.
If I gained nothing financially in my career, at least I gained the respect of these people. It's thrilling to know that people appreciate that people of my ilk opened the door for all these people who came later and got rich. So whatever five or 10 minutes of fame I achieve in my lifetime, I'm more thrilled that my peers appreciate me, not just the people who come to see me. Because they know I'm the real thing.
The names associated with the Cameo/Parkway records were Bernie Lowe, Kal Mann, and Dave Appel.
Kal Mann was the lyricist, and Bernie Lowe was the A&R man – he owned the company – and he was a great piano player. On "Butterfly," Joe Scro, a great guitar player, played rhythm, and Billy Lapatta played ukulele. If you listen closely, there's ukulele on there, and myself on rhythm, too. That's the genius of Bernie Lowe. We got lucky with the first hit, and that bankrolled the company for all the guys who came after me.
Dave Appel was an excellent guitar player. When I started with the company, they did all the instrumental and vocal backups for me. Dave was a fine guitar player in his own right, and had a band that worked the Philadelphia area for years. I used to play a place called the Cadillac Show Bar in North Philadelphia six nights a week. When their band would come off, I'd play by myself for 20 minutes, just me and the guitar. Dave Appel & The Appeljacks were one of the bands I played opposite, also Frank Virtue & The Virtues, Billy Duke & The Dukes, and Lynn Hope, the sax player. The funny thing was, there'd be more people dancing to me than to the bands. And every once in a while they'd let me play a set or two with them. I was just a kid starting out, but look what I learned by watching. And not just the musical part of it; you've got to remember I worked nightclubs all my life. I worked with people like Sophie Tucker, Ted Lewis, Jimmy Durante, Myron Cohen. You become well-rounded as an entertainer. You give me an audience, a microphone, and an amplifier for my guitar, and I'll go out and entertain an audience.
I came to a point in my career as a musician where I played things like Rachmaninoff or "Malaguena." But when I got to a certain point in my late teens, I thought, "Nobody's listening to this kind of stuff. I'm going to wind up being a great musician, but I'll be playing in a parlor by myself." At the fork in the road, you have to make a decision, and I said, "I'm going to become an entertainer, because I think I'll survive longer that way" – and I did. I could have been a greater musician if I'd taken more of an interest in my instrument, but once you become the entertainer, you're working every night and you don't have time to get to heavy stuff. But I played good enough to be able to entertain. I made the right choice, though, because it kept me working all these years.
And it's not just talent; it's the way you project yourself, the personality, the rapport you have with people. A good performer will always survive, because people want to be entertained. I worked with Louis Prima a few times, and, my God, what a tremendous talent. He created excitement!
There's not a lot of difference between what Louis Prima was doing and early rock and roll.
Ah, now you see. This is where it all stems from. That's what I listened to as a kid. He was a genius. He wrote "Sing, Sing, Sing." He personified entertainment, like Louis Armstrong.
When did you get the Guild Stratford X-350?
In 1957. I took it when I went to tour England, and had to take my own amplifier. I had a Danelectro with no reverb and just one 15″ speaker. They had to give me a transformer to plug it in on stage, because of the different current.
Now I use a Marshall cabinet with four 10s and a 300-watt Peavey head. So I've got plenty of balls on that sucker. Unfortunately, I can't take it with me when I tour, so I'm stuck with whatever they have. I use an analog delay – just a little bit – and, of course, a little reverb on the amp. And once in a while I'll use a chorus pedal for a ballad. You can't play that constantly. Occasionally it's nice to have a change of scenery.
But I've never liked playing a solidbody guitar. I'm used to the hollowbody, and to me it's a superior sound. For lead, that's one thing, but for rhythm I don't think a Fender can come near it. I have two of the Guilds: the sunburst model and a blond one. And I have the first Gibson guitar I bought in 1951 that I recorded all the early Cadillac stuff on. One pickup, no cutaway. I paid $375 for that, and paid by the week – $3 a week. Before that I had a Harmony acoustic that cost 15 bucks.
I use strings that are made by Mapes Piano Company, with a .013 on top. You can go shark fishing with the strings I use! And I slur (bend) those suckers. I like the thickest strings I can get, especially the bottom E – like a Duane Eddy thing – and a wound G. I'm a heavy rhythm player, and with usually a three-piece band, the bass player and I work out a thing where we're driving, man.
You were the first American rock and roll act to tour England after Bill Haley.
And the first solo American; he brought his own band. I did two tours, in '57 and '58. When I went there, they didn't know what rock and roll was, so I played what they called the "variety circuit," in theaters. They had song-and-dance teams, animal acts, and then I would come on. Two shows a day, 3,000 people a show, 6,000 people a day, seven days a week. And I was alone onstage, with no band; they were in the orchestra pit. They were good musicians, but they didn't know how to play rock and roll. The first gig I played, in South Hampton, was with Ted Heath. He and Johnny Dankworth and Sid Phillips were the three guys who made it easier for me, because even though they weren't rockers, they were excellent players. But most of the bands played for the variety theater. So I hired a drummer to tour with me, who could play the backbeat, (on counts) two and four. You talk about paying your dues! I had the amp on 10, and it was like sawing wood. I couldn't even take a lot of leads, because I couldn't stop playing rhythm – the whole thing would fall apart.
Unbeknownst to me, as I went from London to Liverpool to Manchester to Birmingham to Scotland, in the audience were all these young kids coming up – the Stones, the Beatles, Joe Cocker, Graham Nash. Who the hell knew? They were only kids, starting out. But seeing me inspired them like seeing Bill Haley inspired me.
When you stopped getting radio play and having hits in America, did you continue to tour Britain?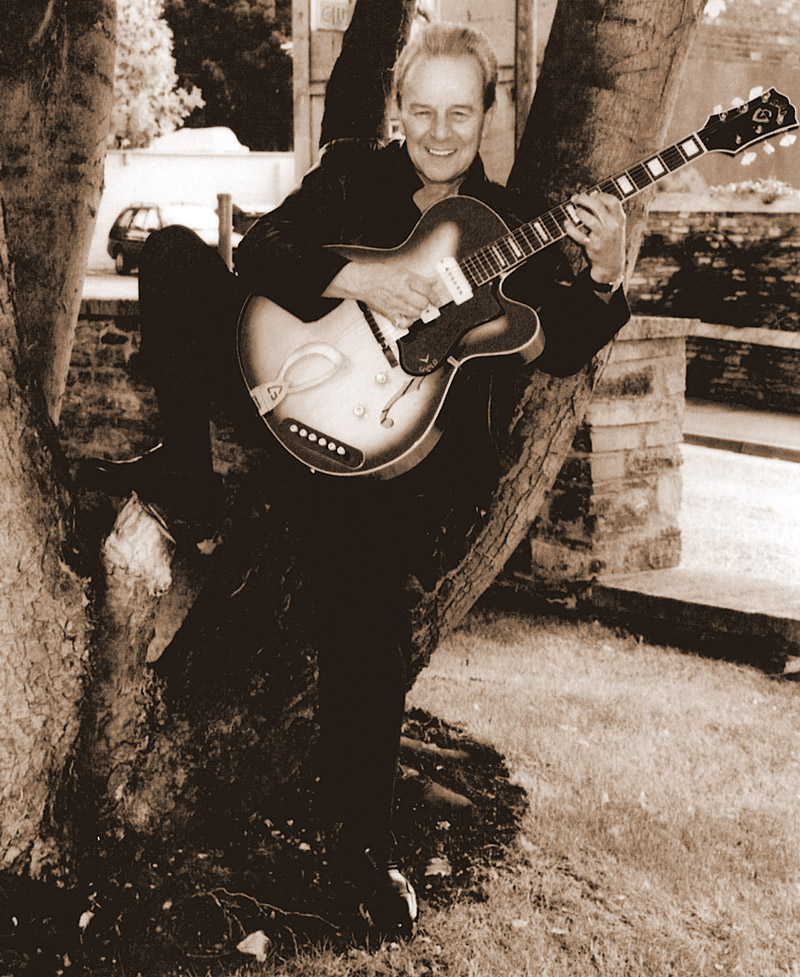 No, I got in a depressed mood, as you can imagine, and said, "That's it." I just went on making a living playing guitar and singing, from '59 to '79, but I always worked – five, six nights a week on the nightclub circuit. Never had a day gig. Finally, in '79, a Canadian label reissued my early stuff, and that revived my name over in Britain. Since '79, I've been going back every year – England, Germany, France, Belgium, Holland, Austria, Switzerland. Fans still want to see me there. Rock and roll is still prevalent there, more so than it is in America.
I never claimed to be superior to anyone musically or otherwise; I just do what I do. I consider myself a journeyman musician and a guy who sings a little bit – that's all. I never had the phenomenal success that some of these people had, but I survived for 55 years, so I've got to have something. You can't fake your way through for 55 years. Whatever it is, people come to see me; I entertain them for two or three hours; and they come back. To me, that's success.
Special thanks to Pete Prown. © 2006 Dan Forte; all rights reserved.
---
This article originally appeared in VG's March 2007 issue. All copyrights are by the author and Vintage Guitar magazine. Unauthorized replication or use is strictly prohibited.
---
Charlie Gracie – Cool Baby