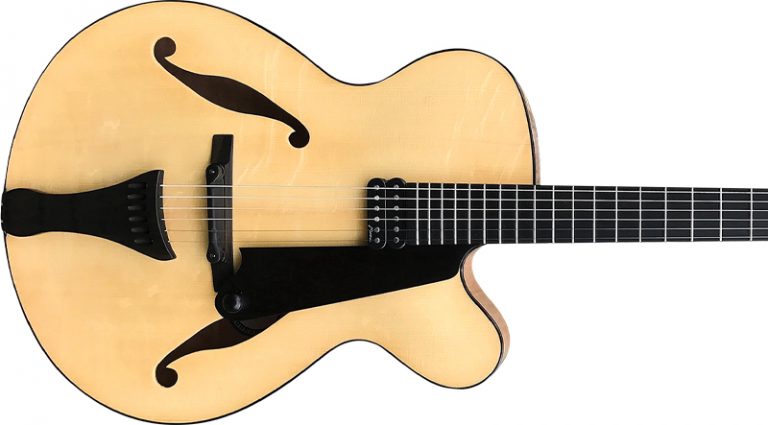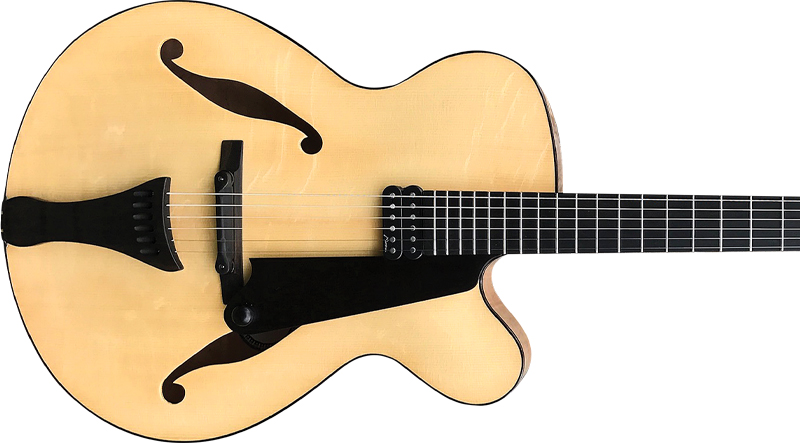 In 1922, Gibson introduced Lloyd Loar's L-5, lauded as the first modern archtop. Luthiers have been "advancing" the design ever since. 
Marchione Guitars' 16″ Archtop shows how the violin family influences evident in Orville and Lloyd's work have fared in the hands of Stephen Marchione.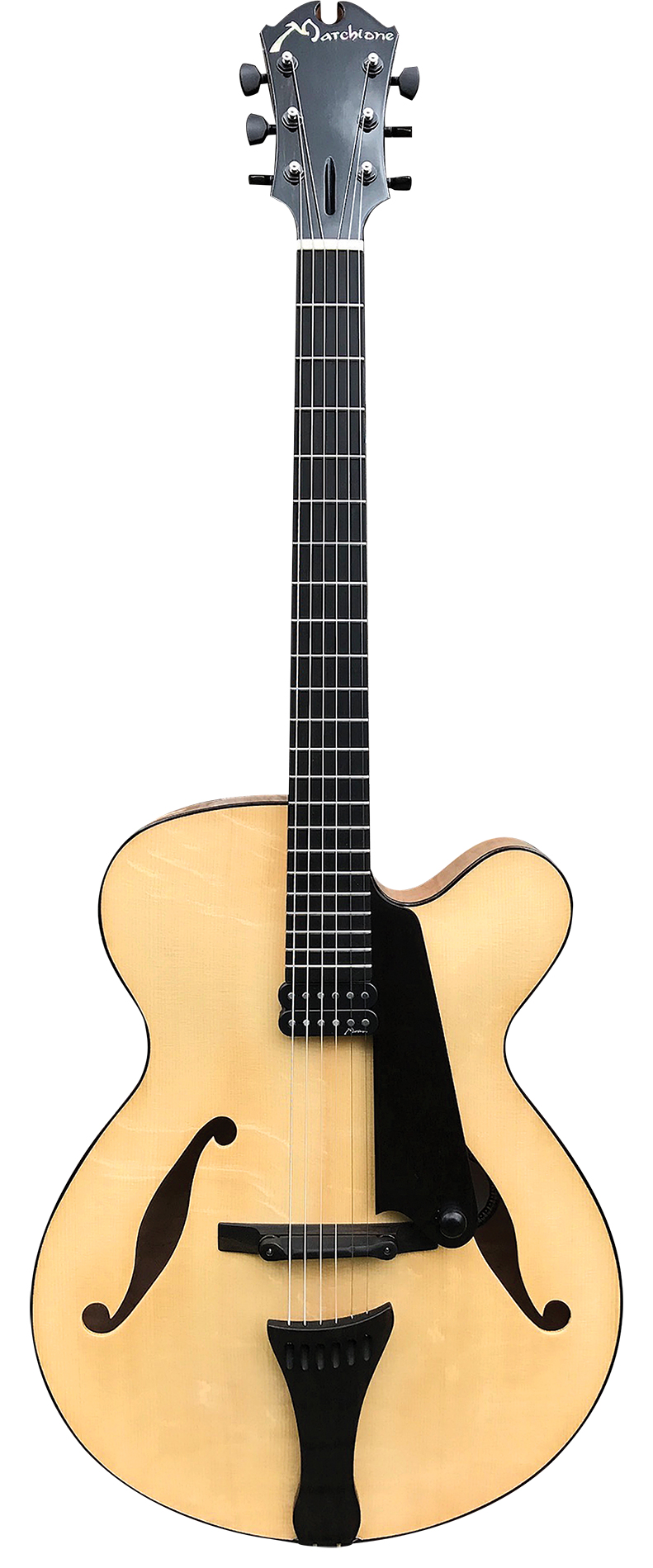 Larger archtop guitars were created to fill the demand to produce more volume before the days of amplification, but Eddie Lang and later guitar luminaries including Marty Grosz and Julian Lage discovered that the 16″ archtop design hit a "golden mean" among size, comfort, volume, and tone.
Enter Marchione, a Houston-based luthier blessed with the assistance of two experienced Texas woodworkers. His study and practice of violin-making has profoundly informed the 16″ model, as seen in his use of ebony, European spruce and maple, violin-inspired tailpiece, hot hide glue, and a cello-style neck joint. For aficionados of fine woodworking, the functional elegance of the neck joint alone is worthy of meditative consideration.
First impressions count, and the graceful simplicity of the 16″ Archtop, with its stylistic references to earlier great modern archtops, creates a memorable imprint, both familiar and distinctive. The tailpiece is, again, cello-inspired, attached with thick copper wire, enhancing tuning stability. The ebony comprising the pickguard, fingerboard with stainless-steel frets, headstock overlay, binding, and tailpiece offers bold contrast to the body tonewoods. The one-piece quartersawn maple neck, 3″ sides, and slab-sawn back are all beautifully flamed or figured, naturally enhanced by the bear-claw spruce top. Black locking key-head Sperzel tuners and inlaid pearl spelling "Marchione" adorn the expansive headstock. Everything from the sound-plate carving to the masterful nitro finish speaks of an understated elegance.
The slightly bulbous cutaway is accessible, and the sound port on the bass side allows a literal peek inside to see the craft that went into the Marchione. And, lest one think this is just another little electric jazzbox, applying a pick near the bridge on an Am6 chord at the fifth fret before plugging it in results in sound loud enough for Manouche rhythm. Picked closer to the fingerboard for a warmer solo or swingin' rhythm voice, the obvious overtones are focused around a solid fundamental. Various pick techniques with open and fretted altered chord voicings created an orchestral wash, but with a definitive attack. Single notes all over the fingerboard had a fat, round presence, with the sound port helping accent resonance. String articulation for acoustic fingerstyle was excellent, with a firm attack and lengthy decay.
The pickup, developed by Marchione with DiMarzio's Steve Blucher and Eric Corpus, is a low-impedance humbucker designed for tone, not aggressive output. A/B tested through a '50s tube amp and modern-jazz solidstate, it offered a smooth, balanced response devoid of out-of-balance "wolf tones." With only a pickguard-mounted Volume control, the guitar is capable of a range of tonalities and levels of attack and definition simply through its response to right-hand dynamics and detailed left-hand manipulations.
Could you rock out? Sure! But the 16″ Archtop is set to within an inch of its life as a solo vehicle for any style. Electrically, its sound is distinctive and defined enough to stand out in a mix, and could be prettied up with chorus and delay without getting muddy.
The Marchione 16″ Archtop invites an appreciative look. More important, it's material and workmanship could well make it that "lifetime guitar" for a discerning player.
---
This article originally appeared in VG December 2017 issue. All copyrights are by the author and Vintage Guitar magazine. Unauthorized replication or use is strictly prohibited.