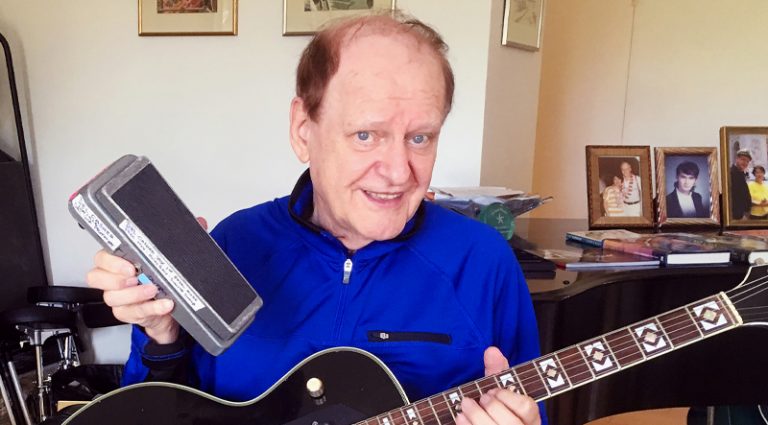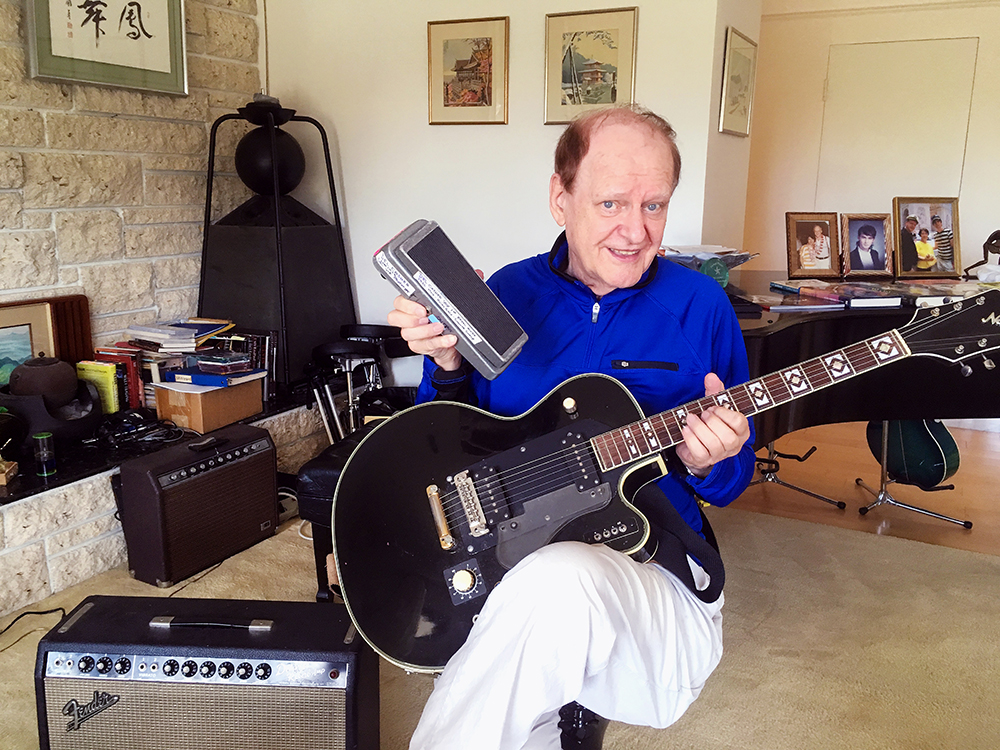 The wah pedal is one of the most widely used effects in popular music, employed by artists playing rock, blues, funk, disco, and other genres. One of the most expressive sounds in the world of electric guitar, it turns 50 this year. But things might have been very different if not for its inventor, guitarist Del Casher, wrestling it from marketers focused on horns.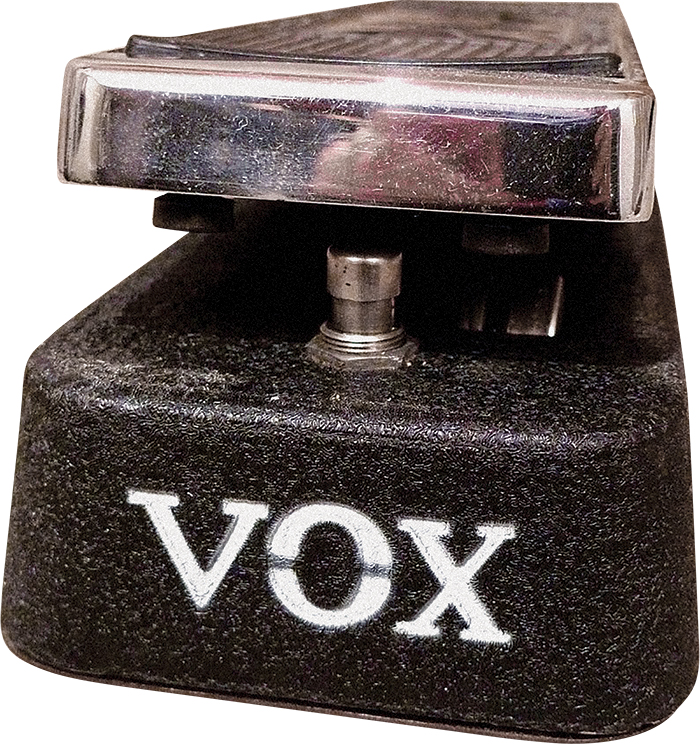 Born of a bygone era, wah is one of a handful of the first successful "pedals" enabled by the transistor revolution of the mid 1960s. And it's still going strong. The wah needs no resume; for his own part, Casher, having been a first-call session player for many years, continues to work on the sound side of the movie and TV industry, welcoming clients to his thriving mix stage at CDP Sound in Burbank, California.
Casher was intimately involved in the So-Cal music scene throughout the '60s, particularly known for his contributions to TV and film scores. In addition, he was one of a handful of guitarists working with Los Angeles' legendary Wrecking Crew, a crack outfit of studio musicians that played on countless hits by Frank Sinatra, The Beach Boys, The Monkees, The Mamas and the Papas, Jan & Dean, Gary Lewis and the Playboys, and many others. And part of his value to the Crew was that Casher was not only an ace guitarist, versatile in several styles, but a sonic pioneer who was always reaching for the next new sound that could make a record pop.
It's worth laying down some more back-story to help assemble the pieces, especially if you're thinking, "I thought the Thomas Organ branch of Vox invented the first wah-wah?" As is often reported, Vox did develop and manufacture the first commercial wah-wah pedal via its U.S. partner, Thomas Organ, but Casher himself was at the center of that confluence of art and technology, and the several moving pieces that coalesced to get it done came together specifically on behalf of his vision. As such, the genesis of the core circuit came from famed Vox U.K. engineer Dick Denney, the reinterpretation was undertaken courtesy of Thomas Organ engineer Brad Plunkett – and several others contributed here and there – but it was Del Casher who conceived the wah and made it sing.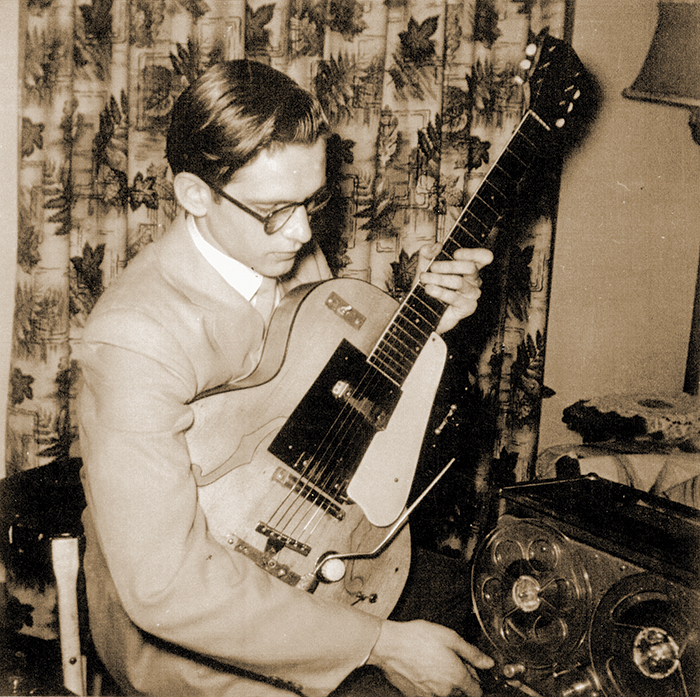 In August of 1964, Tom Jennings, of Jennings Musical Instruments (JMI) in the U.K, penned a deal with California-based Thomas Organ to give the company exclusive rights to the distribution of Vox amplifiers and products in the U.S. When Vox U.K. was unable to keep up with demand in the wake of Beatlemania and the British Invasion, that deal morphed into Thomas Organ manufacturing its own home-grown Vox-branded products – to the eventual detriment of JMI. Still, the cooperation resulted in a lot of shared technology – solidstate technology, in particular. Thomas Organ was already a pioneer, and by this time JMI had been aggressively exploring transistorized amplification for a couple of years. It was via one such creation from Denney – known mostly as the designer of the resolutely tube-based Vox AC15 and AC30, among others – that the voice for Casher's wah-wah would emerge.
In 1966, Casher's central role in the L.A. music, TV, and film scene hadn't gone unnoticed, and he was hired to consult for the Thomas Organ branch of Vox, and also to perform in the Vox Amplifonic Orchestra headed by Bill Page, whom he'd met while performing on Lawrence Welk's TV show. This Vox performance group was essentially a promotional outfit for the brand and, rather unusually, every member was Vox-equipped.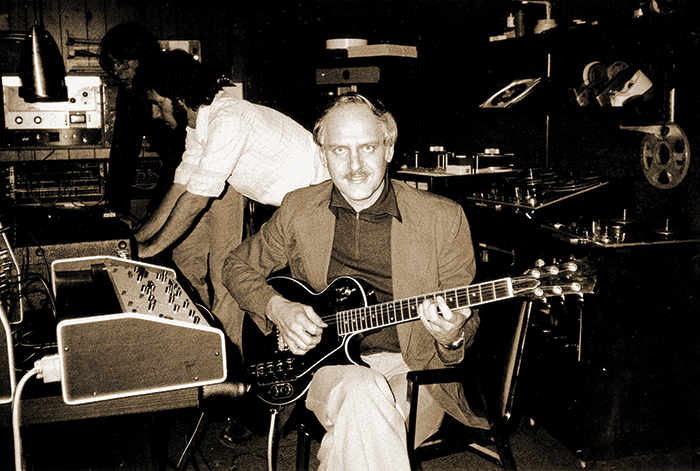 "The plan was to use the new U.S. Vox amps for all instruments, including trumpets, saxes, percussion," Casher told VG. "Every instrument had its own amp built into its music stand, so each player could control their volume with no outside house system. As I was rehearsing using the new amp with the band, I noticed my amp had one control that said 'Tone', but had an interesting sound; as I turned the knob it made a 'wah' sound, which was exactly what I was looking for."
The circuit behind this tone control was a reworking of the MRB switch (for "mid range boost") Denney had developed for Vox U.K.'s transistorized amps; it emphasized three frequency ranges within the guitar's midrange to do exactly that. Thinking to simplify the wiring, engineers at Thomas Organ had converted Denney's work from three-way switch to rotary potentiometer, and in the process opened a new world of possibilities.
"I knew I had stumbled onto something revolutionary and wanted that circuit converted into a pedal," Casher said. "But it had to be a powered circuit, and required engineering. I went immediately to Stan Cutler, the head of Thomas Organ engineering, and asked how big the circuit was, whether it could be powered with a 9-volt battery, and could it be put into a volume pedal. Stan said 'Yes, yes, and yes.'"
Cutler brought in one of his young engineers, Brad Plunkett, to do the converting and compacting work, along with help from fellow engineer Les Kushner, and this small team set about to get the project just right.
"This was in late November of '66, and Brad was a great engineer, but not a guitar player," Casher noted. "After he installed the circuit, I played my guitar with the pedal, making an awesome wah sound, but it was a little too harsh. I asked Brad to change the values of caps and resistors several times that day to mellow the sound. He was a little annoyed because he did not understand what I was doing or looking for, but I got what I wanted. The pedal made the guitar go 'wah,' and I could control it with my foot while playing blues licks! It was a smooth 'wah' like a trumpet mute. I still have that pedal in my collection as my prototype."
The resultant circuit was extremely simple by today's standards – just about a baker's dozen of components on the small circuit board – but that wouldn't stop players, years down the road, from arguing incessantly about the merits of this inductor or that capacitor, parts central to enabling the pedal's infectiously vocal sound.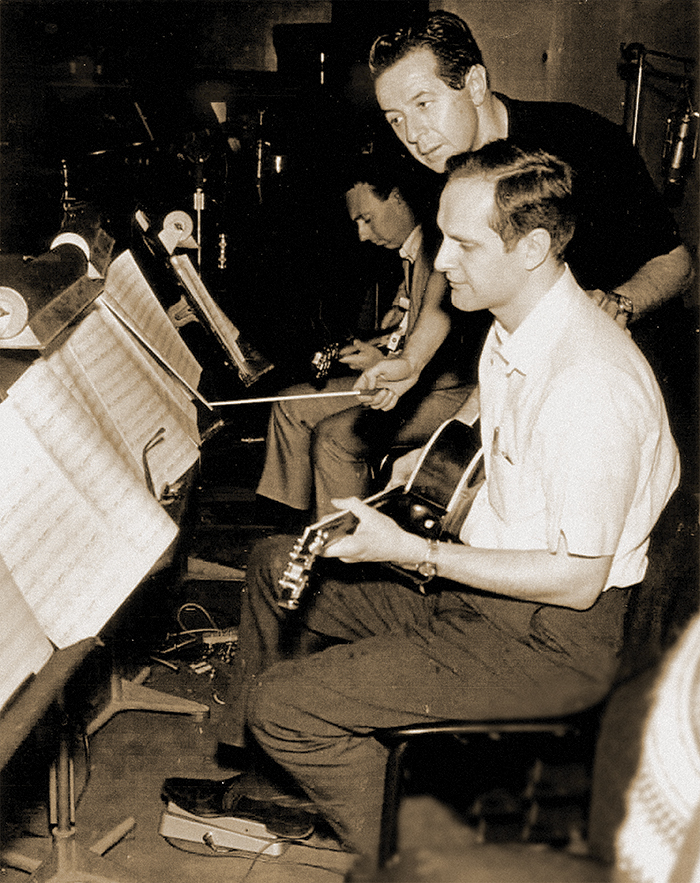 So far, so good before the first fly buzzed into the ointment when Casher demonstrated the new creation for Thomas Organ CEO Joe Banaron, who's new vision for the big-band sound dictated that every instrument would have its own amplification.
"Joe was impressed, and he saw this as a breakthrough for the Vox Amplifonic band. He said, 'Every trumpet player would want the wah pedal instead of a mute!' I told Joe this was for guitar – a new voice. Joe, however, believed bands with four trumpets and five saxes, like Lawrence Welk, were the money maker. He figured bands only had one guitar player!"
It was this frustration at the CEO's misinterpretation of the wah's utility that the early production model's oft-puzzling name was concocted.
"I jokingly suggested that Joe should call Clyde McCoy, who in the '30s had the famous trumpet hit 'Sugar Blues' with a muted-wah sound," Casher relates. "Well, Joe did call him and offered Clyde $500 to use his name. That's how the Clyde McCoy name got on the pedal!"
In an effort to dislodge Banaron's entrenched views, Casher argued that plenty of bands – from Phil Spector's wall-of-sound sessions to those of the Wrecking Crew – had several guitarists working together, and pleaded again that guitarists badly needed a new sound. He eventually figured music might speak louder than words, and offered to produce a wah-guitar demo record to display the pedal's new glories as applied to the six-string.
"I produced it in my garage studio in the Hollywood Hills, late in '66 using the only wah pedal that existed, my prototype made from a converted gray volume pedal," says Casher. "I thought at the time, 'This is going to be the most revolutionary sound that will change the world!' I knew I had something great."
Casher and drummer Jimmy Troxel laid down tracks displaying 10 different styles of music guitarists could play with the wah, using Casher compositions penned specifically for this purpose.
The effort worked.
Thomas Organ released the 10-track demo on vinyl in February '67, and the Vox Wah-Wah itself went into production around the same time. The circuit was sent to Vox U.K. for Dick Denney to (purportedly) adapt to local componentry for a short run of pedals made in JMI's Dartford plant before being jobbed out to Jen Elettronica, in Pescara, Italy, which manufactured several other products for JMI/Vox. Meanwhile, Thomas Organ seems to have begun making some McCoy wahs – with the trumpeter's name and photo on the bottom – before likewise farming out manufacture to Jen. It's worth noting, though, that the early evolution of the respective Vox/Thomas models and the where's and when's of their manufacture are difficult to track precisely; as reported in existing histories and published interviews with those involved back in the day, the story seems to vary a little each time.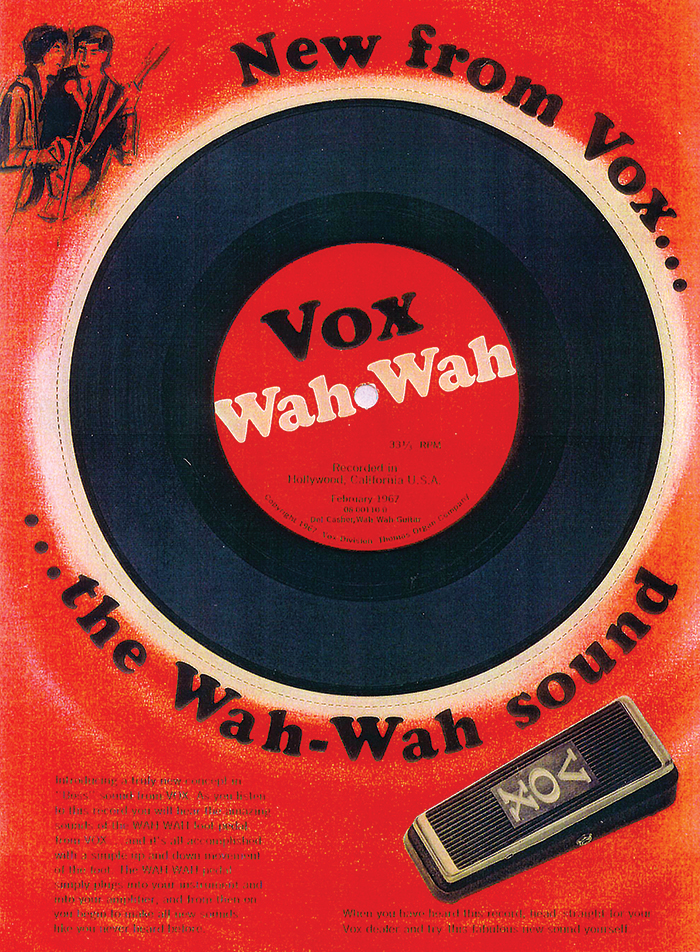 What is entirely clear, though, is that Casher's instinct was right. Guitarists took to the wah great-guns and the invention proliferated as a result. Early adopters included the Electric Prunes and Frank Zappa (with whom Casher had recorded prior to the wah's inception), then Eric Clapton with Cream and Jimi Hendrix. The wah rapidly became a must-have for any respectable psychedelic rocker, while more clean-cut session players from pop to country were also finding it useful for producing that "badly needed" new sound.
In 1968, Thomas Organ introduced the Cry Baby for U.S. sale, in an effort to differentiate between renditions of the pedal on either side of the Atlantic. Some slight changes in circuit and rocker travel came with the new name, and in the years that followed, different players would express preferences for different renditions. By the end of the '60s, every music-electronics maker worth its salt was putting out its own wah – Maestro/Gibson, Fender, Colorsound, Marshall, Sound City, Kay, DeArmond and others all leapt into the arena, and this list would only expand in the early '70s as the wah assault continued. By this time, the effect was also becoming central to the hottest funk and R&B guitar sounds, and would soon help lead the disco boom, too.
Tremendously popular these 50 years and showing no signs of waning, the wah pedal has proved far more enduring than its early roots might have promised, becoming equally as iconic and remaining still as viable as the fuzz pedal that arrived somewhat before it. When Thomas Organ filed for the wah's patent in February of '67 (granted in September of '70), the names Bradley J. Plunkett and Lester L. Kushner were listed under "Inventors" with no direct mention of Del Casher. Never mind, though, the little sketch of a stylized guitar in the upper-left corner of the first of the two-page application tells us all we need to know.
Casher – guitarist and inventor – had the vision to see what this creation could do for the six-string, and should rightly be remembered for wrestling it away from the horn section. If he wasn't rewarded financially, he has at least made creative use of the sound throughout his career. It looks like all the cash went to the suits anyway, as usual; Plunkett later told Casher that despite having his name on the patent, as his employers owned the rights to any invention he concocted while working for Thomas Organ, he was compensated only $50 for his contribution.
Cash(er) Flow
By: Ward Meeker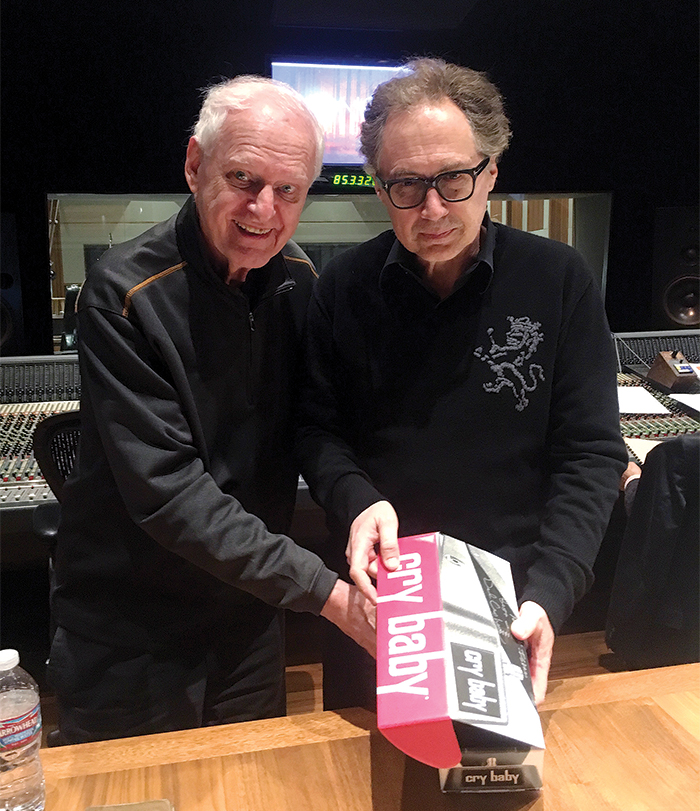 Del Casher is immersed in making music – and musical sounds – as owner of CDP Sound, a mix stage and recording studio he designed and built in 1967 for various projects including traditional services for bands/singers. In 1994, he moved the facility from Hollywood to Burbank and changed direction to TV post sound production. A new home meant new possibilities.
"I wanted to design the perfect mix stage for film and TV," he said. "My old studio was successful in the days when I composed music like the theme for 'Chico and the Man' and the NBC 'Nightly News,' but times were changing to multimedia."
Casher took the opportunity to create something that superceded what he had seen in other studios.
"The flaws I saw elsewhere were numerous," he said. "So, I studied the stage designs of the best-sound film mixing stages in Hollywood, including the famous Todd-AO, which had 24 stages used to mix TV programs and films."
Learning to record and mix for modern TV and film has proven perfectly suited to Casher, whose life has revolved around the guitar and various ways to use it. He appreciates exploring new creative avenues.
"It's not enough for a mix to sound good on our stage, it must translate to TV sets and mobile phones as well as the best theatrical and home audio systems," he said. "Sound and music are part of the emotional experience of a film, and require all elements to be heard. With a music mix, you can get away with burying the vocal, but with film and TV, the viewer gets just one chance to hear what the actors are saying. One unclear or misunderstand word can ruin the plot of the show."
At CDP Sound, Casher has worked with heavy hitters including ABC television, which recently chose his place over facilities at Disney and Warner Brothers to mix its fantasy drama series "Once Upon a Time."
We recently conversed with him about the experience.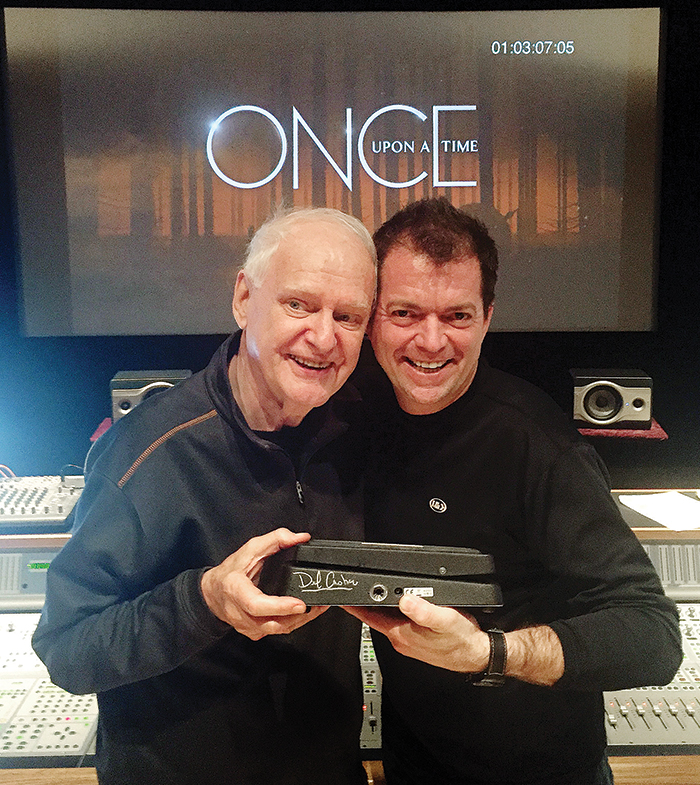 How did ABC discover your studio, and why did they opt to use it over those belonging to Disney and Warner Brothers?
When Todd-AO closed its L.A. facility, ABC-TV producer Brian Wankum and supervisor/mixer Joe Shultz went looking for a mix stage. After they had checked out Disney and Warner Brothers, my friend, Trip Brock, suggested our studio; Trip has rented our stage while working on projects at his studio, Monkeyland. After checking it out, Brian and Joe preferred our stage because of its accuracy in acoustics.
Do any of the ABC folks you work with play guitar?
Actually, they all play and collect guitars. John Chalfant was the lead mixer and has worked at the top film studios including Disney, Warner Brothers, Paramount, and Universal. Brian and Joe are great guitar players; Brian loves his Strat and I helped straighten its neck, which made it sound and play great. John and Mark Isham, the composer, along with music editor Justin Hopfer are huge fans of the wah. When they learned I was the owner of the studio, they asked for an autographed pedal. Dunlop's Bryan Kehoe sent three for me to give them. When I gave one to Mark because he uses wah for his jazz trumpet, he stopped a recording session just to thank me and take pictures! I was a bit embarrassed, but honored, and he later sent me his new album featuring his trumpet playing. When I presented pedals to John and Justin, they stopped the mix and everyone gathered for a photo.
You were also involved in the animated show "Deep Sea 7." How did that project arrive at CDP?
The show was produced overseas, and they needed translated scripts. They used our facilities to record voice actors, and the 13 episodes took about three months.
Their producing companies, Harmony Gold and Lion Forge, wanted theme music from Sony's catalog, but when they learned it was not available, they asked me to compose original music, and it had to be in big band bebop style like the Japanese show "Cowboy Bebop," from the '90s.
Interesting. The "Deep Sea 7" theme is old-school – reminiscent of James Bond.
Yes, it's very old-school. I was very surprised when they requested bebop for a show about kids who ride in submarines, looking for treasures in the ocean. My first thought was they'd want a heavy rock-guitar theme in a modern style.
How did you put it together?
I recorded the big band with 22 musicians – five saxes, four trumpets, and four trombones with full rhythm section. Of course, I included wah in my playing – with my original wah pedal – to highlight the arrangement. I composed and arranged the theme with a melody I knew had to be memorable and fit the picture's visual movements.
It reminded me of when Vic Mizzy, who composed the "Addams Family" theme, heard me playing the wah in early '67 then had me play on subsequent film scores. That was before Eric Clapton used it on "Tales of Brave Ulysses."
Which amps, effects did you use? The wah sound is huge in the arrangement.
I hate to disappoint the folks who love amps, but I didn't use one. I used an old tube preamp I built many years ago with a 6CS7. It plugs into the console and matches the impedance of my custom wah from '67 with a smooth, musical groove sound. Everyone was happy with the results.
---
This article originally appeared in VG November 2017 issue. All copyrights are by the author and Vintage Guitar magazine. Unauthorized replication or use is strictly prohibited.