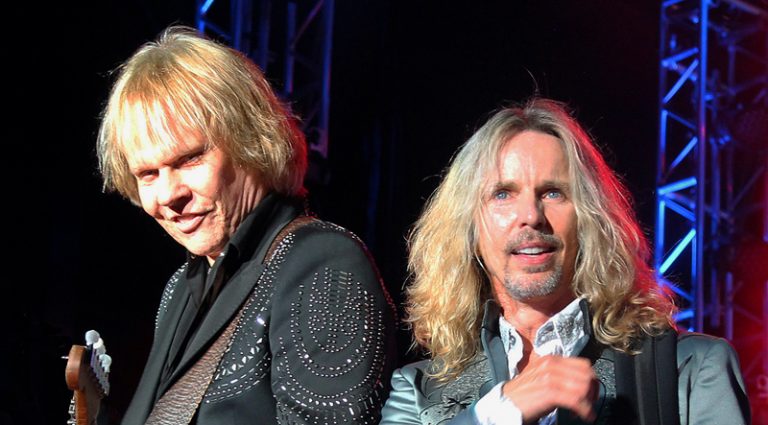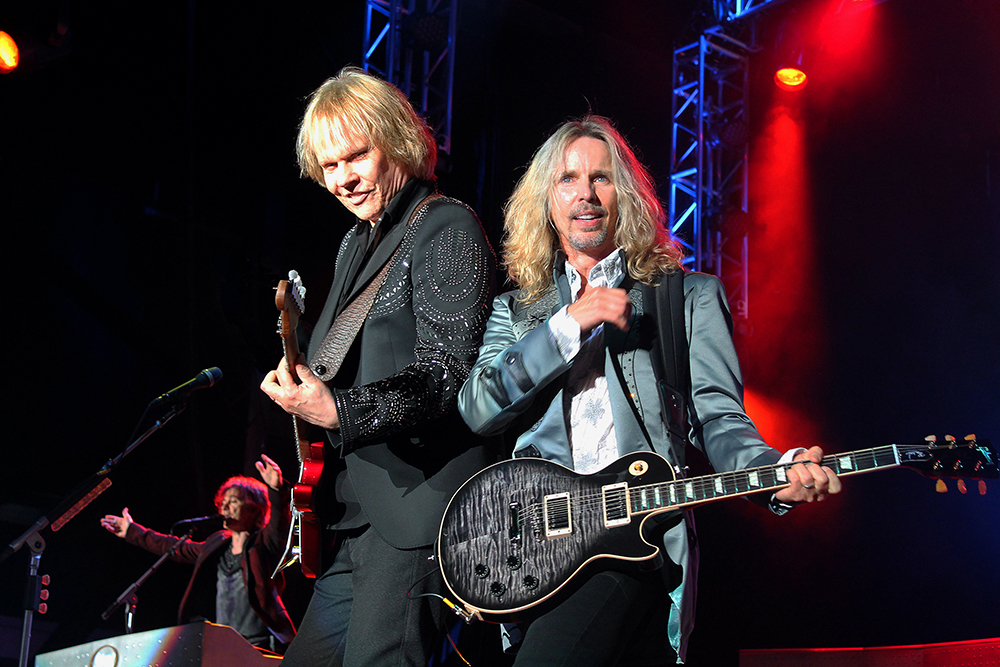 On recent tours, Styx guitarist Tommy Shaw has enjoyed teasing audiences by announcing (with a dose of dramatic flair), "A while back, we stopped being a rock band." After a long pause and perhaps some nervous laughter from the audience, he'd then quip, "We're a classic rock band."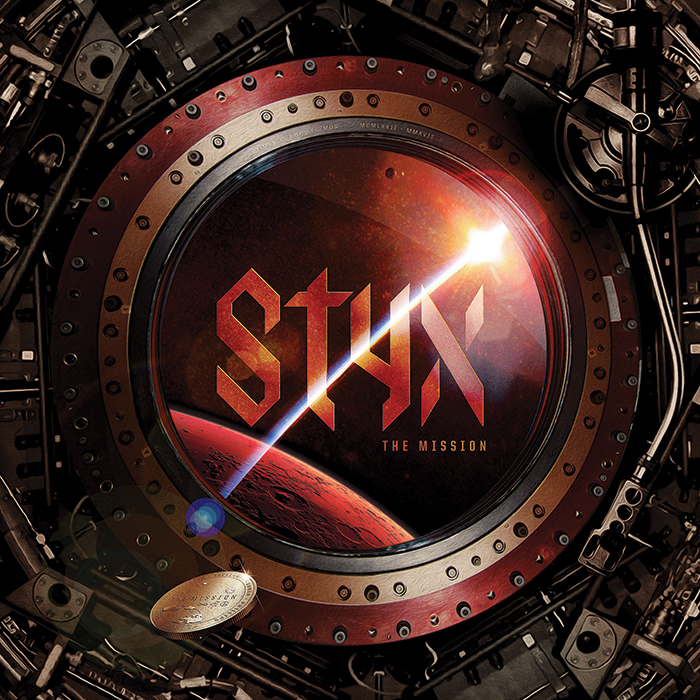 The band recently released The Mission, which revives the Styx concept album in its chronicling of a flight to Mars, and represents the group's first new material in nearly 15 years. The inspiration was mostly Shaw's.
"Sometimes, you can't control what comes to your mind," he said with a chuckle. "An idea triggers your imagination, you like it and think fans would like it, then you pursue it. It can start with one little line, and I don't know what possessed me to write the first line of 'Mission to Mars' – 'Now we can say that this is the day we'll be on our way, on our mission to Mars' – but it's kind of an epilogue even though it was actually the first thing I wrote. I'd come up with a riff and chords, then write a few words, sing it, come up with harmonies, and all of a sudden it had meat on it.
"The song had excitement, but also some reality; when they get on that rocket, these people are leaving everyone and everything behind and may never come back. So, as exciting as it is, it's also a sobering moment because they're facing a formidable task. That's what put into my mind that this could be the setting for a story instead just a song."
"Tommy always has a bunch of projects going on, and he's always writing something," co-guitarist James "J.Y." Young said of the new album. "He finally moved from L.A. and settled into Nashville, which is closer to the rest of us, so we were able to concentrate on it more."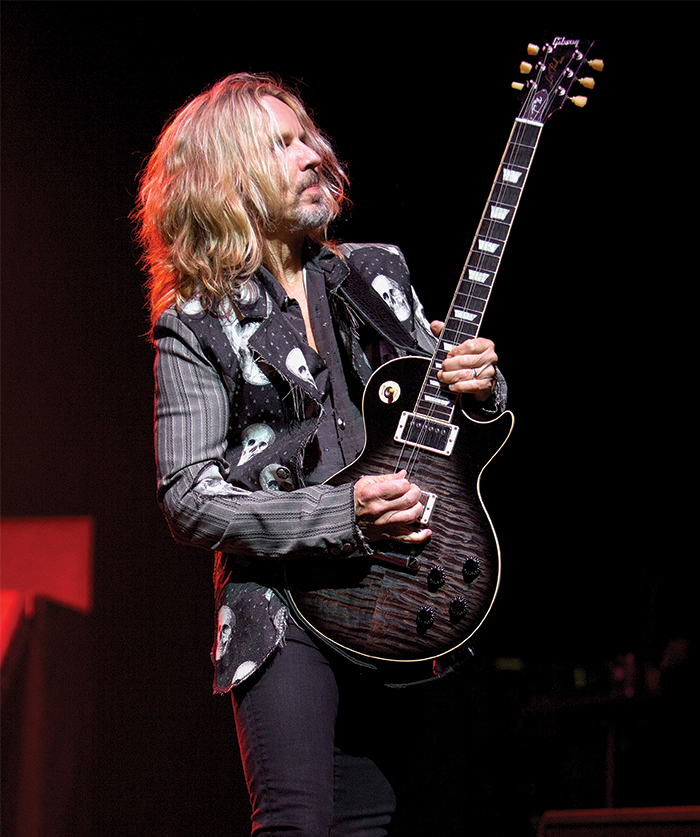 Shaw had been collaborating with producer Will Evankovich, with whom he'd worked in Shaw/Blades. Evankovich came up with the idea that evolved into "Locomotive."
"That song and 'Mission to Mars' seemed to work with each other," Shaw explained. "They started off like bookends, so we decided to see where we could go. It evolved, and we wrote the storyline together."
Evankovich produced the album, which was recorded over a two-year period at Blackbird Studios; Shaw had begun developing ideas in 2014, and a world other than Mars figured into the concept when a newly discovered moon orbiting Pluto was named Styx.
"Pluto's new moon was the genesis of this project," said Young. "We'd done some outer space/sci-fi material before, like 'Man of Miracles.' And 'Come Sail Away' has the sailing ship that changes into a starship; that song came around the time of Star Wars and Close Encounters, so it resonated. So, we knew how to do this."
In ancient Greek mythology, Pluto was the god of the underworld, while Styx was a goddess (as well as the river that separated the underworld from life on earth).
Shaw, along with singer/keyboardist Lawrence Gowan and drummer Todd Sucherman were further motivated by a 2015 visit to mission control for NASA's New Horizons project in Laurel, Maryland, from which scientists and technicians directed the first spacecraft to visit Pluto, and its moon was discovered by Dr. Mark Showalter, of the Search for Extra-Terrestrial Intelligence Institute (SETI), who was in Laurel to greet the band. The fly-by happened two weeks later.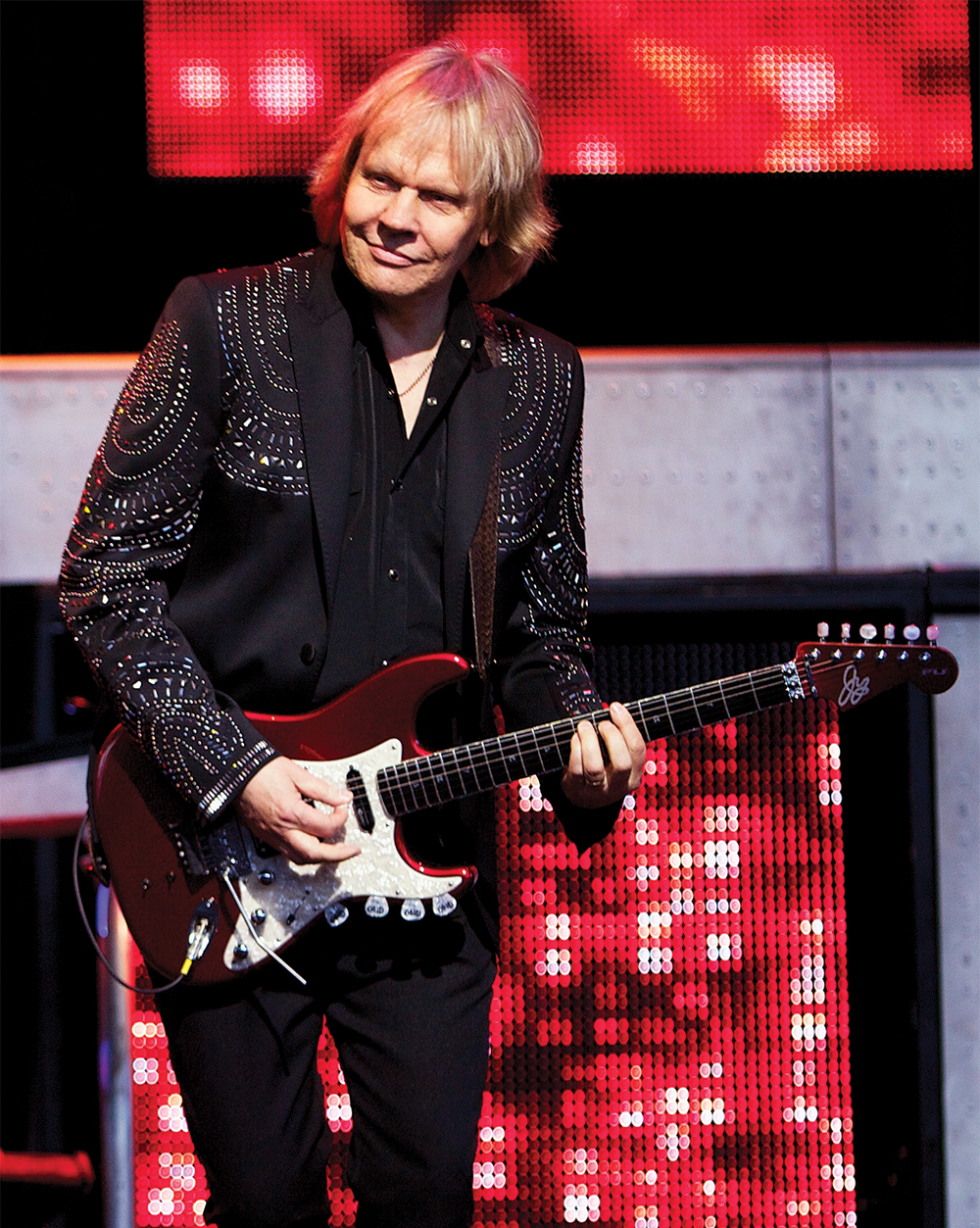 Aware of the album's storyline about Mars, Gowan suggested to Shaw, "Why don't you go to Pluto, too?" Alan Stern, principal investigator for New Horizons, became a sounding board.
"There were things I couldn't quite square up, and I even thought about the mission to Mars going further," Shaw said. "Alan was really good helping with information."
The Mission was mixed to sound like classic Styx.
"Those are vintage, analog synthesizers," Shaw said. "There are no digital synthesizers, and there's not even a digital plug-in on the mixes, which were done on an analog console at Blackbird. The drums were recorded direct on two 24-track tape machines. Delay was created on tape, as well, and you might notice a difference because you don't 'hear' all the ones and zeroes. When you hear the cymbals or the high-end of the guitars, tape saturation gives them a nice, sweet sound. Because of that, you can keep turning up and it never gets harsh on your ears. It really does have a sound like The Grand Illusion or Pieces of Eight, and that's what we were hoping for – familiar, even though it's all new."
The album kicks off with the instrumental "Overture" (which serves as the concert walk-on before the band opens with the album's second track, "Gone Gone Gone"), and the narrative songs are very Styx-like, including anthems like "A Hundred Million Miles From Home" and power ballads like "Radio Silence." As a whole, the album is replete with soaring harmony vocals and loud guitars; Shaw favored Gibsons and Fenders in the studio.
"I used my 2012 Les Paul '59 reissue for a lot of rhythm parts, but ended up using my '57 reissue goldtop for a lot of leads, like 'The Greater Good,' 'Radio Silence,' and my short solo following J.Y.'s on 'Red Storm.' I used several Strats for rhythm tracks, including J.Y.'s '65, a '65 borrowed from our friend John McBride, a Bill Nash copy, and Will's '68 Custom Shop reissue for the solo on 'Locomotive.'"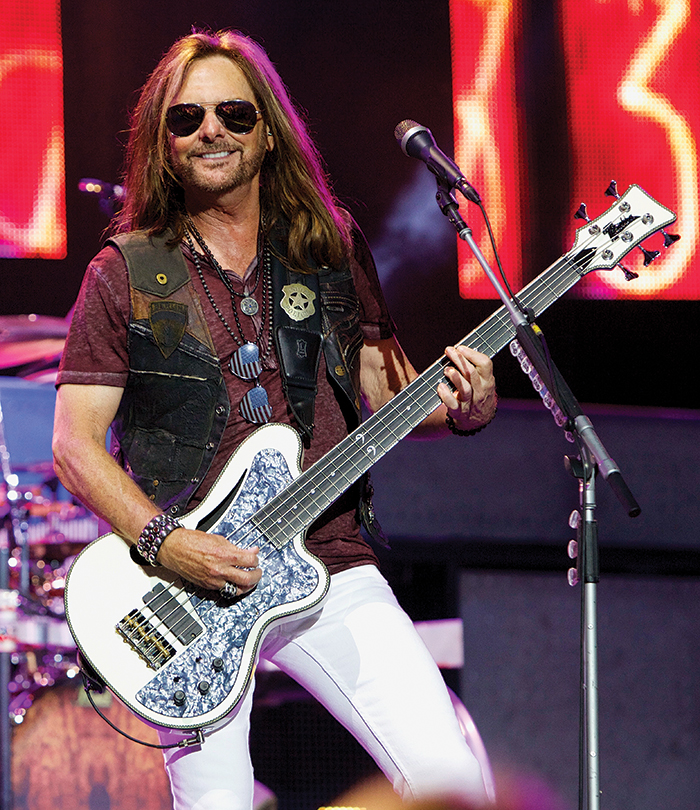 Shaw's personal-highlight parts include "Khedive" and a talk-box solo on "A Hundred Million Miles From Home," the latter of which also features founding bassist Chuck Panozzo, who appears with the band at select concerts.
As for acoustic parts, Shaw was enthused about the guitar he used on "Locomotive."
"It's a '43 Gibson J-45," he said. "It sounded terrific."
He also praised bassist Ricky Phillips' riffs on the tune, noting, "Ricky steals the show – that's my favorite Ricky Phillips song ever."
Young's primary guitar was the '65 Strat with a Sustainiac in the neck.
Shaw still prefers Les Pauls and ES-335s onstage, and in recent times has been partial to a charcoal-sunburst flame-top Custom Shop Axcess model with a beveled neck-heel joint. At times, he has pulled out an old Fender Electric XII, and his onstage acoustics are Taylors or Gibsons.
Young has stuck with custom-made Strat copies with locking vibratos and Sustainiacs. Most of his road guitars sport metalflake finishes – the two newest are Emerald Green with a birdseye-maple neck and fretboard plus glow-in-the-dark dots and side markers, while the other is finished in blue with a maple neck and ebony fretboard bound in pearloid. There's also a carved-top guitar he calls Devil Dogs, with a neck and body from Musikraft. It has a birdseye neck with a rosewood fretboard, and he uses it on "Come Sail Away."
As it preps or modifies its setlist each year, Styx usually adds at least one old chestnut; in early '17, it was "Snowblind," which let Young play an extended solo.
"The song was the favorite on Paradise Theatre for a lot of people," he explained. "The vocals are unusual because Tommy has the brunt of the lead, but I got to sing some of the high range."
Since 2003, Styx has been fortunate in terms of personnel, the only departure being bassist Glen Burtnik, whose slot was filled by Phillips, formerly with The Babys and Coverdale-Page.
"Ricky's the ultimate bandmate," said Shaw. "He's been a good friend as far back as I can remember. I was thrilled that he could become a member, and he's done a great job, including his compositional skills."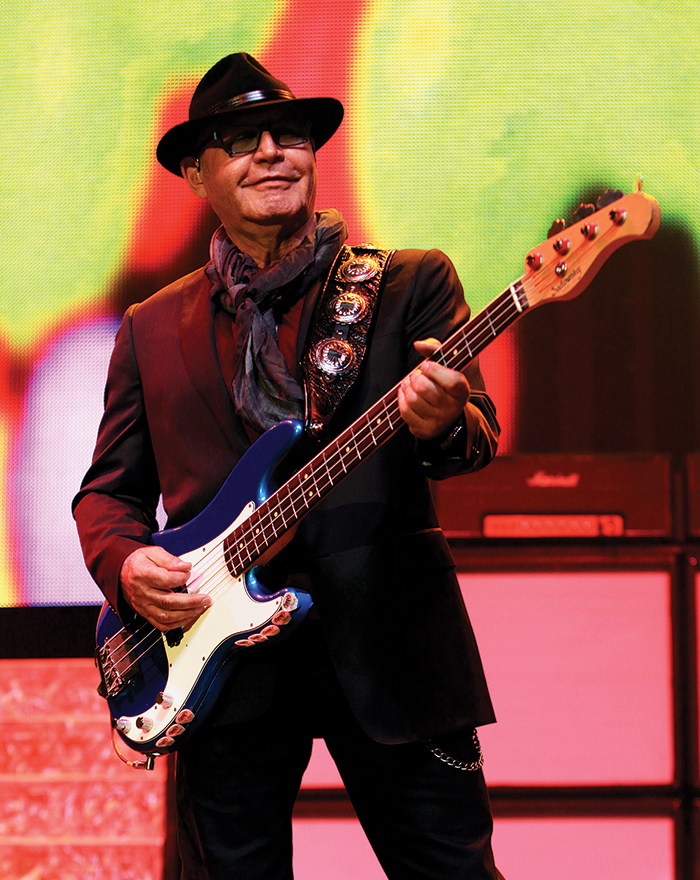 Like many veteran bands, Styx has recently favored casino gigs and summer packages with other classic-rock bands; this summer, they toured with REO Speedwagon and Don Felder. Shaw agrees that fans in their 50s and 60s want to hear the music of their youth, "…but at the same time, I've seen audiences get younger; a lot of them weren't born when these songs were created."
Shaw and Young both lamented the passing of soundman/associate producer Gary Loizzo (VG, December '09) in early 2016. Loizzo gained fame in the late '60s with a Chicago band called the American Breed, and in the mid '70s began working with Styx.
"Tremendous sadness and loss, for the music world and anyone who knew Gary," Young said. "He could have done almost anything with the American Breed, but he wanted to be in the studio and raise a family. He was with us in the heyday and stayed with us. He never bragged about his accomplishments; he had done more than people realized. He was easygoing but took his creativity and engineering very seriously. He was a fun-loving guy, and he'll be missed forever."
"He left such a great imprint on the band," added Shaw. "He was a music director when we needed one, a unifying force, and almost a father figure. In fact, a lot of guys on the crew called him 'Dad.' And he was a straight-shooter; if something needed figuring out, he'd be the first to tell you, without sounding critical, because he was a people person and a class act."
Replete with trademark Styx songs, singing, and musical style, The Mission represents a return to form, and its topic should generate interest from music fans of all generations.
"I'm really pleased with the concept," said Young. "It's the right thing at the right time."
It helps a bit, too, that there's a small moon way out there named Styx.
---
This article originally appeared in VG November 2017 issue. All copyrights are by the author and Vintage Guitar magazine. Unauthorized replication or use is strictly prohibited.