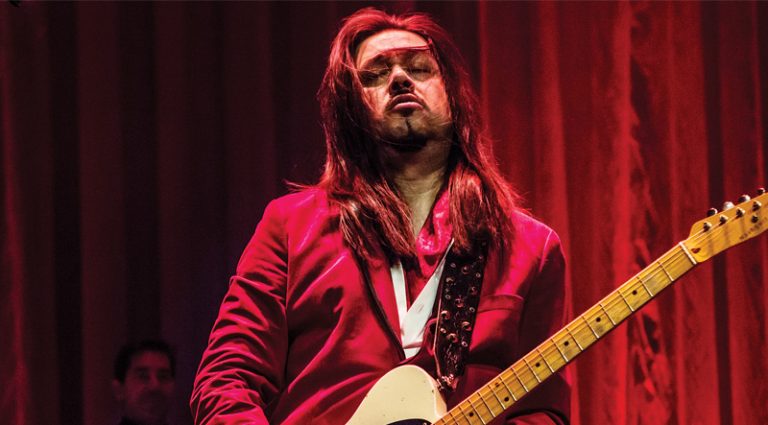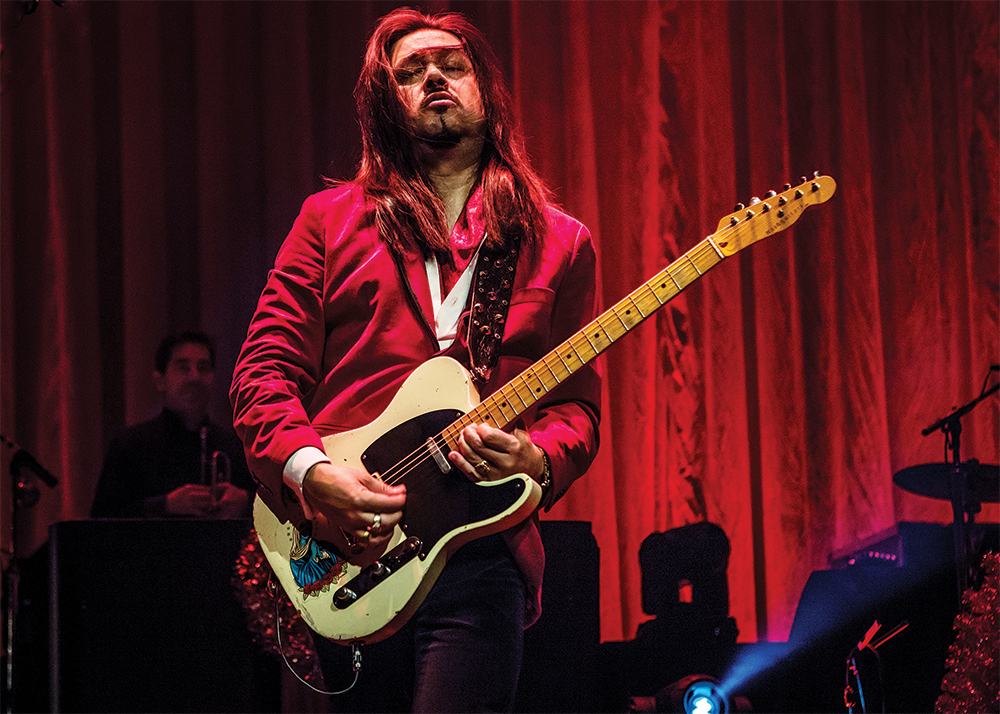 Eddie Perez is back with The Mavericks, playing music influenced by Tex-Mex, R&B, ska, country, blues, and roots rock. He joined the group in 2003, recorded two albums, then was forced to look for work when it went on hiatus for eight years.
He moved to Nashville, toured with Dwight Yoakam, and played sessions or live gigs with Miranda Lambert, Jim Lauderdale, Lee Ann Womack, Connie Smith, Kim Richey, Gary Allan, James Intveld, and others.
You were influenced by Jimmy Page, Jeff Beck, and Eddie Van Halen. How did you gravitate toward Bakersfield-style country?
I've been inspired by countless guitarists along the way, like  Chuck Berry, T-Bone Walker,  Keith Richards, and Ace Frehley. My father, who was born and raised in Bakersfield when Merle Haggard and Buck Owens were having major success, was my biggest influence in the fact that he exposed me to the music he was into. His love for rock and roll, soul, blues, and country – just good music, in general – was my biggest influence. I remember him telling me I should learn about all of it. He instilled a desire to be well-rounded and able to jump into any situation and contribute.
So it's through that influence I came to country music. For a Hispanic kid from Los Angeles, you can say that I got that Bakersfield twang honestly! Last time I checked, there aren't very many Latinos in country music!
How did you get the gig with Dwight Yoakam?
In 2005, I got a call out of the blue. I was living in Nashville, touring and recording with many artists at the time, so I was in that "pool" of candidates. Dwight said, "Everybody's telling me you're my guy!" I was extremely into it and jumped at the chance, and I had an advantage because I was such a big fan of his brand of the new-traditional honky-tonk music that surfaced in the late '80s. There was also something very rock star about how Dwight presented his music and persona that appealed to me.
Tell us about your gig with The Mavericks?
The word I use to describe The Mavericks is "joyous," in terms of the band's connection to fans and our connection to what we do. We spend a lot of time on the road, and in most respects we approach what we do as if we are throwing a party for our closest friends. Joy always seems to be what people take home with them after our shows. It's certainly how I feel when I'm onstage!
With a band like The Mavericks, there are no rules. It's a very free, "What are you bringing to the party?" thing –  very open and unconfined. Rock and roll is all about spirit. I try to give the best parts of my spirit to the musical gumbo we create.
Onstage with the band, you change guitars for almost every song.
This past year, I cut down the number of changes. We've stepped up the pace of the set list, so it's difficult to have so many. Lately, I've been using a 2006 Nash T as my number one, a '62 reissue Jaguar, a '57 reissue George Harrison Gretsch Duo Jet, and a '59 VOS Les Paul. I'm very old-school in my approach onstage. I generally find that the less I have in terms of effects and equipment, the less chance for things to go wrong.
I'm using two new hand-wired Fender '57 Tweed Deluxe models – one combo, one piggyback with a matching cabinet – and I have a compact pedalboard with a Wampler Reverb, Tape Echo/Decibel Boost, a Danelectro Tuna Melt Tremolo, an MXR Phase 90, and a TC Electronics tuner.
When you have to rent back line, what do you request?
I always request the most basic go-to amps I know – two blackface Fender Deluxe Reverbs. And I fly with two guitars in a double gig bag and bring my pedalboard for tonal insurance.
Any possibility of a solo project at some point?
I've been toying with the idea of finally doing a solo record. Lots of fans have asked me for one over the years and have been curious to see what I come up with. The Mavericks have been riding on such a creative high, and that kind of energy is contagious. That being said, there may be a real chance that I'll have something to share in the next year. I'm really excited about the idea of putting myself out there that way.
---
This article originally appeared in VG April 2017 issue. All copyrights are by the author and Vintage Guitar magazine. Unauthorized replication or use is strictly prohibited.