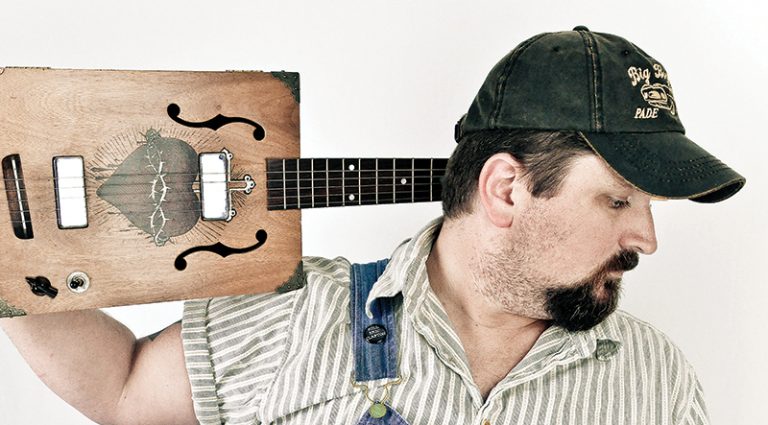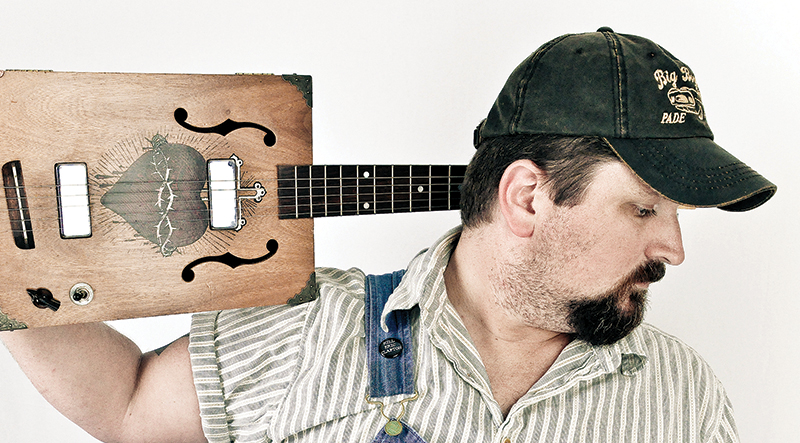 In an era of high-tech musical toys, there's some irony in the fact that the cigar-box guitar – most primitive of homemade stringed instruments – is alive and well. 
The first examples appeared in rural America, created and built by musicians too poor to have a "store-bought." Today, Shane Speal is the self-appointed "King of the Cigar-Box Guitar." 
"I first used that goofy title in 2003, when I posted plans for making cigar-box guitars on the internet, and it's always been tongue-in-cheek. Who in their right mind would want to be king of such a s*****y instrument?" 
Regardless, Speal has done much to popularize the cigar-box guitar. Solo and with his Snake Oil Band, he gigs using only CBGs ("I take six or seven to every show," he said), organizes festivals and hosts broadcasts focused on them, promotes other artists who play them, and makes and sells them via cigarboxnation.com. 
How did you get to this CBG-centered place in life?
I've been into music since I was a kid. I got my first guitar at eight years old and discovered Kiss. In high school, I played bass in heavy metal bands. When I hit college, I dove into acoustic guitar and the blues; I followed the history backward from Hendrix to Muddy to Hound Dog Taylor, then the Delta guys. I borrowed Smithsonian Folkways records from the library and my favorite music became the earliest stuff, which sounded creaky and broken – primal – played with pocket-knife slides. To me, that was the deepest-sounding music. At the time, I was flogging an old Stella with a spark-plug-socket slide. 
The cigar-box guitar was one step deeper, even. It was imperfect from the beginning. I built my first in '93 from a Swisher Sweets box, a hunk of wood, and three strings. As soon as I tuned it up, I was in love. It was the sound, the feel, the mojo I was searching for. Cigar-box guitars buzz, they can be out of tune, and yet I'd rather play one in concert over any manufactured instrument.
Is there a feeling among CBG players that the instruments and those who use them should remain off the popular musical radar?  
No. We all went apes*** when Paul McCartney played one in the Sound City documentary, then won a Grammy for it. 
What's in your collection?
I have over 100, most on display at our family's tavern in New Alexandria, Pennsylvania. The oldest is more than 100 years old – a two-stringer. 
What's it like to play one live?
It'll kick your ass simply by its primitive nature. It forces you to downshift your playing and take it deeper. There's a beauty to embracing the art of the American poor. It comes from humble hearts, giving souls and a will to live. Hard times make great music. If you want to play cigar box guitar, don't buy someone else's. Make it yourself!
---
This article originally appeared in VG February 2017 issue. All copyrights are by the author and Vintage Guitar magazine. Unauthorized replication or use is strictly prohibited.