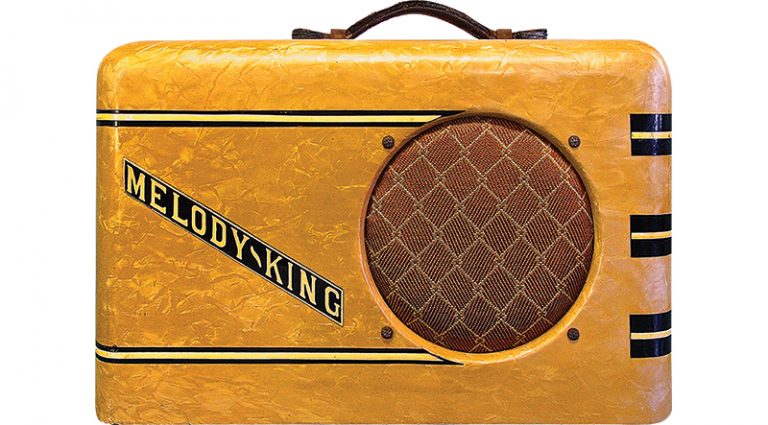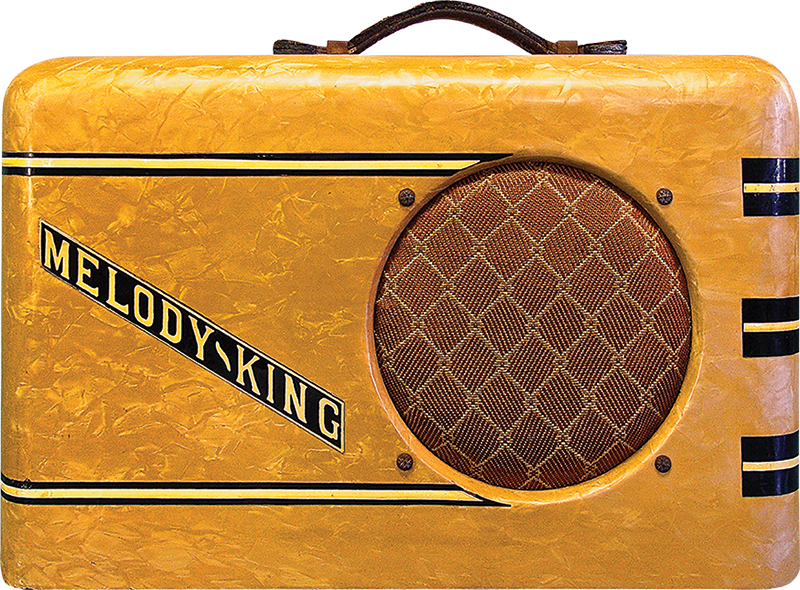 Few lovers of vintage amps can resist the art-deco appeal of this 1937 Dickerson Melody King. Even if its guts were decayed beyond viability, most would take it to simply stand in the living room and marvel at its curiously off-center layout, gaze upon its butterscotch-pearloid covering with inlaid pinstriping and italic logo, feel the way the mother-of-toilet-seat molds to the broadly rolled corners and edges, fondle its yesteryear Bakelite knob and brass starlet speaker studs…
So thought owner Duke Kelso, too, when he recently found this beauty at an estate sale in New Jersey. For a guy with a collection of more than 150 vintage amps (including a few featured in VG), this creation from the dawn of the electric guitar was a must-have – functional or not. So imagine his surprise when he found that not only was it all-original, and not only was it functional, but it was an absolute tone beast, too. Before detailing that epiphany, though, a little history.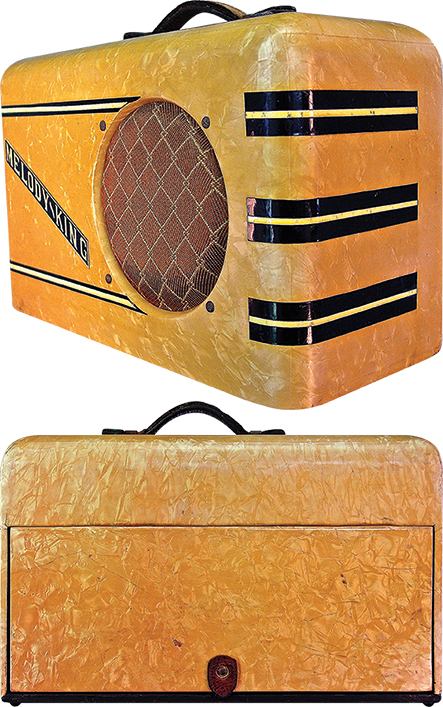 Founded by Delbert J. Dickerson in the late 1930s, the Dickerson Musical Instrument Company manufactured amp and steel-guitar sets in Los Angeles for the likes of Bronson and Oahu, as well as selling them under its own name. According to magnatoneamps.com, Dickerson – apparently a bit of a renaissance man – received patents for a magnetic guitar pickup and a combination guitar case/amplifier (along with others for a carburetor, an automated stringed-instrument tuning device, furniture upholstering device, and more). In 1944, Dickerson sold the amp business to Gaston Fator Guitar Studios, in Los Angeles, one of many popular teaching studios of its day. In '46, Fator sold it on to Art Duhamell, who established the Magna Electronics Company shortly after, re-naming the brand Magnatone. These amps soon evolved into the vibrato-equipped marvels for which the Magnatone name is best known, but as seen in this Melody King, the company's roots are very much in line with amp "sets" other early makers were turning out back in the day, though they offered a style and a sound very much their own.
Though there's ample information out there on early Dickerson steel-and-amp sets (including distributor catalogs), little if anything exists to present a history of how this particular model fit the picture. Given the incestuous nature of the business in that era and that it was populated by jobbers that produced sets for music publishers and catalog retailers, it's difficult to conclusively tie the pieces. In other words, this paucity of information isn't particularly surprising. No matter, it's a stunning little 19-pound box of wonder.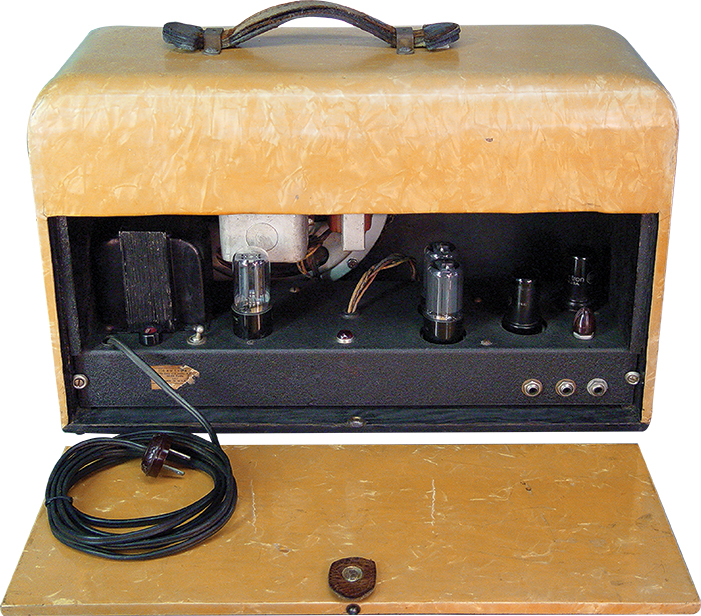 Interestingly, where we might expect the utmost in simplicity – and it is simple in terms of component count – the Melody King offers some nifty tricks. The first gain stage is provided by a 6SF5, a lesser-seen hi-gain triode with characteristics similar to those of the 12AX7, but configured in an octal base (leaving several pins unused). Only the input nearest the chassis' far end runs through this stage, though, and it also bypasses the Stackpole volume potentiometer in the process. The other two inputs run via the volume pot to the driver side of a 6SJ7 dual-triode, the other half of which serves as phase inverter. As such, the 6SJ7's first triode is the sole gain stage for inputs 1 and 2, but it acts as the second gain stage for input 3. Output power comes from a pair of cathode-biased 6V6s, with rectification courtesy of a 5Y3 tube. Wiring is literally point-to-point with components connected by their own leads or terminals. Interesting design notes include the "floating" sub-chassis on which the phase-inverter and output tubes are mounted to reject vibration-induced microphony; and the fact that the Volume control (the amp's only knob), the pilot light, and the power switch are mounted on top of the chassis, and not immediately on view. The output transformer is mounted directly to the 8″ speaker.

"I bought the amp hoping it might just work, or at least light up, but figuring it would at least be a fun Fabergé-style head turner," said Kelso. "After carefully tearing down and inspecting it, I found that it was 100 percent original. I brought it up to power slowly on a variac over the course of two days, hoping to reform the [electrolytic] caps, but found a telltale 60-hertz hum. Analysis showed only two caps needed to be replaced, which was artfully done with fresh ones inserted and sealed with high-temp wax within the original brown cardboard sleeves.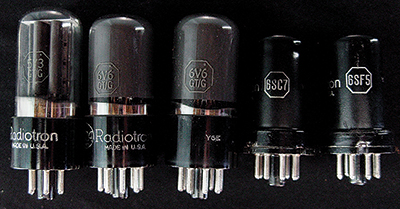 "The results blew away any idea I had that it might be a mild-mannered conversation piece! Rather, I found that although inputs one and two did have modest gain structures, the third input was a beast, with no Volume control inline. It's wide open, with screaming gain and tone altered by the guitar's Volume and Tone controls. This input delivers touch-sensitive edge for cut and bite with single-coils; a tweed Champ doesn't stand a chance in a cage fight."
To preserve the original speaker, Kelso tested the amp patched into an external cab and has since installed a '60s Heppner 8″ with large Alnico magnet as a replacement, using the correct wires from the OT's secondary and disabling the field-coil connections.
Twenty years before Buddy Holly, Lonnie Mack, and Bo Diddley raved on their Magnatones, this diminutive gem was roaring with a fury to belie its beguiling mother-of-toilet-seat charms.
---
This article originally appeared in VG November 2016 issue. All copyrights are by the author and Vintage Guitar magazine. Unauthorized replication or use is strictly prohibited.
---