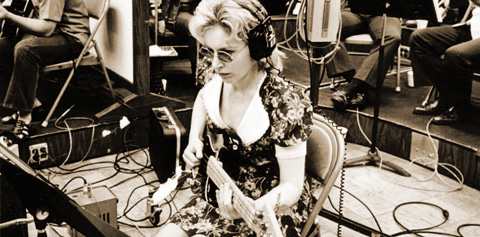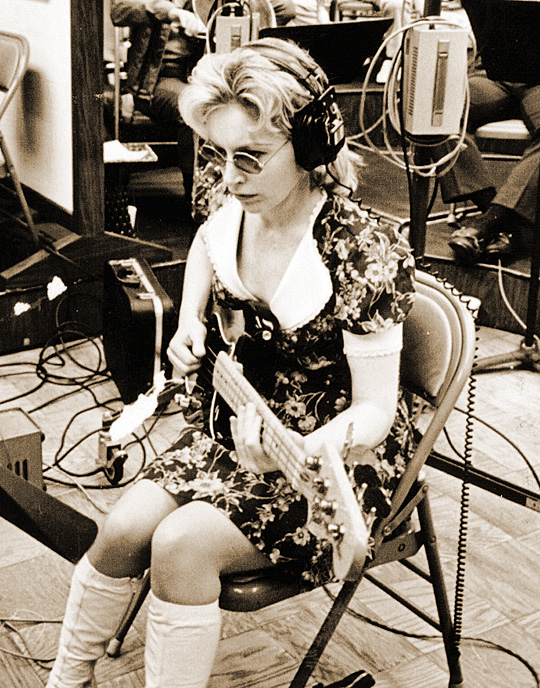 Contrary to what some aspiring bass players might think, the world's most recorded electric bassist isn't some modern-day L.A. dude purveying "NAMM chops" (to quote John Pattitucci) aplenty with the thumb and fingers of both hands flying all over his instrument. And they don't have a custom neck-through bass (with five or six strings) and a slew of endorsement deals.
Actually, the person who has done more session work on electric bass than anyone else is a 64-year-old grandmother whose primary instrument was a sunburst Fender Precision Bass with flatwound strings, and she used (and still uses) a pick.
"If you've listened to the radio or watched TV since 1958, you've heard her play," proclaims the home page of Carol Kaye's website (www.carolkaye.com). And what most popular music fans (even those who might be aware of Kaye's prolific electric bass career) might not know is that she played guitar (acoustic and electric) on many hit songs (some dating from the late '50s) before she settled into the first-call position for electric bassists on the L.A. studio scene. Overall, she has over 10,000 sessions to her credit, and individual recording dates can be documented from union ledgers (an assemblage of "who played on what song" is in the works).
She was born in Everett, Washington, and her family moved to Wilmington, California, when she was a child. We started our talk with an inquiry about guitar, since Kaye was an accomplished six-string player before she moved to bass.
Vintage Guitar: What got you interested in guitar?
Carol Kaye: I grew up in a housing project during World War II. My parents were professional musicians, and when they divorced, my mother and I were left with no means of support, so I went to work at the age of nine, and when I was almost 14, paid for my own guitar lessons. My mother encouraged me to start guitar lessons. I started on a small, rented steel guitar, then turned it into a guitar. My teacher, Horace Hatchett, was appalled, but he must have thought I had some talent.
Hatchett was Howard Roberts' teacher. He taught many big pros then, and got me into playing jazz immediately. I helped him teach, as well, and was a professional at 14, playing Goodman Sextet-type jazz gigs around Long Beach. I knew standard tunes, and played them jazz-style. In the late '50s I had enough experience to play with some of the finest jazz musicians in L.A.
Did you start on acoustic or did you go with electric pretty much from the outset?
My teacher wanted me to have the best guitar, so he had me work for two years so I could get a Gibson Super 400. I put a DeArmond pickup on it for gigs and used a Gibson amp – I think it was a 1 X 12, and it was well-built.
Later, I had to sell the Super 400 to pay a hospital bill when I had a baby, and I got an ES-175, and moved to Tucson. I worked two day jobs to take care of my responsibilities – my mother and my baby – and I taught and did weekend gigs there, and later in Phoenix. I still used Gibson gear.
Around '56 I bought an Epiphone Emperor – I used a DeArmond pickup on that guitar, too – when I was doing four or five nights a week in the jazz clubs around L.A. with Teddy Edwards, Jack Sheldon, Joe Maini, Billy Higgins, Bill Goodwin, Frank Butler, Don Randi, and others.
Influences are one thing, but instruction is something else. Any details about your formal music training? What about informal or on-the-job training?
Hatch was probably the finest guitar teacher west of the Mississippi. He was a cum laud alumnus of the Eastman School of Music, went to the Manhattan School of Music, and was used as a sub by Eddie Lang locally back east and on the road. He first taught in Phoenix, then after World War II, in Long Beach.
He started everyone off in the then vital chordal progression studies. Remember, the popular music of the day was all standards, and you had to have your chordal progressions together to play hundreds of these kinds of tunes, some of which had complex chordal movements, the opposite of rock and roll. He used the great George Smith materials as well as things by George Van Eps, the Hot Club of France, as well as Benny Goodman Sextet and Artie Shaw band stuff.
We all got a good dose of chordal note theory, chord progressions, etc. from Hatchett, and he also believed that you got your creative soloing together by playing with Charlie Christian recordings – when I was 14, he taught me how to transcribe Charlie's solos, which I did, but that's a very limited way of learning, in my opinion. Playing transcriptions only postpones the real work you need to get your jazz chops together. It did get me to playing fairly decent solos, but it wasn't the great jazz that Bird [Charlie Parker], Sonny Stitt, Bud Powell, Hampton Hawes, Diz [Dizzy Gillespie], and Horace Silver were all playing; Miles [Davis] too, with his sensitivity.
The chordal preparation of Hatch's was wonderful to stimulate the ear, which helped me to finally get my chordal soloing together, later in the '50s.
Howard Roberts honed his jazz soloing playing in the black clubs of south L.A., and later, I started to do the same thing, but I don't compare myself to the great Howard or Joe Pass. I did get good enough to be asked by George Shearing to join his group in 1962, but I had to decline, as I was already heavily into studio work on guitar.
Very few guitarists were welcome in the hot jazz groups around L.A. – they didn't know how to comp well, or how to solo without a lot of "guitaristics" that aren't apropos to the bebop jazz world. I was lucky to get all the gigs I got, and sometimes I was the only white person in a club. I probably sound like a snob, but that was what was happening back then.
What were some of your more memorable guitar sessions?
I started with some of the Sam Cooke hits, which was good music. It got me interested in doing studio work, although it was said if you ever do studio work, it'll kill your jazz career. I went in knowing that, but my family came first, and it was the right choice. Then it was the Ritchie Valens hits. I played rhythm on "La Bamba" and others.
Probably the ones people really know were rhythm guitar on the Righteous Brothers' "You've Lost That Lovin' Feelin'" and "Unchained Melody," the 12-string guitar bridge on Herb Alpert's "Mexican Shuffle," rhythm guitar on Wayne Newton's "Danke Schoen." I did electric 12-string fills on a lot of Sonny and Cher's hits, and I played acoustic guitar doubling with the bass line on "The Beat Goes On." That was my bass line; Sonny had the bass player, Bob West, use it. I played electric rhythm guitar on Bob B. Soxx & the Blue Jeans' "Zippety Doo Dah," and lead guitar on "No Matter What Shape Your Stomach's In" by the T-Bones, but I think that was only for the ad, as Tommy Tedesco played the lead on the original recording. I did electric 12-string work on Frank Zappa's first two albums, rhythm guitar on the Beach Boys' "Surfin' U.S.A." – that's Billy Strange on solo guitar – and some lead jazz guitar on the Quincy Jones movie, The Pawnbroker.
Some of the other things I liked were more jazz. I was on the commercial LP Chet Baker did, but I felt sorry he had to lean that far from the "real" jazz. It was okay – nothing special on my part.
Which session produced the biggest hit record?
It's hard to say which was the biggest hit. Recording musicians never think that way – you cut them and go on to the next date. I have very few recordings of all the work I did. I only listen to jazz and a little classical music these days, but occasionally I'll check out some of the older hits, like the Beach Boys things. And I still like to listen to "Feelin' All Right" (Joe Cocker) and "The Way We Were" (Barbara Streisand).
What was your basic rig during your session days as a guitarist?
I started with the Epiphone Emperor and Gibson amp, and quickly bought a Fender Jazzmaster. It had that doo-hicky on it and sounded good, but I changed the pickups for more potent ones. I got a Gibson 12-string acoustic and turned a Guild electric into a 12-string electric before they ever made electric 12-strings for studio work. I also used a banjo and a mandolin, and I bought a gut-string guitar and a Dano bass. You were required to have all of those instruments for record dates. And I bought a Fender Concert amp with an open back and reverb. I even used a fuzztone made by Gibson in the early '60s, instead of taking one tube out of your amp to get that sound!
My favorite guitarists back then were Howard Roberts, Joe Pass, Barney Kessel, Wes Montgomery, George Benson, Charlie Christian, of course, Mundell Lowe, Johnny Smith, John Pisano, and a couple of players back East, too – Grant Greene did some nice things, as well as Kenny Burrell and John Collins.
Do you still play guitar these days, for sessions and/or personal enjoyment?
I still play, and I did so with students. I've even been doing an occasional gig lately, trying to get the chordal skills back – you lose it playing heavy electric bass for years. The jazz is coming back little by little; it's always fun to play.
It's a totally different concept switching from electric bass to guitar, as I do with students – different fingerings, different roles, different ranges, different ways of thinking on the two instruments, and even the left hand skills are different. The touch is different, so you might say you have to be a schizo to play both instruments well.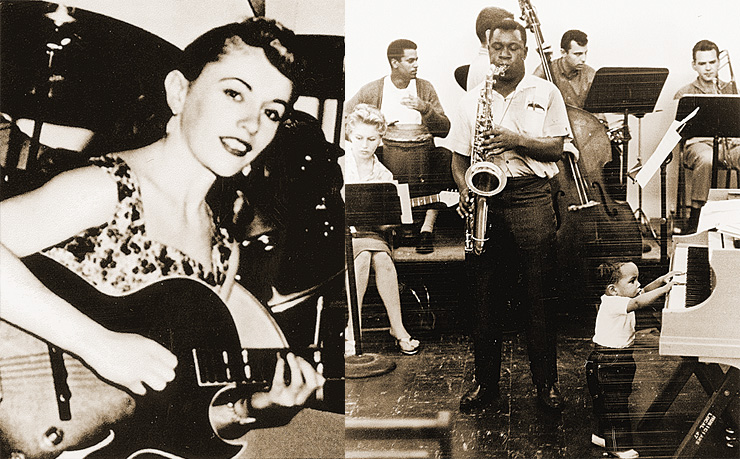 I finally bought a decent Ibanez, and I've got a fine Duncan jazz pickup in it that's really powerful. It's got Thomastik flatwound electric strings on it – there's a .012 on top. I simply cannot afford all of the expensive guitars out there, and it's amazing to me that the ES-175 is rated so highly, when it used to be a third-rate guitar.
Why?
That's not only my opinion, but I've heard other contemporaries of mine say it, too. I'm amazed at the prices they bring these days. The L-5 and the Super 400 were, of course, the biggies – and later the D'Angelicos. The Emperors were fine, too. Then you had L-7s and L-10s, many of them almost as great as the L-5s. To me, the 175s were made out of inferior wood and the workmanship wasn't great on the bridges. The rest of the instrument was fairly good, though. And feedback? Oh, well…but they had nice small necks and played fast, and they got a fairly good jazz sound. They were Gibsons.
I'm waiting for a friend to get his guitar company off the ground to get a guitar that will be a fine-built, simple, thin, electric jazz guitar.
What inspired you to switch to electric bass?
It was late '63. I was in my sixth year as a fairly successful studio guitarist, when the electric bassist – the "Fender bassist" back then – failed to show up at Capitol Records. One was handed to me, probably because by that time, I'd been doing quite a few Dano bass guitar dates. The Danelectro was only an adjunct bass; they usually used two or three basses on dates back then. I loved the feel of the electric bass, and I loved to play what I always thought the bass player should have been playing back then – Latin-inspired riff lines, which is basically funky stuff, and I reasoned, "…only four strings, you only have to carry one instrument," etc. Ray Pohlman was doing all the bass work in those days; he played mostly with his thumb and got the best sounds. Coincidentally, he had stopped to become the musical director for the "Shindig" TV show, so it was accidental that I got called all the time after that.
They simply liked the way I played a bass "hard" – with a hard pick and flatwound strings set up high for a lot of tension. And the way I could create 16th rhythmic lines on the spot, or whatever the song style required. I could sound like a string bass or I could do the "click pick" sound – that's not my usual sound, but I could get it if they wanted it. It literally took the place of two or three bassists.
I didn't mean to put some bassists out of work, but that's what happened. I had three kids to take care of – alone – so I went for it. I saw the eventual popularity and role of the electric bass and had been hating myself for playing rock and roll on guitar, an instrument I loved to play. But I had to learn a great sense of timing a lot better – that's the key to making a band groove, and it was more fun to record on electric bass than on guitar.
You've pretty much been associated with a Precision Bass. Did you try any other models?
I tried the Jazz Bass, but didn't like the body, the sounds, or slim neck – you need some meat between your fingers and pivoting thumb. Seems I tried a Gibson, but it simply didn't get the power or the punchy sounds needed for the rock and roll and funky recordings.
The Precision with flatwound strings got the irrefutable finest recording sounds in the studios, and aside from its neck-heavy off-centeredness, was the right bass. I learned to mute to get rid of the offensive, definition-killing overtones and undertones. I used a piece of felt on top of the strings at the bridge. And, I did have to take the basses apart to put a slight shim in the neck, and instead of changing strings, I learned to wipe the strings off at every date with a chamois. Every two years I changed basses and would adjust the neck myself.
Weren't you a Fender endorser at one point?
I'd been a Fender endorser since the late '60s, but went to a Gibson Ripper bass when I stepped out to play live jazz again with Hampton Hawes in '74. At first I was impressed with the Ripper's easy neck and its sounds. Gibson took some publicity shots, and I was going to be their endorser, but they simply couldn't get the bass to have the punchiness I liked. They also tried with the Grabber, but I kept changing my mind as to where to put the pickup, hence that bass came out with a sliding pickup. I finally just gave up and went back to Fender.
Someone said Fender pressured me to come back, but nothing could be more wrong. I went back simply because I missed playing the Precision Bass, and Gibson couldn't get the punch I missed. So I went down to the Fender factory in Fullerton, picked out a stock Precision, liked it, and started using it again. Fender was most appreciative. They hired a P.R. firm to put me on the radio, and I was even on TV when I did out-of-town gigs with the Hampton Hawes Trio. I had done some trade shows for them when my electric bass books started to sell a bit, around 1970. So it was good to go back and do the same things; it was nice playing and greeting people at the trade shows. So many nice folks, I still enjoy that.
Having a bass you like to play makes a big difference, and the big Fender amps sounded good. Their big new amp with the LEDs and new Cerwin-Vega speakers sounded great. Gene Czerwinsky and his wife, Lois, were friends of mine; I tried his speakers, liked them, and hooked him up with Fender. I even cut a demo tape for Cerwin-Vega when Gene first started the company.
What about the amplifiers you used during your most active recording time.
The Fender Concert amp did well with the Fender bass for awhile in the '60s studios, but I switched to Versatone amps in the late '60s, then to Fender amps again when I started playing live with Hampton Hawes. They always mic'd my amp in the studios until very late in the '60s, when they took me half direct and half mic'd.
How long was the term "Fender Bass" on rosters of session players, when it actually meant any electric, fretted bass?
"Fender Bass" is probably used even today by the producers of that era; Quincy Jones still calls it "Fender Bass." They simply didn't use any other bass in recording in the L.A. studios in the '60s.
As far as I know, I changed the name myself, when my first book (How to Play the Electric Bass) came out in '69, as it seemed that someday, someone would have a better bass than a Fender. They called the acoustic bass "string bass" back then, and it's still listed in the Union book as "string bass." The Musicians Union in Hollywood liked the name "electric bass" and changed their directory category in '69. New York followed suit, and the pros have been calling it "electric bass" ever since. It's usually lay people who still call it "bass guitar," and some books around in the '60s did, also. Some of the books were in the treble clef, which I thought was an insult to the electric bass – it's a bass, not a guitar. Among the pros, "bass guitar" referred to instruments like the six-string Danelectro, which had that distinctive sound.
You've stuck with four-string basses over the years; what about five and six-string models?
I've noticed a few of the younger generation, mostly commercial jazz musicians, using five and six-string basses, but usually they get tired of them and go back to four-strings.
All of the bassists in my age group use four-string basses. I've tried to play the five-string – and there are some finely-built ones – but they all feel like a guitar; you can't dig in strong with them at all. If I want to play a guitar, I'll pick up a guitar.
And from hearing five-string basses with jazz groups, the lower string controls the band too much. It's very appropo for church bassists who want to get a low organ sound. For some styles of music, the five-string bass is here to stay, but it's not my cup of tea. Why jump over a string all the time to play four strings? Very few players use that bottom string to good avail, in my opinion. And the wear and tear on your left hand! And wrist!
I get up and down my neck easily to play what I want to play, and the timbre is great; others seem to stay in one spot on five-strings. It's more paramount to get your playing together so you can play a whole bass on the four-string first, then you can graduate to a five-string if you want to; it's not the other way around.
I understand there's a union list history in the works that will show who played what on which session for decades. Do you think it will settle the controversy about your participation in Motown sessions where many people think James Jamerson was the bassist?
Somewhat. There are many good interviews in that book; it's by Russ Wapensky. Earl Palmer speaks of our Motown dates in his book; there have been plenty of articles about it, and people are seeing the cracks now about the prevalent hearsay. For various reasons, our work was kept quiet, but you can hear the difference between L.A.-cut tracks and Detroit-cut tracks, let alone my 16th note impact playing and smooth execution. Armin Steiner compressed my sound, "…to match the Detroit sound more," he said.
I've always [said] Jamerson started the Motown sound with his fine bass playing; it's even in my audio bass course book. I held the highest respect for the work he did, told people about him in my seminars, and it was no secret about our work here in L.A., since Motown had offices here since '62. Perry Botkin said he thought Motown was an L.A. company, since we had been doing so much recording for them since '63.
I'm probably the only one who helped Jamerson get work out here. I never met him; I was very busy with my own life by 1970 or '71, but I did speak with him on the phone twice, helping in every way I could to get him work, like I helped many a bass player back then.
As technology develops, people who don't hear that well will be able to match our sounds, engineering-wise. It's mainly younger white musicians who can't tell the difference, and who can't believe women can play that stuff. They know nothing about the preponderance of fine women jazz musicians from the '40s and '50s, black and white, who were not only admired by their fellow male musicians, but were highly respected for their great musicianship, too.
Motown will always be an enigma, but it will soon have a clearer definition. There's always some messiah who wants people to believe "his way" because it means so much to him, even if what he thinks is wrong, according to historical fact…and most of the time, I'm sorry I ever saw Motown Records. That music was just a welcome relief to surf rock we were cutting.
What was the approximate number of "core" session guitarists and electric bassists in L.A.?
About 50 to 60 studio musicians, loosely known as "the clique," was probably responsible for most of the hits coming out of L.A. Hal Blaine came up with the phrase "Wrecking Crew" for his interesting book, but we were not known as that back then. We were known as "freelance studio musicians," and everybody worked with everybody else; it was never a "set" group at all, not even set rhythm sections.
We were hired to get everyone a hit, no matter what. Personal ego never entered into it; the main thing was the product, so we could all keep working next year. The pool was big then, about 350 or more very successful studio musicians making a darned good living. It's not the same now, there's a lot less work, but more musicians trying for it. The Golden Age of recording has been over for many years.
Any memorable sessions with other notables?
Tommy Tedesco, of course, had the sense of humor to keep peace between all the jazzers in the bunch and the newbies – the younger generation in the booth that we sometimes had to work for – A&R men; they were later called "producers." But studio work paid about four to five times the amount of going on the road. One time, a young producer who was kind of showing off kept telling Tommy to add more highs to his guitar. We all knew Tommy didn't need any more highs, but he nonchalantly obeyed, reaching back and pretending to turn the knob. He hadn't changed a thing, but when he played, the producer said, "That sounds great, now!"
What was your most active year?
I have no idea. The middle and late '60s were terribly busy – two, three, four dates a day; usually five or six hours of sleep each night, if that.
The most complex or tedious session?
The toughest reading was the Beneath the Planet of the Apes score. Yes, there's an electric bass there; it's buried with the orchestra, and it's on my list of movies for royalties.
And many of the rock dates were boring. You're doing good if you get 20 percent of your work that's interesting and fun to play. The main thing we all managed to do was take some of the most boring tunes and really groove on them to satisfy ourselves, and that seemed to turn the cuts into big hits. This was a business, not an art, but it was an art to get a hit recording together – very different from what people would imagine.
The longest session where it went on until the producer and/or artist thought it had been done right?
Sweet Charity's "Rhythm of Life" dance scene. It was cut and written over about three times, and involved 75 musicians each scoring time – it was all day, many days, at Universal. The dancers were led by Sammy Davis Jr. and Bob Fosse. The music had to be altered quite a bit for movies, and the conductor, Robert Merrill, was the best. We all loved working for him – he was patient with the process of the adaptation of his great Broadway music score to the screen.
The most fun session?
"Feelin' Alright" by Joe Cocker, at Sunset Sound. There was Paul Humphrey on drums, Artie Butler on piano, Lauder on congas, and Joe was singing live. That was in '68, and it was absolute pure joy.
The most bizarre session? A Mothers of Invention date, perhaps?
Probably so, but it was great to work for Frank Zappa. He really knew his music, and it was enjoyable playing it. And Tommy Tedesco got a kick out of the scantily-clad bag ladies there – in winter. But some of Phil Spector's dates were a little strange at times, too.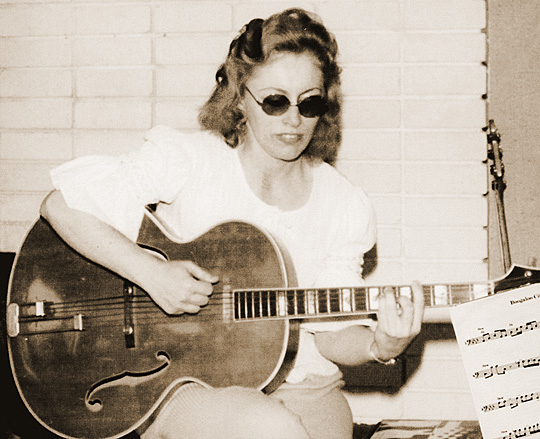 How so?
Well, they were different from the cut-and-dried dates, which were sometimes a little uninteresting and all businesslike. Phil had some wild personality traits; he would tease us, kid with us, and even pick on somebody – mostly in fun, although a couple of times someone got a little upset. Phil liked the feeling of hanging with the guys, and even started to dress in costumes later on. He loved having a ton of people in the booth; some of the band would draw a naked lady on the wall during long lulls when Phil was in the booth, and they'd throw darts at the nudie.
There was a lot of kidding, but Phil would make us do a zillion takes, or so it seemed, for no reason. It was only about 33 to 38 takes per song, but who were we to complain? We all made money on his dates; time-and-a-half after three hours, double-time after four and a half hours.
The most "unlikely" session, where many people – even if they were familiar with your work – wouldn't have expected to hear you.
Boy, I don't know. Probably "Good Vibrations;" I played bass on that one.
What do you think your most unique live gig was?
Got to be Shrine Auditorium, around '64 or '65. I played guitar with the fine Oliver Nelson jazz orchestra, guitar with the Jimmy Smith Trio – he had been using me on guitar on other live gigs, too, as had Oliver. And I played electric bass with Little Stevie Wonder. The fans were dangerous, and we all had to run for our cars. That cured me of wanting to play live shows.
But in the mid '70s you spent time in keyboardist Hampton Hawes' combo.
Hampton was wonderful to work for; such a giant of a jazz musician, and he had a good heart. But after a while, I saw the nightclubs as places I didn't want to play in, plus you saw signs of drugs being used, and I didn't want to be around that again – I saw enough in the '50s. Hamp was the greatest pianist out there, no doubt about it. I treasure those times.
Any other extended performance associations?
Before Hampton, I played some memorable concerts with the great Joe Pass; Paul Humphrey was on drums. I did the Monterey Jazz Festival in '74 with Mundell Lowe and Hampton, and in '83, too.
Tell me about your instructional efforts. Some of them were pioneering books, but you've done magazine columns, videos, and have given personal instruction to quite a few notable bassists.
I published my first books myself, starting in '69, in the days when all I saw were very simple "Mary Had A Little Lamb"-type books – in the treble clef – and thought learning musicians deserved better. I kept writing stuff, and also put out the very fine Joe Pass materials.
I've put out some bass video courses and other items since then, and my 28th tutorial item, Jazz Improv for Bass, will be released soon. I had a column in Guitar Player for about a year in the mid '70s, and I simply had no time to continue it.
I've been lucky to have such fine former students as John Clayton, David Hungate, Bill Laymon, and many others – they're listed on the website. Even Sting spoke of learning from my books, and there was Mo Foster in England, as well. There were other fine bassists, like Abe Laboriel, whom I was proud to help get recording work with Henry Mancini when I quit recording for about the third time. Alf Clausen has won awards for his fine composing and arranging for "The Simpsons" TV show. He's very bass-oriented, proving how important bass is in making music sound great.
We've already discussed your Fender and Gibson basses from times past; what other basses have you used over the decades?
I played a Leo Fender-made Music Man, and a G&L, and a hybrid during the times when I had arthritis. Those are all gone now.
The last time I was in Fullerton was when Leo started the G&L factory. I went to visit him and get my new G&L adjusted; this was about '81. We talked about health. He was a wonderful man – quite the curmudgeon, but he had a right to be. He knew so much, and we spent hours talking. George Fullerton, his partner, was also there. George is also a great person, and was always loyal to Leo.
What's your current instrument?
The only bass I love to play is the Steve Bailey-designed Aria Pro II with the Seymour Duncan Basslines active pickups. It's a four-string, and plays just great. It has both the Fender P-Bass sounds, as well as the feel and some of the sounds of the Ripper bass. It's finely engineered, with fine response and warm tones, but it responds when you want to dig in hard, too. It's the very first small-necked bass I've loved to play. I've had the same set of Thomastik jazz flats on it for almost three years; they still sound like new, and record the best.
Are there any other veteran electric bassists you admire? The point is, all of you were pretty much pioneering a new sound on a fairly new instrument.
.
I never really listened to other bassists back in the early '60s, not even Jamerson. I was always working in the studios, and you didn't listen to music that much on the radio; there's no time, and when you're done recording, you want silence.
I did hear Jamerson on "Money" and a couple of others, and thought he was absolutely great. I loved all the great jazz bassists I worked with in the L.A. jazz clubs – Red Mitchell, Curtis Counce, LeRoy Vinnegar, Joe Comfort, and my first husband, Al Kaye, was a fine bassist, too. He played bass with the Stan Kenton Trio, and also later with Pete Jolly, when he first started playing in Phoenix.
Today, though, there are many fine players I admire – John Clayton, Steve Bailey, Steve Swallow, Nathan East, David Hungate, Victor Wooten; they're all fine bassists, as are some other well-known names, but I tend to listen only to jazz, and I recently met the wonderful Christian McBride. I think the world of his playing, but there's no one like "papa" Ray Brown, who I've worked with a lot in films. We even did some duet sides together, on the CD First Lady On Bass. He's the ultimate.
Any young or up-and-coming electric bassists you admire?
I profess to be ignorant of some of the younger generation, as I'm mostly listening to fine jazz these days, and I admire the jazz bassists, for the most part. I'm short on names, but I do hear them getting it together, mostly on string bass, and I love it when they grasp the real sounds of fine jazz on electric bass, as well. I'm happy to see the tradition of fine jazz being respectfully carried on with love.
But there are some present-day guitarists I admire – Mark Whitfield and Bruce Foreman. I also loved the playing of Joe Beck, a fine East Coast jazzer who played some commercial funky jazz, and the chordal soloings of Emily Remler.
What about California Creamin' by Carol K. & the Hitmen? It's a mid-'90s album primarily of songs you recorded on guitar in the mid '60s.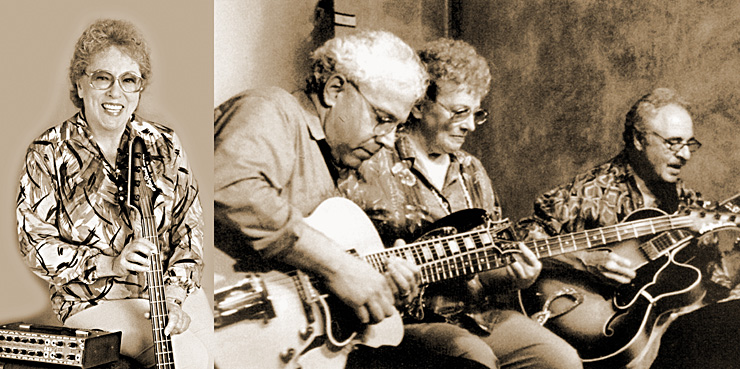 By '65 I was doing a lot of bass dates, and really missed playing guitar, so I decided to do my own multi-guitar album, in the hopes I could be a recording artist on guitar and have the freedom to resume my jazz guitar career.
I used the L.A. Motown studio musicians – René Hall on guitar, the great Earl Palmer on drums, Bill Green on sax, Jim Horn on bari and sax, Dick Leith on trombone, Gary Coleman on vibes and percussion, and Ray Johnson on keyboards. We cut tunes I liked – mostly latin soul like "Delicado," "Soft Winds," "Baia," "The Searchers." A tune I wrote called "Ice Cream Rock" was really the worst one on there – it even had fuzztone – and wouldn't you know it, "Ice Cream Rock" got on the radio and started to climb the charts! I was totally disappointed and had to pull it; I couldn't see playing "Ice Cream Rock" the rest of my life, and I stopped thinking about ever playing guitar again.
But the spirit of everyone concerned was the greatest – the greatest of musicians playing their tails off. They call it "energy" now, but I call it "spirit" – the love of playing with each other and caring about each other, and I think it represents us all at our peak in the '60s.
What's keeping you busy these days?
Mostly teaching and playing live with jazz sax legend Ray Pizzi and studio jazz guitarist Mitch Holder. I'm using the Aria Pro II, and a Polytone amplifier; I have two of the Mini-Brute IVs. Our CD, Thumbs Up, is out, and is featured on weekly segments about my career on the "Music Experience" website (www.experience.org).
In August, I put in 12 to 14-hour days as an educator at the Henry Mancini Institute at UCLA. This school truly is the finest in the U.S. for the serious professional young musician. It's a lot of intense work for the teachers and students; we were all exhausted at the end of it all, but we all had a good feeling.
I'm getting back to writing my biography, soon, too; it's about one-third done. I'm doing some recording here and there, and some seminars. It keeps me off the streets!
---
Carol Kaye has had an abundance of musical experiences, and her recollections are interesting, fascinating – and important. As are her recordings. Yet this extended conversation with Kaye is only the tip of the proverbial iceberg in her story, which is why her biography is eagerly anticipated by bassists, guitarists, and anyone with an appreciation for the history of American jazz and popular music.
---
Appearing Now!
The Carol Kaye sountrack contributions
"Mission Impossible"
"MASH"
"Ironside"
"Room 222"
"The Streets of San Francisco"
"Hawaii Five-0"
"Kojak"
"McCloud"
"The Addams Family"
"The Brady Bunch"
"Cannon"
"Soap"
"Wonder Woman"
"The Bill Cosby Show"
The Thomas Crown Affair
In The Heat of The Night
Sweet Charity
Airport
True Grit
Change of Habit
Across 110th Street
Guess Who's Coming to Dinner
The New Centurions
Slender Thread
Walk, Don't Run
Shaft
---
Photos courtesy of Carol Kaye. Studio work, ca. 1971.
This interview originally appeared in VG's Jun. and Jul. '00 issues.
---
This article originally appeared in VG June and July 2000 issue. All copyrights are by the author and Vintage Guitar magazine. Unauthorized replication or use is strictly prohibited.
---