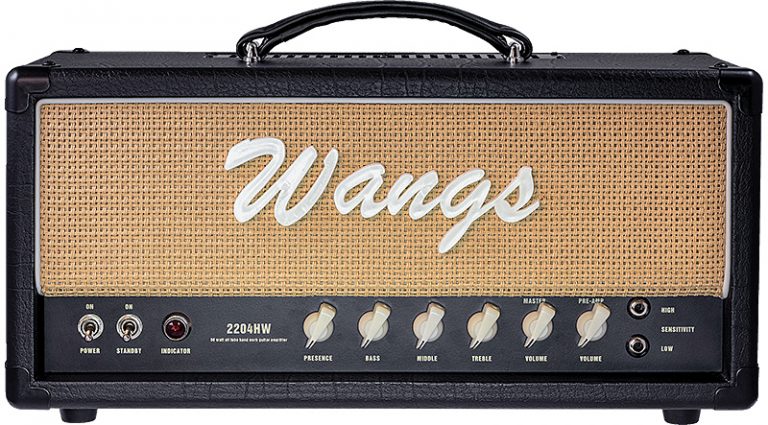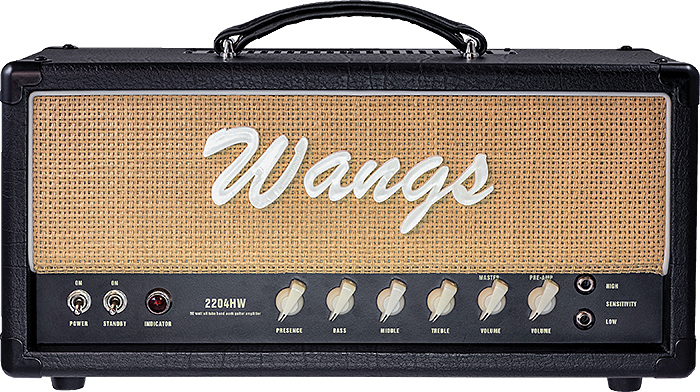 Even as new technology spawns new sounds, ease of use, and portability, there remains among guitarists a predilection for technologies of old. New sounds are inevitably compared to the earthy musical landscape of the classic era. After all, amp manufacturers got it extremely right in the 1960s and 1970s and an entire industry has ballooned to replicate those sounds.
Wangs Amps (pronounced "Hwongz") is a relatively new company based in Shanxi Provence, China, working in association with Beijing Biyang Sound Electronic Co. Ltd. Its notoriety among a loyal American fan base created a demand for its amplifier line, and Wangs Amps USA was formed. While Wangs is the largest supplier of professional-grade tube amplifiers in China, it retains a boutique level attention to detail thanks to a small cadre of employees.
Wangs' philosophy is based on vintage circuitry, simple layouts, and straightforward builds and sound. Used by virtuoso metal guitarist Warren Hughes, the #2204 HW is a 50-watt head based on the 1975 Marshall 2204. Weighing a portable 22.5 pounds, the solidly constructed #2204 features a striking handstitched hemp grill and white lettering against a black-colored birch enclosure.
Six white chicken knobs accentuate the clean good looks while controlling Presence, Bass, Middle, Treble, and Master and Pre-Amp volumes, allowing the player to have their way with the British tonal recipe of two EL34s and three 12AX7s.
The hand-wired point-to-point #2204 has Low and High Sensitivity inputs, Standby switch, leather handle, and speaker-outs for 4, 8, and 16 ohms. With the amp plugged into a cabinet loaded with Celestion Vintage 30s, it was time to indulge in Wangs' workmanship and homage to British tonal superiority.
Quite often the attempt to model preexisting equipment produces something else entirely. A template may be used as a leaping-off point for new ideas, or the failure to faithfully reproduce an original may result in happy accidents. The #2204 HW falls into the latter category. While this amp nails the punch, bite, and masculinity of a Marshall, it has none of its bold, tumescent surliness.
This is a good thing. The #2204 HW has an amiable personality.
Plugging into the Low Sensitivity input produces a clean but edgy rock sound that allows your fingers to do the talking. Rolling back the Treble and Presence results in a warm, organic cleanliness that would be perfect for the pedal board user – a solid, utilitarian base tone for guitarists who require less lip than an old Marshall gives.
The Wangs lacks a complex EQ but gets the job done. It's a rock amp, after all, and shares an affinity for the plug-in-and-go Volume-knob rider. But its sensitivity to picking dynamics and guitar volume could allow one to coast the jazz highway too. Maxing out the Pre-Amp volume and setting the Master volume and EQ to room temperature yields tonal thickness for days. Like a Marshall, other settings produce abrasive mix-slicing truculence. This amp has range.
Plugging into the High Sensitivity input elicits a louder, punchier signal, perfect for clean funk parts or crisp country solos. Increasing the Pre-Amp volume creates sweet overdriven grit and rich warmth. A range of well-defined overdrive options emerges. It excels in the blues-rock genre and shines at rock rhythms. It requires a distortion pedal for soaring metal leads, but its malleable character welcomes pedals of all persuasions. The #2204 HW is bright even with the Treble and Presence rolled back, but produces lush articulation, deep overtones, and awesome clarity. The louder it gets, the better it sounds.
Wangs' #2204 HW could stand toe-to-toe with other boutique heads at three times the cost – perfect for club warriors who need upscale tones at an affordable price. Versatile, light, and dependable, the #2204 HW truly delivers.
---
This article originally appeared in VG June 2016 issue. All copyrights are by the author and Vintage Guitar magazine. Unauthorized replication or use is strictly prohibited.
---