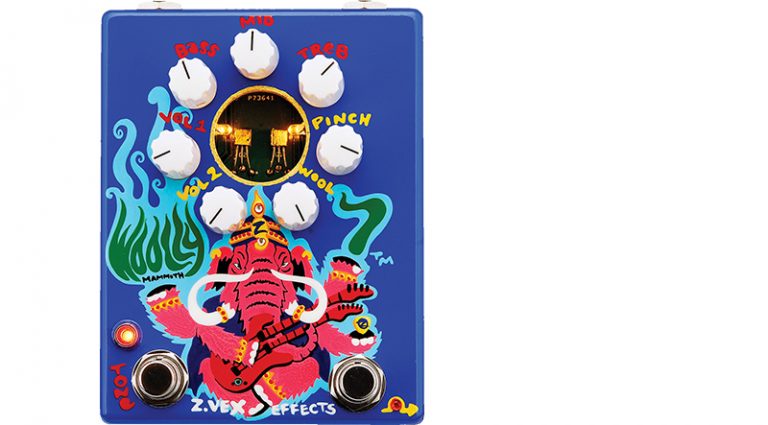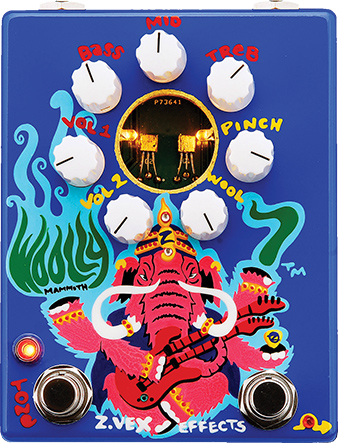 Zachary Vex masterminds some of the most radical and downright fun pedals known to mankind. And as he states in the user's manual to the Woolly Mammoth 7, "Because why not."
Exactly. Why not offer guitarists and bassists fuzz ranging from domestic kitty-cat purr to Ice Age growl? Why not add a Marshall-style tone stack providing Bass, Mid, and Treble controls? Why not hand-paint the case with an image of a guitar-toting Ganesha elephant god? And, especially, why not add a lit Plexiglas window offering a view into the magical inner workings of it all?
The WM7 is an evolution of ZVEX's original Woolly Mammoth, adding more controls to further tweak your sound. This is good news, as the earlier version was renowned for ripping fuzz and a subharmonic wallop that got you in the gut. Here, more is definitely better.
To make sure, we plugged a '56 Stratocaster straight into the stompbox, then into a new Supro Titan 1642RT 50-watt 1×10 amp.
The WM7 offers two tone circuits. The new expanded tone stack lets you sculpt your fuzz's tonal soundscape from the bottom up. Need more lower end? Dial in the Bass and back off the Treble. Or fill out the Mid for a deeper, darker sound.
With the Wool knob controlling the "amount of fur on the fuzz," as Mr. Vex describes it, we added just a touch of drive and fingerpicked Knopfler-esque licks. Spinning the knob northward added a Stonesy grind. Go all the way, and you can get as hard and heavy as you want.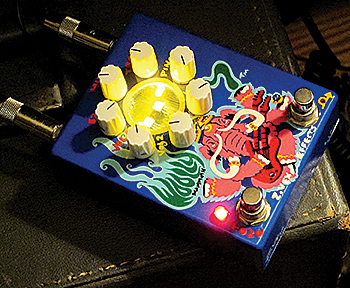 Bypassing the tone circuitry, the WM7 has its own built-in EQ that's quite linear with solid mid frequencies. Lovely.
Both tone circuits have their own Volume controls, which simply offers more options for switching between sounds.
Back to that Wool. The WM7 can churn out fuzz ranging from five o'clock shadow to full-on woolly mammoth. In fact, few pedals offer such hairy options that sound so innately musical.
Manhandle that drive with the Pitch knob, which controls the pulse width of the fuzz. Turn it off, and you get the pedal's natural clip. But dial it clockwise and the sound gets progressively more nasal with intense gating. Talk about fine-tuning the fuzz.
Finally, that plexiglas window; with the twin yellow lights shining bright, it may not make your fuzz sound better, but it is dang cool.
---
This article originally appeared in VG June 2016 issue. All copyrights are by the author and Vintage Guitar magazine. Unauthorized replication or use is strictly prohibited.
---