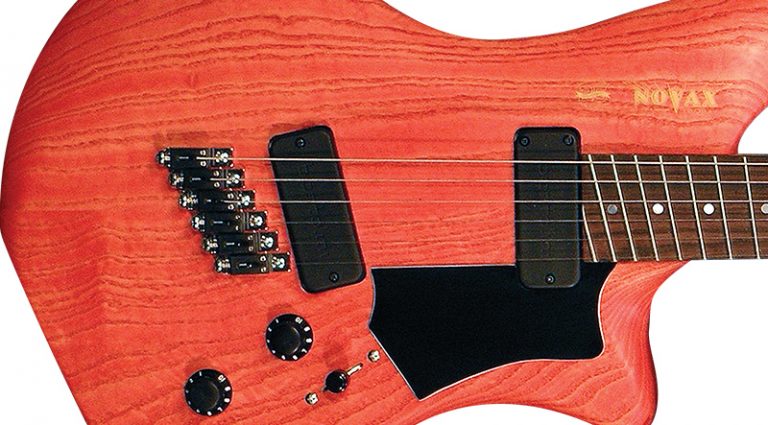 Remember chuckling at the Rick 481 slant-fret guitar? Or wondering about those fret intervals on Joni Mitchell's dulcimer, or the flying frets on Ravi Shankar's sitar? Ralph Novak did. But he took it all a step further, patenting his Fanned-Fret design in 1989. To celebrate, Novax Guitars has introduced their 25th anniversary Sweet Annie electric six-string solidbody.
As complex as the fanned-fret concept appears, once you dig in, the Sweet Annie is simply an example of "form follows function." Hardware includes 16:1 Gotoh tuners and Graph Tech saddles mounted onto separate bridges for each string, enhancing the harmonic response of each string.
The Sweet Annie is modern (if not moderne) in shape, yet even the most conservative eye will appreciate the flawless 1.75″ bone nut, the fat ebony fingerboard on its maple neck, and the one-piece natural-finish mahogany body, sculpted for comfort, weight, and tonal response.
With this design even a finger wiggle changes the scale length of the string, but the high-E scale is in the Gibson electric zone, while the low E is about an inch longer than the Fender scale.
Details of the five-position switch and double-pickup schematic are Novak's secret, but the proprietary Bartolini pickups are voiced through manipulating capacitance and inductance rather than classic coil-splitting technology.
The Novax design passed the first test by simply being happily playable in the lap as well as balanced and contour-comfy on the strap. Test number two? Forget the frets, just close your eyes and play.
And it was a revelation. Chords and scale fingerings fell under the fingers effortlessly except a few with bass notes in first position. The unwound B and G had an extra flexibility that made double-stop bends and slinky vibrato downright entertaining. The remarkable intonation and perfect setup overwhelmed any anxiety over the fret spacing.
With the signal split through a small tube amp and solid-state jazz amp, the Bartolinis, with Tone and Volume controls, offered five appealing hum-canceling voices. Positions two and four had the slight nasal quality associated with frequency cancelation between combined pickups. The neck pickup offered a clean jazz sound and just a little Tone control roll-off produced a rounder '50s tone. Overdriven, the pickups and flexible strings combined in swooping and sustained bends over richly textured bass long tones.
The Sweet Annie hits the mark, harmonious and tuneful. The fanned frets are no novelty, though – the Sweet Annie is a player's guitar (any player), with versatility and a unique feel.
---
This article originally appeared in VG January 2016 issue. All copyrights are by the author and Vintage Guitar magazine. Unauthorized replication or use is strictly prohibited.
---