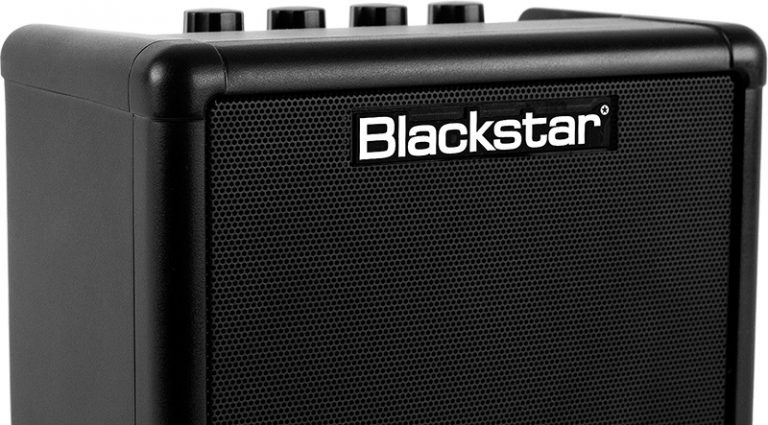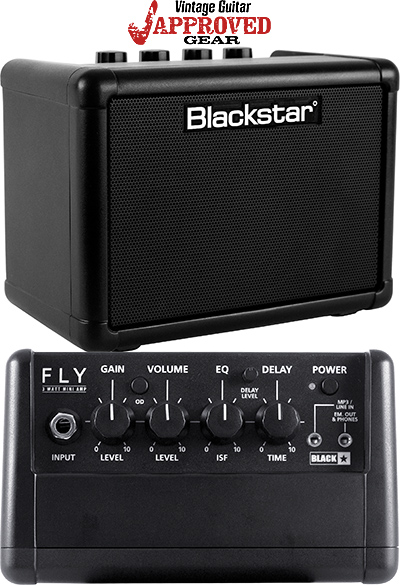 While listening to AC/DC's Back in Black on a small, audiophile-grade table radio, Blackstar Amplification CEO Ian Robinson had an epiphany: small amps don't have to sound crappy.
Previously, there had been a number of discussions at Blackstar about entering the sub-$100 market. After a year of development, they introduced the Fly 3 battery-powered amp just before NAMM 2015, where it won a Best in Show.
About half the size of a shoebox, the three-watt amp is powered by six AA batteries or a wall adapter and features a single input with controls for Gain, Volume, EQ, and Delay. There's a button to switch to the Overdrive channel and a separate tiny knob for Delay Level. An MP3/Line In makes it easy to jam to favorite recordings or just listen to music with the available extension speaker. An Emulated Line Out can be used with headphones or for recording directly.
For an amp this size (6.7″ x 4.9″ x 4″), it has a very full sound. The tone is surprisingly linear, and the bass is deep without sounding pumped up. The cabinet is well-crafted and buzz-free. It's possible to listen to the Fly 3 for hours without the expected audio fatigue from amps of similar size.
Robinson says they opted for the 3″ consumer-audio speaker in the amp because while guitar-amp speakers are designed to color tone, consumer-audio speakers are designed to be linear. The magnet in this one is much larger than those in the typical small guitar, and the circuit is analog except for the digital delay, and is an amalgam of a number of Blackstar circuits.
The Fly 3 is on in my house virtually all the time; current favorite settings are OD off, Gain 6, Volume 7.5, EQ 10 (for maximum bass), Delay 4.5 with Delay Level at 4. These delay settings, along with a moderate pick attack, make it sound more like reverb, filling out the sound.
The Fly 3 offers real "bedroom sound levels" and can be used any time of day or night without upsetting anyone who isn't offended by the volume of a table radio. This amp is more full-sounding than loud, and it comes in handy anytime inspiration strikes.
---
This article originally appeared in VG January 2016 issue. All copyrights are by the author and Vintage Guitar magazine. Unauthorized replication or use is strictly prohibited.
---