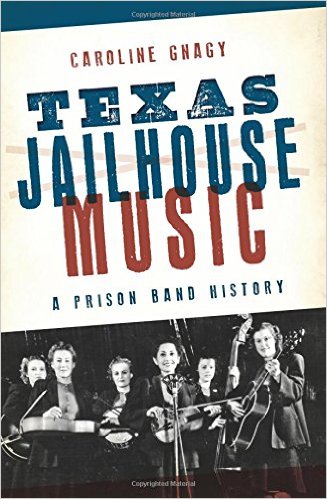 Sometimes the most interesting books are ones that delve into a subject readers didn't know about and never considered. And except for now-elderly people who were around the right place at the right time, especially during the decade beginning in the late '30s, most of us would be unaware of the existence and details of music programs in Texas prisons, if not for author Caroline Gnagy.
The story of Huddie "Leadbelly" Ledbetter, a veritable walking encyclopedia of blues and folk songs, singing his way out of his prison sentence for murder is well known. But what about multi-instrumentalist Reable Childs, a radio star on WBAP's "Thirty Minutes Behind the Walls," or the fact that stripper Candy Barr played drums in an all-girl band at the Goree State Farm For Women's rodeo, after being sentenced to 15 years for possession of less than an ounce of marijuana in 1960?
From prison records, radio-show transcripts, and the words and music of the inmates themselves, Gnagy tells the stories of bands consisting of fiddle champions and swing bands, of petty thieves and killers. She's empathetic without becoming maudlin, and she never skirts around the crimes the musicians committed.
Childs played banjo, lap steel, fiddle, and acoustic guitar, and had had some vocal training at the Stamps-Baxter singing school prior to entering prison. In 1936, Childs was sentenced to 25 years in prison, when a jury found her guilty as an accessory, after her boyfriend murdered her husband. Thanks to "Behind The Walls," she received sacks of fan mail.
Gnagy certainly comes from creative pedigree. Her grandfather was artist and TV instructor Jon Gnagy, whose drawing kits many baby boomers probably still have, and her great-uncle was folk singer and harmonica player Sam Hinton. And in groups like the Casey Sisters, Gnagy sings country and rockabilly. Here, though, her writing is tight but compelling, and her research is most impressive.
The book's text is nearly matched by its fascinating photographs – from big bands to William Harold King playing the spoons. Of special interest to VG readers are the stringed instruments, including now-vintage roundhole and archtop guitars.
Childs is pictured here playing a late-'30s Gibson TB-7 "tension top" banjo with slotted bowtie inlays. Though not included in the book, it turns out that the company loaned instruments to the prisons. As Gibson historian Walter Carter observes of Childs' TB-7, "That would be a $50,000 banjo today."
"Given the rich history of music in the Texas prison system," Gnagy concludes, "it may be beneficial for the officials of today to take a cue from their own past and see the power and possibilities of music: music learned and played for rehabilitation, inspiration, and comfort."
This article originally appeared in VG's December '16 issue. All copyrights are by the author and Vintage Guitar magazine. Unauthorized replication or use is strictly prohibited.