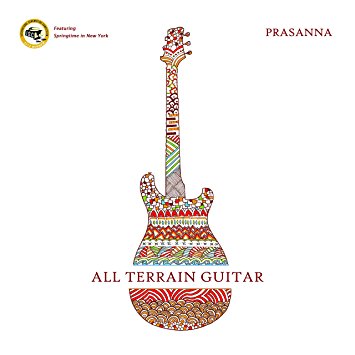 The highly decorated Prasanna embellishes his artistry with a style that fuses elements of jazz and Indian music. The ancient Indian art of Carnatic music weaves throughout, bringing much-needed pizazz, panache, and fearless exploration to what would otherwise be garden-variety fusion.
Fretted and fretless guitars wail with controlled abandon within tight but freshly conceived arrangements. The ensemble includes Vijay Iyer on keys, Mike Pope and Bill Urmson on bass, as well as Rodney Holms and Mauricio Zottarelli on drums. A horn section rounds out the group with Prasanna blazing on electric and acoustic guitar with microtonal bends, slides, cliché-free phrasing, and neck-cranking melodies.
On "Final Approach" and "Sometime In New York," Prasanna finds common ground between the bop lines of Charlie Parker and the sitar phrasing of his homeland. Elaborate guitar and sax unison lines careen with technical brilliance.
Vocalist Natalie John scats her way into fresh territory on "Electron Dance," while Shalini Lakshmi brings luster to "Song For The Wind," "Pinch Pennies In Monaco," and "The Keyword Is Love."
This is an enjoyable feast and an inspiration to forward-thinking music lovers wanting to break outside the musical box.
This article originally appeared in VG's December '16 issue. All copyrights are by the author and Vintage Guitar magazine. Unauthorized replication or use is strictly prohibited.