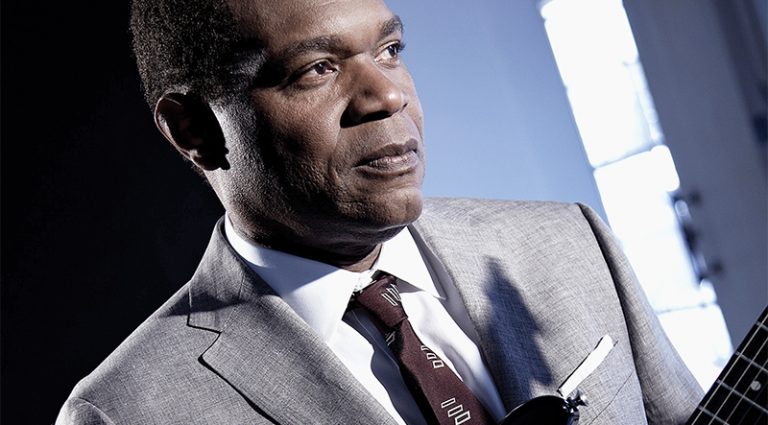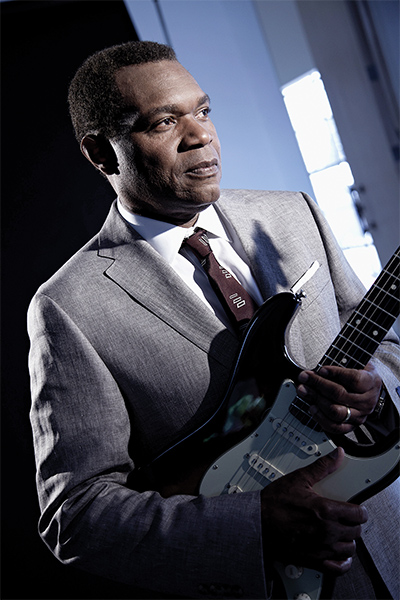 Five-time Grammy winner Robert Cray has always played serious blues. But, early on, he sidestepped a genre that would descend into pentatonic hackery in favor of brilliant songs, soul-drenched vocals, and emotional guitar playing. Cray is all about dark, passionate yarns and hypnotic groove. His current project, 4 Nights Of 40 Years, is a retrospective that combines past with present; CD and DVD formats provide a captivating overview of Cray looking back at his early years, as well as mesmerizing recent live dates and special guests.
Is 4 Nights Of 40 Years a point of demarcation to move into another era?
No. It's just an idea. The record company wanted a live CD and we decided to make it something just a little bit more. Since last year was our 40th anniversary, we decided to work with that concept in mind. We brought out old footage and tried to do something different with the DVD. There's footage of the old band and footage of the current band.
What runs through your mind watching the old footage?
It makes me feel funny (laughs). Somebody asked me, "Did you go through all that stuff?" And I go, "No, I didn't go through all of it!" Over the years, we've had people recording, and I have tons of that stuff sitting around. That's when the idea came to use some of it for this concept we put together. We had the video people who shot the current stuff go through the material and put it together.
When I look at that stuff, I go, "Wow." I was talking really fast, I was skinny, I had a mustache, and I had the '80s clothes on. If I'm watching MTV and they've got one of these oldies programs on, I start laughing at the hairdos and all that stuff. I wasn't too far off of that, either.
Was there a conscious decision to focus on stories, song craft, and what became your signature, rather than what we hear from other blues artists?
I think everything moved in its own way. It was the fact that we never quit playing. We put a lot of club dates under our belt. It all kind of changed on its own. When I think back, it was all fun. We were – and still are – playing the music we like, and wanted to play. We weren't really thinking anything of it until somebody asked us if we wanted to make a record.
The R&B really distinguishes you from other blues artists.
We'd already decided on the kind of music we wanted to play. When we started recording and did Who's Been Talkin' and Bad Influence, we were working with a couple of producers who had their own songs we were doing. Then we co-wrote with them. That changed things, but we had in our heads an idea of what we wanted to play, and we went about doing it. To be honest, we were stubborn as all hell, and we still are (laughs).
Storytelling is a big part of what you do. How did that become such a large part of your style?
I have to give credit to Dennis Walker, who was one of our producers in the early days. He's a great songwriter, as well. He wrote "Right Next Door," "Porch Light," and all those songs that paint pictures. That's what I got from him. Painting pictures – the visuals that you can hear in the song. He also taught us that the story is the most important thing. It's more important than me being the front man. We put the music as the accompaniment to the story. For the accompaniment to sound good, it's got to be an ensemble. That's how we work it, and that's what I learned from him.
How much do you and the band mix it up live?
We like to let it be loose. The time is always going to be different for each song from night to night. We don't have a setlist; we call it. That way, you're not playing by rote. I dislike having a setlist because everyone falls into the same pattern of sameness. I like to be on the edge.
In my head, I'm trying to put together a night that covers a lot of bases. I'll feel the room out, then start out with something that gets me grounded and keeps my feet flat. Then I sense the sound of the room and the feel of the audience. Then, I can tell where I want to go. We can go up-tempo, we can go downtown, but it all depends on what I feel from the room and the people.
---
This article originally appeared in VG December 2015 issue. All copyrights are by the author and Vintage Guitar magazine. Unauthorized replication or use is strictly prohibited.
---