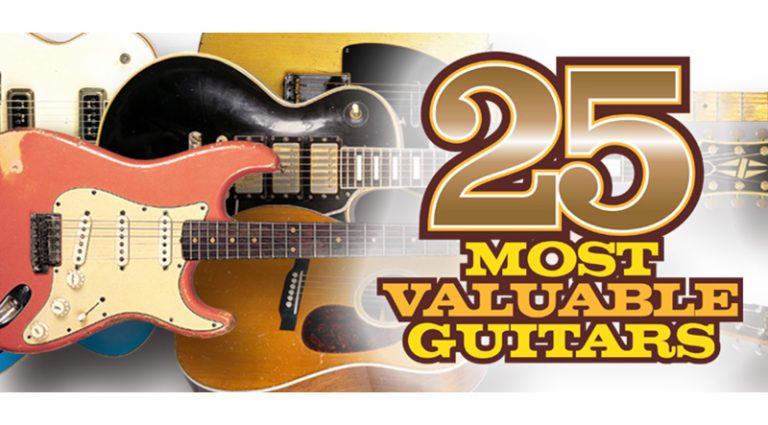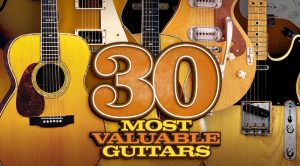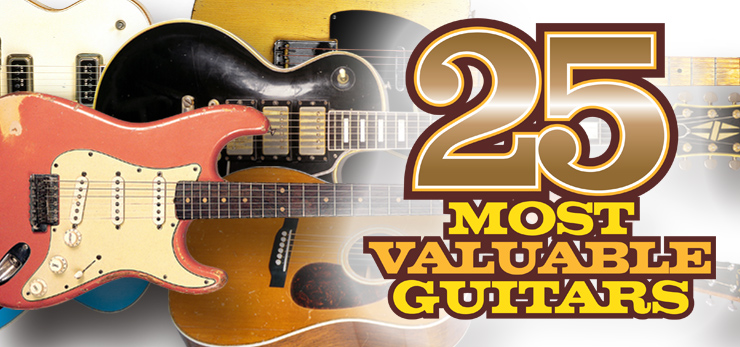 Data compiled by Alan Greenwood and Gil Hembree
Vintage Guitar is marking 25 years of publication with a year full of cool giveaways and features. This month, we continue the celebration with a list of the 25 guitars that, thanks to certain players, songs, and the laws of supply and demand, have become exceedingly valuable.
There are few collectibles in modern pop culture that are as cool as guitars. They're functional, tactile art that inspires players and music fans alike. As a VG reader, you're acutely aware of the guitar's status as a pop-culture icon. But beyond fond memories of The Beatles on Ed Sullivan or Hendrix at Woodstock, for some, guitars also serve as investments. So, using data accumulated in the research for The Official Vintage Guitar Price Guide 2011, we offer this look at the 25 most valuable production-model (not celebrity-owned) guitars.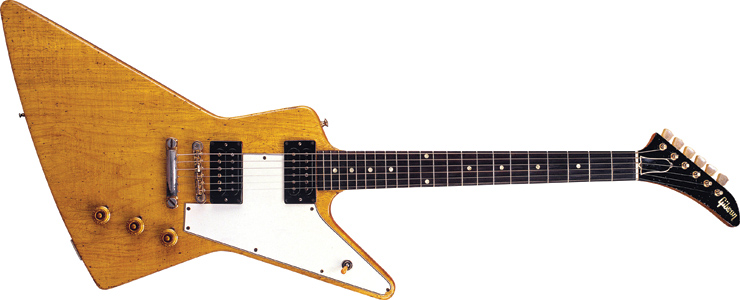 1. 1958-'59 Gibson Explorer
($250,000 to $310,000)
Part of an attempt to market "modernistic" guitars in the burgeoning "space age," when it hit stores, the Explorer got little attention from buyers. Orders were scarce, so production numbers stayed very low. Eric Clapton played one in the '70s, and since then, collectors have become fond of the color and sound of its body, made of African limba – which Gibson re-named "Korina" for the sake of marketing.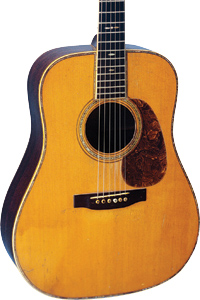 2. 1936-'42 Martin D-45
($250,000 to $400,000)
Vintage Martin dreadnoughts are considered the pinnacle of steel-string acoustics, and those given the Style 45 dress – Brazilian-rosewood back and sides, ivory-bound body and neck, and fancy fretboard inlays – were priced beyond the reach of all but a few Depression-era players.


3. 1958-'60 Gibson Les Paul Standard
($225,000 to $375,000)
Though Gibson tried to make a splash in the market by giving its Les Paul model a fancy maple top and sunburst finish, the guitar failed to truly catch on. Its status changed dramatically, though, with the 1966 release of John Mayall's Blues Breakers featuring Eric Clapton. Then Michael Bloomfield started playing one, which further influenced top-tier guitarists of the late '60s; the list of players who picked up a "'Burst" afterward includes names like Page, Allman, Kossoff, Gibbons, and Beck. Today, it's not only the preeminent collectible solidbody, but some would say the reason solidbodies are collectible, period.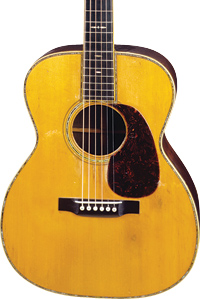 4. 1930-'33 Martin OM-45
($265,000 to $350,000)
Another example of how rarity drives values into the realm of unobtanium, the OM-45 was made in very small numbers each year (think barely-into-double-digits at the most!). The first-year "Deluxe" version brings the highest dollar.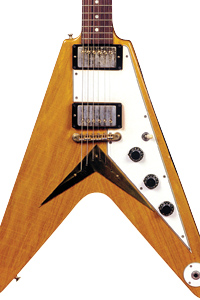 5. 1958-'59 Gibson Flying V
($200,000 to $250,000)
Another of Gibson's "modernistic" Korina-bodied guitars, like the Explorer, it was offered for only two years. Its unusual V-shaped body was eye-catching, but again, not popular. So, only 98 were made. It was most famously used by blues legend Albert King. Reintroduced in the '70s with a more traditional mahogany body, it then became popular amongst rock players.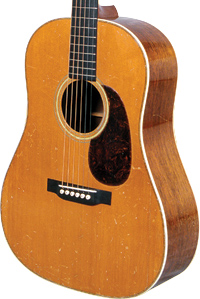 6. 1931-'36 Martin D-28
($140,000 to $170,000)
Though not as fancy as the D-45, its $100 price tag still put it mostly out of reach in the midst of the Great Depression. Thus, production stayed low.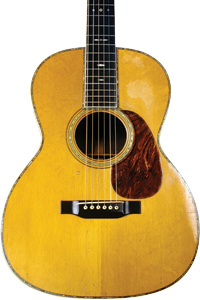 7. 1928-'42 Martin 000-45
($93,000 to $160,000)
One of the models that mark evolutionary changes at Martin, with the advent of bracing for steel strings in '28, values jump. In '34, Martin transitioned it to a 14-fret, creating the version preferred by collectors.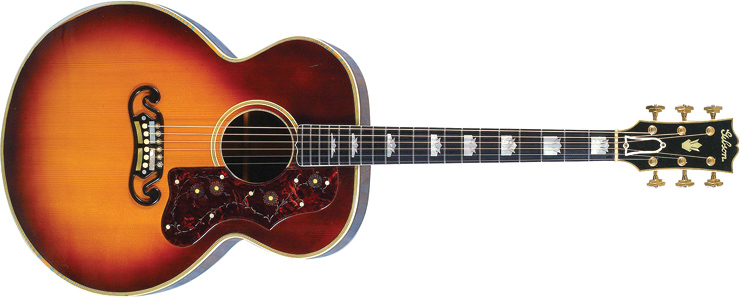 8. 1938-'42 Gibson Super Jumbo/SJ-200
($90,000 to $120,000)
Gibson's answer to Martin's D line, it was larger, showier with its sunburst finish and "moustache" bridge, and wound up in the hands of many a big-screen singing cowboy.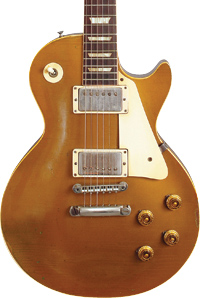 9. 57 Gibson Les Paul model
($86,000 to $106,000)
Gibson's original Les Paul, the "goldtop" was refined through the early/mid '50s until it peaked in '57, when it was used to launch the company's new "humbucking" pickups.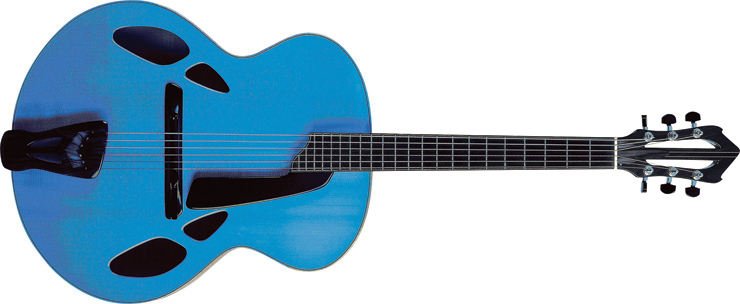 10. D'Aquisto archtops
($75,000 to $100,000)
Luthier James D'Aquisto (d. 1995) apprenticed under the famed John D'Angelico. D'Aquisto mostly built to order, and his rarest models bring a premium.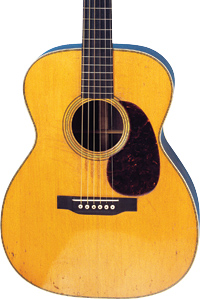 11. 1929-'31 Martin OM-28
($68,000 to $95,000)
Unlike other Martins, the first version today is most revered, with its "pyramid-end" bridge and banjo-style tuners.


12. 1950-'51 Fender Broadcaster
($49,500 to $86,000)
Leo Fender's first Spanish-style guitar was also the first to incorporate a "bolt-on" neck, which lent well to mass-production. Its single-cutaway design is simple, and its workingman's appeal never waned. Known today as the Telecaster, it's one of the "big three" collectible electrics, along with the Fender Stratocaster and Gibson Les Paul.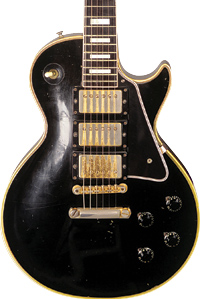 13. 1957-'61 Gibson Les Paul Custom
($49,500 to $81,000)
The fanciest version of the original Les Paul, it was given a black finish (Les' original preference!), binding on its body, neck, and headstock, gold-colored hardware, and block inlays on its fretboard. The model came into its own, however, when Gibson added a third humbucker.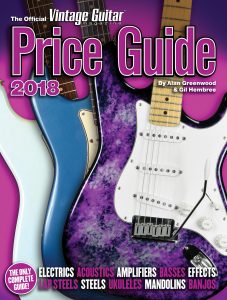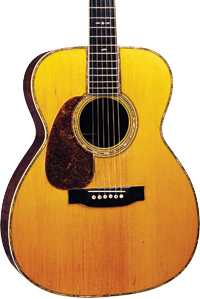 14. 1918-'43 Martin 000-42
($40,000 to $80,000)


15. 1958-'59 Gibson ES-335TD
($40,000 to $80,000)
Gibson's thinline concept crossed attributes of hollowbody and solidbody guitars and became one of the classics. The earliest ones – with dot inlays on the fretboard – are the most collectible.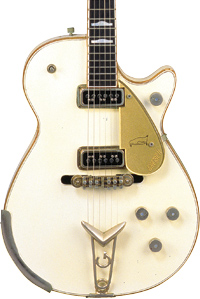 16. 1956-'64 Gretsch White Penguin
($40,000 to $78,000)
A dressed-up solidbody showpiece first built for Jimmie Webster to play at trade shows, it was produced in small numbers.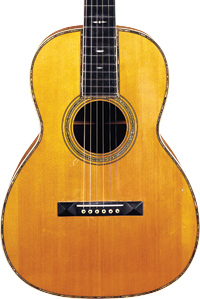 17. 1927-'38 Martin 00-45
($59,000 to $75,000)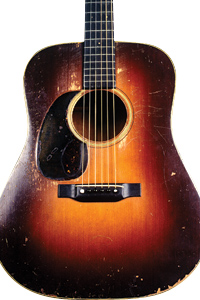 18. 1932-'36 Martin D-18
($55,000 to $75,000)


19. 1959-'62 Fender Stratocaster
($40,000 to $75,000)
The axe that led the way as guitar-driven pop music moved to the forefront. The "Strat" was cutting-edge, with a body that was thinner and lighter, and an evolutionary vibrato. High-profile rock-and-roll guitarists' took to it. The fact it was available in various shades of automotive paint (which Fender called "Custom Color") added to its luster – and collectibility!
20. 1923-'30 Ditson Style 111
($57,000 to $70,000)
Martin – built guitars for a music distributor, this one was the basis of Martin's own dreadnoughts.


21. 1959-'64 Fender Telecaster Custom
($23,000 to $70,000)
Fancied up with binding on the front and back of its body, custom-color versions are the most collectible – the rarer the color, the more its worth.
22. 1931-'33 Martin OM-28
($57,000 to $68,000)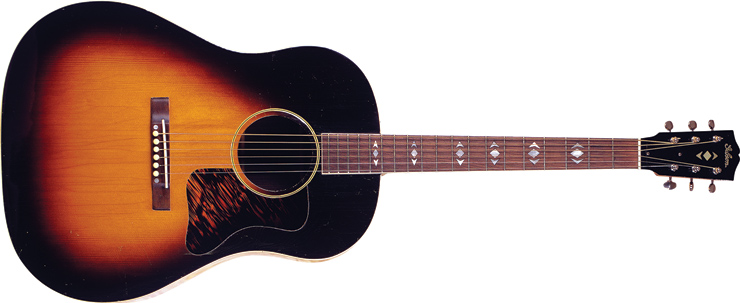 23. 1936-'40 Gibson Advanced Jumbo
($55,000 to $65,000)
The original – and just slightly smaller – version of the Super Jumbo.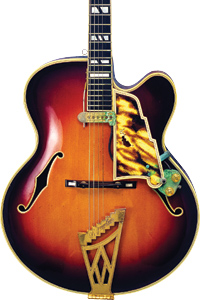 24. 1947-'64 D'Angelico New Yorker (cutaway)
($40,000 to $59,000)
John D'Angelico started luthier training at the age of nine and studied violin making, which influenced his archtop designs. His are considered some of the finest instruments made.

25. 1952-'61 Fender Telecaster
($30,000 to $49,000)
The final step in the early evolution of Leo Fender's classic.
---
This article originally appeared in VG April 2011 issue. All copyrights are by the author and Vintage Guitar magazine. Unauthorized replication or use is strictly prohibited.
---