Text by Dave Hunter
Data compiled by Alan Greenwood and Gil Hembree
Vintage Guitar is marking 25 years of publication with a year full of features. Using data compiled for The Official Vintage Guitar Price Guide 2011, we continue the celebration with a list of the 25 most valuable amplifiers – those that helped create the tones made famous by virtually every genre of pop music.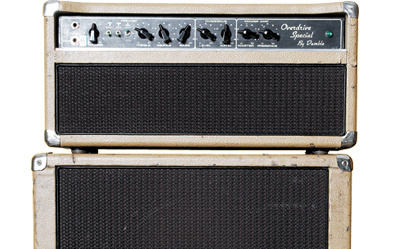 1. Dumble Overdrive Special
($28,000 to $35,000)
The most valuable amp on the market today, the most revered tonally, and lately, perhaps the most copied design, the Overdrive Special (featured in the May '11 issue of VG) drips with a creamy, thick voice that players, literally, can't get enough of.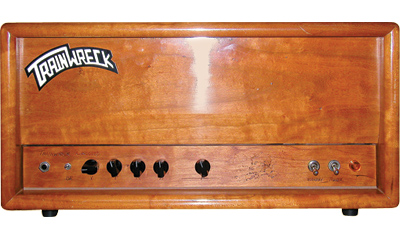 2. Trainwreck
($18,000 to $22,000)
Often cited in the same breath as Alexander Dumble's creations, and just a tick behind him on the collectibility meter, the late Ken Fischer's Trainwrecks are considered by many to be the "ultimate driving machine" of the guitar-amp world. Arguably assessed as the Ferrari to Dumble's Mercedes-Benz, Trainwreck amps are hot, hairy, high-gain machines that reward guitarists who can handle them with an unprecedented playing experience – a certain "one-ness" between guitar, player, and amp that few others hint at. Heady stuff if you ever have the (rare, and unlikely) opportunity to strap into one.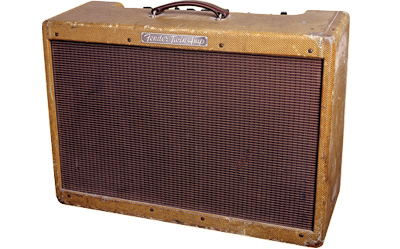 3. 1958-'59 Fender Twin
($11,500 to $14,000)
Notable not only as one of the first high-powered amplifiers, Fender's tweed Twin of 1958 is also a gutsy tone monster.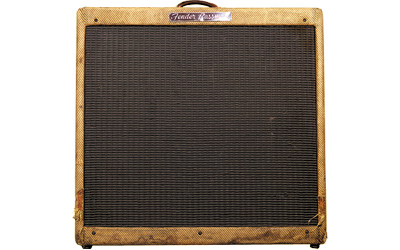 4. 1958-'60 Fender Bassman
($9,000 to $11,000)
The tweed Bassman (model 5F6-A) is the amp that brought many players back to the sonic glories of vintage, non-master-volume tube circuits. It remains one of the most emulated designs on the boutique scene, while, at the other end of the spectrum, is still a popular DIY kit for players looking to sniff a little solder for themselves. The Bassman consolidated several major design components for the world of production guitar amps – including the long-tailed-pair phase inverter, cathode-follower tone stack, and fixed-bias output stage – many of which remain mainstays of virtually all larger amps to this day, and sounded utterly glorious in the process.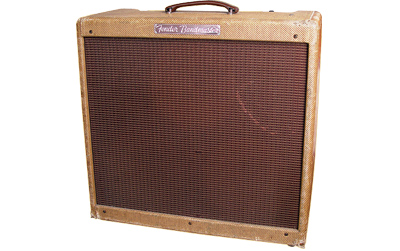 5. 1959-'60 Fender Bandmaster
($9,000 to $11,000)
Often described as "a Bassman with only three ten-inch speakers," the Bandmaster is actually a different beast in several ways, with a little less power, an earlier breakup, and an edgy-yet-snappy tone.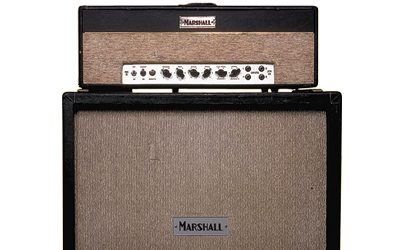 6. 1962-'64 Marshall JTM45
($8,000 to $10,000)
Despite being derived virtually point-by-point from Fender's 5F6-A Bassman schematic, British components give the JTM45 a tone all its own.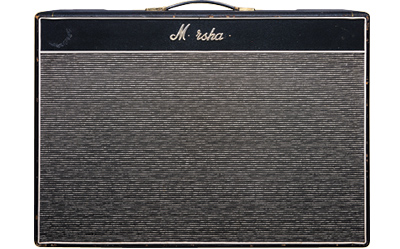 7. 1966-'67 Marshall JTM50 "Bluesbreaker" Combo
($8,300 to $10,000)
Eric Clapton plugged into this combo – essentially a JTM45 with KT66s in a 2×12 cab – to coin one of the most seminal tones of recorded guitar history.
8. 1965 Marshall Model 1973 "18 Watter" 2×12 Combo
($8,000 to $10,000)
This small Marshall (in terms of output, at least) makes a big, crunchy sound, and has earned a major cult following in the process.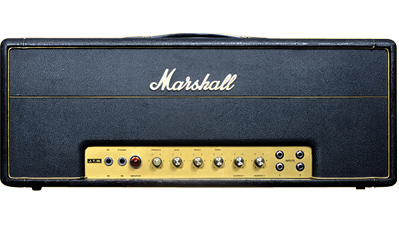 9. 1966-'69 Marshall Super Lead
($7,000 to $8,900 custom color)
Several models have contributed to the Marshall mystique, but the Super Lead was undeniably the big boy of them all – the amp that took genuine rock stars onto the big stage. Through the playing of Hendrix, Clapton, Page, and Kossoff – and that of countless others who plugged in through the '70s and beyond to achieve that tone – the gut-punching thud, midrange grind, and crispy crackly high-end sizzle of the Super Lead's beating EL34-fueled heart became the sound of rock for decades, virtually unrivalled in that arena until recent years.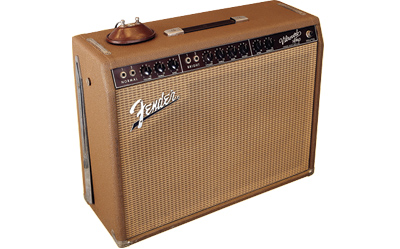 10. 1963 Fender Vibroverb
($6,900 to $8,300)
Fender was slow to bring reverb to the table, but it arrived in grand style in 1963 in this short-lived 2×10 combo, one of several "holy grail" models of which the California builder can boast.
11. 1966-'69 Marshall Model 1987 "plexi"
($6,400 to $8,000 custom color)
A slightly quicker road to sizzling EL34 breakup than its 100-watt sibling, the 50-watt Model 1987 with plexiglass front panel is an undeniable classic.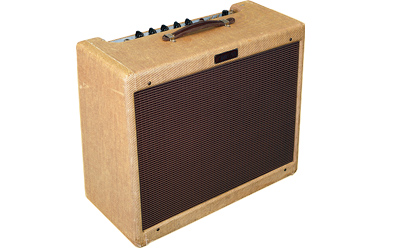 12. 1957-'60 Fender Super Amp
($6,500 to $7,500)
Pumping around 30 watts from two 6L6s through a pair of 10″ Jensen Alnico speakers, the compact tweed 5F4 Super was purportedly Leo Fender's personal favorite.
13. 1966-'69 Marshall Model 1992 Super Bass
($6,000 to $7,500 custom color)
A bass amp? In name and initial design concept, perhaps… But a plethora of players quickly discovered that the Model 1992 was just a click around the dial from the Super Lead, and therefore a total rock monster.
14. 1965-'66 Kitchen-Marshall JTM45
($5,500 to $6,800)
With an alternative look and badge, these creations by Marshall for the Kitchen Music chain in North London often included minor circuit twists, and were among earlier Marshalls to use EL34 output tubes.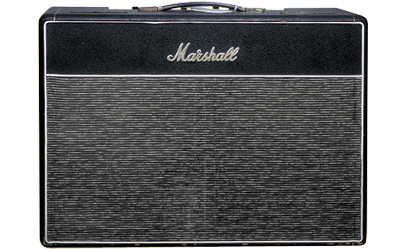 15. 1965 Marshall Model 1958 "18 Watter" 2×10 Combo
($5,400 to $6,700)
Identical to the 1983 in a smaller cab with 10″ speakers, the Model 1958 offers another form of that juicy EL84 goodness.
16. 1965-'66 Marshall Model 1974 "18 Watter" 1×12 Combo
($4,800 to $6,000)
With its single 12″ Celestion speaker, this might be the amp that comes to mind most often when the hallowed "18 watter" name is dropped.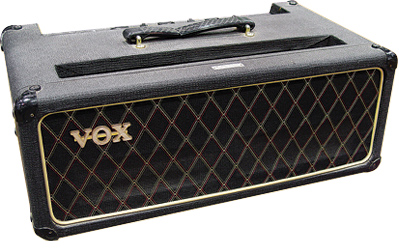 17. 1964-'65 Vox AC100
($4,500 to $5,500)
Developed to help The Beatles conquer the likes of Shea Stadium, the AC100 is a very different kind of Vox – clean, bold, and blisteringly loud.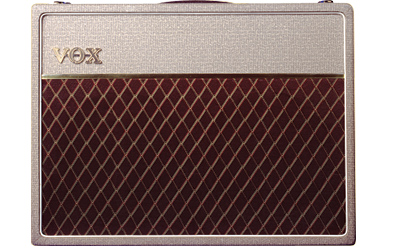 18. 1960-'63 Vox AC30 Twin
($4,600 to $5,400 custom color)
Just ask The Beatles, The Shadows, Tom Petty & Mike Campbell, Peter Buck, Brian May… the hallowed AC30 is a seminal tone template for the ages.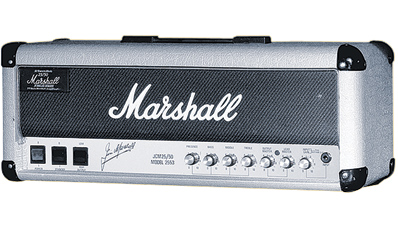 19. 1987-'89 Marshall Silver Jubilee 2555 Full Stack
($4,000 to $5,300)
To celebrate its 25th anniversary in 1987, Marshall blended several elements of its vintage and contemporary amp designs and covered it all in silver, to make what many consider a modern classic.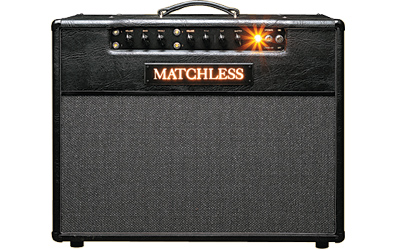 20. 1995-'99 Matchless DC30
($4,300 to $5,200 reverb, exotic wood)
In achieving Matchless founder and designer Mark Sampson's goal of being "…an AC30 that wouldn't break down," the DC30 also became one of the best-loved and most-used amps of hard-working players in the studio and on the touring circuit. These EL84-based class-A beauties are entirely hand-wired in the lauded point-to-point style, and deliver classic British chime, shimmer, and crunch, but with a certain modern clarity and fidelity and a bulletproof robustness relied on by countless pros. Bolted into one of Matchless' rare exotic-wood cabs, they look awful sweet, too.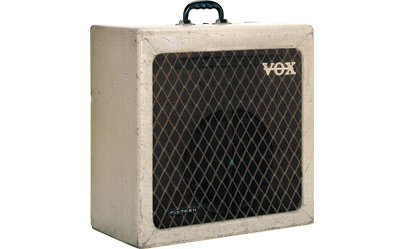 21. 1960-'65 Vox AC15 Twin
($4,200 to $5,200 custom color)
The Vox AC30 garnered more attention for years, but in this age of reduced stage volumes and project-studio recording practices, the smaller AC15 has become even more desirable in some players' estimation. Dick Denney's creation benefited from several design elements that were specifically intended to flatter the voice of the electric guitar, rather than merely amplify it, and these babies achieve that in spades. Plug into the stout EF86 pentode preamp channel for creamy, milkshake-thick tones or the ECC83 channel for more jangle and sparkle, and you quickly hear what all the fuss is about.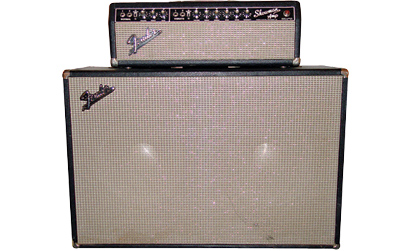 22. 1962 Fender Dual Showman
($4,000 to $5,000)
With help from the pummeling of Dick Dale's Strat and a pair of hefty JBL speakers, Fender developed the ultimate surf-guitar amp.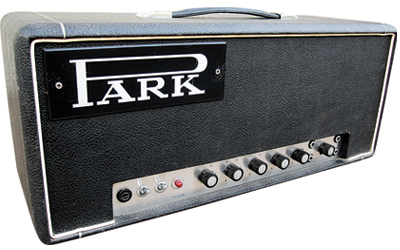 23. 1967-'69 Park 75
($4,000 to $5,000)
A 50-watt "plexi" in disguise, this variation made by Marshall to get around distribution exclusions carried a few circuit tweaks that make it a favorite of some players.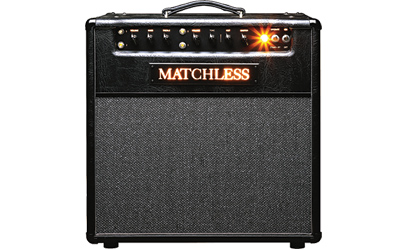 24. 1995-'99 Matchless SC30
($3,900 to $4,700 exotic wood)
With just a single 12″ speaker in its exotic-wood cab, the SC30 is a more-compact performance tool than its more popular big brother, the DC30, yet is still a surprisingly heavy hump from van to stage, thanks to meaty transformers and tank-like build quality.
25. 1965-'66 Marshall JTM50 Model 1963 PA Head
($3,800 to $4,600)
Can't get your hands on a 50-watt Lead amp? Turns out the Marshall PA head did much the same trick, for a little less cash – as many players quickly discovered.
---
This article originally appeared in VG June 2011 issue. All copyrights are by the author and Vintage Guitar magazine. Unauthorized replication or use is strictly prohibited.
---