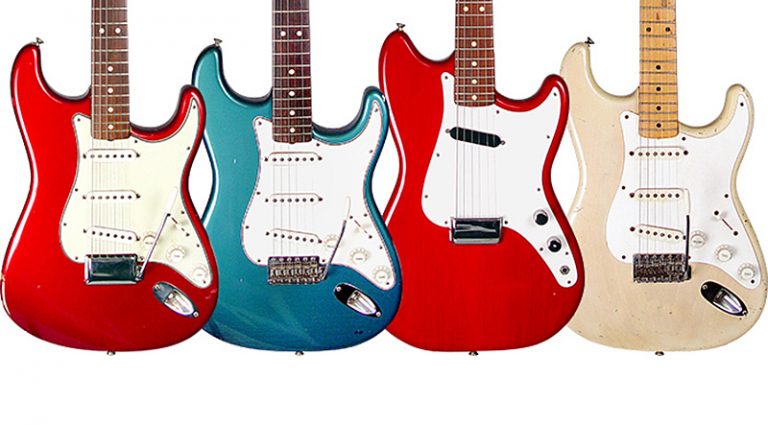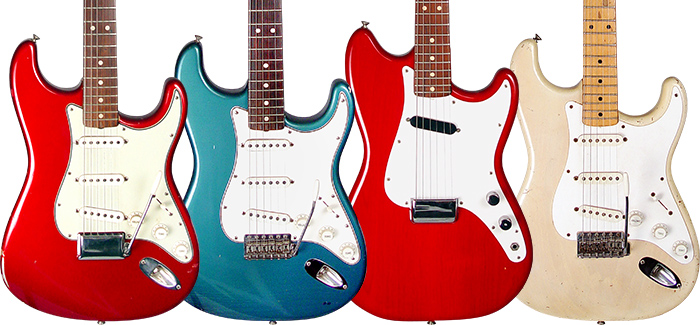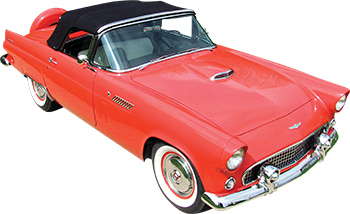 In the 1950s, America's fascination with the automobile was running at a fever pitch. The booming economy of the country's post-war years pushed the car from a purpose-built means of transportation to the center of family and social life. As a result, automakers started to offer their wares in ever-better dress.
Beyond plush interiors and dashboards with more dials, switches, and knobs, one of the key elements of the surge in the popularity of the automobile involved its paint. Competing furiously, makers offered a broad palette of potential colors to help Neighbor A differentiate his ride from that of Neighbor B.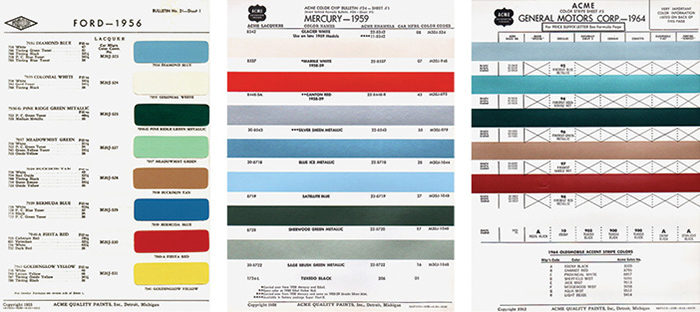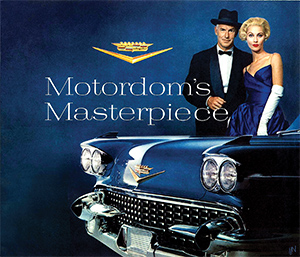 Guitar makers, competing similarly and becoming ever more savvy, moved to capitalize on the cult of the car (and its many colors). What better way to make the electric guitar a similar object of desire, symbolizing the dawn of a new era of freedom, innovation, and rising affluence?
Regardless of the rationale or reasoning, custom colors are today an essential (and sometimes highly valued) feature of many vintage instruments, though their origins and specificity are not always adequately documented. In an attempt to clear the (lacquer-saturated) air on the topic, we offer a look at the custom-color finishes offered by Fender in the '60s, including an aide for easy reference and a reminder of the debt guitar builders owe to the automotive industry.
From a guitarmaker's standpoint, a "custom" finish does not necessarily mean a colorful finish, but rather a non-standard finish on a given model. For instance, in the '50s, blond was standard on Fender's Telecaster and Esquire, but it became a custom option on the Strat (on which the regular finish was sunburst). Any finish may or may not be custom, depending on the make/model. In 1952, the metallic gold of the Les Paul was standard at Gibson, but to get one on a Telecaster would have required a custom order.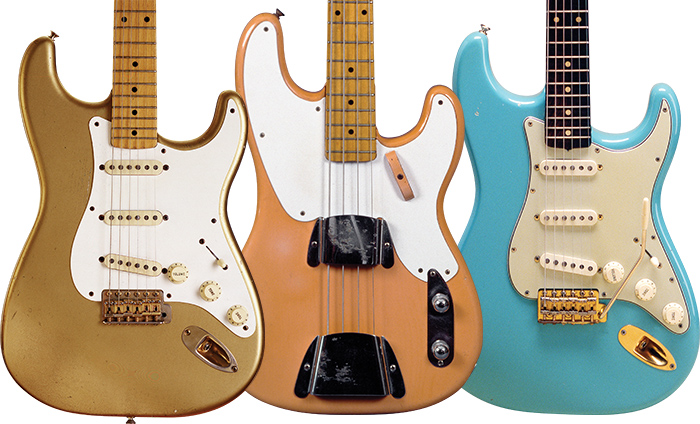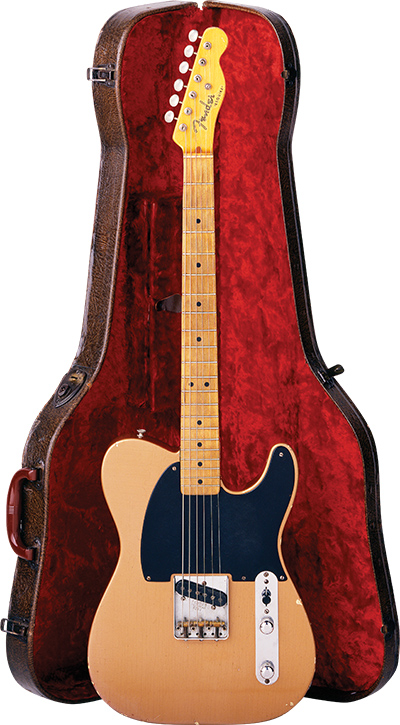 Custom-color finishes appeared on Fender instruments well before the company's first color chart was released in 1960. The mention "available in a DuPont Ducco color of the player's choice at an additional 5% cost" first showed up in spec sheets for the Stratocaster and Precision Bass circa '56, but customer requests for non-standard finishes actually go back to the early '50s.
The custom colors used by Fender came from the automotive industry for three prime reasons: there were plenty of shades to choose from since colors were a strong selling argument to differentiate cars well before it became the case of guitars; automotive paints were well-suited to an industrial environment, easy to apply, and fast-drying; and finally, they were easy to procure.
It's difficult to identify precisely which colors were used on Fender instruments before 1960, partly because of the sheer number of automotive paint shades available at the time, but also because of the effect of aging on these colors. It's also impossible to determine whether a given color was specifically required by a player/customer or whether it was actually chosen by Fender to match a request for, say, a red or a green guitar. The up-and-coming company was keen to differentiate itself from peers and rivals by donning unusual finishes to guitars as evidenced by Eldon Shamblin's gold '54 Strat, Pee Wee Crayton's red one, or the colorful Precision models exhibited in '55. That said, Fender instruments with a genuine custom-color finish other than Blond remained a fairly rare occurrence in the '50s.
In 1960 – the first year Fender published a color chart – it restricted the number of factory-available colors to 14 shades (plus Blond). The chart was amended in '63, when Candy Apple Red replaced Shell Pink, and again in '65, when six new metallic shades were included. The company took the trouble of specifying the actual paint code of each color as referenced by its preferred supplier, DuPont, though the same automotive paints were actually available from other suppliers such as PPG/Ditzler or ACME/Rogers. The summary table (see sidebar) was created after cross-checking the names and color codes listed by Fender. While consulting the table, consider:

1) The name of a color may apply to different shades and distinct paint formulas. For example, at least 14 different shades of Sherwood Green were used in the automotive industry between 1951 and '67 – but only one was retained by Fender.
2) Conversely, a given color defined by a specific paint formula may be used under different names on different cars. For example, Fender's Shoreline Gold – a 1959 Pontiac color – is exactly the same shade as Gibson's Golden Mist, which is a '59 Oldsmobile color.
3) Beware of similar color names that are, in fact, distinct. For example, Foam Green and Seafoam Green are not the same shade; Fender used only the former, contrary to popular belief. Likewise, Placid Blue and Lake Placid Blue are not the same color.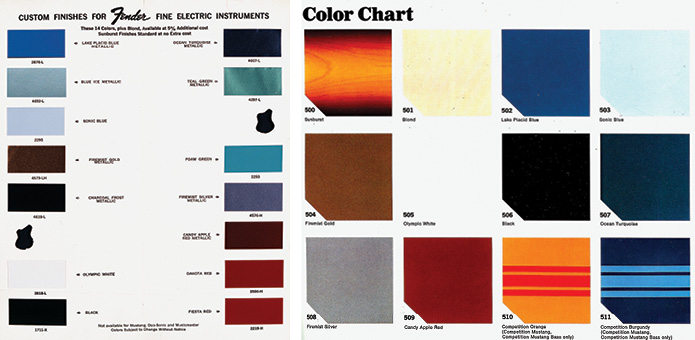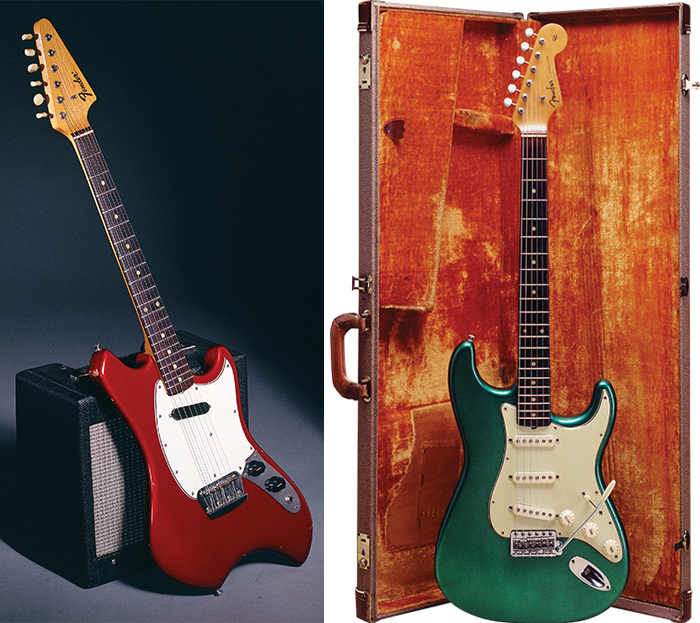 Leaving aside black, Fender's 1960 color chart reflects a strong bias toward GM, with 10 colors out of 13, and in particular toward Cadillac, with five colors. In '65, this bias was somewhat mitigated as four new metallic colors came from Ford, but Cadillac continued to reign supreme with six. Nobody can say if the selection of colors was based on previous customers' choices or Fender insiders' own preferences.
When the first chart was issued in 1960, only Olympic White and Shoreline Gold were still being offered on new cars. Automobile manufacturers frequently change names and colors, albeit without necessarily altering their shade significantly. For example, Cadillac's 1957 Lake Placid Blue is not that different from Georgian Blue, which replaced it in '59, or from Pelham Blue, which succeeded it in '60. The cult-like status of some of these paints in today's guitar realm is an interesting paradox given the planned obsolescence built into most industrial undertakings, including, of course, the car industry.
Whether for commercial and/or industrial reasons, Fender began to reduce its choice of colors in '69, when six were abandoned including early classics like Fiesta Red, Dakota Red, and Foam Green. In '72, four more were removed as natural-finish instruments became increasingly fashionable. It would take about a decade before the introduction of vintage reissues rekindled the fashion and propelled custom colors to unprecedented levels.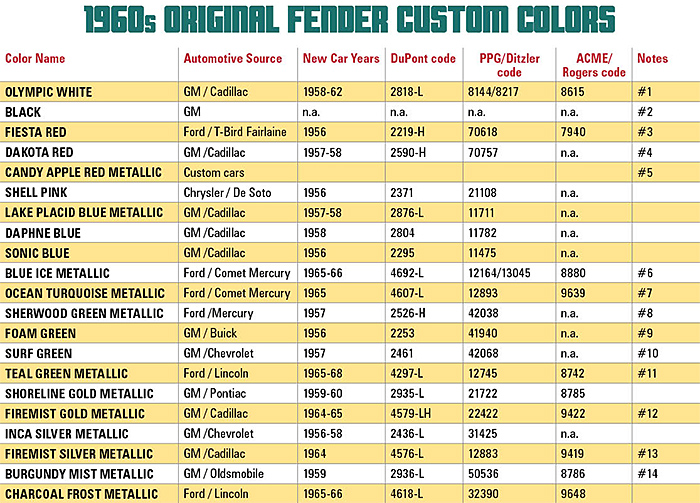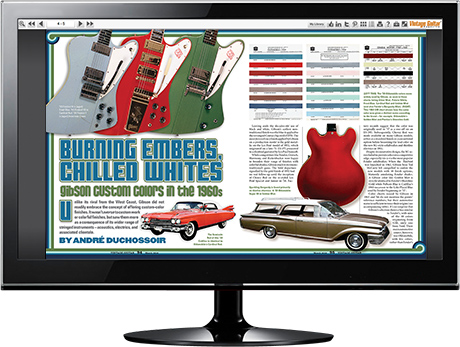 ---
Special thanks to Phil Laverne for helping with automotive paints.
---
This article originally appeared in VG September 2015 issue. All copyrights are by the author and Vintage Guitar magazine. Unauthorized replication or use is strictly prohibited.
---