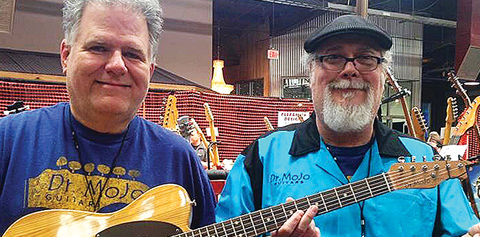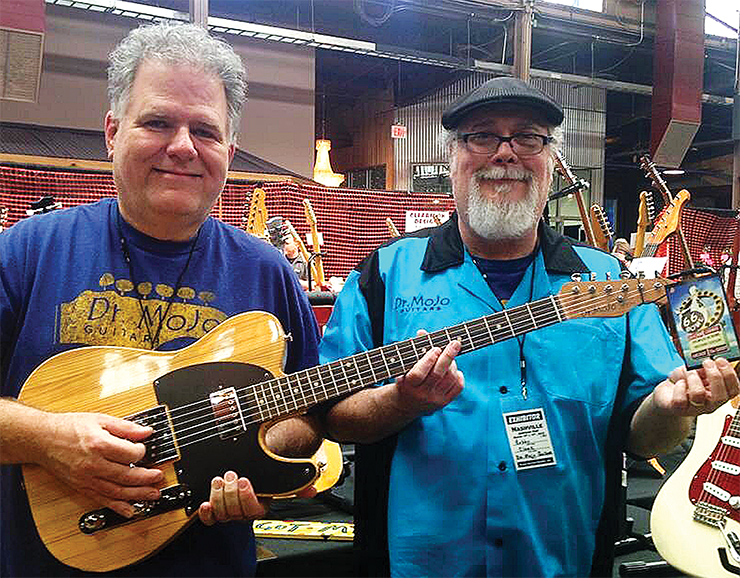 Few things scratch America's cumulative itch for nostalgia like Route 66 – the famed wagon-trail-cum-highway that offered passage to those migrating west from Chicago in the mid 19th century, then later became known as Main Street America. 
For decades, the road provided the means to a living for entrepreneurs who set up shop offering food, lodging, and entertainment options along the way. One such stopover was 66 Bowl, in Oklahoma City. A local landmark, throughout its 51 years in operation, the 24-lane bowling alley played host to not only bowling leagues and birthday parties, but hundreds of musical acts that performed on a moveable stage that straddled several lanes.
Among those who spent many an evening watching bands at 66 Bowl were locals Bobby Clark and Cameron Eagle, two friends who ultimately became musicians – Clark professionally, Eagle casually as he focused on a career as an illustrator and artist. One of Clark's first group outings was as mandolinist in an all-teen band called The Bluegrass Revue, which included childhood friend Vince Gill. Later, he played with Ricky Skaggs, Vassar Clements, and banjoist Mike Snider (with whom he spent 10 years sharing the stage at the Grand Ole Opry). Eagle went on to graduate from the School of Visual Arts, in New York City, then began illustrating for clients including Pepsi, RCA Records, NBC, Milton Bradley, and the Los Angeles Times. Eventually, his ties called him back to Oklahoma, where he continued to illustrate while also designing museum spaces, restaurant interiors, and signage – all with a focus on repurposed materials.
In 2010, longtime owner Jim Haynes sought to sell 66 Bowl. Finding no takers, family health issues forced him to close, and the building's interior materials were sold at auction. Eagle attended the sale and bought much of what was offered, including the Bowl's famed neon exterior sign and the wood from its lanes.
"I couldn't stand to see all of it trashed by a bulldozer," he said. "So, I bought the wood thinking I'd repurpose it as table tops, benches, and countertops."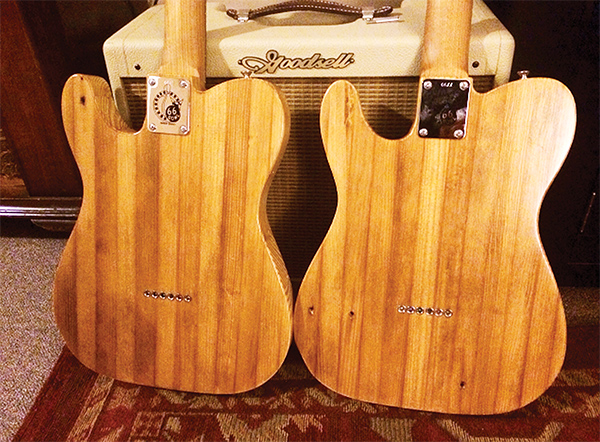 As he later eyeballed the pile, he was especially struck with the center sections of each lane – tongue-and-groove strips that had been cut from the "heartwood" center of pine trees. Until then, guitars hadn't entered his mind, but… "The shape of the planks suddenly had me thinking they would make beautiful lap steels," he said.
He sent video and pictures of the wood to Clark, who had recently started building custom solidbody electric guitars under the Dr. MoJo brand.
"I was blown away by the beauty of its grain," said Clark. And while he agreed that it could be made into gorgeous lap-steels, something more occurred to him…
"I asked Cameron to measure the thickness of his Fender '51 Nocaster, and we noticed that it was almost exactly as wide as the pieces of pine. Right away, we knew we were on to something; just thinking about the vibrations from all of the balls that rolled down those lanes for 51 years. We thought it would make great material for Spanish-style guitar bodies."
The two disassembled the lanes strip by strip then laminated the pieces into blocks they cut to shape, sanded, and finished in nitrocellulose lacquer. At the end of the process, the wood looked very much like the lanes from which it came, and each body had a unique cross-grain edge pattern. 
Clark and Eagle debuted the guitars at this year's Nashville Guitar Show in mid March, where they caught the eye of everyone from fellow builders and collectors to "fans of all things Route 66 – and anyone who's into recycling and repurposing," Eagle said.
So, just how large is their supply of wood?
"Enough to make plenty of guitars," said Clark, whose customer list includes Gill as well as Shawn Camp, Andy Reiss, Danny Flowers, and others. "First, we're building a run of about 20 we're calling the Historic 66 Bowl Edition. After that, we have a few surprises up our sleeves. I wouldn't rule out anything – from lap steels to doublenecks!"
Today, the building that once was 66 Bowl houses an ethnic grocery, and its famous neon sign is in the hands of a local entrepreneur who is restoring it and hopes to give it a new home somewhere along good ol' Route 66.
---
This article originally appeared in VG August 2015 issue. All copyrights are by the author and Vintage Guitar magazine. Unauthorized replication or use is strictly prohibited.
---