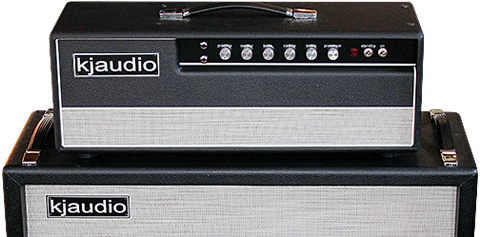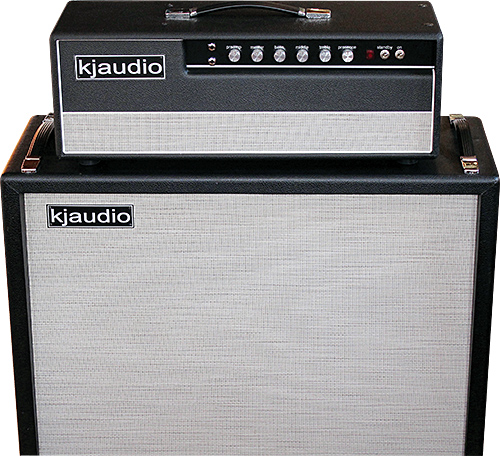 KJ Audio Hanwell 50
Price: Head $1,900; cabinet $1,600
Contact: www.kjaudio.com
No apologies: Minneapolis-based amp designer Kristopher Johnson's Hanwell 50 boutique amp is built to rock.
The amp was inspired by the four-input, 50-watt Marshall JMP MKII Master Volume amps of the mid '70s, but Johnson hot-rodded this, modded that, and made his own monster
His goal is to build amps that he wants to play. While on tour with his band and doing a soundcheck at New York City's Mercury Lounge, the soundperson kept telling him to turn down his Marshall. Johnson says he already had the amp dialed back to 1, and it sounded lousy, but he wanted to play for the team. After the set, he sat down at the bar and began drawing on a coaster his own circuit for an amp that would be more flexible – sounding warm in the studio or on stage, whether it was twisted to 1 or 11.
Johnson built his first amp in 2006, spending some two years dialing it in to get the exact sound he wanted it. He then let a friend try it out – and that friend bought it on the spot. KJ Audio was born.
Johnson builds his amps one at a time, hand-wired to custom order. He offers just two circuits, but in a variety of output wattages. Talk about focus.
The Hanwell is designed as thick-voiced high-gain amp with a cascade-style master volume. VG demoed the 50-peak-watt version, which features a single channel via a GZ34 tube rectifier, three 12AX7 preamp tubes, and two EL34 output tubes with selectable 4-, 8-, or 16-ohm output.
It's a classic preamp master-volume-style amp, but Johnson says the chief goal of his better creation was to have more useable gain that's not "fizzy," as with many standard master-volume amps.
So, we plugged in both a '56 Strat and a modern humbucker-equipped Les Paul Classic 1960. The amp head ran into Johnson's half-stack cab stocked with four Celestion G12H Heritage speakers.
The amp indeed sounds warm at lower settings, while the Master Volume and Presence give the ability to add delicious grind and crunch. And the controls are wonderfully responsive and articulate, providing a wide spectrum of combos.
Johnson's tone stack is designed with a broad sweep in the midrange, letting you scoop out most of the mids, or dial them in wholesale.
It all gets better as it gets louder. Dialing back the Master Volume and letting the amp's natural overdrive do its thing, the sound is tight and in-your-face whether you're grinding out rhythm chops, blasting power chords, or wailing on a single-note solo. This amp likes to be played loud.
The Hanwell's sound has no flab to it. The tone is pure muscle, lean and sinewy. And that power grows as you twist the Volume knob west.
The build quality reeks of understated excellence. The Hanwell is a sleek Tesla, not a flashy Dodge Charger plastered in racing strips and stickers. It's got style and tone that will have aficionados in your audience craning their necks to decipher the nameplate.
You can also pick up and carry the amp and cab yourself, giving your roadies the night off. When could you say that about a JCM800 with a 4×12?
Still, it's built to last. Componentry is top-drawer and the speakers want to rock. KJ Audio offers the Hanwell circuit in 15-, 30-, 50-, and 100-watt versions. Johnson also builds 1×12, 2×12, and 4×12 cabinets for guitar.
Johnson's other circuit design is the Dartford, a cleaner, chimier amp with a post/phase inverter master volume. He builds it in 50- and 100-watt models. He also makes a 200-watt bass amp with a 4×12 cab.
No apologies – and none needed.
---
This article originally appeared in VG March 2015 issue. All copyrights are by the author and Vintage Guitar magazine. Unauthorized replication or use is strictly prohibited.
---